I want to go on now and fulfil my potential, says former Glebe winger Ryan Palmer
Wednesday 20th May 2015
RYAN PALMER says he wants to fulfil his potential next season
The 24-year-old winger played for Hendon and Leatherhead in the Ryman Premier League last season, before moving closer to home to play for Bromley-based side Glebe in the Kent Invicta League, where he scored 13 goals in 15 games towards the end of last season.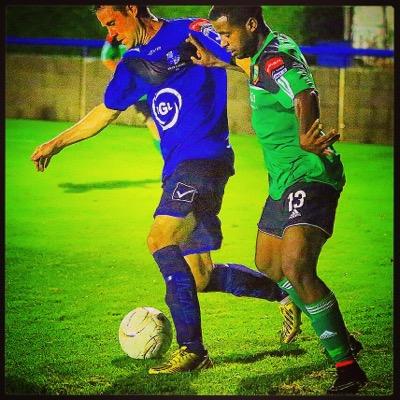 FREE AGENT: Ryan Palmer (right), pictured playing for Hendon, says he wants to find a club where he can fulfil his potential next season.
Photo: Twitter/Hendon FC

"This coming season is a really important season for me and my development and it's important that I can find the right club where I can settle down and build on my performance," said Palmer.

"I started the first half of the season with Hendon, where I found myself enjoying the style and professionalism of the club and play.

"The manager, Gary McCann and Scott Cousins are top coaches and I'm very thankful for the time and effort but sadly I had to leave the club as it was not practical location wise.

"I live in Lewisham and work in Eltham as a secondary school teacher and sometimes I would leave work early to get there on time and still arrive late; this put me at a disadvantage to earn myself a regular spot and also was mentally tough as I found myself performing very well during training and as a sub.

"Therefore we came to a mutual decision to end terms and if I was to change my mind I was welcome to come back, so I am very thankful for my short time at the club.

"They are a fantastic club to be at and any young footballer would develop under their wings.

"I then signed for Ryman Premier side Leatherhead and went into that team to play regular football. It was a disadvantage coming into a team that is already settled and content with their players and how they play.

"Leatherhead at the time had a lot of players on loan from clubs such as Dartford and it was frustrating to not have an opportunity to showcase my ability so I asked to go on loan to start to get my fitness and mojo back as I felt I was losing fitness and confidence.

"I contacted my old Academy manager at Dartford, Simon Copley and arranged to join up with them to get games and get my football swagger back. As soon as I went down and joined Glebe the club was amazing in terms of professionalism and support.

"The chairman Rocky McMillan is a genuine guy and very passionate about football development at Glebe.

"I had a chat with Rocky and Simon and I was telling them my reason for coming to the club. I wish to flourish and gain back my confidence and love for football again under this club.

"Simon was aware of my football ability and style and made me feel welcome and confident within myself. I went on to finish the season with them. I played around 15 games and scored 13 goals.

"The team's chemistry and cohesion is second to none and they are top lads and players, many of them I grew up with playing at Academy level for Dartford under Simon.

"Simon was a great help in my development down at Glebe and helped me find the ability and confidence I was lacking. Psychologically, he is a top manager and he will be very successful."

Glebe confirmed that coach Trevor Bumstead has taken a coaching role on a full-time basis at Premier League giants Arsenal.

Palmer said: "Trevor Bumstead, who has now left Glebe to take on a full-time role at Arsenal, was an excellent coach and assistant to the first team. He played a massive part in Glebe's successful run of games during the late spells of the season. Trev was an expert in strategy and tactics. He used to analyse every aspect of the game and break it down to us in a plan of action, where we would go on to carry it out and most of the time we won games from his and Simon's analysis.

"The little things that many coaches forget to coach a player on he would pick out, movement and making your opposition think about you. He was excellent in the run up of games and is really passionate and serious about coaching.

"I will never forget what he said to us in the changing rooms before a game, "he does not watch or enjoy the football game play; he prefers to watch the match start-ups and analysis on individual players'. That sums him up as a coach and a very good one as well."

Palmer is now a free agent and is searching for the right move for next season with the Ryman Premier League being the lowest level where he wants to showcase his talents.

"The reasons for me leaving Glebe this season is based on me wanting to play at the highest level possible," explained Palmer.

"Glebe is a fantastic football club and has huge expectations and I have no doubt that they will be playing at a higher standard in the upcoming years. Rocky, Simon, Peter (Dale) and Trevor have all been fantastic and I would like to thank them for their time at the club where I have enjoyed my time but now it's time for me to return to the level I should be playing at.

"Ever since I played at the Nike Academy at 21, playing against Premier League opposition and a trip to PSG to face the u21s, I knew I could play at the highest level with the right team and coaching.

"I'm ready to commit mentally and physically to a team and work with that team to become the best I can. I have failed to settle at a club for quite some time due to change of lifestyle or the club itself.
"This season is very important to me and being 24 and playing for clubs of a high standard since I was 16, such as Fisher Athletic, Nike Academy, Cray Wanderers, Grays Athletic, Chatham Town and Hendon, I want to go on now and fulfil my potential.
"This season my expectations for myself are very high and I set myself goals and targets to help me achieve and build upon the previous season.

"I have had some good offers this season but I'm still open to talks and keeping my options open as it's very important where I settle. I want to play at a top level and I know I have what it takes. My mind is of a professional footballer at the moment and I need my ability to match that, but for that to be helped and supported by consistent football and opportunities to shine under good management.

"I'm looking forward to next season and I'm already preparing myself with fitness and conditioning sessions starting next week to get me ready for the upcoming season. Hopefully I will find the right club with a respectful approach."