I kept the boys I wanted to keep and Ryan Golding is a big, big part of my plans here, says Glebe boss Adam Woodward
Wednesday 27th July 2016
GLEBE manager Adam Woodward says he is playing down his club's expectations going into the new season.
Woodward is the new man at the helm at the Chislehurst based club after the club axed Simon Copley and Ian Varley after the club finished in third-place in the Kent Invicta League last season.

The pair were asked to stay on at Foxbury Avenue and they won two cups but they were appointed Holmesdale's new management at the end of the post-match press conference of their 2-1 after-extra-time win over Sutton Athletic to win the Challenge Trophy on 7 May.

Copley left Holmesdale without taking a game to stay on at Premier League giants Arsenal in a full-time coaching role, while Varley was promoted to manage relegated Holmesdale, who like Glebe will be playing Southern Counties East Football League First Division football this season.

Glebe have produced some impressive wins over higher league opposition in pre-season this summer, with their only loss coming at the hands of their National League neighbours Bromley.

Glebe have the biggest budget in the SCEFL1 this season and Woodward is expected to deliver promotion at the end of his first season in charge.

"Listen, you don't know what's going to happen between now and the rest of the season. I know of my objective, my coaching staff (Sam Long and Charlie McCarthy) know of my objective, we're here to win football matches," said Woodward.

"Listen, I'm not going to go shouting from the rooftops. We'll get as many points as we can on the board.

"We've got a nice little family of a team. We'll get together and we'll work for each other and I've got an honest bunch of lads and listen, we'll get as many points on the board as possible."

Star striker Ryan Golding scored 31 goals for Glebe last season and was expected to team up with Copley and Varley at Holmesdale this time out.

But Woodward is delighted that the former Crockenhill and Sittingbourne goal getter is staying at Glebe.

His cup final goal against Sutton Athletic, an overhead kick (pictured below by Alan Coomes) was described by this website as the Goal of the Season.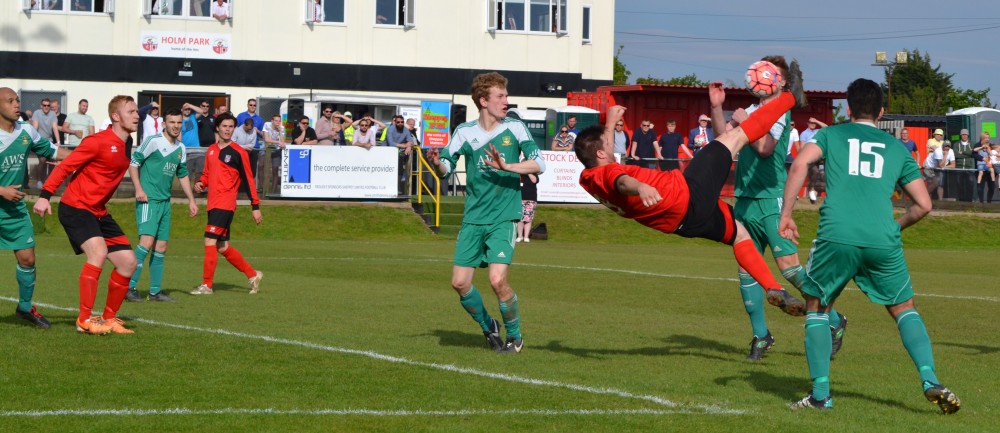 "I kept the boys I wanted to keep and Ryan is a big, big part of my plans here," said Woodward.

"Whatever happened in the past, they were all going, whatever. I've kept the boys I wanted to keep. They can see where the club is going and know we're pushing forward.

"I'm hoping Ryan will have another season like last year. He talks about your picture a lot in the changing room, he loves it. He loves talking about it. Ryan's a good player."

Glebe travel to Kent Invicta League champions Bearsted to contest the Kent Invicta League Challenge Trophy on 6 August, before kicking off their SCEFL1 campaign with a home game against perennial strugglers Lewisham Borough on Tuesday 9 August.

"I can't wait to get going now," said Woodward.

"It puts silverware on the table so I want to win. I've got my squad now, we're ready and we're set and we'll take that game like it was a league game.

"This is my first manager's job. Rocky (McMillian, my chairman) has been fantastic, everything that I've asked for so far, I've got.

"I was assistant manager at Phoenix, had a great time there winning the league and playing in the Ryman League. I'm glad I've got an opportunity to go as the number one and I'm enjoying it."

Glebe continue with their pre-season preparations with a home game against Ryman League Division One South side Cray Wanderers on Friday night.

Visit Glebe's website: www.pitchero.com/clubs/glebefc