Folkestone Invicta boss Neil Cugley: I'm not going anywhere and I know there are a few people who won't like that!
Monday 24th April 2017
FOLKESTONE INVICTA boss Neil Cugley says he's staying put after keeping the club in the Ryman Premier League on the last day of the season.
Folkestone Invicta finished in sixteenth-place in the table with 55 points from their 46 games – finishing two points clear of the drop zone, which sees Harrow Borough, Canvey Island (52 points), AFC Sudbury (46) and Grays Athletic (38) going down.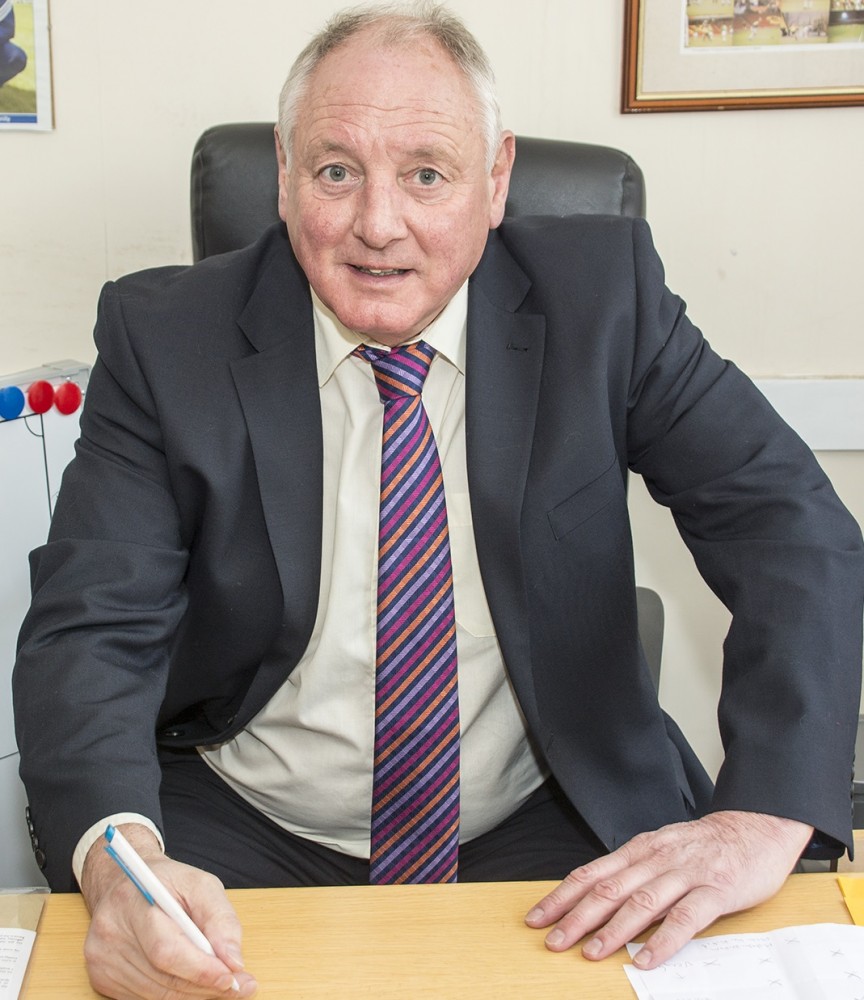 SAFE: Neil Cugley has kept
Folkestone Invicta in the
Ryman Premier League at
the end of his 20th season
in charge of the club
Photo: Folkestone Invicta FC

Folkestone Invicta suffered back-to-back defeats to Hendon (1-2) and Enfield Town (1-3), but destroyed Tonbridge Angels' play-off push with a 1-0 home win on Easter Monday, before securing their current league status with a comfortable 3-0 win over Jamie Stuart's Grays Athletic on Saturday, the last Ryman League game to be played at Aveley's Mill Field.

"It was all a bit nervy if I'm honest, but we kept plugging away and once Joe Taylor got the breakthrough we could all start to relax and enjoy the day," Cugley (pictured above) told www.folkestoneinvictafc.co.uk.

"I don't think Grays had a chance all game long.

"Our supporters were absolutely brilliant. I'd have said there were 200 or so of them there and the players really appreciated the way they've supported us and got us over the line.

"With Aveley and Grays both moving to what looks like being a really nice ground just half a mile away, it's not surprising that the old ground has been allowed to become as run down as it has and the bumpy playing surface was pretty difficult to play any decent football on.

"Grays were playing there for the last time and I suppose that meant something to them but the noise that our fans were making made it seem like the important game that it was as far as we're concerned."

Cugley, who has now completed 20 seasons in charge of the club, has made little secret of the fact that he would almost certainly called it a day had Folkestone Invicta suffered relegation after winning the Ryman League Division One South title on Good Friday last season.

Cugley said: "No, I'm not going anywhere and I know there are a few people who won't like that!

"This is a very good league – far better than the one that we came out of – and I think even if we have had a few problems getting used to the standard, everyone at the club feels the same way.

"And even if it came down to the last game in the end, I feel it's the level where this club deserves to be."

Cugley can now start to plan but he really does need investment in his playing squad to ensure that the club are not struggling at the wrong end of the league table in a tough division next season.

"We were spoilt after we won the championship so easily last year and had virtually a month to sort so many things out," said Cugley.

"This time we couldn't really talk to the players without knowing which division we'd be playing in and we needed to concentrate all our efforts on saying up.

"It's been really difficult – we could easily have been relegated if things hadn't gone our way.

"But I'm hoping to talk to all of the players individually this week to see how they feel.

"My prediction that we needed 52 points to stay up was a couple of points short and 54 was what was required. It's nice to think that we ended up with one more than that and I think that everyone would have been happy with sixteenth-place if we'd been offered that this time last year."

Visit Folkestone Invicta's website: www.folkestoneinvictafc.co.uk