Liam Friend reaches 500 starts for Folkestone Invicta: I still enjoy games and even training as I did when I first started playing as we have such a good group people want to be together
Friday 23rd September 2016
FOLKESTONE INVICTA defender Liam Friend has praised his defensive partner Frankie Chappell and manager Neil Cugley for helping him to reach 500 starts for the club.


Friend, 28, who lives in Dover, reached the milestone for the Ryman Premier League club on Tuesday night, a 1-1 draw at home in what was Jimmy Bullard's first game in charge of Leatherhead.

"If I think of when I was trying to get in the team I never would have imagined of playing 500 times," said the central defender and captain.

"I've always been pretty lucky with injuries and other than last year never really been suspended so usually play 55 games a season. It's always been natural for me to just turn up and play, do my job and go home.

"It's the first time I've ever done an interview without mentioning my partner at the back, Frankie Chappell, so need to get that in there! I like to think we have developed a great understanding over the nine years we have played together and I'm sure my career would have been completely different had he not been so consistent. It helps playing alongside the same fast, good looking, strong commanding defender as him each week!"

Friend captained the club to the Ryman League Division One South title last season (pictured below, photo published on his Twitter account) and is enjoying testing himself against better players in the Premier this time around.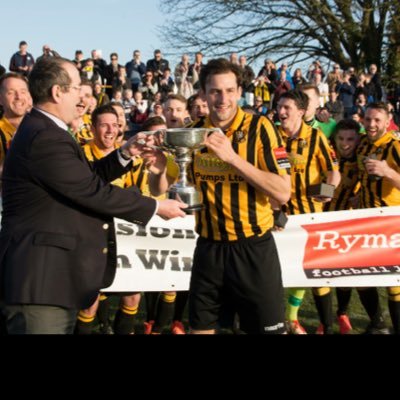 "The difference is the tempo of games," he said.

"There doesn't seem to be a lull, it's 100mph the whole game. I think in a way that suits us better as we are a fit side.

"I think the top of the South and the Prem is similar in quality, just there are no easy three points. All the wins we have had so far are because we have played very well whereas last year we won games even if we didn't play that well at times.

"I'm not one to get too up with the good games or too low with the bad times. I'm quite a consistent player. I like to think so, just get on with it really.

"Other than the promotion last year, which really did mean a lot to me to captain of really good friends to a league title.

"I get on really well with Cugs (manager Neil Cugley). I've known him since I first trained with the first team when I was 15 and he's showed a lot of faith in me, especially early on when not many teams play with a 17-year-old sweeper.

"The way he has run the club over the years is amazing and I can't imagine many other managers who put in the effort he does.

Folkestone Invicta arrive at Dulwich Hamlet tomorrow sitting in seventh-place in the table on 11 points from 8 games. They are only four points adrift of fifth-placed Bognor Regis Town.

Gavin Rose's side have started slowly and they welcome Neil Cugley's men in 10th on 10 points.

Friend said: "I'm looking forward to Dulwich. Their pitch is always nice and they will have a very pacy side with good quality out wide. They have for years. They're a side who always seem to be up there come the end of the season and even though we are going there to win, I'm sure a point away won't be seen as a negative result.

"As a team I think our aim is to push into mid-table and potentially even the top half. We don't want to be in a relegation scrap and it's up to the players to make sure we regularly pick up points to keep our points tally high enough for us to be in mid-table at the least."

Friend works at a secondary school in Deal as part of their PE department and runs a post-16 football Academy for the school.

"In regards to commitments, I've always been pretty lucky in the jobs I'm in that I've left slightly early on a Tuesday and things like that," revealed Friend.

"I still enjoy games and even training as I did when I first started playing as we have such a good group people want to be together, especially Saturday nights.

"It also helps playing for a club that is 15 minutes away. I'm sure I might have a different answer if it was a longer drive to home games or training."

Visit Folkestone Invicta's website: www.folkestoneinvictafc.co.uk

Dulwich Hamlet v Folkestone Invicta
Ryman Premier League
Saturday 24th September 2016
Kick Off 3:00pm
At Champion Hill Stadium, Edgar Kail Way, Dog Kennel Hill, East Dulwich, London SE22 8BD