You cannot put a price on the loyalty and friendship that I've had from Willo, says Folkestone Invicta boss Neil Cugley
Sunday 10th July 2016
One of the most familiar faces around Folkestone Invicta Football Club may not be around quite so often this coming season with long-time head physio Dave Williams deciding to 'gradually wind-down' after almost 30 years as Neil Cugley's right-hand man.
"Something tells you when it's time to slow down a bit – so I'll be taking a lower profile, though I'll be around if needed," Williams (pictured, below, pic by Don Linkin) told www.folkestoneinvictafc.co.uk.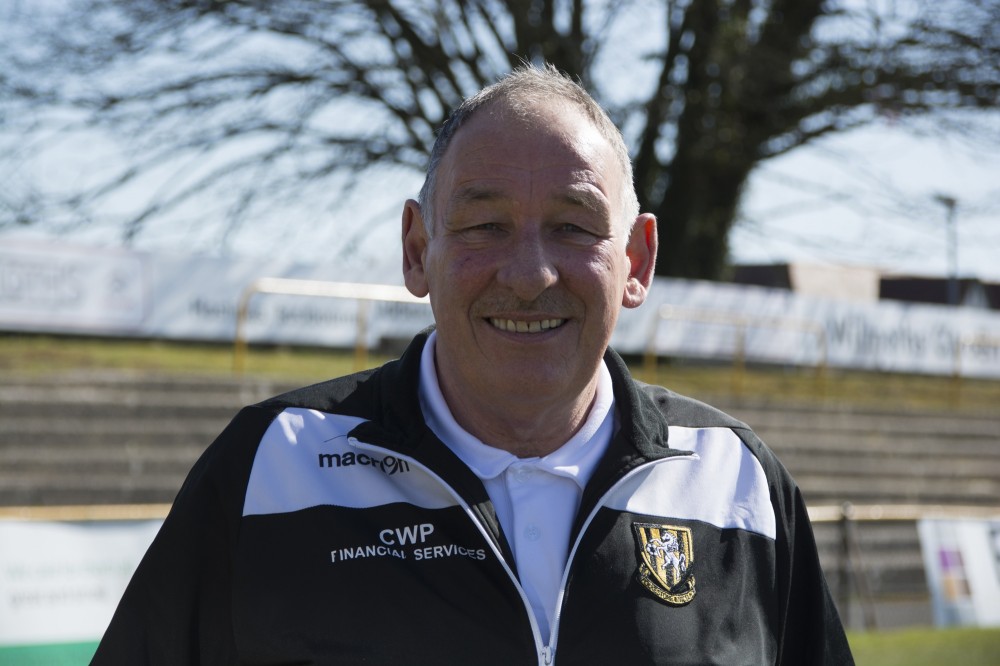 Willo, as he is known at the newly-promoted Ryman Premier League club, says he'll be handling over the reins to his very capable assistant Abi Winstanley, in what will virtually be a role reversal on the bench.

"I've had this in mind for a while," said the former shift electrician at Dungeness A, who retired from his full-time job two and a half years ago.

"I'd spoken to Neil about it, and then Abi and I had a long chat after the first training session. I'm delighted to say that she's happy to go along with what I had in mind.
"Abi's an excellent physio with her own business who is already very well liked at the club. She has other commitments, of course, and I know for a fact that she won't be there for the first game of the season, so I'll step in.
"There are ten or a dozen other dates I know she can't make because of courses and the like, and I will of course step in.
"But she'll be the boss from now on and I'll have to do what I'm told!!
"I want her to be able to stamp her own identity on the role."
Willo recalls that he first teamed up with Cugley at Hythe Town where they were together for a year, followed by a year at Folkestone Town – the last season of the old club – then seven good years at Ashford Town and now 19 – coming up 20 together at Invicta.
"Yes – it's 29 years or so – just like Ryan Giggs," Williams joked.

Williams was with Folkestone reserve side as a player during Alf Bentley's days and then was then a player, coach and player-manager at Hythe before businessman Tony Walton took over the club.

Williams reflected: "Over the years I've covered the whole spectrum, I suppose. As much as anything, though, my relationship with Neil has been as a good friend – I reckon I know him better than my missus!"

There have been low points of course, mixed in with a fair number of highs.
Williams said: "I remember as if it was yesterday that last minute equaliser going in to earn us an FA Cup replay with Fulham when we were at Ashford, oh yes, there have been some plenty of really good times.
"But I don't think anything has been quite as enjoyable as last season when we won the league in such fine style. Things don't get any better than that."
He says the time has come to step back and wind-down his involvement with the football club.
"I'll still be around and I won't let anyone down. But I've just come back from Canada where my son Mark is now settled, and Kelly, my daughter is currently down in New Zealand. I've got no plans to settle anywhere else, but I want the flexibility to be able to visit them in the future if I can."
Boss Cugley, who led the club to their first league title by winning the Ryman League Division One South title last season, paid tribute to Williams.

He said: "You cannot put a price on the loyalty and friendship that I've had from Willo. I'm pleased that we'll still be seeing him but fully appreciate everything he's done for both myself and the football club and accept his reasons for handing over to Abi.
"He'll always be a terrific friend to so many people in football."
Visit Folkestone Invicta's website: www.folkestoneinvictafc.co.uk