Fisher 4-0 Farnborough Old Boys Guild - This is the start of something great, says Fisher joint caretaker player boss Rob Curtis
Saturday 30th July 2016
Fisher

4 – 0

Farnborough Old Boys Guild

Location
St Paul's Stadium, Salter Road, Rotherhithe, London SE16 6NT
Kickoff
30/07/2016 15:00
FISHER 4-0 FARNBOROUGH OLD BOYS GUILD
Pre-Season Friendly
Saturday 30th July 2016
Stephen McCartney reports from St Pauls Stadium

FISHER joint caretaker player-manager Rob Curtis says he wants to stay at the club and play for the newly-appointed manager, who is expected to be unveiled within the next seven days.
Fisher made an emotional homecoming to Rotherhithe after spending the last 12 years' playing at Dulwich Hamlet's Champion Hill and they comfortably defeated a Farnborough Old Boys Guild side that claimed the Kent County League Division One West title last season.

Fisher started the game - played at the council owned venue on a newly-laid artificial pitch – in a nervous fashion but striker Troy Abbey will go down in history as the first player to score a goal at St Pauls Stadium, timed at 35 minutes and 17 seconds.

Fisher doubled their lead only 87 seconds later through winger Alfie Roche, against a direct team that offered very little up front for the first hour.

Curtis, 23, who came off the bench at the break and slotted in the middle of the park, headed in his first goal for Fisher before left-back Harry Bugden slammed in a late fourth to make it a happy return home to SE16 for the Fish.

"A great start, that's the main thing, winning habits, that's what you want to get into," said Curtis, during the press conference which took place in one of two dressing rooms for match officials.

"I know it's pre-season and it's the old cliché, it's about the minutes, it's not! It's about getting into a winning habit and getting minutes under the belt.

"You want to start well so you're going into the first game of the season with high confidence and the players' are buzzing.

"First half was a good performance. It started a bit erratic. People were a bit panicky, a bit nervous, obviously with playing in a new ground. We grew into the game, started to play some good football in the first half I thought and then we opened them up a bit gradually.

"Second half we sat off a bit. It wasn't ideal, a bit slack but it gave us a chance to work on our shape, which we've been doing in training. We want to get that right. It's key that we're organised during the season especially when you're playing good teams and top teams with good players with lots of money."

Andy Giles, who is preparing for his first season in charge of Farnborough Old Boys Guild, said: "I think the result flattered them slightly. I thought we played extremely well for good parts of the game. I think they were two very lucky goals, the other two were very good goals but I think we had a good work out today and a lot of positives for the season ahead.

"I haven't seen two or three of the guys play since coming in (to replace Luke Johnson and Matt Ellis). I've now had a good chance to look at all of the players in the squad and it was a good run out against some good, tough opposition.

"I don't think we're going to play opposition that good this season apart from maybe one or two. I know we can challenge, which is good."

A nice facility for Fisher for Southern Counties East Football League football but signage must be put outside to let residents and supporters know that their home town football club now play on the venue at Salter Road, just a stone's throw away from their former ground, which is now a housing estate.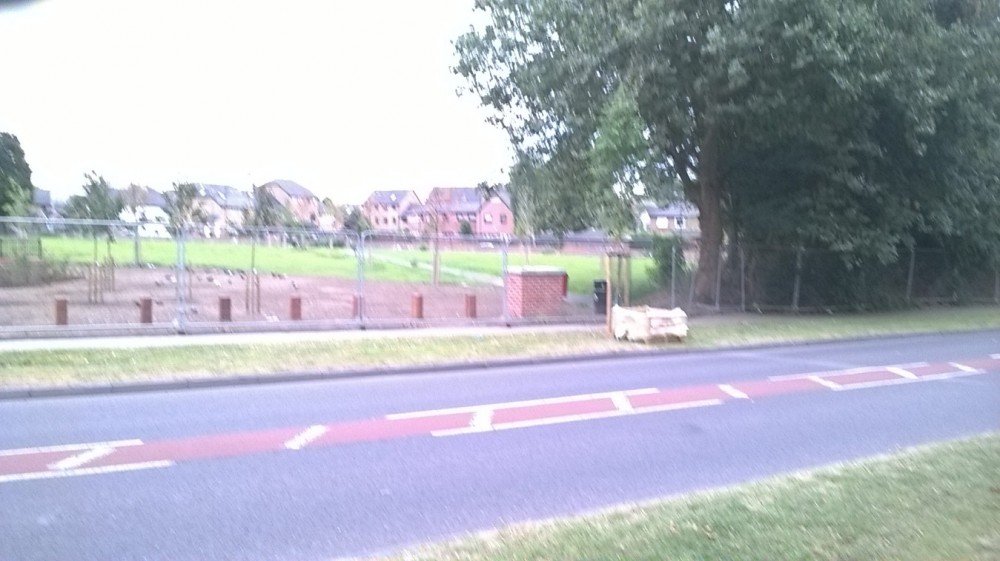 FORMER HOME: Fisher Athletic used to play at the Surrey Docks Stadium, the grass behind the trees on Salter Road was their pitch. There is a new housing estate to the left, not in this photograph taken today.
Photo: Stephen McCartney

Giles said: "We're absolutely delighted to have been invited for this game. The facilities here are fantastic. The pitch is big, it was hard work for the players. I think fitness did tell for them in the end. Our guys aren't as fit as Fisher players but the facilities are top notch."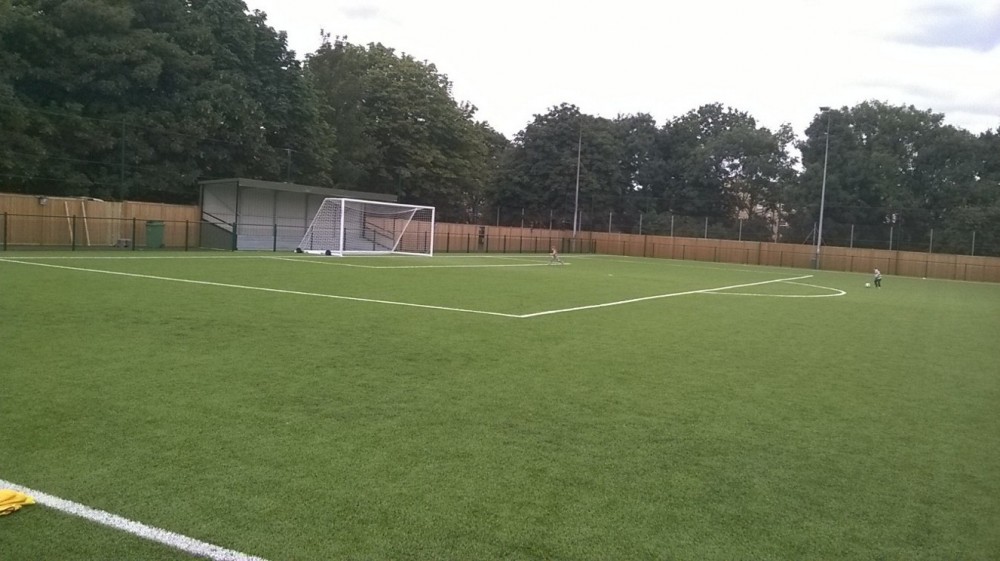 Fisher's vocal supporters made use of the covered terrace behind one of the goals during the second half of their side's 4-0 win over Farnborough Old Boys Guild.
Photo: Stephen McCartney

The decision to make the game all-ticket, where fans had to text the club secretary yesterday for their name to be written down on a piece of paper and left at the gate, backfired as Fisher's homecoming attracted a poor crowd of 114.

With such a big occasion for Fisher, the game started off at a very high tempo, with little quality on the pitch at the start.

Curtis was asked what he said to his team-mates before the game.

"Enjoy it! It's a bit of history. This is the start of something great. The club's put in a lot of efforts, the players are putting in a lot of effort with everything that's gone on. I mean I can't fault the lads. They were up for it. I didn't need to say much to them if I'm honest.

"People with their families were down today, it was a decent crowd, which will only increase, will only get better, with great community support.

"I just reminded them, this is a big club and with us coming back here, it's a big club not in terms of budget, there isn't one. The budget doesn't make it a big club. It's what comes with it that does and everything behind the scenes."

Fisher were playing their football on their deck, shaky at times at the back, while Farnborough Old Boys Guild were keen to hit too many long balls out of defence leaving lone striker Aaron Evans working the right channel and being frustrated as Lindsey Prescott-Kerr and Dwayne Agyemang kept him at bay.

Farnborough right-winger turned right-back Alex Barnes clipped one channel ball for Evans and this time Fisher keeper Ricky Wadman came out and smashed his clearance against the striker, but the ball bounced towards safety rather than the goal.

Barnes floated in a long free-kick from the half-way line and John Hawley glanced his header harmlessly past the far post.

Barnes gave the ball away and Ellis Wilson, who was seeing plenty of the ball in Fisher's midfield, took a touch but scuffed a poor low shot from 22-yards, which was comfortably gathered by visiting keeper Lee Gibbs after 16 minutes.

Fisher linked up well inside Farnborough's half with Jamie Taylor, Alfie Roche, Wilson and John Ufuah and Abbey's left-footed drive from 25-yards brought another comfortable save from Gibbs.

"I said to the guys at the beginning of the game to try and keep it tight and they did," added a satisfied Giles.

Abbey was to be denied the opening strike by a smart save from Gibbs in the 29th minute.

Central midfielder Hassan Oshilaja threaded a sublime through ball to put Abbey through on goal, but an alert Gibbs rushed towards the edge of his penalty area to make a vital block.

Curtis was delighted with his side's link up play.

"A good bit of play, interlinking, that's what Hass is capable of. Troy's got the ability, he just needs to get minutes under the belt up top. He scores goals Troy, he's known in the league, he's a very calming influence on the team and makes those runs in behind. He's not just a number 9 that spaces up and wants the ball and Hass can find those passes."

Giles added: "That's what Gibbo does, it's like having a sweeper keeper. He gives the defence a lot of comfort."

The game improved on the eye from this moment and Abbey created history by scoring a brilliant goal in the 36th minute.

Fisher captain Jamie Taylor played the ball up into Alfie Roche's feet, who swept a first time pass to put Abbey through down the left. Seeing that Gibbs was off his line, Abbey's left-footed chip from 25-yards rose high above the keeper's head and with home fans watching on with hope, the ball dropped in just underneath the crossbar of the empty goal.

What a beautiful first goal at St Pauls Stadium!

"That, well, that's Troy," said Curtis, adding, "Troy can do that, he's got that ability in him.

"Rochie, we want him to stay high and we wanted to get him one-on-one but he done well because we wanted him sometimes there, he goes high then drops in, gets the ball to feet and that leaves the space in behind. They've worked on that in training and perfect, off the training ground it really was. Rochie saw it early, Troy saw it, they linked up and it worked.

"It's a bit of history, Alfie Roche and Troy Abbey can take the credits for that. Troy's happy with that (historic first goal), don't worry!"

Giles added: "It was one of those, it was just a fantastic goal. To be fair, not too much that we could've done about it!"

Just like the red busses that pass the ground, you wait ages for one and a second one comes along immediately – 87 seconds later in fact.

Abbey turned provider this time, playing Alfie Roche in down the left and he steered his shot past a couple of defenders to beat Gibbs at his near post.

Curtis said: "Again, great movement from the pair of them. We wanted to keep the tempo high because we knew we had the ability on the ball and we got Rochie and Troy, they work off each other, they know each other, they're quite good friends and that's the type of stuff we wanted to do."

Giles said: "Yes, we didn't get our heads on for the second goal. Unfortunately, it was a mad five minutes, I think it was. Sorry, 87 seconds between the two goals? We didn't have our heads on after conceding the goal and they used their quality to score another one quite quickly.

"We actually had our right-winger at right-back today (Alex Barnes). It's the first time he's ever played in that position. He was slightly out of position. I think apart from that, a small lapse of concentration for that goal, I thought he had a fantastic game and it will hopefully provide a bit of competition for our normal right-back who was not available today.

"Once we conceded the second, I thought let's try to keep it tight until half-time. I think if we carried on with the sort of level of concentration we had between those two goals it could've ended up being a cricket score but the guys did exactly what I asked them to do. They did keep it tight, they got their focus back on and it was towards the end of the second half that we conceded again."

Fisher's defence looked shaky at times as they attempted to utilise the artificial surface by keeping the ball on the deck and Dan Rose won the ball but drilled his shot past the near post from 25-yards on the right hand side.

"Four goals and a clean sheet, there's not much more you can ask for regardless of what opposition you're playing," added Curtis.

"We've been working on shape a lot, today gives us a chance to do that and to keep working on it because it's so key that people are disciplined at this level of football on that pitch and if you've got 11 players working on the same direction and know their jobs at any level you're halfway there."

Farnborough's players stayed out on the pitch at the interval, while Fisher returned to their new dressing room (pictured below before the match, photo Stephen McCartney)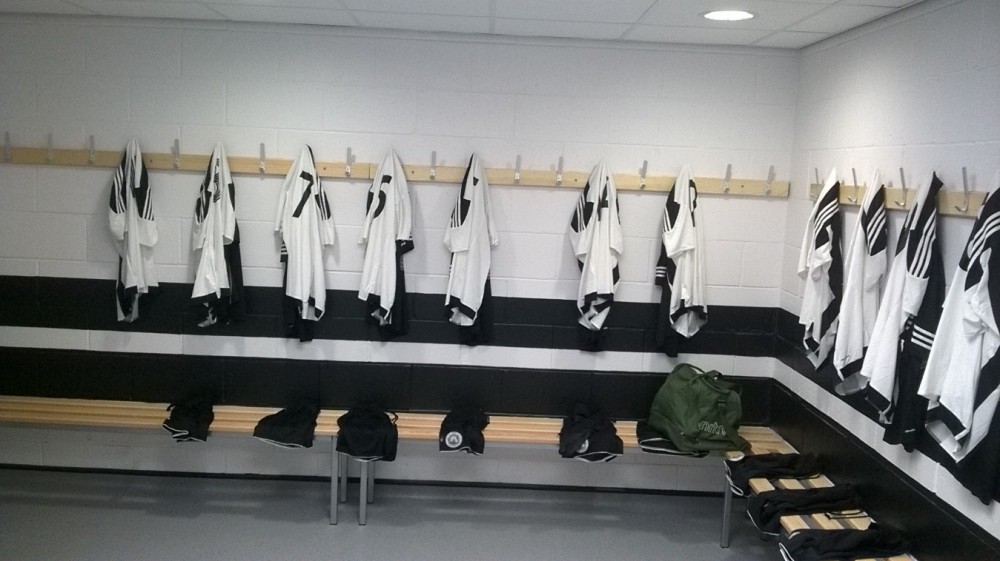 Curtis said: "I said to the boys control the tempo. We've put them on the back foot, Farnborough started dropping off although I must say they didn't stop working Farnborough, they were a credit. They've got a good team there. I want to say that. They've got some very good players in there that could probably play a little bit higher or in our league. I think we had a bit more quality. We wanted to control the tempo and then when we didn't have the ball we really wanted to keep the shape, which we done."

When asked his thoughts at the break, Giles replied: "More of the same defensively. It wasn't quite working for us up top. We were trying to play the long ball over the top of their heads and it just wasn't working.

"We wanted to keep the ball on the deck and try to pass it that way because their defence were winning everything in the air."

Evans was starved off any real quality passes as Farnborough regularly hit long balls up to him to chase for the 58 minutes that he was running the channel.

Giles added: "You cannot question his work rate at all. It just wasn't happening for him today. That's why I changed it up after about 60 minutes to bring Luke Foulsham on and I thought he did a good job."

Fisher's substitute winger, Tyrell McLeod-Bentley added pace down the right hand side and he smacked a volley just over the crossbar from 15-yards as Fisher pressed for another goal inside the opening eight minutes of the second half.

Barnes whipped in a quality free-kick into the Fisher penalty area from the right but none of his team-mates could get the touch and Ricky Wadman caught the bouncing ball.

But the former Bridon Ropes keeper made his first real save of the game on the hour-mark, diving to his left to deny Tommy Crawley finding the near corner from the right hand side of the box.

"Ricky's very small for a keeper but his ability makes up for that as you saw for yourself," said Curtis.

"He's only 20 years of age but he plays like he's 26 or 27. He's a really good lad, he's always happy, he's a good character in the changing room. It's his first game for us and he didn't put a foot wrong today. He's a great shot stopper, has great distribution. He hasn't played at this level and he hasn't played higher and I'm pretty sure he will go a long way."

Giles added: "It's only Tommy's second game for us. He's new to the club this season. It was just one of those days for us in front of goal to be honest. We had quite a few other opportunities from outside the edge of the box. One was a fantastic shot from Scott Wason and unfortunately it didn't hit the target but it's just one of those things."

Farnborough Old Boys Guild ditched their ugly long ball game in the second half and Scott Wason played a low pass in from the left flank to captain Rohann Howell, who dragged his shot past the left-hand post from 25-yards.

Fisher midfielder Hassan Oshilaja played a sublime through ball which last-defender Harry Tanner failed to cut out but McLeod-Bentley steered his shot into Gibbs' hands at his near post.

Farnborough Old Boys Guild went agonisingly close to scoring with 20 minutes remaining.

Howell's sublime pass was controlled by Wason, but he was thwarted on the edge of the box by Lindsay Prescott-Kerr's sliding tackle. Wason had a second bite of the cherry, cut inside and drilled his right-footed rasping drive towards the top left-hand corner from 25-yards, the ball screaming past the diving Wadman and just over the top of the left-hand post.

Curtis added: "They did get a couple of chances in the second half, half chances rather. They started having a go. A bit of a lack of concentration on our part I must say, which we can't do that during the season but then at the moment that's what pre-season is for, learning curves. We did speak about that but that will come in time."

Harry Tanner's free-kick was headed away by Prescott-Kerr and fell to Barnes, whose low angled drive deflected past the post.

But Curtis rose to head in his first Fisher goal, scoring the third in the 79th minute.

Bugden swung in Fisher's sixth corner from the right towards the far post for Curtis to rise with the keeper to plant his header into the roof of the net from eight-yards.

Curtis said: I just met it, their keeper's come for it, their centre half's defending me and I just wanted it more, that's all it was. I got up early and towered above them.

"It was quite an emotional goal really, I've got to be honest. That's my first goal for Fisher, I've scored a few over the years, I'm not a prolific scorer.

"It felt amazing, a great feeling. It was quite emotional. It meant a lot to score although the boys done the hard work before that, it was a bit easier."

Giles, who was a man of little words when asked about the goals, added: "Aerially, they were much better in the air than us and it showed for that goal."

The goal knocked the stuffing out of Farnborough Old Boys Guild, who were tiring and Fisher notched their fourth goal in the final four minutes.

Substitute Joe Roche swept the ball out wide to McLeod-Bentley on the right and he whipped in a low cross into Bugden, who made a run from the left into the centre to nip in front of Gibbs to slam the ball into the middle of the goal from eight-yards.

Curtis was asked how a left-back was in the middle by the time he drove the ball past the keeper.

"Well, that's Harry, as a left-back I'll go through this with you now. As a left-back at this level on his day he's as good a left-back as anyone," said Curtis.

"He goes a bit wayward sometimes but his ability is second to none and the timing of his runs, especially on the overlap, that's why he was up there. He sees those runs and he sees that space. He just kept that run going, you see it at higher levels, they keep their run going and they end up on the end of things and that's credit to Harry."

Giles added: "Again what minute was that in? We were tiring, I think fitness really showed through. Fisher's fitter but saying that we defended well. We passed the ball well on the deck for long periods of the game and lots of positives.

"It's a pre-season friendly, we're not too despondent about the result. I thought we played a lot better than a 4-0 loss and looking forward to getting the season started in two weeks' time."

Gibbs caught an attempted chip from McLeod-Bentley, while Farnborough substitute Adam Law hit a dripping drive just over the crossbar from 35-yards at the end.

Curtis hailed his side's performance on Fisher's big day and was full of praise for former boss Dean Harrison who quit the club on 13 July.

"A great day, Fisher's back. The history of this club it deserves good things it really does and so does the community," said Curtis.

"It means a lot to the community this club. It's a big thing and it used to be a big thing and it's going to be a big thing because the work that's going on, that's being put in by everyone together. It can't not go well. It's a process but it will work and it's going to be good.

"It's love to stay regardless of who comes in. I want to be a part of this club. It was a bit gutting Dean leaving, I must admit. He's become quite a good friend of mine, I must say. He's done a lot for me as a player and I've got to give Dean a lot of credit, especially on my behalf. That was a bit of a downer (when he left) but the great thing that became of it, it showed the lads character. People could've left, they had other offers but we all said no. We've got a good team forming and you don't get that much in non-league. You don't get much loyalty in non-league. Had we all left then we would've left the club in the lurch. We didn't want to do that and there's not many teams you'll come across in non-league that would do that. I couldn't name one in this league that would do that when there's no money. The club's in a hard place, it's working hard to get back on its feet. Credit to the lads in there, they've bene a brilliant support to me over the last few weeks."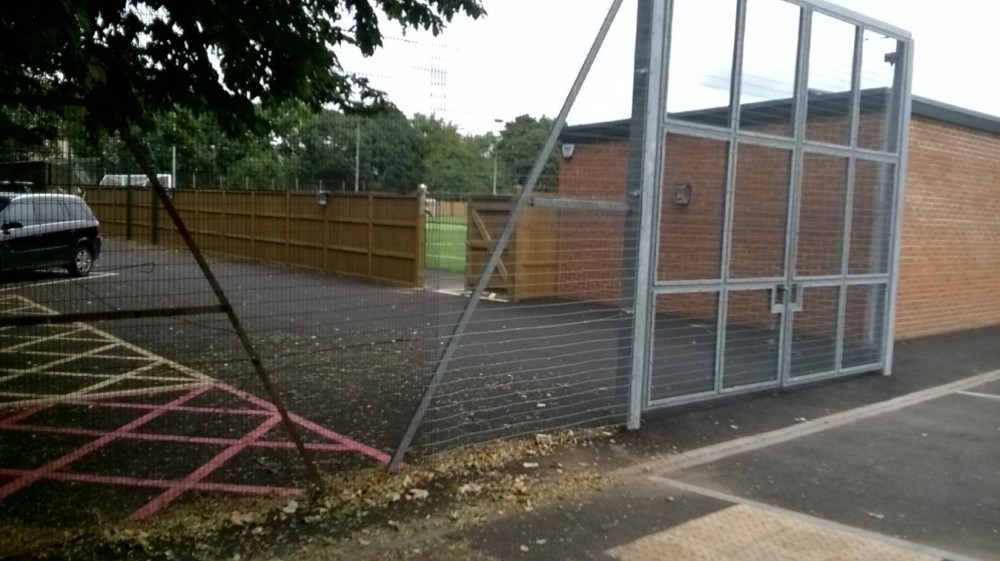 A high-vis jacket wearing security guard unlocked the gates to let people out of the ground at the end of the game. This is the first part of the ground that you see as you walk from Rotherhithe station. There are bus stops opposite the stadium. But the club needs to put club signage on the back of the brick built clubhouse/dressing room block (below) to let local residents and potential supporters that Fisher are back in Rotherhithe after a 12 year exile.
All photos taken upon arrival, pre-match.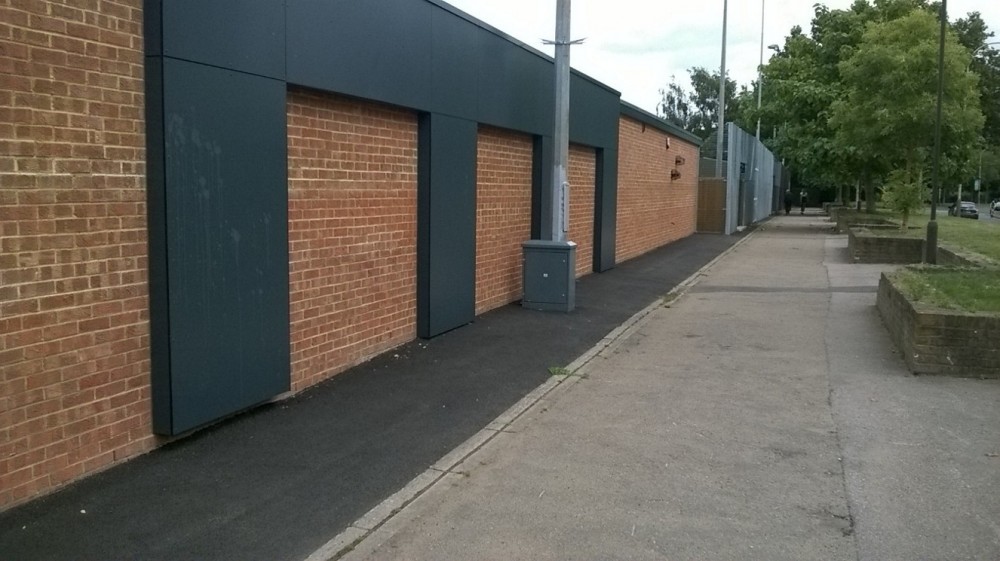 Fisher: Ricky Wadman, Akeem Hanson (Veejay Miller 46), Harry Bugden, Jamie Taylor, Lindsey Prescott-Kerr, Dwayne Agyemang (Daniel Fleming 46), Alfie Roche, Hassan Oshilaja, Troy Abbey (Joe Roche 62), Ellis Wilson (Rob Curtis 46), John Ufuah (Tyrell McLeod-Bentley 46).

Goals: Troy Abbey 36, Alfie Roche 37, Rob Curtis 79, Harry Bugden 86

Farnborough Old Boys Guild: Lee Gibbs, Alex Barnes, Harry Tanner, Kobi Johnson, John Hawley (Courtney Bryan 58), Matt Reynolds, Tommy Crawley (Adam Pharo 68), Rohann Howell, Aaron Evans (Luke Foulsham 58), Dan Rose (Adam Law 46), Scott Wason (Lamar Myers 74).

Attendance: 114
Referee: Mr Emmanuel Nketiah (Thamesmead, London SE28)
Assistants: Mr Gary Lawrence (Gillingham) & Mr Orville Bentley (Brixton, London SW2)