£15,000 grant aids Farnborough Old Boys Guild pitch improvements
Monday 26th September 2016
FARNBOROUGH Old Boys Guild took to their newly refurbished pitch yesterday, after scooping a £15,000 grant.
The pitch has been renovated over the summer to improve drainage preventing it from waterlogging during the winter.
The newly-promoted Andreas Carter Joma Kent County League Premier Division side will aim to host 80 matches over the next eight months without fear of cancellation due to the pitch being waterlogged.
The £15,000 renovation and resurfacing of the pitch was funded with a contribution from Ibstock Cory Environmental Trust through the Landfill Communities Fund.
The game against Sun Chemical marked the beginning of a fun day, with activities for the whole family, from face painting to sports activities, cake stalls and bouncy castles.

"It was a great day for our club, as we now have two functioning football pitches for our eight football teams to play on," said committee member Roger French.

"Last year this pitch was out of action for nearly a third of the games we had planned due to it being waterlogged.

"Thanks to Ibstock Cory Environmental Trust we have been able to renovate the pitch to improve its surface drainage and ensure it can be used for the whole of this season and beyond."

Last year the club had to hire other pitches at considerable expense, so they looked for funding to improve the drainage.

The project included harrowing the pitch and the addition of 200 tonnes of red stand that was also harrowed in to improve the drainage. A top soil dressing, levelling the pitch and over-seeding completed the project.

The work took three weeks in May to complete and then several months to get the playing surface established for yesterday's game.

The pitch is built on soil with a high clay content that was stopping the pitch from draining. Mixing sand in with the clay soil creates channels in the soil structure to help water drain away more quickly and prevent waterlogging.

Yesterday's match was organised by managers Paul Tanton and Danny Saines, with Farnborough Old Boys Guild Vets (pictured below) thrashing Sun Chemical 7-1, with Barry Grainger netting a hat-trick, Matt Gardiner netting a brace with Jez Mooney and Dean Mooney chipping in with goals.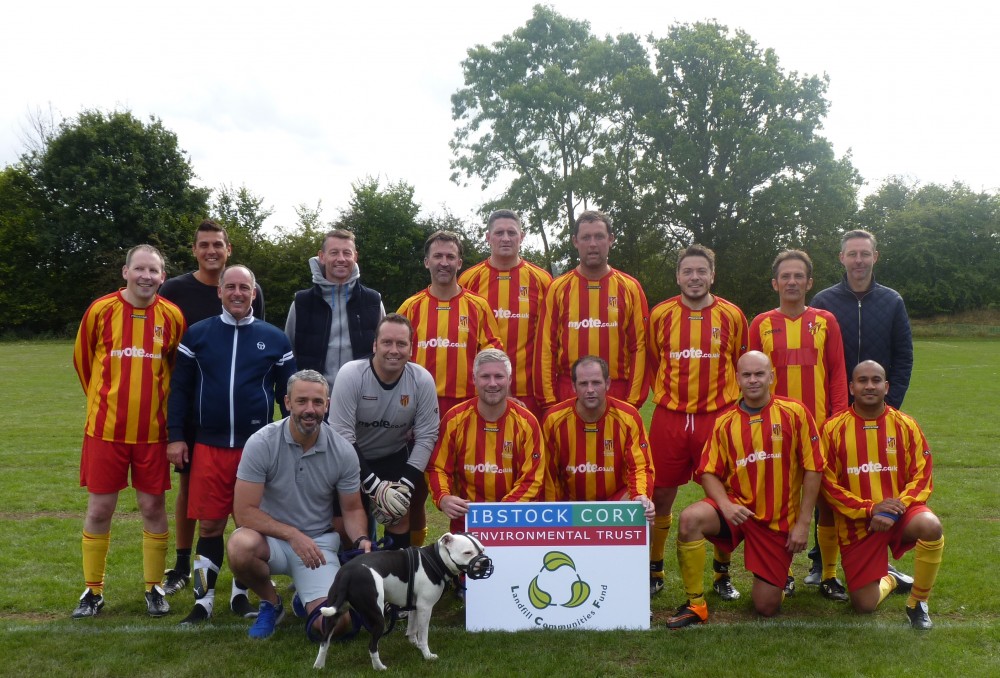 "We had a great inaugural match and the pitch is fantastic," said Tanton.

"Both teams enjoyed playing on such a quality surface and we are looking forward to many more enjoyable games in the future. We are very grateful to ICET for helping us to make this happen.

Angela Haymonds, the secretary of Ibstock Cory Environmental Trust, added: "ICET is delighted to have provided funding to keep this football pitch playable throughout the season.

"We hope that many exciting and enjoyable matches are played here and the club goes from strength-to-strength as it attracts more people to come and play the beautiful game.

"This is just one of the many community projects Ibstock Cory Environmental Trust has funded through the Landfill Communities Fund. The scheme offers funding to projects that benefit communities living within 10 miles of a landfill site. Groups interested in submitting projects should visit our website to find out more."

Farnborough Old Boys Guild play their games at Farrow Fields, which is situated on Farnborough High Street.

Visit Farnborough Old Boys Guild's website: www.fobgfc.org