I have realised that if you want to be successful, like anything, it requires an awful lot of hard work, says Erith & Belvedere boss Luke Coleman
Saturday 24th June 2017
RELEGATED Erith & Belvedere manager Luke Coleman says he must put in an awful lot of hard work to be successful next season.
The Deres suffered relegation from the Southern Counties East Football League Premier Division after his side lost nine of his 10 games in charge and finished at the foot of the table with 26 points.

Erith & Belvedere have kept faith in Coleman to lead a promotion charge from the Southern Counties East Football League First Division but he faces stiff competition from promoted big-spenders Punjab United and the likes of relegated Fisher (who have asked their fans to raise a £20,000 promotion chest for manager Dean Harrison), K Sports (who had no budget last season) and usual suspects Sutton Athletic (under new management) and Kent Football United will also be up there.

Coleman, 28, appointed a new management team last night.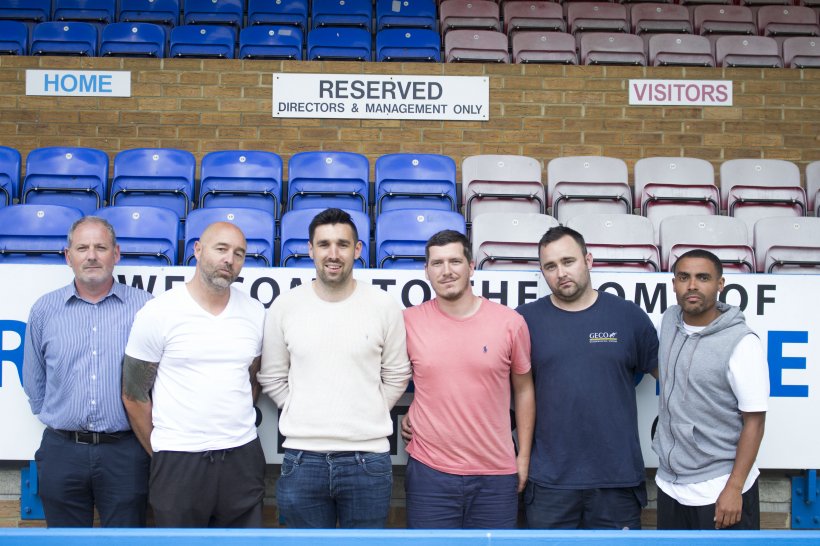 Ray Bagnall, Darren Anslow, Luke Coleman, Jamie
Leggett, John Bourke and Owen Price have been
given the task of getting relegated Erith & Belvedere
out of the Southern Counties East Football League
First Division at the first attempt after the club suffered
relegation in April.
Photo: Erith & Belvedere FC

Much-travelled Darren Anslow has left Bostik South outfit Hythe Town to become Coleman's assistant manager.

Owen Price has been appointed player-coach, while Jamie Leggett, who is always out watching other games for players, retains his position of coach.

John Bourke comes over from Kent Football United as goalkeeping coach, while Ray Bagnall has been appointed assistant coach and kit manager.

"I took my time to appoint the team because I wanted to get in the type of people that buy into what I am doing and will get the most out of the squad we have," said Coleman.

"Darren Anslow comes in as my assistant and I am delighted to get him in. I think everybody knows Darren for his excellent coaching ability and footballing knowledge.

"I think it is fair to say that when I sat down with Darren he was slightly sceptical as the League and project was an unknown quantity for him. However, it is pleasing to know that he immediately bought into the project and I got someone of his ability in with me.

"Owen Price and Jamie Leggett come in as first team coaches. Owen's primary role is playing and therefore important for him and Jamie to work together.

"I think they both bring very different qualities, which we need but Owen's playing experience is unparalleled really and I think his experience on and off the pitch is going to be crucial with a lot of new faces.

"Owen wants to cut his teeth in coaching and I am quite sure he will add so much value in that capacity.

"I am really pleased for Jamie to come in as joint first team coach as he always has fresh ideas and done exceptionally well with the younger sides he has worked with in the past. I think his ability to identify good players is also important at our level.

"John Bourke and Ray Bagnall have also come in with us. Ray has come in as assistant coach. Again, I am delighted to get Ray in. Everybody I have spoken to regarding my management team will know the first person I wanted in was Ray.
We go some way back and our mutual respect is strong. In my view, he's one of the most knowledgeable football people I know and somebody I trust implicitly.

"John Bourke comes over from Kent Football United. When I knew John was not staying there, I knew I wanted to get him in. John is an excellent goalkeeping coach but also has good ideas that I think will benefit us this year."

Erith & Belvedere report back for pre-season training next Saturday, 1 July.

"I think this around the norm and I wanted to give all the players new or any I have retained the opportunity for a rest," said Coleman.

"However, when we go back, we will work hard as it's so important for us to be fit with the way I want to play.

"However, it will be all be football related, as I am not a fan of running around parks for five hours with no specific purpose as we are not an athletics club. With the coaching team we have, I am sure pre-season will go well."

Erith & Belvedere return to action with a trip to London Bari on Saturday 8 July.

"We have got some really good pre-season friendlies, which we have worked hard to get. We have a number of sides above us such as Bromley, Cray Wanderers, Phoenix Sports and Chatham Town," said Coleman.

"Pre-season can be a false economy because you're not always playing sides that you would play every week. However, I feel that the best way to get fit is by playing games and therefore I think it is a good opportunity for us to test ourselves against strong opposition."

A club like Erith & Belvedere, playing at Park View Road, which can stage top-flight non-league football in the National League, should not be playing at the tenth-tier of English football and Coleman must deliver promotion at the end of the forthcoming season.

A club statement, which was posted on the club website, set the tone for the season ahead

"This we feel is an excellent management team with experience and is looking to help Erith & Belvedere regain our position back in the SCEFL Premier. We wish them a great season and loads of success. There will be some player news in the next week as well."

When asked about his aspirations for the season ahead, Coleman replied: "I expect us to be competitive. It is going to be a tough League with some strong sides.

"I am sure Fisher will be looking to bounce straight back and K Sports and Punjab United appear to be strengthening all the time.

"I also know Ennio Gonnella at Kent Football United and know his mentality to do well. I am sure they will be strong but I am confident we will be also so I look forward to an exciting season."

Reflecting on his 10 games in charge at the end of a season of struggle, Coleman admitted: "I think I went into a job that was a bit of a baptism of fire, given where we were in the League at the late state I took over.

"However, I have learnt that there is a lot more to managing than just putting on a jacket and standing on the side shouting instructions. It requires a lot of work behind the scenes.

"My job outside of football (solicitor) is quite tough but managing a football club is equally challenging, so I have realised that if you want to be successful, like anything, it requires an awful lot of hard work.

"We have signed a number of new players that I am pleased to have secured and the club will be announcing these signings in the next week."

Meanwhile, 34-goal striker, Caine Smith, insists he is staying put at top-five finishers K Sports next season.

"I'm staying, I'm really happy at the club. I've got great friends here, family too. The club is progressing, it's great to be a part of.

"Other players and managers have been in contact and it's been flattering but I'm really happy where I am and I want to take K Sports to the next level.

"I'm pleased to have signed once again, time to push forward with the club, big things to come," said a statement on Twitter.

Visit Erith & Belvedere's website: www.erithbelvederefc.co.uk