I'm really pleased with getting promotion. I actually can't believe it! I'm gobsmacked when I found out but I'm just so proud of everybody and all I can say is miracles do happen, says Erith & Belvedere boss Owen Jones
Sunday 19th May 2019
ERITH & BELVEDERE manager Owen Jones says he was gobsmacked when he was told late last night that the club were promoted back into the Southern Counties East Football League Premier Division.
The Deres finished runners-up to Welling Town by just one point in an exciting First Division title race but The Football Association informed the club at ten o'clock last night that they will be promoted alongside The Boots.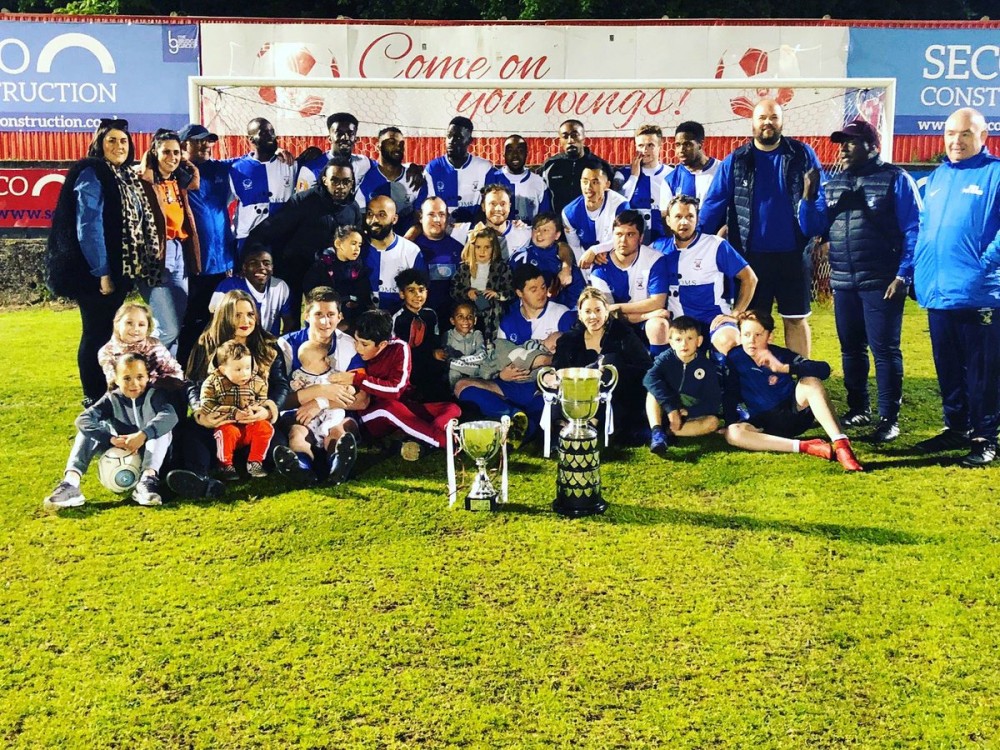 TREBLE: Erith & Belvedere have been promoted back into the Southern Counties East Football League Premier Division after a two year absence.
Photo: Erith & Belvedere FC
Jones saw his side win the London Senior Trophy Final for the first time following a 4-1 extra-time win over their league rivals Bridon Ropes on Wednesday 24 April.
They also celebrated winning the Hospital Charity Senior Cup for the first time after beating Sutton Athletic 5-3 last Monday.
"I did tell you, didn't I. I said it was going to take a miracle and first and foremost as I've said to you before as a Christian, I believe in miracles so I give our Lord Jesus Christ all glory and honour for all he's done," said Jones.
"Plus, we deserve it because we really worked tirelessly this season. We've performed, we've won two cups and we've lost the championship of the league by one point and I really believe we were the best team in the league.
"I'm excited and I'm really pleased for everybody. I'm pleased for all the players. I'm pleased for John McFadden (chairman), all the directors and the supporters as well and all our families."
Erith & Belvedere have been outside the top-flight for two seasons and Jones must now plan for a higher level of football in only his second season in charge at Park View Road.
"It's not going to be as exciting and entertaining as this season just gone but we know we have to be a lot more on it and can't afford to make mistakes. We have to be sharper, fitter, move the ball quicker and our decision making has got to be spot on all the time. We're not silly. We know that we've got a lot to do," said Jones.
"I'm really pleased with getting promotion. I actually can't believe it! I'm gobsmacked when I found out but I'm just so proud of everybody and all I can say is miracles do happen!
"If we're talking about where we'd finish midtable or just under midtable would be great because I'd like to look at teams and work them out in the first season and then we progress for the next season but having said that this was my first season and we went and got promotion.
"It's a different ball game in the Premier. They're all good teams, even the ones at the bottom. They're not bad sides.
"We've got to compete even harder than what we did this season if we're going to stay in. We've got to stay in the division to have any chance of progressing the following season.
"I'd like to thank the League. I think it's a brilliant league. I used to get really despondent with it but I just can't believe how competitive both divisions are and I think it's really exciting and it's the best league to play in, I really do, especially the young people coming through."

Meanwhile, Staplehurst Monarchs United and Peckham Town have been denied places in the Southern Counties East Football League First Division due to ground grading issues.
A League statement said: "Both have appealed this decision and if are successful could still join us in the coming weeks."

Greenwich Borough, who finished bottom of the Bostik South East Division last season, will return to the Southern Counties East Football League Premier Division.

Rusthall and Croydon wil be playing First Division football next season, having finished in the two relegation places, as will Meridian VP and Rochester United.
Visit Erith & Belvedere's website: www.erithandbelvederefc.clubbuzz.co.uk