Henry Muggeridge says he has really high hopes for his EMC Academy prospects for the season ahead
Monday 07th August 2023
EMC ACADEMY head into this season stronger than ever and full of confidence about what they can achieve after a memorable trip on the continent.
The Academy, who are the only full-time football and educational programme in Tunbridge Wells, have seen their programme go from strength to strength in recent years, but academy manager Henry Muggeridge knows there is something special to come this season.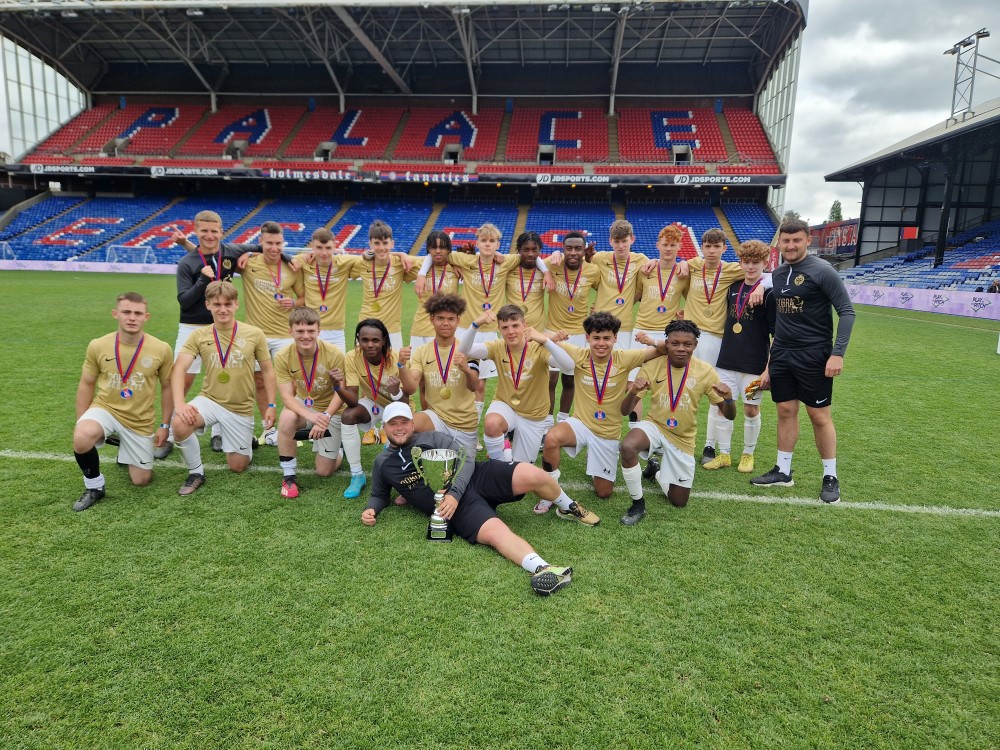 "We had another fantastic year in the League, narrowly missing out on winning it, however that's not the bigger picture," said Muggeridge, who goes down in Snodland Town folklore after scoring the club's first ever goal in The FA Cup, in Luke Wallond's side 4-0 win over Harrow-based side Broadbridge Heath in the Extra Preliminary Round at the weekend.

"A lot of our better players missed crucial games because they were playing for semi-professional clubs or on trial at professional clubs.
"This is the bigger picture and we are now seeing a conveyor belt of players at our academy going into the non-league game.
"This season is looking like it will be our best yet, with our current squad boasting the following players playing at Step Five; Zead Massood, Alfie Dennis (both Snodland Town), Alex Joy, Nathan Kirkby (both Crowborough Athletic), Beau Cook (Bearsted), Jack Glassborrow (Lingfield) and Jack Lyons (Rusthall), which is some achievement when you remember some of these lads have only just turned 16. As well as this, Zead has been invited to trial at Stockport County."
The academy start their pre season straight off the back of a fantastic tour on the continent, having lost in the semi-finals of the world famous Copa Catalunya where they were knocked out by a Spanish third division team, before losing to National League South side Dover Athletic on penalties in the third-place play-off.

As well as this they finished their season winning a men's tournament at Selhurst Park, the home of Premier League side Crystal Palace.

Muggeridge added: "It's great to be able to give the lads the chance to play at a venue like Selhurst Park. Many won't get the opportunity to play somewhere like that again, but if we can first and foremost inspire them to do so again then that's the aim. If not, at least we'll have been able to give these lads memories to last a lifetime of living the life of a pro for one, two or three years.
"The lads have matchday analysis, playertek vests, fixtures against professional clubs, UEFA A standard coaching, and staff who will go above any beyond for them, so everything is here for them to make the next level."
Their first squad finished last season in third place in the SCL League with their second squad finishing just outside the play-off places of the Tactic League.
"This was quite a feat considering we only had three third years across the two squads," added Muggeridge. "The rest of the lads are all eligible again next season, so we have really high hopes about what's to come.

"We want to go one better this season and would love to have a better crack at the national cup, word is already spreading about what we are doing down here, but we would love these lads to go and show the rest of the country they're as good as we believe they are."
They will kick off their season in September and Muggeridge says they will be ready for whoever they face.

"Having exposure to the men's game for so many of our players will only help them when they drop back into under 19 football. If any managers from Step Five and above would like to come to watch one of our training sessions or games and cast an eye over our players we would welcome them with open arms."
The Academy will be managing Rusthall's under 18 squad in this season's FA Youth Cup, to be played in September, which will be their season opener. They have been drawn to play against the winner of Chatham Town or VCD Athletic.
"It's a fantastic competition and one that not many lads are lucky enough to play in," said Muggeridge.
"We are really looking forward to the test and hope we can get a big crowd down to Jockey Farm for the game to support the lads."

If any current year 11, 12 or 13 students are still looking for a full-time football and educational programme EMC are still recruiting for both their first and second squads for the 2023-24 season.
To apply for a trial contact admin@emc-academy.co.uk and mention that you read this article on www.kentishfootball.co.uk.