Eighth Wonder Programme: My advice would be simple; go for it, says Founder Charlotte Richardson
Monday 24th October 2016
Charlotte Richardson, founder of the Eighth Wonder Programme, writes about her journey and discovery of her passion for football. She specifically focuses on how volunteering plays an integral part in pursuing a career in any aspect of sport.
She said: "I started watching football with my Dad when I was eight years old. I enjoyed the buzz of going to matches and as the years wore on, I learnt more about the game itself and enjoyed talking to anyone and everyone about football."
Charlotte (pictured below at Maidstone United holding The FA Cup), identified her passion for football from a young age, and from then on she jumped at every opportunity which was available to gain more knowledge on the game.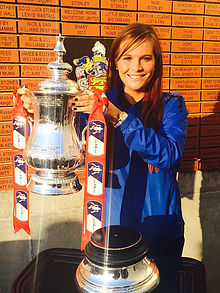 "After watching my team Gillingham FC play, I decided to take part in a phone-in on BBC Radio Kent. I was selected and after having spent a few minutes chatting live on air, I began to think how can football be part of my living: because I really couldn't see myself doing anything that didn't involve it!
"From the point I realised my career had to involve something I was passionate about – sport, I took every opportunity to read, write and talk sport. From editing the sports section of my secondary school magazine to work experience at the Kent Messenger!"
Charlotte's interest in sport helped her decide her pathway into further education, and as she began to apply for different jobs, she acknowledged the importance of voluntary experience in helping her to stand out.
"I went to King's College London to study English Literature with the aspiration of becoming a Sports Journalist. With this in mind, when I saw an opportunity at Gillingham FC's Women's team, I jumped at the chance to apply for the role of Media Manager.
"I sent in my CV which was full of references from experience I accumulated at school, university and beyond. Luckily for me, I was offered the voluntary role."
Once she had secured the voluntary role, Charlotte was involved in an increasing number of activities related to the game and realised the number of new experiences this created for her to learn and grow.
"From there, I used to go to Gillingham Ladies match days, I'd look after the match-day commentary via social media, write the match reports and orchestrate the post-match interviews with coaches and players. As time wore on, my responsibilities grew wider alongside my interests, which evolved more into the marketing and communications side of the game.
"My volunteering work enabled me to travel the country with the team, I was able to design and implement campaigns to help build brand awareness, grow attendances and innovate engagement with fans, the local community and local businesses."
The Eighth Wonder Programme provides young women with the opportunities they need to get involved with the game early on. Experience can be essential in making you stand out from the crowd.

She said: "My voluntary experience assisted me by introducing me to many new people, most who have grown to become good friends. I gained experience working with a range of people, learning how to adjust my style and manner to try and do the best I could. By volunteering my time, I was able to test new things, make mistakes but also gain ownership over my work.
"The volunteering I had done meant that when it came to applying for a job at Kent FA, I had some really strong examples to display. My answers were able to highlight my skills and importantly, showed my interviewers that I was willing to go above and beyond, which is a trait lots of businesses in football look for."
As the founder of the Eighth Wonder Programme, Charlotte tailors the programme to suit individual needs; whether it be in the form of different opportunities to get involved in or a mentor to talk to for guidance, there is always someone on hand to help.
"The great thing about the Eighth Wonder programme is that it supplies participants with a volunteering placement at a club in Kent. It was a stroke of luck and my proactive search that led me to Gillingham Ladies, although it is often hard to know where to go to get that first step into the game.
"The Eighth Wonder programme will ensure the girls are matched to a club or league where they can flourish and I think that is very unique. I hope it will lead to success through the grass roots game gaining lots more ambitious, driven and talented young women who will benefit from the opportunity but also enrich the clubs with whom they volunteer."
Charlotte would encourage any young woman with a passion for football to get involved in the Eighth Wonder Programme – you will get out as much as you put in to it.
"My advice would be simple; go for it. Football is a hard industry to break into yet this programme ensures you get a helping hand. With great partners backing the scheme, including one of the best county Football Associations in the country, by registering you know you're making a really positive and encouraging step.
"Experience is key. For all of us behind the programme, I think we'd have loved the opportunity to be part of a network of people supporting women in football. Sometimes it's nice to have someone within the game you can call and have a quick chat with, or a colleague to share opinions with in a safe environment."
Charlotte's outlook led her to develop the initiative to give young girls the opportunity to get into aspects of the game they are passionate about beyond the football pitch.
"The Eighth Wonder programme has a really empowering theme that I think can benefit any young woman, no matter their age. It's a wonderful opportunity and the link back to the grassroots game is one that could serve Kent football really well."

For further details about the Eighth Wonder kick-off Event which takes place this coming Friday, 28 October, where you'll be able to get unique insight and advice from some of football's most inspiring women, including Gillingham Ladies midfielder Emma Tune, Ryman League secretary Kellie Discipline, please visit: http://www.eighthwonderprogramme.co.uk



The Eighth Wonder programme offers 14-20 year old women a unique opportunity to break into the world of football. The programme is set to create 50 future female leaders of football.
The programme kick-off Event, which takes place at Kent Football Association headquarters in Ditton, between 10:00-16:00 is a day full of development sessions and workshops to enhance their skills and confidence, under the watchful eye of a host of experienced mentors from across Kent football.
Following this one-off day of in-depth training and personal development, participants will be placed on a mentoring scheme, providing them with support and guidance to contribute to the volunteer workforce in Kent.
A volunteering placement scheme across the county will see Eighth Wonder participants provided with unique opportunities to obtain experience; whether as a coach, administrator, marketer, journalist or any other role within the game.