East Grinstead Town 2-3 Phoenix Sports - I think we've done brilliantly today to get a result with how many players we've had out, says Steve O'Boyle
Saturday 29th October 2016
East Grinstead Town

2 – 3

Phoenix Sports

Location
East Court, College Lane, East Grinstead, West Sussex RH19 3LS
Kickoff
29/10/2016 15:00
EAST GRINSTEAD TOWN 2-3 PHOENIX SPORTS
The Buildbase FA Trophy First Qualifying Round
Saturday 29th October 2016
Stephen McCartney reports from East Court

PHOENIX SPORTS' manager Steve O'Boyle says the club need the £2,700 in prize money that they've banked from their victory over East Grinstead Town in The Buildbase FA Trophy today.

A crowd of 95 were delivered dross by both sides during a depressing first half when both teams played an ugly style of direct football and it was no surprise that the score was goal-less at the break.

Basildon based referee David Hutton then awarded three penalties during the second half as the game livened up.

Chris Pattison gave fourth-placed Ryman League Division One North side Phoenix Sports (31 points from 18 games) the lead before referee Mr Hutton pointed to the spot after Jack Barry's handball in the box and Marcus Elliott lashed his penalty into the roof of the net to equalise for Matt Longhust's side.

Phoenix Sports' captain Russell Bedford then slotted in the second penalty of the game to give the Kent side the lead for a second time.

Elliott rolled in his tenth-goal of the season from a controversial penalty to level things up before super-sub Dajon Golding won it for Phoenix Sports with six minutes left to win their first game in five.

"Back to winning ways," came O'Boyle's response after winning without Jack Hopkins (back), Theo Fairweather-Johnson (right-hand), new signing Ben Hunt (illness), Ben Francis (Dartford didn't want him cup-tied while on loan), among others.

"Good, good win for us. As you say £2,700 in the bank for the club, which is really pleasing.

"I would say it's been a tough month. We've had 11 players out last Saturday injured or suspended. Honestly, it has been a really tough time and hopefully players are coming back. Once we've got a full fit squad I know we'll be up there around the play-offs."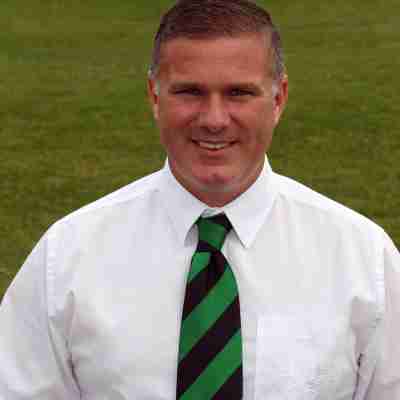 Steve O'Boyle's Phoenix Sports host League One neighbours Charlton Athletic in the Kent Reliance Senior Cup Second Round on Wednesday night.

O'Boyle barked: I'm sorry, the referee's decisions today were shocking! The first penalty for them, well if that's a deliberate handball, he's missed the ball and it's hit him on the hand, so what, but it ain't deliberate and if that's the other end, we haven't been getting penalties like that!"

East Grinstead, who went into the game unbeaten in three and sitting in seventeenth-place in the Ryman League Division One South table on 17 points from 14 games, were unlucky not to take the lead with the game's first chance inside 12 minutes.

Former Tottenham Hotspur central midfielder Laste Dombaxe, 21, was pulling the strings for the opening exchanges.

He picked up a loose ball cut the ball onto his right foot and watched his 30-yard drive sail past Steve Phillips and clip the outside of the far post.

O'Boyle added: "I think they started better than us actually, they started quicker than us and I think we finished the half a lot stronger than them. It was a decent strike but it went wide, via the post, outside of the post."

Both teams are guilty of giving the ball away and Phoenix Sports' opening chance arrived after 18 uninspiring minutes.

Ashley Probets hit a long ball from left-back up to lone striker Vences Bola, who steered his free header past the left-hand post from 12-yards.

"Just a half chance really, didn't really test the goalkeeper. That's one thing I said to them at half-time and that's something that we've got to improve on massively."

Phoenix Sports' main attacking threat came from left-winger Christie Pattison and he gave birthday boy, right-back Callum Emptage plenty of problems.

The East Grinstead skipper was turned inside out by Pattison, who put over a cross towards the far post but Alistair Gordon hooked the ball back to where it came from (into Chris Haigh's hands) instead of hitting the target.

Ryan Andrews delivered a free-kick into the Wasps' penalty area, the ball wasn't cleared by the home team and Gordon's right-footed shot from 20-yards trickled past the foot of the left-hand post.

Phoenix Sports hit the base of the post in the 33rd minute.

Danny Phillips cut past Mitchell Chapman to dart into the penalty area to cut the ball back to Bedford, whose left-footed half-volley from 25-yards screamed past the diving keeper and clipped the left-hand post.

O'Boyle said: "Another half chance! He's had a shot and to be honest with you that's one thing we haven't been doing enough. We've been trying to walk the ball in the back of the net. At least he's had a shot. If you don't shoot, you don't score. Obviously it's hit the post and gone wide."

Probets swung in Phoenix Sports' third corner of the game, cutting the ball back to an unmarked Danny Phillips, who hit his drive over the crossbar.

East Grinstead Town created the final chance of the first half.

Hassan Jalloh, who was making his second debut for the club following his switch from Southern Counties East Football League Premier Division side Beckenham Town, had his shot blocked before he swept the ball out to the unmarked Will Thomas, who bent his shot around the far post from 25-yards.

The small crowd hoped the second half would improve as extra-time and penalties would have settled the game on the day (as agreed by both clubs).

O'Boyle explained why his side's first half performance was poor and it was gut-wrenching to see a Longhurst side play a direct and ugly style of football.

"We haven't really been able to train too much of late, that's how many players we've had injured. We've got people walking round with straps on (Fairweather-Johnson) and everything like that," said O'Boyle.

"I think we've done brilliantly today to get a result with how many players we've had out. It's been a tough time. We haven't been able to train on a Thursday night. I'm too scared people going out there going into games with another injury, so when we're on our game and when we're playing well we know exactly what we need to do.

"I think we're really well-organised, we've got two decent coaches in Grant Spelling and Paul Byron. You can't play every week and win games every week like that. I thought we played some decent stuff here today second half and I thought we got three good goals."

Phoenix Sports broke the stalemate by taking the lead with only two minutes and 22 seconds on the second half clock.

Bola played the ball in behind George Benner and Fuller Roseje and Pattison bundled his way towards the penalty area straight down the heart of the pitch. His first touch was heavy and forced him wider but he maintained his composure to roll his shot across the young keeper, the ball nestling into the bottom far corner to score his fourth goal of the season.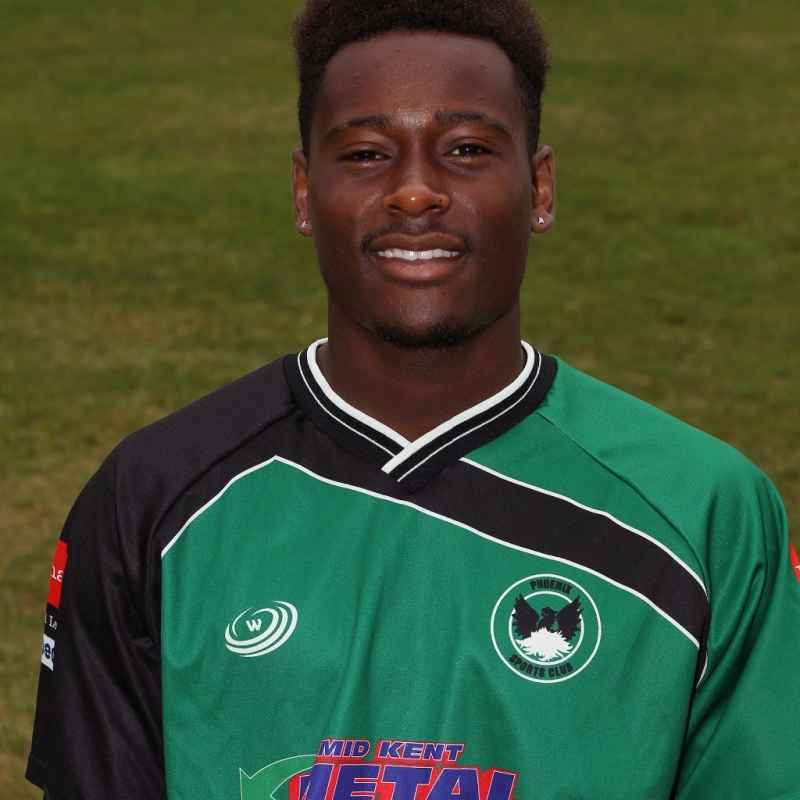 Christie Pattison was a threat down the left wing for Phoenix Sports, scoring their first goal in their 3-2 win at East Grinstead Town in The Buildbase FA Trophy First Qualifying Round

"Once he gets in behind defenders, no-one's going to catch him," said O'Boyle.

"He's another one that's been out most of the season with a hamstring. He was at a few pro clubs in pre-season and he had a hamstring problem and he was battling with that at the start of the season. Hopefully now he's getting back to full fitness and we're seeing the benefits from that because the back end of last season he was on fire, by the way he's on a contract!"

East Grinstead Town took nearly 50 minutes to win their first corner.

Will Thomas played a short corner to Dombaxe, who touched the ball back to Thomas on the by-line who drilled his shot into the top of the side netting from a very tight angle.

Phoenix Sports broke away from Thomas' second corner and Bola and Jason Goodchild linked up and Danny Phillips collected the ball down the right, he cut inside to scuff a poor low shot into Haigh's hands from 20-yards.

Assistant referee Joseph Gray flagged when he spotted the ball bounce up to hit Phoenix central defender Barry on the hand, a decision that enraged O'Boyle during the game and post-match press conference.

It was a gift which Elliott accepted – timed at eight minutes 35 seconds - lashing his right-footed penalty over Steve Phillips right-shoulder into the roof of the net.

O'Boyle barked: "It wasn't even a corner so one bad decision, it weren't a corner! The ball goes in the box, our man goes to clear it, it hits him on the hand. Is that deliberate? I do not know. You'll have 100 penalties in a game and that's a shocking decision!

"They get back in the game from a bad referee decision and a bad linesman decision and we're getting them most weeks at the moment."

Elliott turned provider when he played the ball to Jalloh, who swept his shot from 25-yards, which was saved comfortably by the Phoenix keeper.

Phoenix right-back Andrews played the ball into Bola, who was tripped by the advancing East Grinstead keeper Haigh just inside the box. The keeper was last man, last season he would have been sent-off but now he gets away with a yellow card and picking the ball out of the back of the net.

Bola and Gordon both stood around the ball along with Bedford, who pulled rank to maintain his job of penalty taker.

The pressure was on the central midfielder but he kept his composure to roll his right-footed penalty into the bottom left-hand corner, sending Haigh the wrong way.

"We were playing up at Ware the other week and our man went clean through on the goalkeeper, the goalkeeper comes out, takes him out, outside the penalty area, stays on the football pitch," said O'Boyle.

"There's only one penalty taker and that's Russell Bedford and if someone else had taken it, I would've wanted to know why?! Russell Bedford took the penalty and he's the captain and he's been taking them for over a year now and Russell's the penalty taker – and he's scored it.

"I thought we were pretty comfortable. I didn't think they really threatened us too much and we was pretty comfortable."

The decision from referee Hutton to award East Grinstead Town the third penalty in the 63rd minute was embarrassing.

Thomas clipped a deep free-kick into the penalty area and Benner came up at the back post and took a dive to con the referee, who fell for it, pointed to the spot and booked Phoenix central defender Aaron Sekhon who pleaded his innocence.

Elliott stepped up and sent keeper Phillips the wrong way, his right-footed penalty nestling into the bottom left-hand corner.

"I know George well and I'm sorry, that was a pathetic dive and the referee's given it, pathetic dive. How he's given it, I do not know and they're back in the game with two penalties," said a fuming O'Boyle.

"Do we need to be talking about referee's? They've had two penalties and even their bench turned round and said it was a joke!"

Thomas swept a free-kick towards the edge of the Phoenix penalty area, where Elliott's back header was comfortably caught by Steve Phillips, who kept his side in the competition with a diving save in the 70th minute.

Elliott slipped the ball through to his strike partner Tashi-Jay Kwayie, who unleashed a right-footed angled drive towards the far corner, but Phillips dived to his right to push the ball towards safety.

Longhurst confirmed before the game that Kwayie has extended his loan from Ryman Premier League side Tonbridge Angels for another month.

"The game got a little bit scrappy. It got interrupted by bad decisions and whatever and it affected us a little bit and we needed to calm down a little bit and make sure we got back on the game," added O'Boyle.

"Steve Phillips, that's what Stevie Phillips does. He's a good goalkeeper, a good save and to be honest with you he's pushed it to the side and you can't ask for no more than that. It was another good performance by him. Another thing I would say and I do go on record, Steve Phillips can't save penalties. I'm struggling to find one (that he's saved)."

Probets swung in a free-kick with his left-foot from the left and Sekhon rose above Benner to steer his towering header across the face of goal and ended up troubling the corner flag than the goal.

Phoenix Sports squandered an excellent chance to grab the victory in the 79th minute - with another long ball.

Sekhon's long ball out of defence was brought under control by Bola's chest, who shrugged off Wasps' left-back Jake McIntyre to drill his low shot past the near post when he should have aimed across the keeper towards the far post.

"One-on-one and he should've gone across goal and he's gone near post. It was a bad finish," admitted O'Boyle.

Probets' driven free-kick was blocked by the wall, Pattison put the ball back into the box, the ball wasn't cleared by Wasps substitute Louie Stanton-Cockle and Goodchilld set-up Golding, whose low angled drive brought a comfortable save from Haigh.

Eleven second later, Steve Phillips made a comfortable save to deny Kwayie, who held off his man as he cut into the penalty area from the right.

With the game destined to go into extra-time, one piece of quality from highly-rated former Dartford winger Golding won the game for Phoenix Sports in the 84th minute.

Probets hooked the ball down the line and Golding ran into space, easily shrugged past Emptage and cut inside and drilled a low left-footed drive to beat Haigh at his near post from 15-yards, before running over to the bench to jump into Paul Byron's arms.

"It was really good to see Dajon come on and get us the winner," said O'Boyle.

"Listen, he's come in this season, it's his first real full season of playing. He's a talented lad, a good player. His end product, at the moment, has got to improve and I've been telling him to do that all season so I'm over the moon he's got inside the full back and drove in and had a shot and if he can carry on doing that, we've got a good player on our hands."

Phoenix Sports should have wrapped the game up when Gordon clipped the ball in behind to put Pattison through on goal but Haigh pulled off a great save, diving to his right to tip the ball around the post.

"That's what I'm saying, if he wants to be a centre forward they've got to end up in the back of the net," said O'Boyle.

"The goalkeeper's pulled off a save but his first touch has got to take him centre of the goal, it took him too wide. When you're playing in this level a decent centre forward, that's in the back of the net and that's the difference."

East Grinstead Town created one final chance with the last kick of the game.

Dombaxe swung in a deep corner from the left, the ball was cut back by substitute Jack Howlett and it was justice when Benner smashed his shot high over the bar. It serves him right for cheating earlier on in the game!

O'Boyle revealed he is going to celebrate the club's second ever FA Trophy victory (a 50% record from four ties).

"Massive, it's massive. The club needs the moment. We're still a small football club," said O'Boyle.

"We've had to spend £16,000 on a fence to go around our pitch. Money doesn't grow on trees so I'm so pleased that the club has got a little back in today. I did say that to the players. It's not a league game. It means a lot to the football club to getting revenue in like that.

"I will enjoy that result today. I'm going to go out with a few ex-players that I used to play with and I'm going to enjoy tonight."

East Grinstead Town: Chris Haigh, Callum Emptage, Jake McIntyre, Mitchell Chapman (Alex Gaggin 90), George Benner, Fuller Roseje, Will Thomas (Louie Stanton-Cockle 68), Laste Dombaxe, Tashi-Jay Kwayie, Marcus Elliott, Hassan Jalloh (Jack Howlett 65).
Subs: Alex Arif, Chris Ogunlawa

Goals: Marcus Elliott 54 (penalty), 63 (penalty)

Booked: Will Thomas 30, Chris Haigh 57

Phoenix Sports: Steve Phillips, Ryan Andrews, Ashley Probets, Russell Bedford, Jack Barry, Aaron Sekhon, Alistair Gordon, Jason Goodchild, Vences Bola (Dajon Golding 80), Danny Phillips, Christie Pattison.
Subs: Jordan Campbell, Calvin Poku, Lewis Mingle, Danny Kemp

Goals: Christie Pattison 48, Russell Bedford 58 (penalty), Dajon Golding 84

Booked: Russell Bedford 32, Aaron Sekhon 62, Danny Phillips 66, Dajon Golding 90

Attendance: 95
Referee: Mr David Hutton (Basildon, Essex)
Assistants: Mr Craig Pullen (Romford, Essex) & Mr Joseph Gray (Dagenham, Essex)


Coverage Sponsored by: