AFC Cubo 0-0 Peckham Town - Winning London Senior Trophy for the first time is a great achievement and a good mark in history for us, says Peckham Town manager Mary Phillip
Friday 28th August 2020
AFC Cubo

0 – 0

Peckham Town

Location
Badgers Sports Ground, Middle Park Avenue, Eltham, London SE9 5HT
Kickoff
28/08/2020 19:45
AFC CUBO 0-0 PECKHAM TOWN
(after extra time – Peckham Town win 5-4 on penalties)
London Senior Trophy Final
Friday 28 August 2020
Stephen McCartney reports from Middle Park Avenue

PECKHAM TOWN manager Mary Phillip says her side have made history after grabbing the London Senior Trophy for the first time in their history.
Phillip, 43, who played for Millwall, Fulham and Arsenal and has 65 England caps to her name, guided her home-town club to victory after 16 penalties were taken in a shoot-out after the game finished in a goal-less stalemate after 120 minutes of football.

Peckham Town had their goalkeeper George Legg to thank for an outstanding performance that proved he can play a lot higher than the Kent County League Premier Division.

Wimbledon based side AFC Cubo – from the Surrey Elite Intermediate League – were the better side on the night and player-manager Marcus Torr will rue the many chances that his team-mates missed.

"They gave me 110% out there tonight, I can't take nothing away from them," said Phillip, the only female football manager in senior (men's) football.

"They went out and done exactly what was asked off them. They played their game and went out and enjoyed the occasion and fought for every ball out there. It was die hard out there today.

"The goalkeeper was outstanding, George Legg was my man-of-the-match and kept us in the game first half and kept a clean-sheet for us in the second half. He kept us going, kept that spark alive for us."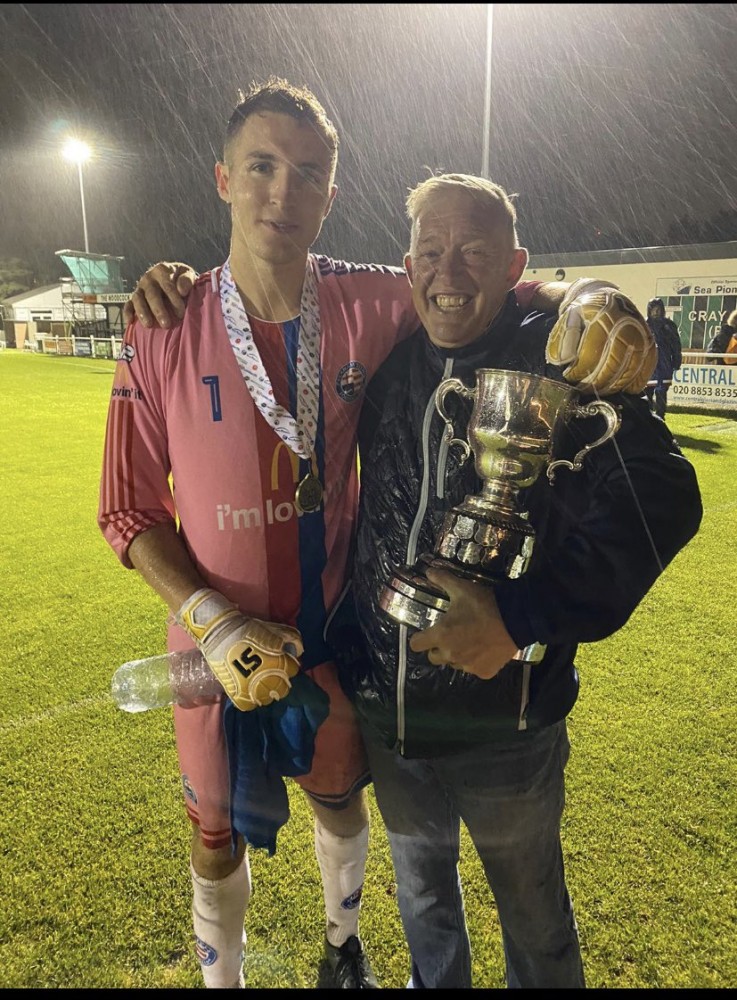 HERO: Peckham Town goalkeeper George Legg had an outstanding game, helping his club win the London Senior Trophy for the first time.
Photo: Twitter

For a club that have suffered badly with vandals hitting their ground and training ground on Dulwich Common during lockdown, Phillip was delighted with her charges as she claimed her first piece of silverware at the first attempt.

"It's a massive uplift," she said.

"Obviously Covid's come along and there's nothing we can do to control that but our ground and training ground has been vandalised so to actually take this trophy back now regardless of what's been going on and all of the stuff we need to be doing, we've come out and won the cup. It's amazing!"

AFC Cubo reached the Final after beating Lopes Tavares (4-3), Bridon Ropes (2-0) and NW London (4-1), while Peckham Town defeated AFC Croydon Athletic's development side 7-0 before beating Kent Football United (2-0), Hilltop (4-3) and a second Southern Counties East Football League First Division side in Forest Hill Park 1-0 in the Semi-Finals.

This Final was originally scheduled for 31 March at Bayliss Avenue in Thamesmead but was delayed due to the coronavirus health pandemic and 159 fans had to purchase tickets online to attend this showpiece final in Eltham.

And despite their lower-league status, AFC Cubo put in an impressive performance but their finishing let them down on too many occasions.

Peckham Town created their first opening after only 110 seconds when left-winger Nicky Meta put in a cross, which was cleared out to Norman Hong (who was later withdrawn after turning his ankle) but he drilled his volley harmlessly wide from 20-yards.

AFC Cubo diminutive central midfielder Thomas Shaw launched 10 long throws into the Peckham Town box during the course of the game and Paul Maas, who plays behind the front two of Oliver Perkins and Henry Chadwick, hooked his shot through a crowd of players and saw the ball trickle past the far post from 10-yards.

AFC Cubo's other central midfielder, Harry Peel, hit a sublime first time pass with his right boot to release Maas in behind the defence but his chip was comfortably caught by Legg as the Baby Blues created a real goalscoring opportunity inside eight minutes.

Maas broke free and sprinted towards the edge of the Peckham Town penalty area before playing the ball out to Matthew Cross who played the ball back inside to Maas, who drove his right-footed drive into Legg's midriff from 25-yards.

Peckham Town relied on a set-piece as they almost grabbed the lead in the 17th minute.

Captain Meta floated a free-kick into the penalty area for Charles Elegton to glance his header towards the roof of the net, only for goalkeeper Jack Hutchinson to make a smart save, tipping the ball onto the crossbar and behind for a corner.

Phillip said: "It was a great chance! We had it there, just maybe, but their keeper was good. He was short in stature but he can get around. Height doesn't always count at this level when you're playing football and he just touched that ball over, which was amazing because he just tipped it."

AFC Cubo's right-back Matthew Laing drove forward before Chadwick teed up Maas, whose right-footed drive from 25-yards was comfortably caught by the busy Peckham keeper.

Peckham thought they had opened the scoring in the 26th minute but the goal was chalked off for offside.

Meta threaded pass released striker Jefroy Leslie down the left and he easily skipped past a sliding challenge from centre-half Torr and should have shot at goal himself but he cut the ball across to an unmarked Marcus Black, who was offside by the time he swept the ball into the back of the net.

"Jefroy, for me, should've taken the shot himself," admitted Phillip.

"I know he's trying to be unselfish but when you've done that run and dribbled into the area, you're literally in front of goal so just pick a side and slot a goal – but he saw his partner in possibly a better open position and thought he played it in but he didn't see he was offside," agonised Phillip.

Tough-tackling Hong clipped a lovely through ball from the edge of the centre-circle into Leslie, who held off his marker but his shot on the turn rolled into the hands of the Cubo keeper.

Peckham Town's goal lead a very charmed life as AFC Cubo finished the first half on the front foot and wasted some glorious chances during the final 15 minutes.

Shaw threw the ball short to Peel, who had time and space to whip in a great cross but striker Chadwick scooped down to send his header across the keeper and just past the far post.

Legg pulled off a brilliant save when AFC Cubo breached the Peckham Town back-four in the 34th minute.

Cross's fine pass put Chadwick through on goal and with only Legg to beat, the Peckham keeper spread himself to his right and got a strong hand to the shot as the ball looped over the top of the far post.

"George was outstanding! He stood his ground and he made several saves out there, keeping that spark alive for us. That's one highlight but he done that throughout the whole game," praised Phillip.

AFC Cubo were guilty of a glaring miss shortly afterwards following Maas' right-wing corner, Torr threaded the ball through a crowded penalty area to put in an unmarked Perkins, who placed his shot just past the foot of the right-hand post from eight-yards and with only the keeper to beat.

Laing drove forward again and skipped past two heavy challenges before playing a one-two with Chadwick and the right-back drilled his shot just past the right-hand post in a one-on-one situation.

Peckham Town hit their opponents on the counter-attack and winger Meta cut the ball onto his right-foot before floating in a cross towards the near post for Black to nip in front of centre-half Tim De La Haye and glance his header just past the near post.

Peckham Town's right-winger Kevin Dance fed the ball into Leslie's feet, who showed silky skill to control the ball with his right boot before cracking a left-footed drive which screamed just over the crossbar from a central position some 25-yards from goal.

Somehow Peckham Town survived going into the half-time break, their manager grateful to her keeper's heroics.

"Cubo, they probably created the best open chances out there in all four quarters. They created the chances and had the more direct shots on goal," said Phillip.

"We created chances but not as direct as they were. We had die hard in our defences and we had a great keeper behind us that kept us clean and we just kept them at bay."

Peckham Town created the first chance of the second half in the 52nd minute when left-back Jay Virgo swept his right-footed free-kick from 35-yards over the four-man wall, keeper Hutchinson stepping to his right to make a comfortable catch to prevent the ball dropping inside the near corner.

Legg excelled again when he pulled off a brilliant reaction save to thwart AFC Cubo again.

Chadwick was released down the right and he whipped in a quality low cross towards the near post, which was flicked first time by Maas, the ball flashing towards the bottom near corner from inside the six-yard box, only for Legg to get swiftly down to his left and use a strong hand to push the ball behind for a corner.

"He just knocked it in near post. It was blind from where I was standing but he managed to get his hand to it and just knocked out around the corner," added Phillip.

Legg was then called upon making a fine double save to make this a frustrating night for their dominant opponents.

Peel unleashed a 30-yarder, which bounced right in front of Legg, who parried the drive straight at Chadwick but Legg swiftly rose off the ground to ensure the follow-up shot was blocked.

On tonight's performance, this goalkeeper should be playing in the Isthmian League South East Division – proving there are plenty of uncut diamonds in amateur football.

From the hour-mark you could tell the energy had zapped out of AFC Cubo's legs as the remainder of the second half was a cagey affair.

The hard-working Chadwick raced down the right and put in another great cross for Cross but his header from six-yards out looped over the Peckham crossbar.

Peckham Town almost snatched the victory inside the final 11 minutes when a threaded ball along the deck wasn't controlled by Black and ran through to Leslie, who beat the last two defenders but lacked composure and drilled his shot over the keeper's right shoulder and against the crossbar from 15-yards.

"It's just one when you're just hoping it can just divert in or he keeps it down and take the height of it and it just sailed over the bar," added Phillip, who saw her number nine put the ball over the crossbar on too many occasions during the game.

With their opponents tiring, Peckham Town finished the second half strongly and on the front foot.

Meta's sublime through ball released Leslie through on goal but this time his low shot was hit straight at Hutchinson, who made a comfortable save.

AFC Cubo came agonisingly close to claim a deserved victory but Peckham Town got out of jail – with 27 seconds of normal time remaining.

Maas released Cross down the right and with Peckham's left-back Virgo chasing shadows, Cross squandered a glorious chance to grab all the headlines with Legg to beat - drilling his angled drive across the keeper and flashing past the foot of the far post.

"I can safely say, I was cringing on that one because I could see it. It was a decent strike but it just took it away from the goal. If he struck it any neater it may have gone straight at the goal and into the far post that he was trying to get to," added Phillip, who has been coaching at the club since 2002.

When asked her thoughts at the end of normal time, Phillip replied: "It was just a case of turn round now, settle down. We were getting a hole in our midfield so we had to attack our areas and just get the ball down and play. It was a case of basic, simple football.

"With it being wet and the grass picking up and zipping, basic and simple was what was going to do it out there today and both teams tried to do that.

"It was tough out there. We just tried to hold it down. Both teams tried to create the chances in the dying minutes. If a goal was scored in the last five minutes that team is winning and both teams created chances but neither of us stuck it in the back of the net!"

The heavens opened for extra-time, which made conditions tough going for both sides and referee Joseph Cannon was very lenient when he should have issued Elegton a second yellow card for a challenge on Shaw inside the centre-circle inside the opening five minutes of extra-time.

Flegton was swiftly substituted, which kind of gives it away that he got away with one there.

"It was almost (a sending off), admitted Phillip.

"They looked tired and they've both gone in for a challenge. Their player came off the worst. It wasn't malicious, there was no intent there. I thought let's take Charles off there and put some fresh legs in there."

AFC Cubo were wasteful again on the stroke of the interval.

Shaw threw the ball inside to substitute Samuel Brooks, who floated a cross over Virgo's head to pick out the unmarked Cross, who hit his left-footed volley screaming past the near post when he only had the towering presence of Legg to beat from 10-yards.

AFC Cubo kicked-off the second period and Chadwick missed a couple of chances inside the opening 39 seconds.

He was about to finish off a three-man move when he was played in behind the Peckham Town defence but was denied by another great save from Legg, who used his right-foot to make another save.

Phillip said: "George was outstanding again. He's the man-of-the-match out there for me today. That was his goal, that's what he does and he wasn't letting no one get past him today."

Chadwick kept plugging away, however, finding space inside the Peckham box before bending his shot just past the foot of the near post.

AFC Cubo kept banging on the door and Chadwick missed another chance inside the final couple of minutes.

Latching into Brooks' pass, Chadwick skied his shot over the crossbar when he only had Legg to beat.

Both sides will need to invest in time so they can work on their finishing, which was very poor at times.

AFC Cubo could not find a goal during 120 minutes of football so the game was settled by taking 16 penalties.

"I picked the five to take the penalties, obviously they were confident taking them and I said pick your corners and be confident out there and just slot it in," said Phillip.

Cubo went first and this time Chadwick did find the back of the net, a composed right-footed penalty straight down the middle as Legg dived to his right.

Peckham Town also scored their first spot-kick, Virgo rifling his right-footed penalty into the top left-hand corner. No keeper was going to save that one!

Legg dived to his left to parry Maas' left-footed penalty.

Peckham Town took a 2-1 lead when Black rifled his left-footed penalty into the top left-hand corner.

Both sides then missed their next penalty, adding to the drama in the rain.

Cubo sub Brooks leaned back before lashing his right-footed penalty high over the crossbar, before Peckham's centre-half Marco Alemeida had to be consoled by his teammates after his poorly struck penalty was easily gobbled up by Hutchinson, diving to his left.

Cubo levelled the score at 2-2 with the seventh penalty, Cross finding the bottom left-hand corner, despite Legg diving the same way.

The pressure was now on Peckham and Meta's right-footed penalty was caught by Hutchinson, low to his right.

Cubo made it 3-2 with the ninth spot-kick, Haye striking his right-footed penalty into the top left-hand corner.

Peckham Town held their nerve with their fifth penalty, Leslie sending the keeper the wrong way with his right-footed kick, which nestled into the bottom left-hand corner.

Now it was the turn of the players' who didn't want to take one.

Cubo's 120th minute sub, Nicholas Chan, a diminutive player, lost composure as he lashed his right-footed penalty high over the crossbar.

Peckham's right-back Youseff Bouimane then crashed his right-footed kick against the crossbar.

Cubo went 4-3 in front when Laing capped off a good game by slotting his right-footed penalty into the bottom left-hand corner.

Dance levelled, slotting his right-footed penalty into the bottom left-hand corner, despite the keeper going the same way.

Cubo's substitute left-sided midfielder Barney Tierney broke his sides hearts by placing his right-footed penalty just past the foot of the left-hand post, leaving another substitute, Tidian Barry to hold his nerve by slotting his kick straight down the middle to win it for Peckham.

Phillip said: "It's nervy, it's an ends to the game, someone had to win this game and penalty shoot-out is the way to do it, so no one actually wins the game but someone's got to take the game and penalties is the way you do it.

"We've come out on top of that so I'm content with the penalties tonight because we've won it but when the boots on the other foot and you lose the game it's kinda harsh because both teams literally deserved to be picking up that cup tonight but only one team can do that."

Peckham Town open their Kent County League Premier Division campaign with a home game against Borden Village on Saturday 5 September.

The Sittingbourne based side are under new management in the shape of Kevin Brown and Simon Beard.

Tonight's Cup success gets Peckham Town's new campaign off to a positive start, having been at the foot of the table at the time of the abandonment of last season due to the health crisis.

"We'll take this as our Charity Shield. It doesn't determine how your season runs but it can put you in good stead for the season because you're putting in a performance before the season kick starts," said Phillip.

"Like I said to the players today, you go out there and you enjoy the game. You're going to make history because it's the first time in Peckham Town's history that a senior team has got to the London Senior Trophy Final and won it and it was my first time getting to a final.

"It was a great achievement and a good mark in history for us."

On her aspirations for the season ahead, Phillip replied: "We've got to finish top half of the table. We had a very slow start last year, it was a very new team. We've had a year to gel. We've had a decent pre-season, we've had a great cup final. This is our way forward now. We'll take every game as it comes and go out and leave everything out on that field, no regrets, no what-ifs and that is what it will be like every single game now."

AFC Cubo: Jack Hutchinson, Matthew Laing, Mitchell Seymour, Thomas Shaw (Nicholas Chan 120), Tim De La Haye, Marcus Torr, Matthew Cross, Harry Peel (Samuel Brooks 66), Henry Chadwick, Oliver Perkins (Barney Tierney 87), Paul Maas.
Subs: Robert Davies, Ryan Hulme

Booked: Thomas Shaw 51, Samuel Brooks 90

Peckham Town: George Legg, Youseff Bouimane, Jay Virgo, Charles Elegton (Tidian Barry 98), Marco Alemeida, Elliott Hardisty, Nicky Meta, Norman Hong (David Gabor 50), Jefroy Leslie, Marcus Black, Kevin Dance.
Subs: Archer Hill, Gary Martin, Joe Thomas

Booked: Charles Elegton 73, Youseff Bouimane 77

Attendance: 159
Referee: Mr Joseph Cannon
Assistants: Mr Ryan Larkin & Mr Maros Valko
Fourth Official: Mr Fabien Le Houezec

Message to the Southwark News and other publications/websites:
If you would like to use parts of this match report for your newspaper or website, please email me and you can contribute towards my costs of covering this game.