My aim is to finish as high as possible so Crockenhill are not first on the list to be relegated, says boss Liam Kelly
Sunday 05th July 2015
CROCKENHILL manager Liam Kelly says he has already put a smile on his chairman's face – despite losing his first game in charge of the club.

The Crocks opened their pre-season campaign with a spirited display in their 5-2 home defeat to Sittingbourne, who fielded a squad made up of trailists.

Sittingbourne raced into a 2-0 lead inside the opening twenty minutes as goalkeeper Mike Boreham made two mistakes to allow Bryan Bell to capitalise on both occasions.

But Daniel Jeffery pulled a goal back for the Crocks on the half-hour, slamming home after Aaron McCallum's shot bounced off the post.

Charlie Dickens – who played for Deal Town last season – headed home Sittingbourne's third before the break, before Alex Gaggin was gifted a second by Brickies' substitute keeper, Rilwan Anibaba, who had replaced first team keeper Adam Molloy at half-time.

Sittingbourne's impressive pacy striker Fred Obasa added a couple more goals later in the second half as the Kent Invicta League side tired in the hot weather.

Crockenhill continue their pre-season preparations with home games against Tunbridge Wells (11 July), AEI Sports (15 July) and Tonbridge Angels (25 July), before their Kent Invicta League opener on 8 August.

"I hope we get a reasonable fixture, an away one would be nice after playing a lot at home during pre-season," said Kelly.

"An away game will be nice, somewhere nice, a nice pitch, somewhere local. I'm looking forward to it.

"It's (the opening day) a long way away. There's going to be injuries before then, there's going to be players coming down. There will be a phone call on the first day of the season saying they haven't got a club to be at and I can't refuse and I've got to throw him in."

"It will take a couple of weeks before it all settles down but I'm just looking forward to the start of the season.

"I don't really like friendlies too much – I just want to get going really."

A crowd of 72 people were at Wested Meadow to help boost club coffers for hardworking chairman Steve Cullen and his small band of club stalwarts that work tirelessly to keep this famous old club afloat.

The sixteen players that represented the club against Sittingbourne were asked to contribute towards subs to meet the match day expenses.

But Kelly is pleased with the way things are going since taking charge of the club on 24 June.

"I'm relishing it 100%," said Kelly, who admitted he only had Reece and Ryan Cullen on the club's books when he took over.

"Just after being training here the last couple of weeks to see how hard the people work here behind the scenes.

"The pitch was cut twice this week by a lawn mower, not a sit on mower, but a hand lawn mower! That takes hours, and hours and hours out of people's days and they deserve to have a little bit of a good time.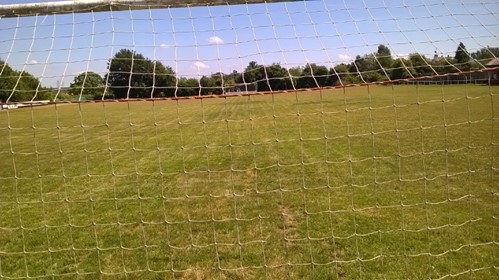 Crockenhill's pitch ahead of their opening pre-season friendly against Sittingbourne.
Photo: Stephen McCartney

"Our atmosphere at training has been fantastic.

"It's great to see a chairman with a smile on his face. I've seen a lot of chairmen recently that look miserable so it's good to see one smiling so hopefully we can do something good for them."

When asked about his aspirations for Crockenhill in the now 20-club Kent Invicta League, Kelly said: "I'm looking at the league as two leagues. There's a main league and then there's a league that doesn't apply with ground grading, which Crockenhill, unfortunately, currently is one of.

"My aim is to finish as high as possible above the teams that don't comply because when they start culling next year or the year after I don't want Crockenhill to be the first name from the list because I'm sure they'll cull from the bottom up."

The club do not have floodlights at their rustic Wested Meadow ground and the manager was asked about the club's present situation with an age long issue.

He said: "There's still discussions with the owner. The issue is having a long enough period on the lease to allow funding for floodlights to be granted.

"We don't foresee having problems with floodlights but its having the lease long enough. We do anticipate that being sorted in the next month or so.

"The floodlights and application for funding etc won't be in time for the end of this season, which means when the cull starts it's more than likely we'll be in the mix.

"That said if Crockenhill go down (into the Kent County League) with a little bit of luck it will only be for one season only. Once the lights go up, we'll be in a position to re-apply (for the Kent Invicta League).

"It's not a short term project, it's a long-term project for me anyway."

Crockenhill are one of the famous names at step six level in Kent and Kelly is keen to keep the club alive.

"I've yet to explore possibilities of funding and getting some of their history out there a little bit more really.

"The chairman has been saving for floodlights over the years, which has made the other areas of the ground go into a state of disrepair."