Cray Wanderers get the green light for Flamingo Park: This is a fantastic result for Cray Wanderers and for the wider football community, says chairman Gary Hillman
Wednesday 14th March 2018
CRAY WANDERERS were last night successfully granted planning approval by Bromley Councillors (subject to the conditions and the London Mayor's final approval) for their application to build a new ground, community facilities and affordable housing on the site of Flamingo Park in Chislehurst.
Bromley Council's development control committee voted in favour of the scheme by an overwhelming cross party majority of 11 to 3 after a presentation from club chairman Gary Hillman and written support from local resident's associations and The Football Foundation, on behalf of The Football Association.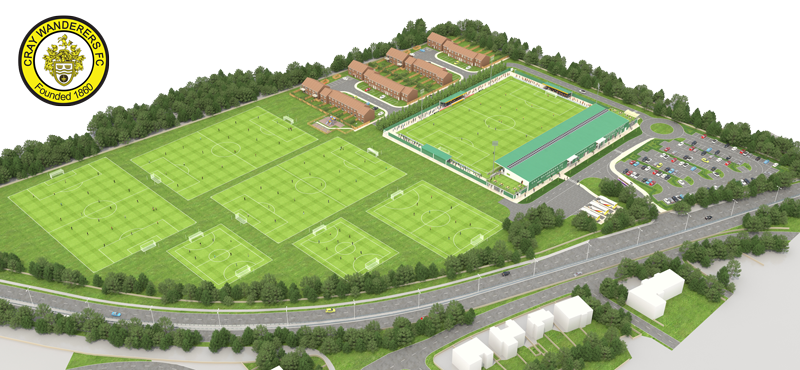 The application received great support from the local community, with over 570 registered comments of support from local residents and few objections, alongside support from many of the local resident associations and community groups.

Over 100 supporters of the scheme attended the hearing to show their support for the application.

This decision will now be referred to Sadiq Khan, the London Mayor, for ratification and is subject to completion of a legal agreement (s106) and planning conditions to be agreed with the council..

Cray Wanderers chairman Mr Hillman said in a statement: "This is a fantastic result for Cray Wanderers and for the wider football community.

"I have been completely taken aback by the huge response to the decision, my phone and social media hasn't stopped since the approach was given and we have received support from other club's all over London who have recognised our struggle over the years to find a home.

"I would like to sincerely thank Bromley's planning committee for appreciating the community benefits and genuine common sense of our revised scheme to finally provide Cray Wanderers with a home.

"I would also like to thank the incredible fans and Bromley residents for all of their support.

"There are over two million people that are directly and indirectly involved in football in London so to have the future of London's oldest football club secure, especially in an areas which hasn't seen any real investment in football or other sporting facilities over the years is a huge positive.

"We have listened to the Mayor's previous comments and the new scheme now features 100% affordable housing and a reduction in the scale and amount of development on the site, which we believe now meets all of the Mayor's criteria and will positively support his housing targets and help the local community with much needed affordable housing.

"We hope the London Mayor will now also be able to see the fantastic merits of the scheme and will feel this revised application, which addresses all of his previous concerns, will be of benefit to the community, returning a disused piece of land to community sporting use.

"I am writing to the Mayor and would like to extend an invitation to visit the site to help appreciate the schemes benefits and to meet to finalise the details and conditions, so we are able to begin the project to provide this fantastic facility to the community."

Visit Cray Wanderers' website: www.cray-wanderers.com