We're open to jobs if anyone wishes to speak to us, says successful former Cray Wanderers youth team boss Mark Dacey
Tuesday 21st May 2019
CRAY WANDERERS begin the search for a new management team for their successful under 23 side after losing the services of Mark Dacey and Adam Flemming.


The Wands finished in third-place in the Isthmian Development League South Division last season and the pair also worked with the under 18s, guiding them to the Second Round of The FA Youth Cup where they went down to a 4-0 defeat to League One club Portsmouth at Hayes Lane on 21 November 2018.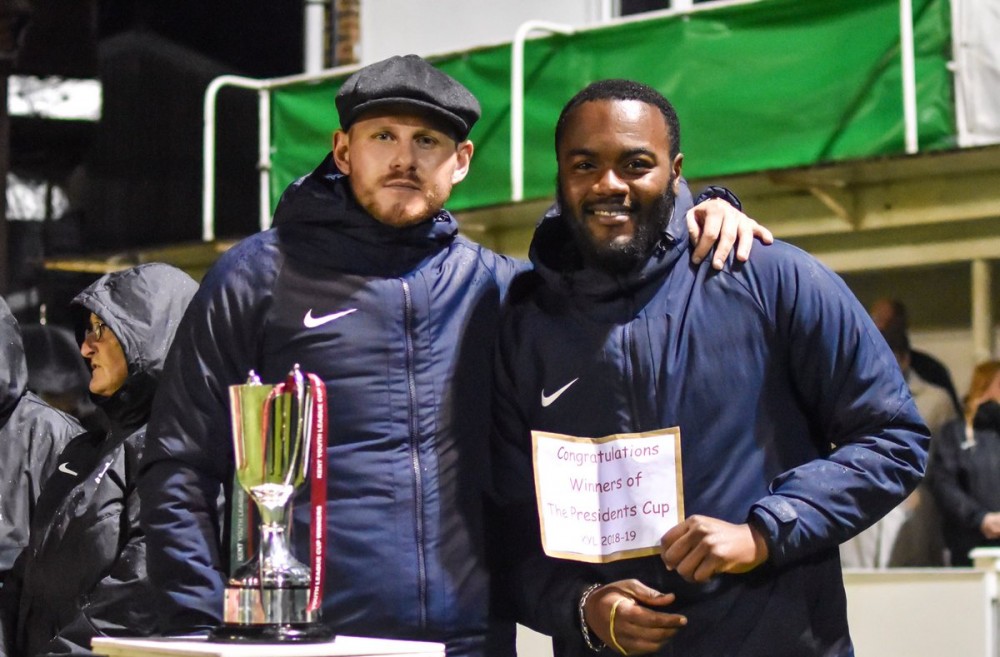 Mark Dacey and Adam Flemming are both avaiable following a successful two year stint at Cray Wanderers.
Photo: Cray Wanderers FC

Portsmouth went on to earn a dream date with Premier League giants Liverpool in the Third Round.

Cray Wanderers under 18's also celebrated winning the Kent Youth League Presidents Cup after thrashing their Ramsgate counterparts 8-0 on 10 May during a rain lashed game at Corinthian's Gay Dawn Farm ground in Longfield.

"Cray Wanderers would like to pass our thanks and best wishes to Mark Dacey and Adam Flemming, our successful under 23's management team, who are moving on to pastures new next season," said a club statement.

"Both are very gifted coaches and we thank them for their great work for the under 23's and wish them well next season.

"Cray Wanderers are looking for a new manager for the under 23's next season. We will be competing in the Isthmian Development South next season so are playing at a high standard."

Interested parties should contact Sam Wright by email: sam.wright@cray-wanderers-com.

Fourteen young players went on to feature for Tony Russell's first team during the pair's two seasons at the club.

Cain Cruz, Tiwa Fujimade, Alfie Young, Kwame Poku, Ken Charles, Freddie Parker, Charles Etumnu, Donnell Anderson, Alex Brefo, Zach Hallet, Malik Solebo, Lee Lewis, Kyrique Garvey-Williams and Deshon Carty were all given their chance with the then Isthmian League Division One South club.

Several players also had trials at professional clubs.

Frankie Morgan (Cardiff City, Luton Town, Cambridge United); Etumnu (Shamrock Rovers); Neil Spencer (Peterborough United); Poku (Brentford, Colchester United); Charles (Colchester United); Parker (Millwall, Crystal Palace); Garvey-Williams (England); Adam Bambroffe (Philippines); Ben Lesson (England) and Ben Branch (Cardiff City).
Upon his departure, Dacey said: "It's time for the boys to play men's football. Respectively and in the correct manner we stepped aside.

"Cray Wanderers is an incredible club that's heading in the right direction."

When asked about his future plans, Dacey said he is open to offers this summer ahead of the new season.

"We have no future plans but open to any men's jobs if anyone wishes to speak to us."

Visit Cray Wanderers' website: www.cray-wanderers.com