Cray Wanderers set for make-or-break Flamingo Park judgement day
Tuesday 13th March 2018
CRAY WANDERERS will be told tonight if they will get the go-ahead for their new stadium at Flamingo Park.
The homeless Bostik South outfit – the oldest football club in London – will learn tonight whether they will be able to build the 1,3000 capacity, artificial pitch stadium in Chislehurst.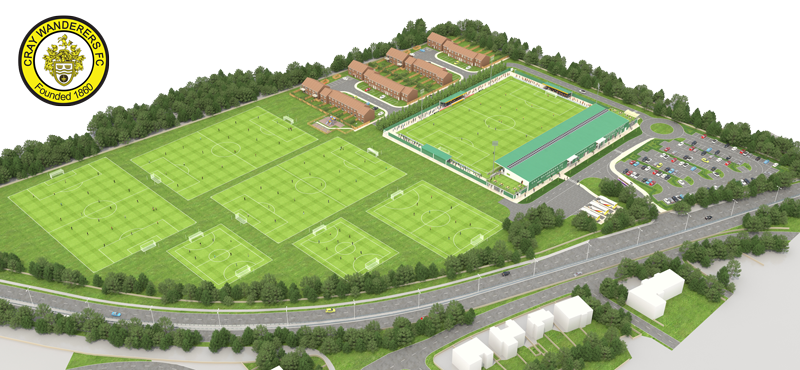 Cray Wanderers will be told by Bromley Council tonight
if they will be given the go-ahead to buiild a new
stadium at the Flamingo Park site in Chislehurst.
Plans: Cray Wanderers FC

Chairman Gary Hillman said: "Big night and future of Cray Wanderers Football Club in the hands of Bromley planning committee tonight.

"The development control committee will consider our revised planning application to create a new home for Cray Wanderers FC, a community sports facility and an enabling development of 42 new homes.

"The committee approved our previous application for the site in April 2016, however, the application was then turned down by the Mayor of London, Sadiq Khan."

The club has received 579 letters of support from local residents, support from the Cray Valley Residents Panel; support from Old Saint Paul's Cray Residents Group and other resident's association and from The Football Foundation.

The benefits of the club moving into waste land are returning the site to its original use as a sports facility for the local community, including the clubs 13 youth teams.
The move will secure the future of the Cray Wanderers Community Scheme, which delivers training sessions in 15 local schools and hosts regular clubs and activities.
It will boost the local community through construction jobs, permanent jobs upon completion and increased revenue through council tax.
It will provide affordable sporting facilities, encouraging participation in sport across the Bromley borough.
Mr Hillman has made the improvements to his bid since his 2016 scheme.
He will reduce building heights (residential building height reduced from four storeys to two; use more traditional designs; there will be more green belt openness; residential and leisure floorspace accounts for a smaller area than in the previous scheme. The housing will be 100% affordable and there will be an extra community football pitch at the site.
Reflecting on the current state of Flamingo Park, Mr Hillman said: "We have explored 20 alternative sites over the last decade. Cray Wanderers offer the only realistic opportunity for this site. If we don't get planning permission, there is no prospect of any other sporting organisation coming forward and the site will continue to deteriorate.
"In its current state, Flamingo Park contributes nothing positive to the local area. The old pavilion is a disused night club. Other activities have included boot fairs, funfairs, scaffolding yards and car storage."
A statement from Bromley Highways said: "The Highways Officer is content that the application can be sufficiently conditioned and as such raises no objections to the application."

Mr Hillman invites everyone to attend Bromley Civic Centre at 19:30 tonight - Good Luck!

Visit Cray Wanderers website: www.cray-wanderers.com