We've had a really tough couple of weeks but came out of the other side of it now, says Cray Wanderers assistant Joe Vines
Wednesday 13th February 2019
CRAY WANDERERS assistant Joe Vines says his players are focused as they go into the final weeks of the season with a real purpose.


The Wands are a massive 16 points clear at the top of the Bostik South East Division table, having won 20 and drawn four of their 25 league outings this season.

Tony Russell's men have banked 64 points and have 11 games left to play and playing a great brand of football and are on course of winning the league title and with it promotion to the Bostik Premier Division.

"We've had a really tough couple of weeks but came out of the other side of it now," said Vines.

Cray Wanderers thrashed an injury-hit Herne Bay side 6-0 at Hayes Lane on Saturday 2 February, with Junior Dadson grabbing all of the headlines by scoring four goals.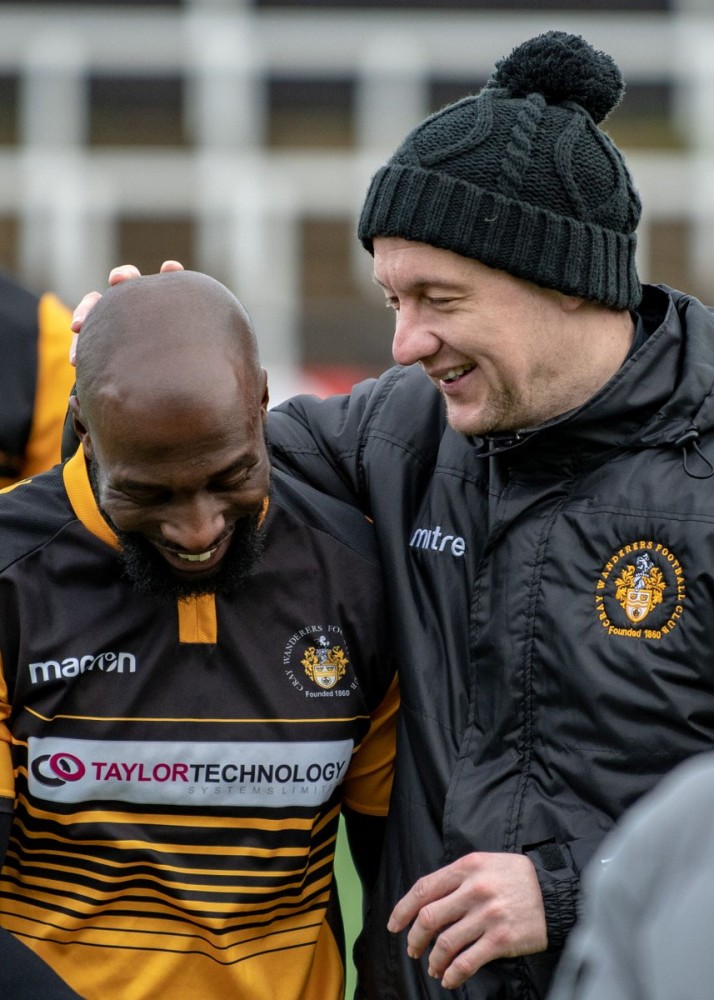 Cray Wanderers manager Tony Russell (right) congratulates Junior Dadson after scoring four goals against Whyteleafe.
Photo: Jon Hilliger.

"The Herne Bay game could have been a bit of a banana skin for us we felt," said Vines.

"Luckily, there was a lot of noise in the local media that we were able to use to stick on the dressing room wall that motivated the players more than we could ever do.
"The result was excellent but the performance was top class. Junior Dadson deserves all the plaudits he can get being involved in all the goals."

Cray Wanderers then turned up at Whyteleafe three days later and put on a first-half masterclass against Harry Hudson's side at Church Road, going on to win 3-1.

"We followed that up with possibly our best 45 minutes of football all year at Whyteleafe," added Vines.

"We have a great respect for Harry and we know that they are thinkers in the way that they play and focus on tactics so for us as a management team, particularly Tony, we saw it as a real chess match with every action and counteraction thought-out, measured and considered.

"We were on the right end of a really good result and it kept the recent good run going. Bradley Pritchard was unplayable for me on the day."

Guernsey were then beaten 3-0 at Hayes Lane last Saturday.

"The Guernsey match was yet again a potential opportunity to slip up and become complacent but thankfully we did enough in the first half to allow the second half to run without much ado.

"We lost Tom Phipps late on to a red card that we have questioned as it looked more like a "coming together" from the video replay and so we hope common sense will prevail.

"It was a good all-round team display but both centre backs, Archie Johnson and Karl Dent were stand out for me."

Ninth-placed Ramsgate welcome Russell's side to Southwood Stadium on Saturday.
"They will provide a different threat with a lot of physicality, an aerial problem, an enormous throw and a team with nothing to lose," said Vines.

"We are under no illusion that teams feel like they have a free-shot at us so there is no fear of playing us. We have to work really hard to beat teams and Ramsgate will be no different.

"Nick Davis will be keen to get one over on us as we all go way back to playing days so it will be great to face off with him in the opposite dugout.
"I've been most pleased with our ability to deal with numerous injuries throughout the course of the season and have a different player stepping up every single week and dragging their teammates through the games.

"Physio Ally Maloney has really earnt her money this season!

"I am struggling to decide who my player of the season is based on so many strong individual performances over such a sustained period, long may that continue.
"It is also worth noting that although we lost talented youngster Kwame Poku to (Bostik Premier Division side) Worthing last week after a bit of confusion around his registration, there are several youngsters who are involved with our under 23's squad that we will be looking to introduce into the first team squad.

"We feel strongly that as the club progresses it is about growing our own talent and integrating them into the Cray blueprint where we can encourage the style of football we want to play whilst we continue to build a club that the local area can be proud of.
"We step into the final third of the season with a real purpose. The players are focused and very much together. Our major strengths this season have been our ability to manage games better and our work-rate.

"Key players are finding form and the front-three are creating and finishing chances so we go into this last part of the season confident albeit hesitant to think further than one game at a time.

"If we are able to navigate February without dropping many points, March looks to be a tough month so we will need to be at our very best but should set us up for the final run in."

Meanwhile, Cray Wanderers' new stadium at Flamingo Park is expected to be open in the summer of 2021.
Visit Cray Wanderers' website: www.cray-wanderers.com

Ramsgate v Cray Wanderers
Bostik South East Division
Saturday 16 February 2019
Kick Off 3:00pm
at Southwood Stadium, Prices Avenue, Ramsgate, Kent CT11 0AN