Our aim is to get promoted in any way, shape or form, says Cray Wanderers assistant manager Joe Vines
Friday 09th February 2018
CRAY WANDERERS assistant manager Joe Vines says his club are going through a little blip but the aim remains promotion at the end of the season.
After thrashing struggling Ashford United 9-1 at Hayes Lane, Tony Russell's side lost the top-of-the-table clash 2-1 at home to Lewes, lost 2-1 at Herne Bay and were held to a 1-1 draw at home to East Grinstead Town last weekend.

Vines said: "We had a depleted squad with around six first team players missing and having lost Marcus Evans in the previous game I had to make my first start of the season at 36!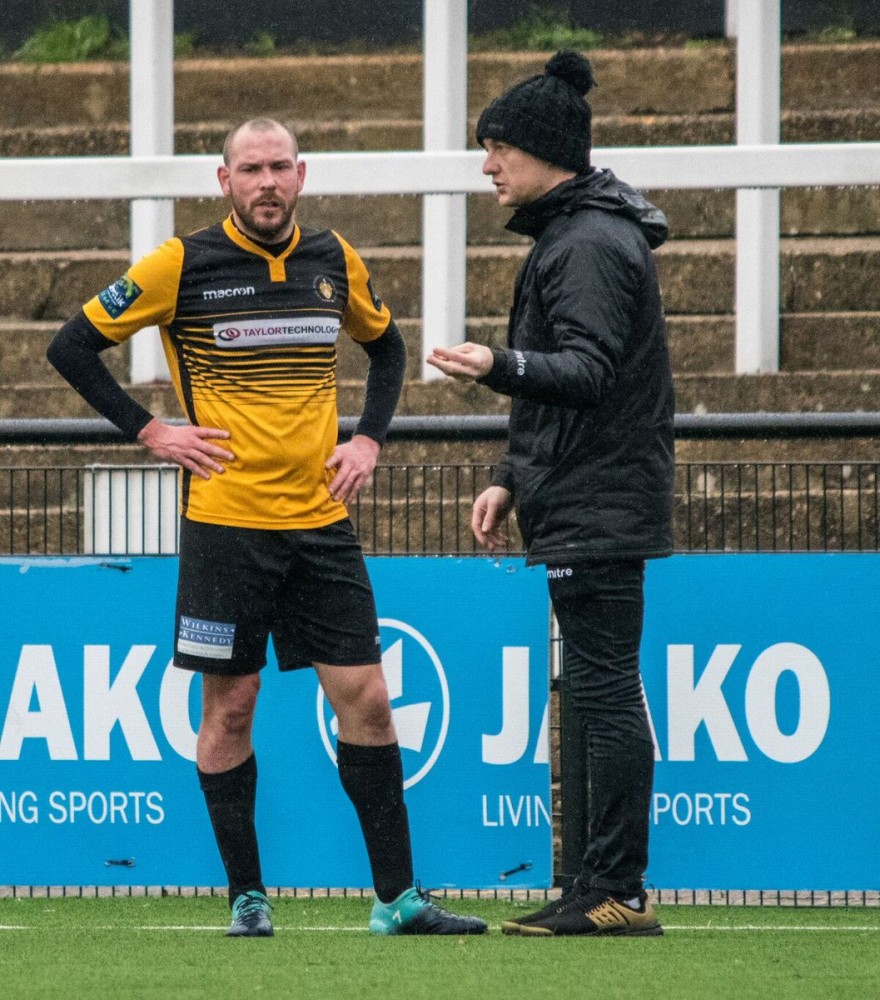 MODEL PRO: Joe Vines (left)
turned out for Cray Wanderers
during their 1-1 home draw
against East Grinstead Town
last Saturday.
Photo: Cray Wanderers FC

"We were not our usual, fluid selves but we worked hard and sometimes in football, confidence plays a part in a performance.

"We've had a great weeks training and we've had a chance to reset our expectations so we expect to put in a better showing tomorrow."

Cray Wanderers make the trip to bottom-six side Ramsgate tomorrow and Vines expects a tough time against Lloyd Blackman's side at Southwood Stadium.

"Ramsgate made us work for our win last time around at home and if we are honest we realise that the game will be different away," added Vines.

"The pitch is big and not ideal for slick passing so we will look to adjust our approach.

"Lloyd is a friend of mine and he has a really exciting, young forward line so we know it will be a tough match. I hope that we can turn a corner."

Lewes remain at the top of the Bostik South table with 68 points from 32 games and have a game in hand on Cray Wanderers, who are two points behind.

The following four clubs have consolidated their place in the play-off zone; Carshalton Athletic (65 points from 32 games); Greenwich Borough (64 points from 32 games); Walton Casuals and Corinthian-Casuals (63 points from 33 games).

"Our aspirations have not changed. We target ourselves with being in the top two at the end of January and we achieved that," said Vines.

"We have had a dip in form more recently and we married that with a spate of injuries and suspensions.

"Our aim is to get promoted in any way, shape or form. That has not changed and we are doing everything in our power to do so.

"The squad is at full compliment now. The management team, physio, the owners, players and support staff are all of the same mentality as I am. We want to win football matches and we want to continue to perform to a standard that gives us the best platform to continue to succeed in years to come."

Visit Cray Wanderers website: www.cray-wanderers.com

Ramsgate v Cray Wanderers
Bostik South Division
Saturday 10 February 2018
Kick Off 3:00pm
At Southwood Stadium, Prices Avenue, Ramsgate, Kent CT11 0AN