Cray Valley (Paper Mills) 0-1 Glebe - I'm embarrassed because we lacked any real quality, admits Cray Valley boss James Collins
Friday 09th September 2016
Cray Valley (Paper Mills)

0 – 1

Glebe

Location
DGS Marine Stadium, Middle Park Avenue, Eltham, London SE9 5HP
Kickoff
09/09/2016 19:45
CRAY VALLEY (PAPER MILLS) 0-1 GLEBE
The Buildbase FA Vase First Qualifying Round
Friday 9th September 2016
Stephen McCartney reports from DGS Marine Stadium

CRAY VALLEY manager James Collins launched a scathing attack on his players' lack of quality after they were dumped out of The FA Vase by lower league opposition.
The Millers went into this First Qualifying Round stalemate sitting in the top four of the Southern Counties East Football League Premier table, having collected 10 points from their opening five games.

Glebe sat in second-place in the Southern Counties East Football League First Division table with 16 points from 7 games, a couple of points behind surprise leaders Rusthall.

This game will go down as the most soul-destroying game of the season with little quality, other than Ryan Golding's tenth-goal of the season that snatched victory for Glebe with fourteen minutes of the stalemate remaining.

"I'm embarrassed to be honest, embarrassed of the performance, not the desire because it's always there, but our quality on the ball is just…" said Collins after his third defeat in only his eighth game in charge of the club since leaving Lordswood.

"I said the same to you against Hastings (a 2-0 defeat in The FA Cup Preliminary Round).

"We've stumbled through results and got results somehow and people keep saying 'you've had a great start,' but we've stumbled, we've stumbled our results and we lack quality.

"When you can't pass five yards to each other constantly, the goalkeeper hasn't made a save, I don't think the whole game. No excuses! That's not good enough!

"Ok, they came to frustrate us and sit behind the ball and I said to the boys 'are you good enough?' and we wasn't! We wasn't good enough and that is the bottom line. We wasn't good enough to break them down and that is a problem."

Glebe can now look forward to a home tie against Deal Town or Redhill (who play on the Kent coast tomorrow) on 24 September.

"The boys have got to take credit for tonight," said Glebe manager Adam Woodward, whose side bounced back from their only defeat of the season, a 2-1 home defeat to FC Elmstead last Saturday.

"After Saturday's defeat, which we couldn't score, the keeper's got man-of-the-match, played very well. I got them in Tuesday and Thursday and we worked on certain things.

"Tonight wasn't pretty, it wasn't great but at the end of the day a wins a win so we're in the hat for the next round.

"It was tight, they had a lot of possession but my goalkeeper didn't make a save all night and their goalkeeper's pulled three worldies off. You can have all the possession in the world but football's all about winning and scoring goals and tonight we scored one and they scored none!"

A Friday night crowd of 138 were in Eltham and they saw Cray Valley create an early chance as the home side enjoyed good possession.

Right-back Peter Smith put in a deep cross, which was laid-off by Aaron Jeffery for Richie Hamill to lash his left-footed drive over the bar from 12-yards.

Hamil swung in a free-kick from the right by-line, which was headed away at the near post and fell at Laurence Collins, who struck his right-footed drive past the right-hand post from the edge of the box.

Glebe almost snatched the lead with their first attempt in the 15th minute.

Sam Long raced down the right to reach the final third and cut the ball back for right-back Davy Jo-Anderson to sweep his first time shot towards the bottom near corner and Jack Bradshaw dived low to his left to parry.

Woodward said: "We have a little bit of banter in the changing room about Davy not being the greatest footballer but he struck it well and Jack's pulled an absolute worldy off in the bottom corner.

"If that goes in, maybe we relax a little bit more and we get a little bit more football played but I thought we stuck to the game plan and it worked."

"I think that was the only time they got out of their half in the first half," added Collins.

"They didn't offer anything going forward. They had a game plan and they executed the game plan well."

Jeffery's hooked pass released his strike partner Ben Hunt and the Cray Valley striker cut into the box and Adam Molloy dived low to his left to make the block.

A clearly cheesed off Collins said: "I don't really take chances seriously unless you hit the target. We haven't hit the target in the whole game so I can't even stand here and say we've had a decent chance. We haven't even worked the goalkeeper!"

Woodward added: "He didn't make a save really, it's a half chance really. I thought they had a lot of half-chances, a lot of possession but we defended very well tonight."

Hunt showed glimpses to watching Cray Wanderers manager Tony Russell that he should still be at Hayes Lane, but neither side showed any quality on the pitch to make a lasting impression to people in the crowd.

Laurence Collins fed the ball to Jeffery down the left channel and he cut the ball back to Hunt, who hit his left-footed shot on the turn over the Glebe crossbar from 10-yards on the half-hour mark, before Hunt took a touch and drove his right-footed shot over the bar from 20-yards.

"Maybe another half-chance. I'm lost to what to say mate because I thought we was that bad. I'm struggling to be positive to our players because the score is pretty embarrassing," added Collins.

The game turned into an uninspiring local derby between minute 30 and 90 and the half-time break gave both managers a chance to improve matters.

Collins decided to take off Hamil, which was a surprising move.

"It was tactical. I felt Richie tucked in well but I thought they condensed the middle of the park so if we got the ball out wide and get one-on-one and get crosses into the box and went for a bit of pace (with Ainsley Everett) but again that's not worked either!"

When asked his thoughts at the break, Collins replied: "Ok, they've come with a game plan, they've paid us a lot of respect by doing that, which is credit to the boys but talk is cheap. You can talk about being in the league above, you can talk about where players have been, how good they think they are, but at the end of the day you've got to do it on the football pitch.

"I said to them at half-time 'are you good enough to break them down? You need to be patient, the minute you start getting patient, you play into their hands. Are you good enough to break them down?'

"We wasn't good enough to create a chance really. I think that tells you everything! I don't like going over the top after games, I don't really like talking to the players after games but that was just not good enough!"

Woodward added: "Keep going, the second half we told them we'll play three 15 minutes and we'll have a game plan for each three 15 minutes. If we're still in the game with 15 minutes to go, I'll fancy us.

"It was a boring game of football wasn't it? A boring game of football. It was very sideways!"

The second half will go down as the worst seen for a long time.

The best it got was in the 61st minute when good wing play from Glebe's Frederick Obasa, saw him twist and turn before whipping in a cross, which was punched up into the air and then caught by Bradshaw.

Golding's lay-off set-up a chance for Obasa, whose shot on the turn was destined to roll behind for a goal-kick, but the ball took a deflection and Long's inswinging corner was palmed away by Bradshaw and Scott Whibley's hooked shot deflected past the near post.

The game was crying out for a piece of quality – no-one could watch this poor game for another 30 minutes – and once again Golding delivered, despite the lone striker being kept quiet by Sains and Joe Matthews.

Jack Clark played a short pass to Long, who released Golding down the left channel. He got across his man and cut into the penalty area, twisted and turned and curled a beautiful left-footed shot across the diving Bradshaw to find the top far corner from 16-yards with 16 minutes left.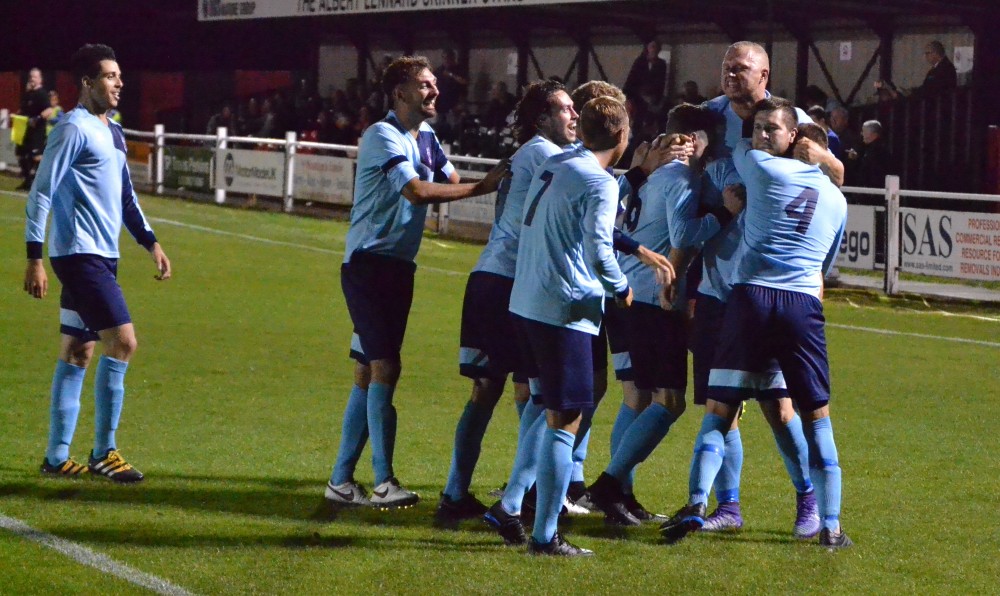 MATCH WINNER: Glebe celebrate Ryan Golding's winner at Cray Valley in The Buildbase FA Vase First Qualifying Round tonight.
Photo: Alan Coomes

Woodward said: "He had one chance didn't he, that's what Golding does. He doesn't do a lot but he's pulled that one out of the hat tonight and he's scored. He's had no other chances tonight. It's what he does, he's a goalscorer.

"It was a great strike. I kept saying to him that Bradshaw pushed it in the top corner, that's what I kept saying to him in there.

"Ten goals this season, he should have 15-20, if he's honest with himself. He knows that I feel that. Ryan is getting better and better as we go on."

Collins added: "It's a great finish. No one on the pitch for us looked like they were capable of doing that. I suppose it's one of those games when they're sitting that deep and we lacked any quality to create any chances. You're looking for something special to win the game."

Golding produced a solo-run when he collected the ball in his own half, danced past Sains and cut into the penalty area. Bradshaw came off his line, smothered the ball at the striker's feet, both required treatment and Golding lasted five more minutes before going off with an injured knee.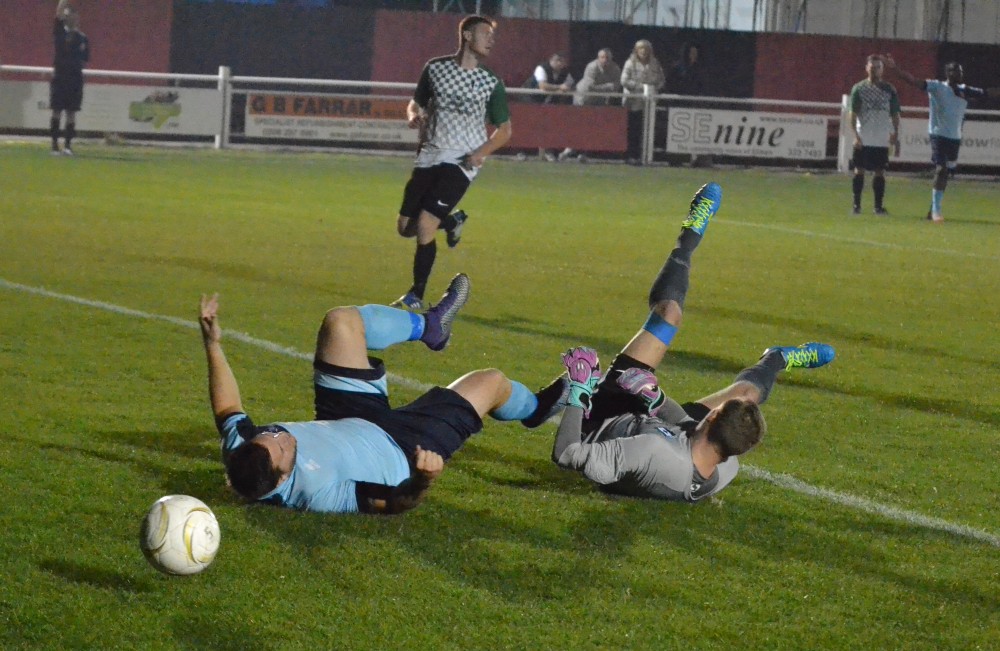 Glebe striker Ryan Golding (left) collides with Cray Valley
goalkeeper Jack Bradshaw and hurts his knee in the
process.
Photo: Alan Coomes

Woodward added: "A collision with Jack, I think he came off worst to be honest. We'll get him in tomorrow with the physio and we'll ice it and see how we go for Tuesday."

Cray Valley's physio Emily Sawyer was called into action (three times) to treat players more than Glebe keeper Molloy was tested – as Glebe's back four were brilliantly protected by man-of-the-match, Tamer Bilal, who sat in front of them.

"We played Tamer in there against Gravesham and he was probably man-of-the-match there," added Woodward.

"I asked him to do a job tonight and he done it. He shut up shop, he defended superbly, sat in front of the back four and cut out balls all night and he broke up play.

"I know Tamer is a great centre half and he heads and kicks everything in there and that's what we asked him to do tonight and he's done it. Each player on the team had a job to do."

Bradshaw made two diving saves at the death to prevent Glebe substitute Elyon Marshall-Katung, by which time most were heading for the exit.

Bradshaw dived to his right to push around Marshall-Katung's dipping right-footed drive from 28-yards.

Long swung in Glebe's fourth and final corner of the night and Marshall-Katung smacked his right-footed volley towards the bottom corner, which was brilliantly turned away by the diving Bradshaw, low to his left.

Woodward said: "Elyon's come on just coming back from a little niggle. He came on with a bit of pace and Jack's pulled off two great saves, that's what I'm saying, I didn't think our goalkeeper really made a save probably all night!"

Collins said: "The game got stretched but they hit the target with their shots so you're going to work the goalkeeper and we haven't hit the target.

"I'm embarrassed, I'm embarrassed, I'm embarrassed because I'm embarrassed because we lacked any real quality and you can talk about formations, you can talk about whatever you want. I think it comes down to, we were brave, we went two up top, we made attacking changes, we went 4-4-2, we put bodies on, we had a lot of the ball, we done nothing with it."

Woodward says he will be at The Charles Sports Ground to do his homework on their next FA Vase opponents.

"So we've got Redhill or Deal in the next round? They play tomorrow at Deal so my Saturday will be cancelled for now then. I think I'll be going to watch that which will impress the missus!

"We'll go into that game, again teams a league above, we'll see how we'll do, see how we get on.

"I like this cup. I had a bit of a journey with Phoenix in it and it takes you out of the league for a week or two and we'll just enjoy it."

Cray Valley (Paper Mills): Jack Bradshaw, Peter Smith (Leigh Bremner 79), Danny Smith, Laurence Collins, Ashley Sains, Jamie Miller, Richie Hamill (Ainsley Everett 46), Ben Hunt, Aaron Jeffery (Mehmet Piro 65), Denzel Gayle.
Subs: Frankie Griffin, Jack Hope

Booked: Richie Hamill 43, Joe Matthews 53, Laurence Collins 90

Glebe: Adam Molloy, Davy-Jo Anderson, Jack Clark (Elyon Marshall-Katung 80), Tamer Bilal, Carson Dennis, Scott Whibley, Sam Long, Fraser Cronin, Ryan Golding (Bradley Killick 86), James Day, Frederick Obasa (Steve Jerrom 66).
Subs: Joe Borland, Shaquille Richards

Goal: Ryan Golding 76

Booked: Davy-Jo Anderson 21, Adam Molloy 59, James Day 73

Attendance: 138
Referee: Mr Samuel Everitt (Stanford-Le-Hope, Essex)
Assistants: Mr Karl Dunnage (Basildon, Essex) & Mr Christopher Cooper (Basildon, Essex)

Coverage Sponsored by:





Stadium pitch maintained by: