I feel I am at the beginning of something special for Cray Wanderers' future, says Tony Russell
Thursday 07th May 2015
CRAY WANDERERS' newly-appointed boss Tony Russell says he is at the beginning of something special after taking charge of his former club on Tuesday.


Russell, 36, spent a successful nineteen month period in charge of VCD Athletic, where he took the Crayford based club out of the Kent League as runners-up to Ryman League Division One North champions and kept the club in the Ryman Premier League after winning their last six games.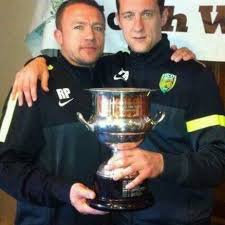 MOVE: Ray Powell and Tony Russell drop down one division to leave VCD Athletic to take charge of Cray Wanderers.

He replaces Tommy Warrilow, who alongside his assistant Alex O'Brien, kept Cray Wanderers in the Ryman League Division One North after winning a club record ten wins on the spin, after the former Tonbridge Angels boss took charge at Hayes Lane in January 2015 with the remit to maintaining their current status.
Russell, a former Cray Wanderers player, will retain Ray Powell as his number two.

Cray Wanderers chairman Gary Hillman said in a statement: "Everyone at Cray would like to thank Tommy for helping the club out. We wish him all the best in his next managerial role."

Mr Hillman, who has been chairman since 1994, now feels his new management pairing is the perfect team to carry that momentum on from the first day of next season, where Cray Wanderers will be challenging at the right end of the table.
Russell is looking forward to the challenge of bringing the good days back to Cray Wanderers after a miserable two year period.

In a statement, he said: "I respect Cray's historical heritage as the oldest club but I feel I am at the beginning of something special for Cray's future, without there being any limitation to where the club can progress to."

Visit Cray Wanderers' website: www.pitchero.com/clubs/craywands