Cray Valley (Paper Mills) 2-0 Hailsham Town - The FA Vase is a competition that we aspire to try and do well in, says Cray Valley boss Kevin Watson
Sunday 16th September 2018
Cray Valley (Paper Mills)

2 – 0

Hailsham Town

Location
Badgers Sports Ground, Middle Park Avenue, Eltham, London SE9 5HT
Kickoff
16/09/2018 15:00
CRAY VALLEY (PAPER MILLS) 2-0 HAILSHAM TOWN
The Buildbase FA Vase Second Qualifying Round
Sunday 16 September 2018
Stephen McCartney reports from Middle Park Avenue

CRAY VALLEY (Paper Mills) manager Kevin Watson says The FA Vase is a competition his side can go far in after comfortably beating Hailsham Town to reach the First Round.


The Millers failed to live up to Wednesday night's FA Cup First Qualifying Round epic when they dumped Bostik Premier Division side Merstham 4-1 on penalties after a six-goal thriller, but they got the job done quite comfortably against Jamie Salvidge's Hailsham Town - second-place in the Southern Combination First Division table, unbeaten in six league games and with 14 points in the bag from their opening six games.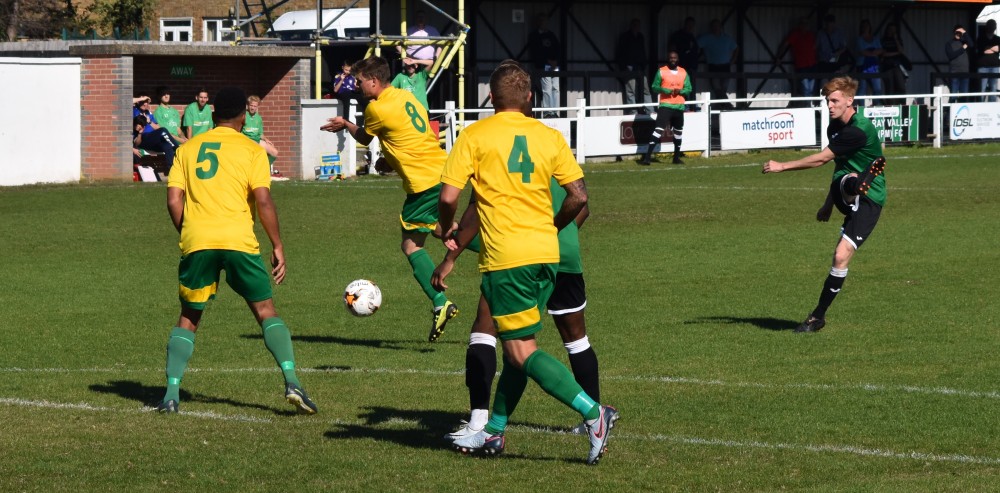 Cray Valley's holding midfielder Josh James drills in his side's first goal against Hailsham Town in The FA Vase.
Photo: Alan Coomes

Cray Valley remain in the top six in the Southern Counties East Football League Premier Division table – one level higher than their opponents – with 10 points from five games.

Holding midfielder Josh James notched his first goal of the season, finding the bottom corner with a 30-yard drive inside the opening 14 minutes before striker Francis Babalola slotted underneath the keeper inside the final 11 minutes to seal their passage through to the next round.

Both teams kept the ball on the deck and passed it around but Hailsham Town had no end product in the final third and debutant goalkeeper Ryan Nicholls, who was signed just eight minutes before the 12:00 deadline on Friday lunchtime, had a quiet day, having arrived on loan from Vanarama National League South side Dartford.

"Job done, we're through to the next round," said Watson.

"I wasn't pleased with the performance but it's a cup competition and we got through, so the main objective was achieved."

Watson admitted many of his players had next Saturday's FA Cup Second Qualifying Round tie at Vanarama National League South Oxford City on their minds.

"Probably! That's absolutely the reality and I said that to them. That's what I mean changing your game depending on the opposition, you shouldn't do it! You need to be consistent with your performance and do the same things against the same people.

"That's why Jamie Day, when he played for us was so good and Kevin Lisbie, they play the same way whether they were playing in a charity match, a friendly, a league game or on the big stage and that's what some of the other players, maybe some of the young ones need to learn so it's a learning curve for some of them."

Cray Valley created their first opening exactly 120 seconds before taking the lead .

Liam Hickey - one of three centre-halves - fed Anthony Edgar, who played the ball across the face of the penalty area for striker Kevin Lisbie to drill his right-footed shot high over the crossbar.

Cray Valley opened the scoring with 13 minutes and 30 seconds on the clock from an unlikely source.

Left-wing-back Danny Smith released Edgar down the left channel and he cut the ball back to Nathan Palmer, the midfielder played a low 30-yard pass into the middle for James to take a touch before drilling a right-footed shot sweetly into the bottom left-hand corner from 30-yards.

"Good strike on target, not bad play. We were patient for once when we got into the final third," said Watson.

"We should've done that more this afternoon then we did really but it was a good for Josh to get on the scoresheet, it's not something he does often.

"We were poor first half, very poor, poor tempo, not quick to shut down, didn't look after the ball, so frustrated!"

Hailsham Town responded with player-manager Salvidge holding the ball up and waiting for support from Liam Baitup, but his right-footed angled drive drew a comfortable low save from Nicholls, who was drafted in on loan as Wednesday night's penalty shoot-out hero Andy Walker was nursing a groin strain.

"I thought he did alright," said Watson.

"It was difficult. I found out I had a few hours to sign a goalkeeper so it was all a bit last minute. I know (Dartford joint-managers) Adam Flanagan and Jamie Coyle well, so they've done me a favour.

"I know Ryan because I gave him a debut at Chatham. He came in, he's a nice lad and he done alright.

"Look, Walks could've played – he will play Saturday – he could've played. He's got a bit of a groin strain, it was more of the kicking aspect of it."

The game was played with a slow tempo and Cray Valley almost doubled their lead in the 21st minute.

Edgar played the ball out to Hickey, who found himself in space within the left-channel and he whipped in a curling left-footed cross from 30-yards, which crashed against the near post as keeper Hawkins attempted to punch the ball clear as he stepped to his right.

"I thought he tried to cross it, to be honest, he will probably tell you different but he done that a lot today," said Watson.

"He brings a lot of quality down the left-side. You've got him and Danny Smith, they're both very competent with the ball. Liam hits a great ball in, we saw that in the second half and his distribution is very good and very important."

Babalola cut into a crowded Hailsham penalty area and tried to dig the ball out from under his feet but kept composed to tee up right-winger Ryan Flack, who rolled his shot across a stranded keeper and past the far post from 20-yards.

Edgar clipped the ball from midfield towards the edge of the Hailsham box for Flack to make an untracked run before bringing the ball down with his chest before slashing his left-footed drive across the keeper and past the far post from 20-yards, as Danny Williams slid in.
Hailsham went close in the 32nd minute when Baitup cut inside and slipped the ball into Salvidge's feet and he laid the ball off for Baitup to drag his shot across the keeper and past the far post from 18-yards.

Nicholls' clearance was met with power from inside the Hailsham half by Luke Snashall – who played on the right of a three-man central defence – but his attempt at goal sailed harmlessly past the right-hand post.

James kicked Dean Stevens as he cut into the final third and referee Andrew Simmonds awarded Hailsham a free-kick 35-yards from goal.

Baitup floated the ball into the Millers' box but captain Ashley Jarvis directed his looping header past the far post from 12-yards.

"Look, fair play to them, it's tough. We're a good team and they've come here and it's a difficult challenge for them. They're playing a team in the league above and they conducted themselves well," said Watson.

"They tried to play the right way and they gave us a tough game that wasn't a walkover. We were in control of the game and we ended up scoring one in the first half and one in the second half."

Watson added: "I told them (at half-time), I wasn't pleased and used some expletives at times. They don't get that often off me but I could see this coming, I could see this mentality coming and it frustrates me because some of the team get bored doing the right things.

"If you want to progress and be a good player and progress up the leagues you can't have that mentality, you have to take pride in being consistent in your performance regardless if you're playing teams two or three league's higher or one or two leagues below or in league games so you need to get that consistency back again."

Cray Valley started the second half on the front foot and struck the woodwork for the second time after only 80 seconds.

Cem Temkaya hit a long ball up to Lisbie, who rolled the ball out to Edgar, who cut into the penalty area before driving a right-footed shot against the near post with keeper Hawkins rooted to the spot.

Watson will do well to keep talented Edgar at Middle Park Avenue for the rest of the season after another impressive attacking performance.

"We spoke about him the other night. He's got certain qualities that other players at this level haven't. It's the other aspects of the game that doesn't come so natural. We're working on him.

"Some of the skills that he did today were good. He's hit the post and had a few chances that he'll be disappointed he didn't score a couple. He's got in some positions you can be punished if you don't score them on another day."

Cray Valley won the corner-count by eight-to-one and Flack swung in their second one towards the near post but Hawkins comfotrtably gathered Tumkaya's near post flick.

Tumkaya launched a big kick down the right-channel but Babalola hooked a weak angled shot straight at Hawkins in the 50th minute.

Williams found space within the left channel and whipped in a cross towards the near post but Salvidge's swept shot on the turn was caught at head height by Nicholls.

Cray Valley's 10-goal striker Lisbie was forced off through injury in the 51st minute and joins Walker, Ashley Sains, Denzel Gayle and Joe N'Gueessan on the injury list.

"He had a bit of a sore thigh so he's come off so we'll assses it in the week," revealed Watson on his star-striker.

"It's a long time between now and Saturday, we're training on Thursday so we've got time to assess injuries.

"We've got four players out today. We've got Joe N'Guessan, Denzel Gayle, Andy Walker, Ashley Sains, so four very important players for us. That's why I said I need to look at possibly to sign a few players because when we do miss a few we look light."

The home side produced a sweping move around the corner of the penalty area as Smith and substitute Callum Willock linked up and Babalola's left-footed angled drive bounced off the base of the near post via a deflection.

It was one of those games where Hailsham needed just one chance to grab an equaliser and it should have arrived in the 61st minute.

Snashall escaped from his defensive duties to make a 50-yard run down the line before being whacked by a bookable challenge from Edgar.

Stevens floated in a free-kick from the touchline and substitute Joey Pout was given space inside the box and saw his header bounce once and was comfortably gathered by Nicholls.

"And (if they score then) the game changes absolutely, we were fully aware of that but all of our possession and territory we didn't cause enough of a threat and score enough goals ultimately to go and make it easy for ourselves," added Watson.

Cray Valley dominated for the rest of the game and created numerous chances to rattle in some more goals.

Hickey launched a long ball out of defence, which bounced and sat up nicely for Willock to smack a right-footed half-volley, which forced Hawkins into making a great save high to his right to push around the post for a corner.

"A good touch. I think he's hit it too well," admitted Watson.

"I'm pleased for Callum. He hasn't been available for midweek due to personal commitments. He's been available at weekends so he hasn't had loads of minutes but he's done alright when he's come on."

Seven minutes later, Flack played a short corner to Edgar, who twisted and turned Jack Divall so much he fell to the ground and allowed Edgar to cut inside and drill a low right-footed angled drive which Hawkins pushed away low to his right.

The impressive Edgar sped past substitute defender Joshua Higgs and from within a crowd of players he got a low shot away, which forced Hawkins to get down low to his left to hold onto the ball.

Jack White played a diagonal long ball out of the Millers defence and Willock brought the ball down before smacking his right-footed volley over the crossbar from 15-yards.

Dominant Cray Valley finally killed off Hailsham by scoring their second goal, which was timed at 33 minutes and 21 seconds on the clock, courtesy of Babalola's sixth goal of the campaign.

The Millers were more direct after the interval and Tumkaya clipped a long ball out of defence which sailed over Paul Richardson's head and Babalola latched onto the ball and kept composed to skip around the keeper before slotting the ball underneath him to find the back of the empty net from 12-yards.

Watson said: "Francis has scored a few for us. Again, he's another one, certain aspects of his game we're still developing. He hasn't played that position lots throughout his footballing career as such and he's still learning certain parts. He scores goals and he's done well, good composure around the goalkeeper."

Cray Valley finished the game with Edgar twice driving shots past the post from 15 and 30-yards as Hailsham offered very little in an attacking sense despite scoring 16 goals in the league at the lower level.

After beating Southern Counties East Football League First Division side Sutton Athletic 2-1 away in Hextable and Hailsham here today, Cray Valley have now scooped £1,275 in prize money, to go with the £11,140 from their FA Cup run, so far.

Beckenham Town, Chatham Town and Cray Valley are fancied to enjoy an extended run in The FA Vase this season – that's if they avoid one another.

"It's a competition that we aspire to try and do well in," revealed Watson.

"It's hard to do well in all of the competition we're in, there's a lot of them with all of the cups but this one especially, we'll see how far it takes us."

Cray Valley (Paper Mills): Ryan Nicholls, Cem Tumkaya, Danny Smith, Josh James, Jack White, Liam Hickey, Nathan Palmer, Anthony Edgar, Francis Babalola (George Palmer 83), Kevin Lisbie (Callum Willock 51), Ryan Flack.
Subs: Chris Bishop, Tommy Osborne

Goals: Josh James 14, Francis Babalola 79

Booked: Anthony Edgar 60

Hailsham Town: Philip Hawkins, Jack Divall (Joshua Higgs 72), Danny Williams, Andrew Saunders, Luke Snashall (Charlie Playford 68), Paul Richardson, Ashley Jarvis, Dean Stevens, Jamie Salvidge, Harry Butler, Liam Baitup (Joey Pout 57).
Subs: Charlie White, Stuart Skan

Booked: Luke Snashall 36, Danny Williams 82

Attendance: 106
Referee: Mr Andrew Simmonds (Grays, Essex)
Assistants: Mr Adam Humphreys (Billericay, Essex) & Mr Robert Bradley (Grays, Essex)