Corinthian 2-2 Hebburn Town - We gave it absolutely everything and we were the underdogs and Hebburn will go back and say they were in a match, says proud Corinthian boss Michael Golding
Saturday 05th September 2020
Corinthian

2 – 2

Hebburn Town

Location
Gay Dawn Farm, Valley Road, Longfield, Kent DA3 8LY
Kickoff
05/09/2020 15:00
CORINTHIAN 2-2 HEBBURN TOWN
(after extra time – Hebburn Town win 4-3 on penalties)
The Buildbase FA Vase Semi-Final
Saturday 5 September 2020
Stephen McCartney reports from Gay Dawn Farm

CORINTHIAN manager Michael Golding says he shed some tears after suffering penalty shoot-out heartbreak in a winner-takes-all one-legged FA Vase Semi-Final at Gay Dawn Farm.

Favourites Hebburn Town will meet their Northern League rivals Consett at Wembley Stadium on Sunday 27 September after Kevin Bolam's side were taken all the way by the Southern Counties East Football League Premier Division hosts.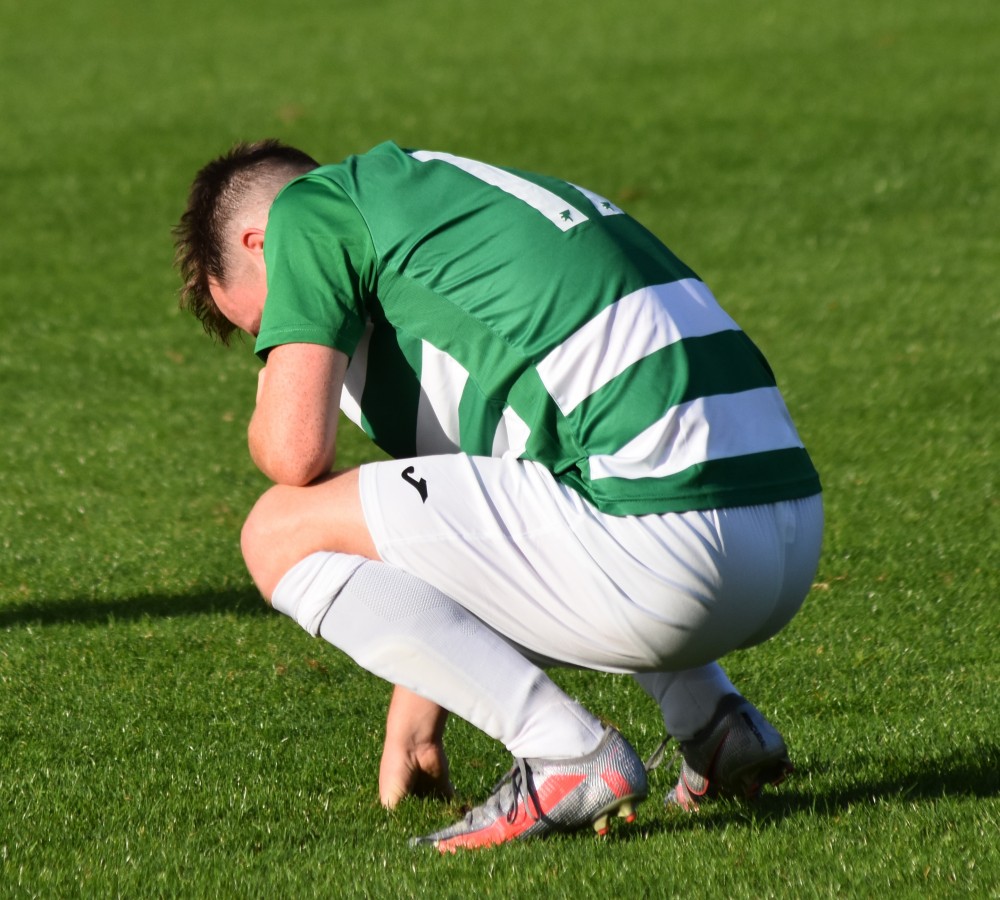 Corinthian's Louie Clarke misses the final penalty in the shoot-out as they suffer heartbreak in The FA Vase Semi-Final.
Photo: Alan Coomes

After a cagey first-half, three of the four goals were converted from the penalty spot.

Corinthian drew first blood early in the second half when attacked Oscar Housego held his nerve to score from the spot.

Corinthian failed to take advantage of Hebburn Town having a man sent-off with 13 minutes of normal time remaining and were only 113 seconds from a famous victory but captain Jack Bath conceded a penalty, which was emphatically put away by striker Graeme Armstrong, 37, to force extra-time.

Armstrong headed in Hebburn's second goal of the game on 100 minutes, but Corinthian took the game to a penalty shoot-out through Jamie Billings' penalty.

Nine more penalties were taken during the shoot-out but centre-half Bath and substitute winger Louie Clarke, 19, failed to score and Hebburn Town sealed their first trip to Wembley Stadium with a 4-3 win and on balance of the entire game deserved their big day out at the national stadium.

"Incredibly proud of the players and the club as a whole, obviously disappointed, heartbroken for the boys," said Golding.

"I can't decide whether we deserve more or whether they deserved the result that they've got?

"I think it was a close battle. I think we also surprised them in terms of the quality that we showed and the work-rate and the effort that we put in.

"I'm gutted for the boys. I'm devastated for them. It's the best way to win and the worst way to lose but I'm so proud of that group of players and the management team as a whole.

"It was always going to be fine margins. I don't think it was ever going to be a game when a team's going to win four, five or six-nil. I think when you get to this stage of the competition, those scorelines, I don't think they've ever happened. The last four teams are going to be good. I think fine margins is probably the right summary."

In front of a sold-out all-ticket clash of 300 – due to Covid-19 restrictions – Corinthian started their biggest game in their history on the front foot.

Winger Andres Felipe Losada Tobon and left-back James Trueman linked up well down the left and Trueman put in a cross into the box into Hebburn's box. The ball was knocked down by Emmanuel Oloyede and Jack Mahoney set up Luke Tanner but the striker flicked his shot over the crossbar from eight-yards inside the opening eight minutes.

"The first half played out exactly how we expected it to, very, very cagey," said Golding.

"I think we started very, very well. I was pleased with our start and then Hebburn got on top. The pattern of them having the ball was exactly what we expected and we just had to do better when we got the ball."

Hebburn goalkeeper Mark Foden made a comfortable save shortly afterwards.

Centre-half Billings played the ball into Tanner, who held up play with his back to goal, before playing the ball out to Tobon, who cut into the box and stroked his shot towards the bottom near corner, which was gathered at the second attempt by the former Blyth Spartans keeper at his near post.

Golding said: "I was pleased with our really good start. I thought we were positive, we played on the front foot. We thought we could exploit their weaknesses. We thought some of their weaknesses were quite clear and it's always pleasing to get a good start and I think it just settled the nerves to a degree, which is what you want in this calibre of game."

Hebburn Town squandered a great chance to take the lead after 15 minutes.

They were awarded a free-kick close to the by-line down the left-channel and set-piece specialist Tom Potter chipped his free-kick towards the far post. The ball was knocked down by centre-half Louis Storey and found left-back Darren Lough in space but he lashed his right-footed shot over the crossbar from 10—yards.

"Their left-back is a great player and was one of the players that we highlighted from going up there and watching them and on the videos. He's a very, very good player," said Golding.

"There's always going to be chances and half-chances but I thought Jamie Billings at the back put his body on the line – all of them did! They were unbelievable and it's what you expect from that group of players in a game like that. They do it in league games so they're going to do it in a Vase Semi-Final."

Corinthian central-midfielder Jack Mahoney found space some 25-yards from Hebburn's goal, took a touch before scuffing a weak right-footed shot which was comfortably gathered by the visiting keeper.

"He was kind of going the wrong way. He's 25-yards out and he's got good technique but it was his weaker foot," added Golding.

Hebburn Town started to play on the front foot for the final 20 minutes of the first-half and they forced former Charlton Athletic keeper Aiden Prall into making a fine diving save.

Potter swung in a left-footed free-kick from the left towards the far post where Spence flicked his glancing header towards the far corner, only for Prall to dive to his left to push the ball around the post and behind for a corner.

"Some of his saves today, the save in the first-half was very good and the save from the free-kick was a different level," said Golding.

"Aiden's there to do a job and we've spoken about Aiden numerous times. He's a very, very good goalie and he's got a lot to learn, he's got a lot to improve on and he's got (former Dartford keeper) Deren Ibrahim as his goalie coach who gives him all the right advice and we couldn't be in a better position for Aiden and he's becoming a key player for us."

Corinthian keeper Prall pulled off another fine save to frustrate Hebburn Town.

Striker Cedwyn Scott rolled the ball out to Potter, who cut into the box and bent his low shot across the keeper towards the bottom far corner, only for Prall to dive to his right to tip the ball behind for another corner.

Spence played the ball along the deck from the right and an unmarked Scott sliced his left-footed shot past the far post and Hebburn created another chance when Storey drove over the half-way line before feeding Michael McKeown, who put the ball into the Corinthian box. Scott chested the ball down and Armstrong took a touch before slicing his right-footed shot past the left-hand post from 20-yards.

Hebburn shaded the cagey first-half, as both sides went in all-square at the break.

Golding said: "I think the boys were a bit disappointed. They hadn't really played in the first half. They hadn't really gone out and it was just reminding them about expectations.

"Sam Groombridge (assistant manager) does all the talking. We weren't going to come in winning 4-0. It was always going to be a cagey game and no we hadn't performance to our level in the first half but we if we could raise it in the second half then it would give us half a chance."

Corinthian grabbed the lead from the penalty-spot with two minutes and 35 seconds on the clock.

Oloyede, who had a quiet first half, drove forward before releasing Tobon through on goal. He skipped past Hebburn's right-back Daniel Groves inside the box and attempted to round keeper Foden, who clipped the heels of Corinthian's winger and referee Adrian Quelch pointed to the spot.

Goalkeeper Foden was shown a yellow card and Housego had to wait 95 seconds from the card going up before scoring, keeping his composure to drive his right-footed penalty straight down the middle, despite the keeper stepping to his right.

"It was a nice little move and you start like that straight after half-time, it was excellent," said Golding, who later lost Housego to suffering from dizziness and a bout of cramp.

"You're probably expecting Andres to go on and score but I think the letter of the Law now that is a yellow card.

"The fourth official spoke to us and was quite good today and spoke to us about all of the decisions and Oscar to step up to put it away with confidence, it was just the perfect start to the second half."

Hebburn Town went close when Potter played the ball into Groves, who flashed his low cross across the face of goal and Prall tipped the ball around his post with Armstrong ready to pounce inside the six-yard box.

The impressive winger Potter whipped in a cross from the left and Armstrong jumped to pant his free-header straight at Prall from the edge of the six-yard box as Hebburn continued to dominate proceedings.

"I think it was quite routine," Golding said of the save.

"He's a big lump, Armstrong. We had to compete with him so he didn't have free headers and then try to get to make sure the people on the bits didn't get in and around the goalkeeper, which I think we did well for the majority of the game."

Corinthian worked an opportunity in the 62nd minute when Oloyede started to run at the Hebburn defence before releasing Tobon, who cut in from the left wing and played the ball along the 18-yard line but an unmarked Mahoney sliced his drilled right-footed shot wide of the left-hand post.

Centre-half Daniel Carson took a touch before whipping in a deep cross into Corinthian's box where left-winger Amar Purewal sent his header towards the top near corner, only for Prall to pluck the ball out of the air quite comfortably.

Hebburn Town were reduced to 10 men with 31 minutes and 38 seconds on the clock.

Substitute holding midfielder Josh James sliced his clearance and Prall grabbed hold of the ball before being clattered into by Martin, which resulted in a six-yard box melee and out came a red-card for Hebburn's substitute.

"I didn't quite see it if I'm being honest," added Golding.

"It was a poor back header from Josh James and (Martin) has come in quite high and quite late on Aiden when the ball was in his hands so the ref's in a lot better position than me to give that."

However, Hebburn Town are such a strong outfit that Corinthian failed to make their man advantage count for the rest of the game and continued to bang on the door in search of an equaliser that they deserved.

"It was probably the worst thing to happen to us," admitted Corinthian's manager.

"When all of our players' are going up and jumping, you're kind of thinking in the back of your head, it gets their backs up and they start to think the referee is against them and it was just not what we wanted really.

"I think we would've preferred to play against 11 for the last however many minutes it was. Listen, we should've been better to see the game out against 10 men but in the Semi-Final against a good side like that, it's just going to give them something."

Prall pulled off his best save of the game inside the final nine minutes following a free-kick.

McKeown stroked his left-footed free-kick towards the top corner from 28-yards, forcing Prall to stretch high to his left to tip the ball onto his crossbar and received a lucky break when the ball bounced off his back and trickled just past the foot of the post.

"The most ridiculous save and then you're looking round and thinking 'well, is stuff potentially going our way?'

"I will look back at it on the video when I've got time to digest that but what an unbelievable save from Aiden!"

Corinthian were hanging on and Hebburn deserved their equaliser when it arrived with 43 minutes and 47 seconds on the clock. Corinthian so close to a famous victory.

Potter played the ball out to Groves, who whipped a deep free-kick into Corinthian's box and Bath fouled Armstrong inside the box and the referee pointed to the spot for a second time.

Armstrong grabbed hold of the ball and emphatically drilled his excellent right-footed penalty into the roof of the net, despite Prall diving the right way, to his right but the ball was just too high.

Golding said: "It's probably a penalty. It's disappointing because I think the ref's letting stuff like that go in the middle of the pitch and they normally give the ones in the middle of the pitch and don't in the box. If there is any frustrations it's probably that it's not a surprise that it was a penalty in all honesty. It's a good penalty to score."

On being so close to a famous victory, Golding said: "They're a very, very good side and they're the favourites for a reason. They're always going to get chances. They're always going to create chances."

The equaliser zapped the energy out of Corinthian's players and the away side went for the kill.

However, Jamie Billings had one final chance to win it for his beloved Corinthian with the last kick of normal time.

The centre-half drilled his left-footed free-kick towards the left-hand corner from 26-yards, which stung the fingers of Foden and George Snelling was in an offside position by the time he poked the rebound past the foot of the left-hand post from a couple of yards out.

"He's hit the target from 25-yards. It was keeper side, it was another shot on target," said Golding, whose side play a direct brand of football.

"I always fancied ourselves going into extra-time. We're a fit squad. Obviously playing with one extra man, we just needed to try to retain the ball a bit better and try to move them around whilst understanding the game plan doesn't change too much.

"They are going to move the ball around and pass it about. We just had to be defensively compact. It was just getting the boys ready to go again and just give them a little bit of belief."

Corinthian created the first chance inside the opening 50 seconds of extra-time when Oloyede cut in from the right and played the ball into substitute right-back Jack Holland before James played the ball forward for Tanner, who cracked a left-footed half-volley high and wide from 20-yards.

"Luke worked extremely hard, he always does for the team. His work-rate is phenomenal. You get on the front foot early on and that's what you want," said Golding.

Hebburn Town scored the only goal from open play with nine minutes and 25 seconds into extra-time.

McKeown's ball over the top split substitute right-back Jack Holland to release Purewal down the left and he cut the ball back to McKeown, who from inside the penalty area put the ball on a plate for Armstrong at the far post to bury his downward header into the bottom right-hand corner from a couple of yards out.

"It was probably the first time he peeled off the centre-halves and got into that little space and headed it in from a couple of yards and you go 2-1 down and you start thinking you've got to then start throwing caution to the wind. The goal zapped that little bit of energy and belief out of the boys," said Golding.

Hebburn created the first opening of the second period when after 25 seconds Armstrong tired to score with a shot on the turn from 35-yards, which sailed harmlessly wide of the left-hand post.

Corinthian showed great character to force an equaliser and full credit must go to Oloyede who latched onto James' pass and charged into the box and was clipped by Groves inside the box and referee Quelch pointed to the spot again.

Billings held his nerve by drilling his left-footed penalty straight down the middle – as Foden stepped to his right – to equalise with three minutes and 40 seconds on the clock.




Jamie Billings held his nerve from the penalty spot to equalise inside extra-time.
Photo: Alan Coomes

Golding said: "Pressure penalty. I think when Eman got that ball and drives at players he's a different level for us and Jamie stepped up and is not our normal penalty taker but a little bit of fatigue sets into the legs and it's whoever wants it at that stage but I had full faith that Jamie that was going to go into the net."

Corinthian created a chance to win it when Billings' long ball over the top put through Clarke down the right but his weak shot from the edge of the box was comfortably gobbled up by Foden, making a comfortable low save to his right.

Lough and Purewal linked up well down the left and after Purewal's driven shot was blocked by Bath, Lough's left-footed angled drive was saved by Prall, low to his right.

Corinthian almost snatched victory when Billings' deep free-kick from close to the centre-circle had Foden flapping and Bath's glancing header dropped so close to the goal-line and Hebburn were able to clear their lines.

"The last minute of the game, their goalkeeper dropped his first one of the whole day and they've cleared it off the line. We talk about fine margins and that's it. Another six inches or if somebody's standing there and it's a completely different story," agonised Golding.

So this FA Vase Semi-Final was to be settled by a penalty shoot-out.

Corinthian went first and substitute Conor Johnson slotted his right-footed penalty into the right-hand corner, sending the keeper the wrong way.

Hebburn levelled through substitute midfielder Lewis Suddick, who crashed his right-footed penalty into the top right-hand corner, despite Prall going the same way.

Jamie Billings drilled his spot-kick into the bottom left-hand corner as the keeper went the other way.

Hebburn centre-half Storey capped off a decent outing by slotting his right-footed penalty into the bottom left-hand corner, sending Prall in the opposite direction.

Corinthian's holding midfielder Snelling gave Corinthian a 3-2 lead by drilling his right-footed penalty into the bottom left-hand corner, sending Foden the other way.

Hebburn's impressive winger Potter held his nerve with the sixth penalty, the ball nestling into the bottom right-hand corner, sending Prall the wrong way.

Disaster struck Corinthian when captain Bath hit a poor penalty as Foden was able to get down low to grab hold of the ball as Bath tried to place the ball straight down the middle.

Hebburn substitute Carl Taylor sent Prall the wrong way with his right-footed penalty, the ball nestling into the bottom left-hand corner.

Clarke had to be consoled by team-mates and management when he rifled his left-footed penalty over the crossbar, as he attempted to crash his shot into the top left-hand corner and Corinthian's Wembley dream shattered in heartbreaking fashion but they deserved their standing ovation at the end as they trudged off the pitch for giving it a go and that's all you can ask for in football.

On Clarke's penalty miss, Golding said: "It is what it is at this stage. It's the best way to win and the worst way to lose. It's just heartbreaking. Unfortunately, somebody's going to be the hero and someone's going to be the villain and today it was our boys that didn't quite get it right. It's one of those things.

"Louie's been very, very good for us and he's scored a lot of goals for us in pre-season. He's a young kid and he's got a great career ahead of him.

"On a personal level I class (Bath and Clarke) as friends so for them to miss the penalties – or for any of the boys to miss the penalties – would've been heartbreaking but they're both strong characters and both big presences in the changing room and they'll bounce back from this.

"You're so, so close and you just hope the luck shines your way on the day. We can be proud of the performance that we put on today.

"The 300 people in the crowd today will go away and say 'Corinthian did alright and battled hard.' We showed some good qualities at times. I don't think we played to our potential but I don't think any player has walked off that pitch and we can criticise them.

"We gave it absolutely everything. We were the underdogs today and Hebburn will go back and say they were in a match and they will know they were in a game today."

Golding and Groombridge must rally the troops ahead of Tuesday night's Southern Counties East Football League clash at home against Lordswood, who will be smarting from their 5-0 home defeat to Tunbridge Wells on the opening day of the season today.

Golding said: "I just feel proud of the boys. I want to have a sit down with them and have a beer together and I think we can be proud of what we've done. We're not at Wembley and we're not going to win the Vase but you look at the run of games that we've had to win to get to this stage and we've been the underdog in every single game.

"I'm incredibly proud, I'm gutted, I'm disappointed. We've all shed a tear together but all we can hope is that makes us stronger and we'll continue to grow and we'll see where that takes us."

Meanwhile, Calvin Smith's extra-time goal sealed Consett's place at Wembley, as they beat Bitton 1-0.

Corinthian: Aiden Prall, Chris Kinnear (Jack Holland 86), James Trueman, George Snelling, Jamie Billings, Jack Bath, Andres Felipe Losada Tobon (Louie Clarke 101), Jack Mahoney (Josh James 66), Luke Tanner, Oscar Housego (Conor Johnson 70), Emmanuel Oloyede.
Subs: Josh Stirman, Ryan Sawyer, Dan Fox

Goals: Oscar Housego 48 (penalty), Jamie Billings 109 (penalty)

Booked: Josh James 71, Luke Tanner 75, James Trueman 95

Hebburn Town: Mark Foden, Daniel Groves, Darren Lough, Robbie Spence (Damen Mullen 71), Louis Storey, Daniel Carson, Amar Purewal (Carl Taylor 115), Michael McKeown (Lewis Suddick 119), Graeme Armstrong, Cedwyn Scott (Oliver Martin 66), Tom Potter.

Goals: Graeme Armstrong 89 (penalty), 100

Booked: Mark Foden 47, Michael McKeown, Damen Mullen 116

Sent Off: Oliver Martin 77

Attendance: 300
Referee: Mr Adrian Quelch
Assistants: Mr Craig Simpson & Mr Gary Jerden
Fourth Official: Mr Paul Johnson