Chatham Town 1-0 Beckenham Town - Hopefully it's the start of something big for the club, says Chatham Town boss James Collins
Sunday 14th April 2019
Chatham Town

1 – 0

Beckenham Town

Location
Gallagher Stadium, James Whatman Way, Maidstone, Kent ME14 1LQ
Kickoff
14/04/2019 14:45
CHATHAM TOWN 1-0 BECKENHAM TOWN
(after extra time)
Kent Senior Trophy Final
Sunday 14 April 2019
Stephen McCartney reports from James Whatman Way

CHATHAM TOWN manager James Collins says celebrating winning the Kent Senior Trophy for the first time in the clubs history has taken a little bit of pressure off.
Super-sub Michael Hagan came off the bench to sweep in his eleventh goal of the season in the 100th minute to settle a poor game in Maidstone.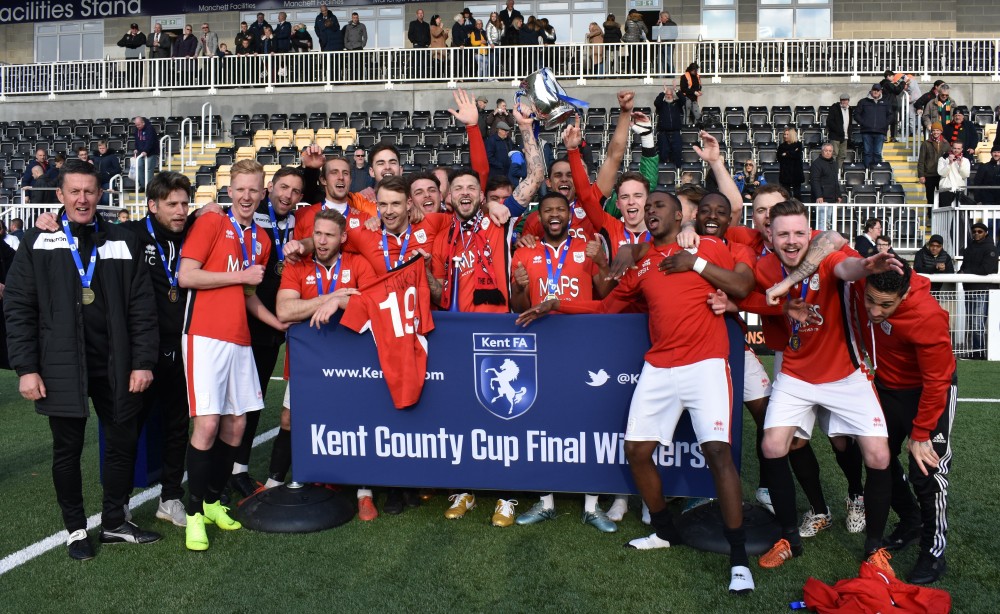 Chatham Town celebrate winning the Kent Senior Trophy for the first time after beating their league rivals Beckenham Town with Michael Hagan's extra-time goal. Captain Paul Vines lifts the silverware and a number 19 shirt with Steve Binks' name on the back, to pay tribute to the club stalwart who sadly passed away earlier on in the season.
Photo: Alan Coomes


Chatham Town, who lost 3-0 to Deal Town in the 2000 Final, beat Sheppey United (2-1); Canterbury City (5-0); Bearsted (2-0) and Hollands & Blair (2-0) to keep their double cup winning campaign on course.

Beckenham Town, meanwhile, saw off Erith Town (2-0); Croydon (3-0); Fisher (2-1) and St Peter (3-2), but this showpiece final failed to live up to the expectations of the two Southern Counties East Football League Premier Division tussles between the two sides.

Beckenham Town came away from Chatham Town with a 4-3 win on 1 September and came back from being 3-1 down to claim a point in a thrilling clash at Eden Park Avenue on the third day of April.

With three league games each left to play, Corinthian lead the way on 84 points, followed by Cray Valley (82); Fisher (78); Chatham Town (76) and Beckenham Town (62).

"I didn't know it was the first time, I thought they would've won it before. I'm so happy for everyone, all the players, the supporters, the chairman (Kevin Hake), the committee and all of the coaching team, well pleased for everyone," said Collins.

"It's been a long, long season, it's been a hard season. We've had a lot of set-backs and we've only lost nine games, so today was a real fantastic memorable day for me and for the club, just well deserved."

Beckenham Town coach Billy Walton claimed: "I think there again the three officials robbed us of the cup today! I am going to say it, they're not good enough! Everyone in this ground knows that we've scored two perfectly good goals and they've disallowed them!

"I thought personally Chatham had the first half. I thought after the penalty we dominated the rest of the game for the whole of extra-time and the rest of the afternoon.

"Three times I've been in this and three times I've lost. I said to (coach) Ricky Bennett my dear old mum is up there and she'll have to wait for another year for her son to turn up with a trophy. She's waited 35 years so another year won't hurt!

"There's no good getting upset about it, it hurts but that's the way it is unfortunately."

Both camps admitted this Final failed to live up to the expectations from the two league games.

"Awful! I've got to be honest. I probably enjoyed it until they brought Joe Healy on and they changed their formation and it changed the game," added Collins.

"I got the boys into training to work against a 3-5-2 and the diamond because I thought that's what they might go to because they did that against us the other day.

"I thought they got a foothold in the game from the 60th minute and then I thought it was a pretty even affair and it wasn't enjoyable to watch. I thought we played really well for the first 60 minutes."

Walton admitted: "I thought for a spectacle it must've been absolutely dreadful watching it in the first half because both sides were just smashing it and no one was doing anything whatsoever. It was pretty dull in the first half."

Chatham Town started the game on the front foot and created their first opening after 190 seconds.

Centre-half Ben Wilson floated in a free-kick from the halfway line and striker Paul Vines' downward header from 16-yards was comfortably gathered by Michael McEntegart, the busier of the two goalkeepers.

Chatham Town's right-winger Jon Pilbeam intercepted Stefan Cox's intended pass to Archie Johnson and burst down the right before crossing low for Vines to sweep a shot on the turn, which rolled across the face of goal before being cleared away by Beckenham's centre-half Nathan Daly.

Collins said: "We didn't play Vinsey in the league game against them. We felt pace wise we could cause them problems so we worked on a few things and getting balls in behind because we felt we could utilise the pace we've got and we got a bit of joy out of it.

"Unfortunately we wasn't able to put the ball in the back of the net but certainly it gave us control of the game and for the first 60 minutes I felt we were good for the win."

Wilson floated in another free-kick, which was punched away by McEntegart and Vines hooked a first time volley sailing over the crossbar from 15-yards.

Vines' flicked header played in left-winger Matt Bodkin, who cut into the Beckenham box and McEntegart rushed off his line and bravely smothered the ball at the wingers feet in the ninth minute.

Walton added: "Macca is a top class goalkeeper, he makes saves galore."

Beckenham Town created their first chance just 56 seconds later when quiet left-winger Carlos Urquiza floated in a free-kick into the box from the right and target-man Luis Medina rose to loop his header towards the roof of the net, which was plucked out of the air by goalkeeper Dan Ellis.

Walton admitted: "We was powderpuff in the first half! They were first to every second ball, pretty direct."

Collins said: "They had good deliveries into the box but we are very good at defending the box. We concede silly goals sometimes from mistakes from over-committing men forward but when we've got our backs against the wall we can dig in and defend.

"Dan Ellis makes a massive difference to us because of his talking and his presence and I felt we dealt with their threat in the first half very well."

McEntegart was called into action in the 12th minute when Bodkin's right-footed curling free-kick from 30-yards was destined for the top left-hand corner, only for McEntegart to step to his right to pluck the ball out of the air.

Chatham Town continued their 20 minute dominance when Pilbeam fed Walker, who cut inside but Billy Bennett closed him down and his deflected drive from 30-yards took the sting out of the shot and the Beckenham keeper gathered the bouncing ball.

Beckenham Town weathered the storm after 20 minutes and the game turned into a boring stalemate.

Chatham Town's centre-half Marcus Evans hit a long free-kick into the penalty area and Vines knocked the ball on and Tom Fitzgerald turned inside the box and stroked his shot across the face of goal, which was cleared away by Hammond at the far post.

Chatham Town squandered a glorious chance to deservedly take the lead in the 33rd minute.

James Fray threw the ball down the line to Pilbeam, who whipped in a great cross towards the edge of the six-yard box for Vines to make space away from Hammond to guide his downward header past the left-hand post.

Collins said: "I don't think Vinsey thought it was going to drop to him and it just looped underneath the centre-halves head and I don't think you expected to put your mortgage on him to score but he delivers week-in-week-out and I'll allow him to miss chances if he puts enough away."

Walton added: "The one time he got away from Jez, the centre-half, he got a decent header. Normally he would score but thankfully it just went past the post."

McEntegart produced a flying save to frustrate Chatham Town in the 42nd minute, flying high to his left to push the ball behind for a corner to deny Fitzgerald, who brushed aside Cox down the left-hand channel and cut along the by-line to try to score from a very acute angle.

Collins added: "I thought we were wasteful, I said that at half-time! That's what's probably cost us in the league, we're not ruthless enough in front of goal. Sometimes when teams are on the ropes to knock them out and we're not ruthless enough.

"Look that's me being negative but that's a credit to this team that when I'm saying they're not ruthless they still win that amount of games that we've won. It's that last little bit but that's why we probably fell a little bit short in the league and I was hoping it wasn't going to be the same story today."

Walton said: "I think it was destined to go in the top corner and it was what we expect of him. As I've said before, all the time, that's what they're there for to stop the ball going in the net!"

Beckenham Town were disappointing during the first half and created very little and Bennett's free-kick was met by a rising Medina, who looped his header just over the crossbar from a central position just inside the Chatham Town box.

Both camps were asked their thoughts at the break. The crowd asked for entertainment.

Walton said: "I just thought we were sitting off them. After the last game we played in the league, the same thing happened. The last 20 minutes of that game we got after them and caused them all sorts of problems and we dominated that second half."

Collins added: "I said if we play like we did in the first half we'll win the game. We just spoke about tightening up and I thought we could get a bit more joy on the right. Jon Pilbeam was coming deep too much and I wanted him to go in behind a little bit."

The game was crying out for a goal and it nearly arrived just 34 seconds into the second half.

Fitzgerald linked up well with right-back James Fray down the right and Pilbeam cut into the penalty area and curled a left-footed shot around the keeper only for the ball to bounce off the top of the crossbar and drop behind for a goal-kick.

"We wanted him higher up the pitch and that was what we were saying," explained Collins.

"Every time we were showing to feet, they were getting men behind the ball and we weren't getting in as much as I liked and I thought we could get a bit more joy there. It was a good start to the half and it set the tone and we carried on how we finished the first half."

Walton simply said: "I think it was always rising up and over to be honest with you, so not too much of a shot from me."

Chatham Town then produced a good move when Fitzgerald released Walker charging down the right and he whipped in a cross for Vines to stoop at the far post to send his header looping over the crossbar from 15-yards.

Assistant referee Billy Woods waved his flag and claimed that Daly's tackle on Pilbeam was inside the penalty area on the right-hand side, while Walton claimed the video evidence (not seen) showed the tackle was outside the box.

Referee Joseph McKay pointed to the spot but sometimes there's a twist of fate when controversial penalties are awarded and are missed.

Vines attempted to rifle his left-footed penalty into the roof of the net straight down the middle – but he skied his kick high over the crossbar and out of the ground, with six minutes and 37 seconds on the clock.

Walton said: "We've got video evidence, I hope they look at it because they never want to apologise to you and say 'I've made a mistake!'

"Quite clearly the penalty which thankfully they've missed was a yard outside the area!"

There is a lack of consistency from referees in Kent where this website has provided evidence over the course of the season when decisions go for one team and not the other, which needs looking at by the blazers.

Walton said: "In the second half of extra-time we get a blatant penalty on Richard Atkins when he's completely been shoved (to the ground) and the linesman and fourth official who were standing by our dug-out said they cannot flag for a penalty because it will be a conflict of interest.

"They're part of a team and are running the game and he's quite clearly seen it's a penalty but he can't flag and you can see from this angle it's a penalty!"

Without looking at video evidence, Collins replied: "You're appealing, you're thinking it is. I wasn't sure if it was in or if it was out. If it's given outside, I'm shouting its inside. If it's outside I'm saying it's not, so I don't know.

"If Bill's thinking that's the case then he may have a bit more knowledge of it than me. Maybe we needed a little bit of luck but we couldn't capitalise on it. I haven't seen a replay of it so I don't know if it was or wasn't but it was very close!"

On his 42-goal striker missing another penalty, Collins replied: "He deserved to score. I wanted him to score. He's missed a few penalties this year actually but he's scored so many goals. You can miss a penalty can't you. It's just one of those things."

Walton added: "To be honest with you, I was expecting him to score all day long. Luckily for us he skied it over the bar. Just rewards because it wasn't a penalty purely and simply.

"Let them come and have a look at the video and they still won't say sorry. They still won't apologise for messing it up!"

McEntegart pulled off a great save in the 54th minute as Chatham Town's dominance continued.

Bodkin released Walker driving down the left channel and he played in a low cross, which McEntargart got his big frame down to flick the ball away low to his left. The ball ran through to Bodkin, who teed up Butler, who drilled a first time right-footed shot towards goal from inside the D and the keeper did superbly to hold onto the ball, to his right, standing on his six-yard line.

"Well how has he held it as well? It was a great save," hailed Collins.

"I thought their keeper played very well. The more you're going on, he's kept them in the game at times and they grew into the game and later on in the game we relied on Dan to keep us in the game."

Walton added: "That was one of the best things we've done defensively. I thought we stopped them there, was it the block from Nathan Daly? Fantastic bit of football that was."

However, the introduction of holding midfielder Joe Healy in the 55th minute added more steel to the Beckenham defensive side of their game and this ensured the game was still uninspiring to watch.

It was evident that this game would go into extra-time as neither side could find the decisive moment in front of goal in normal time.

Daly did well to keep Bodkin at bay after breaking and latching onto Hagan's swept ball forward but Chatham kept possession of the ball and Fitzgerald played the ball inside to Butler, who drilled his shot sailing over the crossbar from a central position 25-yards from goal.

Beckenham Town failed to produce their trademark attacking play, mostly down to Evans and Wilson slamming the door in their faces.

Seven minutes from the end of normal time, Beckenham Town felt their moment had come when Cox released Richard Atkins in behind Evans but he lost composure inside the box and lashed his right-footed shot over the top of the near post from 15-yards.

Walton said: "It was the one thing we got Stefan Cox on the ball a bit more in the second half where he caused them a few problems down there. They were double marking him for most of the game so it was the one time when they got a bit tired and they wasn't marking him and he got in a decent cross and I was expecting Richard to score to be honest with you."

Jason Huntley's Beckenham, however, almost completed a smash-and-grab raid to snatch the Trophy with 45 minutes and 41 seconds on the clock.

Jimmy Rogers released Johnson down the left and he played in a lovely ball, which flashed across the face of goal and with his back to goal, Medina flicked his weak shot towards the centre of the goal from eight-yards, which rolled into Ellis' gloves for a comfortable save.

"Unfortunate – but he's a big lad the goalkeeper for them and it was a good save down that low and it was one of those things," said Walton.

Collins added: "That was probably their first shot on target, wasn't it? He made a very good save in extra-time to be fair. Had that gone in that would probably sum up where we've been this season. Beckenham are always a threat, they're a good side."

As expected, neither side could find the winner so the game went into extra-time.

Collins said: "I felt they got control of the game. I thought when we brought Michael Hagan on (in the 75th minute) we got a little bit more control of the game but they put an extra man in the middle of the pitch and it caused us problems and we ended up just getting forced back.

"I tried to say to my players we had to be brave and get out. I was confident that the two centre-halves would be able to deal with the aerial threat."

Walton added: "I looked at them and I saw a few of them (looking tired) and they've played a lot of games recently and I thought we were going to be the fitter and stronger side going into extra-time, which I thought we was."

Beckenham Town were to be denied the lead, thanks to a brilliant save from Ellis just 42 seconds into extra-time.

Cox whipped in a quality cross in from the right and Atkins planted his header towards the far corner from six-yards at the near post and Ellis stuck out his left arm to prevent the ball sailing into the far corner of the net.

"He should score Richard. I thought we had a few decent chances in extra-time to score. It's one of those days when you're not destined to win, you've got to take it," said Walton.

"Great save! Over the course of the season and even in a cup final you need everyone to turn up and Dan's played his part and made a big save for us just when we needed him to," added Collins.

Chatham Town claimed the deserved winner with nine minutes and 22 seconds into the first period of extra-time.

Evans clipped a ball over the top of Johnson to release Bodkin down the right and he played in a low cross which flashed across the face of the six-yard box.

Beckenham Town's right-back Nathan Paul was favourite to clear the ball away on the six-yard line but Hagan showed the desire to nip in to sweep his right-footed shot looping into the right-hand corner.




Michael Hagan beats Nathan Paul to the ball to score the winning goal for Chatham Town.
Photo: Alan Coomes


"I don't think he had any right to get there because I thought it was behind Nathan Paul and he got across and that was just sheer determination," said Collins.

"Vinsey scores a lot of his goals from sheer desire. I watch games from a higher level and a lot of it comes down to desire and you can score goals, just on that alone.

"Apart from Reece Butler whose probably deserving for the season he's had, he's been unbelievable this season, no-one deserved to score the winner in a cup final than Michael Hagan.

"He comes of the bench and he knows what he has to do to start and that's the next thing. He needs to find himself in the team. I constantly tell him I want more, I want more!

"I've left him out for a while and he started against Sporting Club Thamesmead and he did well and he got left out for four games and it was the first time I sensed he wasn't quite happy and I thought now is the time to play him.

"We played him against Beckenham and Glebe and he played very well and he went on holiday against Deal and I thought I'd let him off the leash late on."

Walton said: "I was disappointed from where I was, Nathan was in control of the situation. I don't know if he lost his footing or whatever but he looked like he was going to clear it and he was first to the ball and it looked like he just twisted and he got caught and it just fell kindly to Hagan to tap it in the net.

"A bit disappointing and it was a real, real soft goal to concede so very disappointing from our point of view."

Beckenham Town created the final chance of the first period when McEntegart launched a big kick straight down the middle of the pitch, the ball was flicked on by Atkins and Bennett smacked his right-footed volley over the crossbar from inside the D.

Beckenham Town made a double change at the interval and one of them was centre-half Ike Robinson who was thrown up front as an emergency target-man alongside Atkins and Medina.

Atkins squandered his big moment in the game with 13:06 when Ellis made a great save with his legs.

Bennett played a lovely low through ball which played Atkins through on goal but Ellis rushed off his line to narrow the angle and blocked the stroked shot with his legs. Ellis swiftly recovered and jumped high to his right to palm Bennett's follow-up shot towards safety and Chatham got men back to clear the danger.

Walton said: "How much would you put on him when he goes through and got the goalkeeper to beat? Our of all of the people you want it to fall to, Richard would put it away!

"He most showed him a little bit too much where he was going to put it but fair play to the keeper he read it and made a good save."

Collins added: "It was a great double save to be fair, absolutely fantastic! You need everyone to turn up for a cup final and I said that to all of the players. If one player goes hiding today it kills us, you may not play well and you may make a mistake and it costs us a goal but don't hide.

"He wasn't required for 90 minutes Dan and then he's turned up trumps when we needed him to but the team were fantastic before that. It was a massive team effort. It's been a massive club effort and I'm just delighted for everyone."

Chatham Town host Cray Valley on Saturday, before travelling to Bearsted on Easter Monday and end their campaign at home to Fisher on 27 April.

Chatham Town can complete a cup double as they lock horns with current league leaders Corinthian in the Challenge Cup Final on Saturday 4 May at Longmead Stadium in Tonbridge.

"To do the treble will be brilliant but it was a really important day today under Kevin Hake's leadership, his first trophy that he's brought to the club as chairman and a first trophy in a long, long time.

"I think that sets the tone for what Chatham should be now, competing for trophies in all competitions at whatever level they're at and hopefully it's the start of something big for the club."

A season that promised so much but Beckenham Town come away empty handed and out of the title race having to settle for a fifth-place finish.

An honest Walton said: "I've got to take some criticism as well because I look at myself. Perhaps I'm not good enough to do it? I'm not good enough to guide the team to what they want so I take a lot of criticism and I take it on my shoulders.

"I fully understand the club want to get promoted and that's first and foremost and sometimes I probably messed up with my tactics and that's what has cost us in games so I've got to take a bit of responsibility as well. I hold my hands up and I'm old enough and wise enough to publicly say that.

"I want the club to go forward and if anyone thinks my help is not good enough then so be it! I'll fill up the water bottles and help get the water bottles right."

When asked how he will pick his players up for their last three league games, Walton said: "That's simple They're going to go and play something that they love doing. I wish I could play, you're a long time finished! Go and play and enjoy it. This will be forgotten about tomorrow and that's it. Get on and look forward to getting the golf clubs out and having a bit of golf and going on holiday and then if they don't sack me I'll go and have another go next year."

Chatham Town: Dan Ellis, James Fray (Danny Grant 111), Matt Parsons, Reece Butler, Marcus Evans, Ben Wilson (Michael Jenner 91), Jon Pilbeam, Tom Fitzgerald, Paul Vines, Byron Walker (Michael Hagan 75), Matt Bodkin.
Subs: Henry Newcombe, Cory Walters-Wright

Goal: Michael Hagan 100

Booked: Marcus Evans 44, Ben Wilson 58

Beckenham Town: Michael McEntegart, Nathan Paul, Archie Johnson, Jimmy Rogers (Brogan Britten 106), Jez Hammond (Ike Robinson 106), Nathan Daly, Carlos Urquiza (Joe Healy 55), Billy Bennett, Luis Medina, Richard Atkins, Stefan Cox.
Subs: Luqman Adesina, Jack Hope

Booked: Luis Medina 45, Nathan Daly 51

Attendance: 1,128
Referee: Mr Joseph McKay (Maidstone)
Assistants: Mr Billy Woods (Bexleyheath) & Mr Ryan Chantrill-Smith (Margate)
Fourth Official: Mr Joseph Dann-Pye (Maidstone)