Bromley 1-1 Wrexham - Play-offs? If If we do it, it will be a monumental achievement for this club, says Bromley boss Neil Smith
Friday 30th March 2018
Bromley

1 – 1

Wrexham

Location
Hayes Lane, Bromley, Kent BR2 9EF
Kickoff
30/03/2018 15:00
BROMLEY 1-1 WREXHAM
Vanarama National League
Good Friday 30 March 2018
Stephen McCartney reports from Hayes Lane

BROMLEY manager Neil Smith says it will be a monumental achievement from his players' to grab a play-off place during their last eight games of the season.
The Ravens held their promotion chasing rivals Wrexham to a 1-1 draw, despite having central defender Roger Johnson, 34, sent-off in the 44th minute - on a miserable wet day at Hayes Lane.

Fourth-placed Wrexham took the lead seven minutes into the second half through left-back James Jennings, who headed in his fourth league goal of the season.

But Bromley showed character and desire to get something out from the game and deservedly claimed a point when striker Brandon Hanlan kept his composure from the penalty spot.

Macclesfield Town remain top of the Vanarama National League table with 78 points from 40 games and have six games remaining.

Sutton United are in second-place with 72 points from 39 games and Wrexham are now in third with 68 points from 40 games after extending their unbeaten run to 16 games here today.

Aldershot Town are in fourth-place with 68 points from 40 games; Tranmere Rovers are in fifth place with 67 points from 39 games; Boreham Wood are in sixth with 66 points from 40 games while Dover Athletic occupy the final play-off berth with 64 points with six games left.

AFC Flyde are next with 62 points with six games remaining, Ebbsfleet United are on 57 points from 38 games, while Bromley remain in tenth-place with 56 points.

"The officials, I'm not even saying it wasn't a sending-off but I think the whole decisions that was going on through the game sort of set itself up for something like that to happen. Just seems a habit every time he (referee David Rock) comes here, he sends someone off," said Smith.

"Full credit to my players, they didn't let it get to them. They battled and I think we deserved a point, with 11 men we probably would've deserved a win!

"Look, Wrexham are a fantastic club, they're massive, they keep telling everyone they're a League club. We're little old Bromley, we just put ourselves up with 10 men against one of the biggest clubs in the division, looking to go up and be champions and I can't give my players enough credit to stay in that game and actually try to go for the win. We didn't sit back for the draw, we went for it so full credit to them."

Bromley flew out of the blocks and were on the front foot for the opening 10 minutes.

Frankie Raymond slipped the ball into Hanlan's feet and he drilled a powerful right-footed shot from 30-yards, which forced Wrexham keeper Chris Dunn to parry towards safety.

"It's the best start we've had in a few weeks and I think we've got Saturday (beating Gateshead 4-3 on aggregate to get to Wembley Stadium in The Buildbase FA Trophy Final where they play Brackley Town on Sunday 20 May) out of the way, it's now full focus on the league and I thought that's the best we've started and probably played for a couple of weeks now."

Smith added: "It was a great effort. It was a great save, he's a good keeper but we said to Brandon he's got to start now being a little bit more positive. His work ethic is fantastic but he's got to start getting shots off and getting in and around the box."

Bromley keeper David Gregory made three brilliant saves against a Wrexham side that can be described as workmanlike.

Scott Quigley's diagonal pass wasn't cut out by Bromley left-back Tyrone Sterling and Paul Rutherford ran down the right flank. Quigley received the ball 25-yards from goal and his left-footed drive from 25-yards dipped in front of Gregory, who dived to his left to push away.

Hanlan then turned provider for Frankie Sutherland to drill a right-footed shot from 30-yards, which stung the fingers of the Wrexham keeper.

Bromley went close in the tenth-minute following a slick move.

Adam Mekki, now playing without a face mask, pinged a quality diagonal out to Jordan Higgs on the right and he whipped in a lovely cross for George Porter, who cracked his right-footed volley whistling agonisingly past the foot of the right-hand post from the edge of the box.

Smith said: "It's a great bit of movement, it's everything that we've been working on, it just needed a finish. He tried to direct it in, it just didn't bite on the turf so good work, effort that we've practiced on the training ground."

Smith was asked why star man Louis Dennis was not in the 16 man squad.

"Louis just got a knock, he can't be passed fit and struggling for Monday, we'll just take it on a daily basis."

But Andy Davies' side weathered the storm and took the sting out of Bromley's dominant start.

Bromley's next chance arrived in the 26th minute when Mekki floated over a deep cross towards Higgs at the far post and the right-sided midfielder made space to steer his header wide from 10-yards.

Gregory pulled off his second excellent save in the 29th minute.

Holding midfielder Sam Wedgbury swept the ball out to Roberts on the right and the full-back was given space to float over a cross, which was knocked down by Quigley inside the Bromley box and Chris Holdroyd hit a left-footed shot from close range and Gregory pulled off an excellent block.

"Gregas deserves every plaudit he gets. He's worked hard, he's come in and people were a bit unsure, didn't know him and he's been a credit and I will be surprised if he's not knocking on the England C door," Smith said of the former Crystal Palace and Cambridge United Biggin Hill based stopper.

Rutherford swung in an inch-perfect free-kick from the left towards the near post but 13-goal striker Holdroyd steered his near post header wide.

Referee David Rock pulled out a red-card when Roger Johnson's challenge on Wedgbury was deemed a dangerous foul in the middle of the park following a Wrexham clearance from the keeper with 43 minutes and 31 seconds on the clock.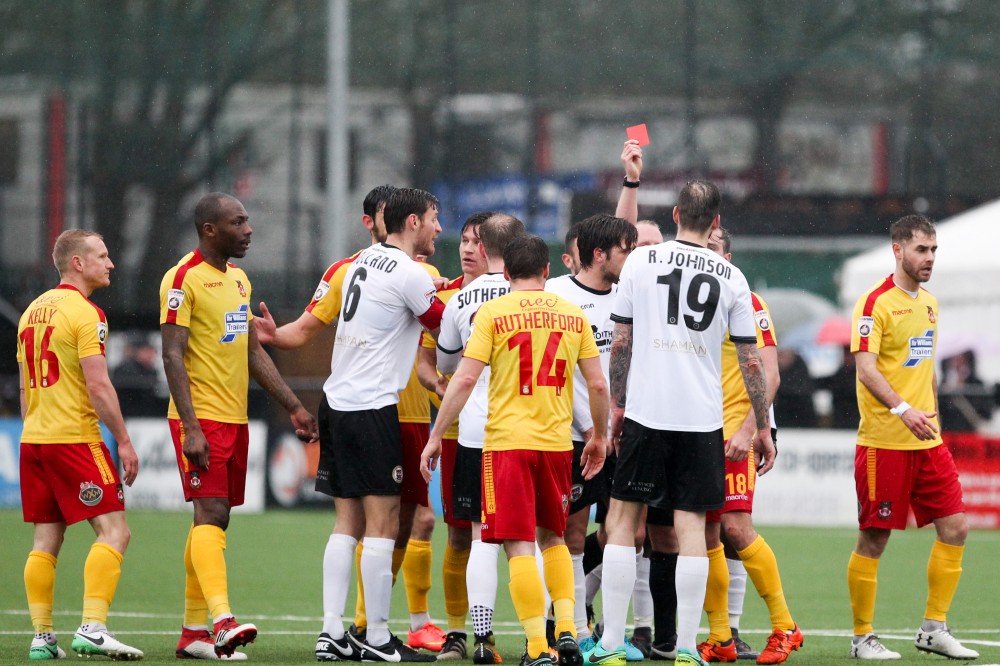 MARCHING ORDERS: Bromley defender Roger Johnson
is sent off against Wrexham at the end of the first half.
Photo: Edmund Boyden

Smith took part in the press conference without looking at a replay of the incident.

"I'll have a look at it. I'm not going to dispute it, was a red or not, yet. I haven't seen it on the video. They weren't the decisions that I was really angry about. It was all the silly ones we were getting cautioned for or getting free-kicks against and the opposition weren't but I'll have a look at the incident and I'll give a quote on that after I've seen it."

Smith didn't make a substitution at the break and right-back Luke Woolfenden, 19, who is on loan from Championship side Ipswich Town, slotted in beside Jack Holland in the centre of defence and Higgs dropped back into right full-back, leaving Sterling at left-back.

"We're down to 10 men so it was like staying in the game, don't give anything silly away, stay on your feet because none of the decisions are going our way so something is going to work against us. Low and behold it did!

"I thought full credit to Luke Woolfenden. I thought he did really well at centre back. You've got a good player in Quigley, obviously coming from a League One side Blackburn Rovers and I thought he did really well against him. It was a good test."

Wrexham scored their 47th National League goal of the season just six minutes and 8 seconds into the second half.

Raymond was booked for a foul on Quigley down the right channel and Marcus Kelly swung in the free-kick into the Bromley box and Jennings was left unmarked to glance his header sailing into the far corner from inside the six-yard box, as Gregory opted to stay on his goal-line.



GOAL: Wrexham left-back James Jennings (number 3) heads home to give his side the breakthrough.
Photo: Edmund Boyden

Smith said: "I think we dropped too deep. We didn't give ourselves enough of a chance to challenge for it and he got loose on the player that was marking him and he scored.

"You saw the belief in the boys, they got around each other, they weren't happy. They didn't give up. In fact it riled them a little bit and they came out even stronger.

"The one thing I can say about these players (and the whole squad) is that none of them give up. If anything they want to work even more for each other. I said at half-time the team spirit that we've got is worth another man and it showed that today."

Bromley could have easily folded like a pack of cards – and played like it was 11-versus-11 - but they showed character to bounce back from that set-back.

Quigley played the ball into Rutherford, who cut inside Sterling to hit a weak left-footed shot inside the D, which was comfortably caught by Gregory.

Gregory pulled off another fine save to deny Wrexham taking the lead in the 63rd minute.

Wrexham produced a sweeping move as Holdroyd played in Kelly and his right-footed shot was superbly saved by Gregory, using his legs to make a vital block as he went to his right.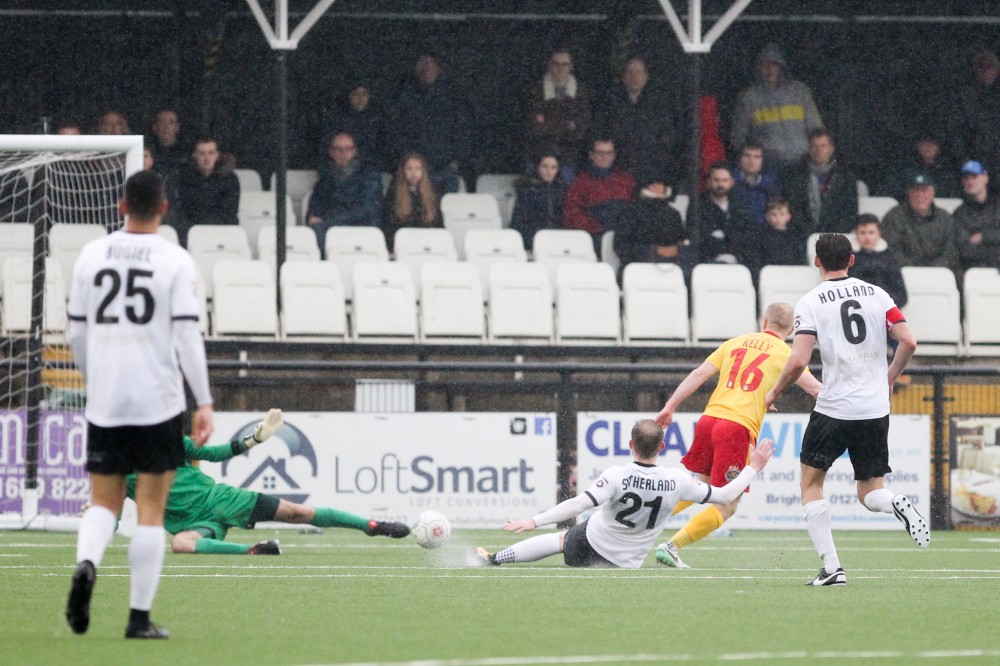 SAVE: Bromley manager Neil Smith says his goalkeeper
David Gregory should be knocking on the door to be in
the England C squad following his heroics today against
Wrexham.
Photo: Edmund Boyden

Smith said: "He came out with his legs. He got down very quick and it was a great save. He's been brilliant Gregory and didn't deserve to come out there going another goal down."

Bromley deservedly pulled a goal back when assistant referee Oliver Jackson flagged after Wedgbury was penalised for fouling impact sub Omar Bugiel close to the by-line on the right-hand side of the penalty area.

With the pressure on his young shoulders, Hanlan sent Dunn the wrong way with a clinically despatched penalty, nestling into the bottom left-hand corner, to equalise with 20 minutes and 4 seconds on the clock.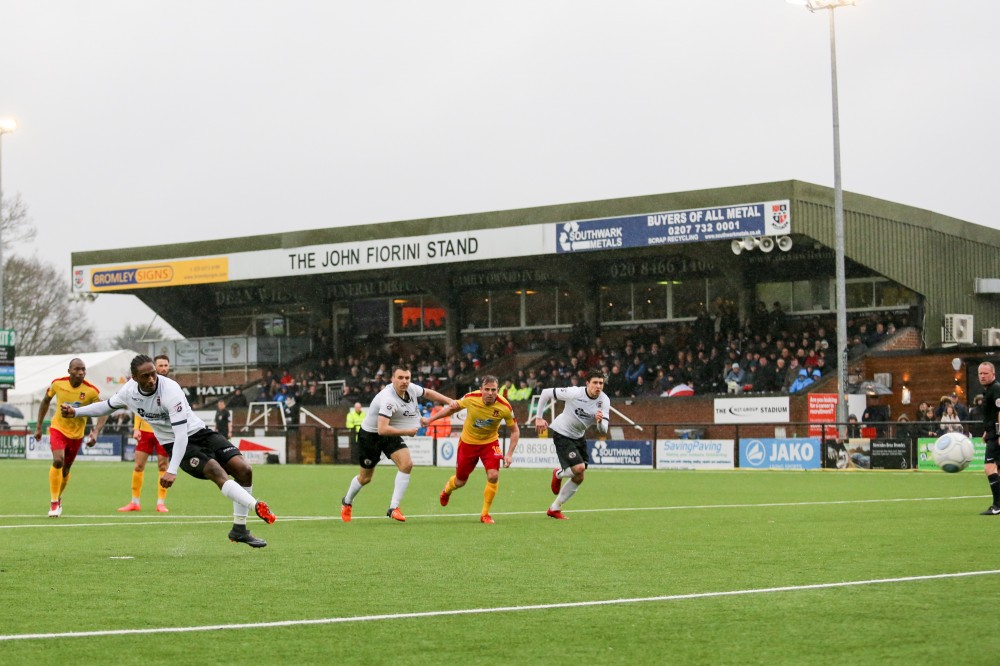 EQUALISER: Brandon Hanlan has now scored four goals
since his return to Hayes Lane. He finds the bottom corner
from the penalty spot to give Neil Smith's men a deserved
point against Wrexham.
Photo: Edmund Boyden

Smith said: "It was a penalty. I was surprised the referee wasn't going to give it until the linesman done it. It was a blatant penalty so I think we got our deserts for hard work and perseverance.

"Brandon's been doing so much work, he needs some goals just as a pat on the back because that's the one thing that's lacking at the moment. Full credit, under pressure, put it away beautifully."

The loan deals for Hanlan and Woolfenden (and Bugiel too) are expected to expire before The FA Trophy Final against Brackley Town on 20 May.

"I wouldn't be letting them go! They don't want to go. Why wouldn't they want to be at Bromley and go to a Wembley Final? They've been immense since they've come here. I can't thank (Ipswich Town manager) Mick McCarthy enough. I can't thank Charlton or Colchester enough. Brandon's been immense and Luke for a 19-year-old kid, has proved that he's going to go a long way in this game."

Wrexham central midfielder Kelly had a deflected shot from outside the Bromley box trickle into Gregory's hands but the Bromley keeper pulled off another fine stop at his near post.

Wedgbury floated in a cross into the Bromley box, the ball was flicked on by Holdroyd and Gregory pushed Nicky Deverdics' hooked volley from a tight angle around his near post.

Bromley then received a couple of slices of luck as Wrexham twice hit the woodwork in the space of 184 seconds.

Wedgbury played the ball along the deck inside to Kelly, who was given time and space to curl a left-footed beauty from 35-yards, which crashed off the top of the left-hand post as Gregory dived high to his right.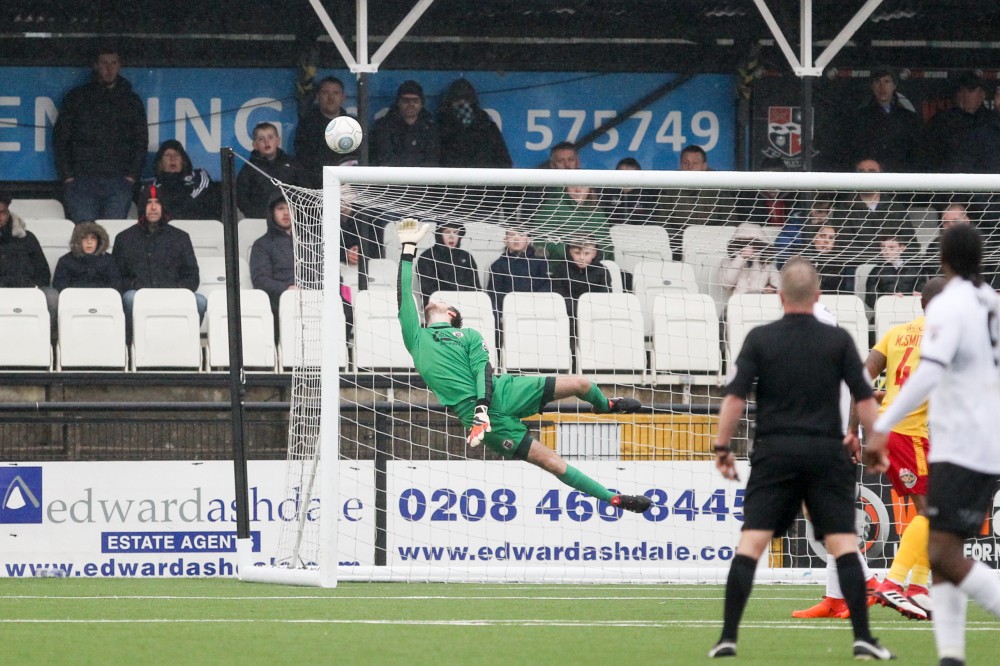 LUCKY: Both Gateshead and Wrexham have twice hit
the woodwork in Bromley's last two home games - at the benches end at Hayes Lane.
Photo: Edmund Boyden

"It was a great strike especially after last week when Scott Barrow hit a 35-yarder (straight in the top right-hand corner to equalise for Gateshead) , you think 'no not again!'. It's hit the crossbar and it's all about the reaction afterwards."

Sutherland's poor free-kick hit the first man and Wrexham then broke away and in the end Kelly set up substitute Jonathan Franks, whose shot deflected off a pressing Sterling, the ball ricocheting off the foot of the near post and behind for a corner.

Smith said: "Tyrone's been brilliant, again not many people are going to get past Tyrone. He got in position, got his body in the way and deflected the ball wide."

A poor goal-kick from Gregory somehow flashed through a number of players in the heart of midfield and Bugiel picked up the loose ball and Dunn got down low to his left to make a 77th minute save.

Smith said: "If we're going to lose, we might as well lose going for it rather than lose sitting back. You've got to be brave if you want to get a result."

Substitute Josh Rees then sent Bugiel racing down the right and his angled drive flashed across the face of the goal and past the far post from a tight angle.

The longer the game went on, Bromley parked the bus to protect the point that they richly deserved.

Wrexham went close through two late headers.

Franks' crossed from the right and substitute targetman Simon Ainge's header from eight-yards was grabbed by Gregory as he stayed on his line again.

Roberts, who pushed up from his right-back position, then put over another cross and Ainge looped his header around the static Bromley keeper and past the post from six-yards.

Bromley travel to Sutton United on Easter Monday (15:00) where nothing but a win will do in front of the BT Sports cameras.

"Now the games are coming thick and fast if we want to stay in and around the play-offs we need points and you're only going to get that by winning," said Smith.

"It's a great game, Sutton are a very strong, physical side. Paul Doswell has done absolute wonders there and full credit to them.

"It's on TV so it's got the extra spice. I've got to make sure the boys are ok, we're coming in tomorrow and Sunday and make sure we're ready for the Sutton game."

It would be a fairytail story if Smith can guide his home-town club to the Vanarama National League Play-offs.

"We're going to go for it. If we don't it's not been a bad season. I think we've been absolutely brilliant and maybe the games have caught up with us but while we're still in it, like I've said we're going to go for it.

"We know there's every other team that's going for it as well. There's probably one or two places up for grabs if I'm being brutally honest with five teams going for it and they seem to have less games and more rest than us. We're playing twice a week now until the end of the season so if we miss out it will only be because the boys have put a shift in this season. If we do it I think it will be a monumental achievement for this club.

"Being written off? It makes us stronger, it makes us more together. We've got a great team spirit."

Photographs courtesy of Edmund Boyden - www.edboydenphotos.co.uk

Bromley: David Gregory, Luke Woolfenden, Tyrone Sterling, Frankie Raymond (Josh Rees 64), Roger Johnson, Jack Holland, Jordan Higgs, Frankie Sutherland, Brandon Hanlan (Dan Johnson 90), George Porter (Omar Bugiel 57), Adam Mekki.
Subs: Ben Chorley, Luke Wanadio

Goal: Brandon Hanlan 66 (penalty)

Booked: Frankie Raymond 51, Adam Mekki 90, Josh Rees 90

Sent Off: Roger Johnson 44

Wrexham: Chris Dunn, Kevin Roberts, James Jennings, Sam Wedgbury, Shaun Pearson, Manny Smith, Paul Rutherford (Jonathan Franks 74), Marcus Kelly, Scott Quigley (Simon Ainge 78), Chris Holdroyd, Nicky Deverdics (Scott Boden 74).
Subs: David Raven, Akil Wright

Goal: James Jennings 52

Booked: Sam Wedgbury 76

Attendance: 1,403 (299 Wrexham)
Referee: Mr David Rock (Hertford, Hertfordshire)
Assistants: Mr Oliver Jackson (Sittingbourne) & Mr Gareth Viccars (Milton Keynes, Bedfordshire)
Fourth Official: Mr Hugh Gilroy (Chiswick, London W4)

Coverage Sponsored by: