Bromley 3-0 Weston-Super-Mare - It's probably my best achievement as a manager, says Bromley boss Mark Goldberg
Friday 17th April 2015
Bromley

3 – 0

Weston-super-Mare

Location
Hayes Lane, Bromley, Kent BR2 9EF
Kickoff
18/04/2015 15:00
BROMLEY 3-0 WESTON-SUPER-MARE
Vanarama Conference South
Saturday 18th April 2015
Stephen McCartney reports from Hayes Lane

MARK GOLDBERG says winning the Vanarama Conference South title will go down as his best achievement as a manager after delivering Bromley's Greatest Ever Day.
The Ravens had to claim two points from their last two games of the season and a crowd of 2,938 celebrated the club's first title since St Albans City were beaten 4-2 at Hayes Lane to win the Isthmian League title on the last day of the season back in 1961.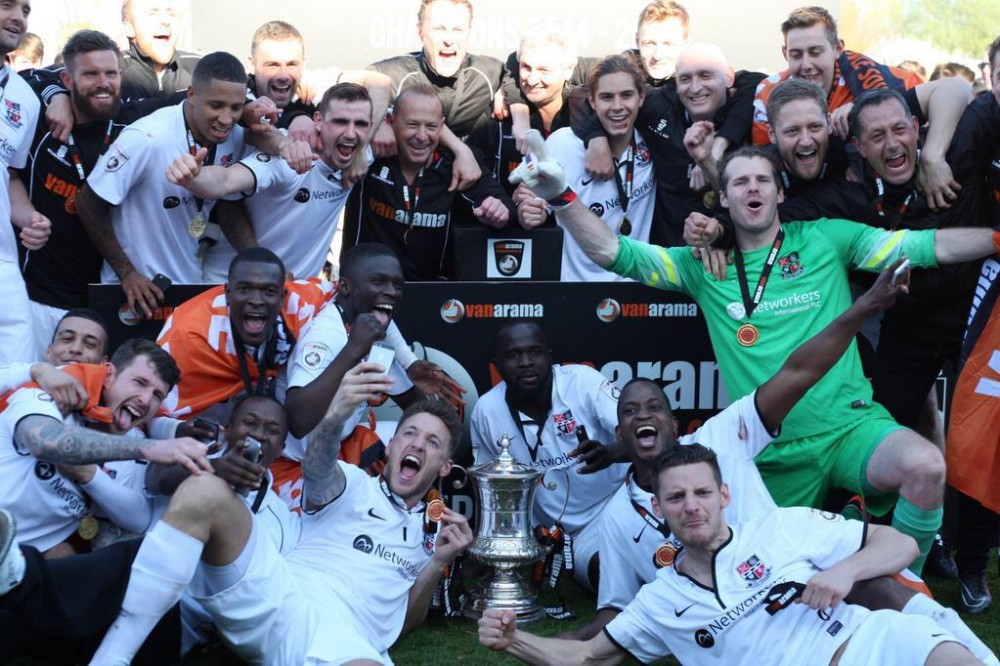 CHAMPIONS: Bromley celebrate winning the Vanarama Conference South title after beating Weston-super-Mare 3-0 at Hayes Lane.
Photo: Edmund Boyden

The Hayes Lane faithful, who stayed by their club during some bleak days in Ryman League Division One in 2002 can now look forward to visiting the likes of Wrexham, Gateshead and Torquay next season.

Bromley delivered the goods in their last home game of the season as central midfielder Reece Prestedge and winger Moses Ademola scored before the break, before striker Jamie Slabber scored just before the hour-mark to settle the nerves in Bromley's biggest ever game.

Winning promotion into the Conference, or as it will be called next season, the Vanarama National League, will go down as the club's Greatest achievement, even eclipsing winning The FA Amateur Cup after beating Romford 1-0, underneath the iconic Twin Towers at Wembley Stadium back in 1949.

"It was a great day," said Goldberg after winning their 23rd league game of the season and sitting on 77 points.

"It was all set for us. The crowd was there in their massive numbers and we came into the game with a lot of confidence (on a four match unbeaten run).

"We wanted to start very sharp and I think we did. We went at them. We wanted to make sure we stopped them from playing, closing them down, winning the second balls, then on the break we created half opportunities.

"I was disappointed with our final ball in the first 25 minutes. We was nervy and although we had some good approach play and we almost scored, it takes a goal to just allow players to get a little bit more composure and once we got our composure I thinik all in all we showed professionalism throughout the game and the players' have got what they deserve."

Goldberg added: "We wanted to win the title and we did!




GOING UP: Alan Julian (goalkeeper), Hugo Langton (coach) and Rob Swaine (skipper) celebrate Bromley's first title since 1961.
Photo: Twitter

"It's probably my best achievement as a manager. I've been a manager at Bromley since I started running the under 9s at Bromley when (my son) Brad was under 9s and Jack Holland was under 10s. I managed to work my way into the first team.

"We've had eight years in Conference South so it's my eighth year, eighth time lucky!"

Bromley's fans gave their heroes great encouragement from the off but Bromley started the game in a nervy fasion, allowing fifth-from-bottom Weston-super-Mare plenty of possession.

The Somerset outfit linked up well down the left during the early stages at a windy Hayes Lane with left-back Jake Mawford keen to get forward at every opportunity.

Mawford cut the ball back to Aaron Brown, who whipped in a first time cross from the left but striker Joe McClennan lofted the ball into Alan Julian's hands for a comfortable save inside the opening eight minutes.

Bromley created their first opening just four minutes later.

Ademola skipped past his man, tricked another as he burst down the middle before playing a poor ball to Anthony Cook, acknowledging his error by holding his head in his hands as the ball went behind the left-winger.

Cook retrieved the ball and cut the ball onto his right-foot and from inside the box drilled his shot over the bar.

But it was Weston-super-Mare that created the first shot on target in the 18th minute.

Mawford ran forward again, rode a sliding tackle from Prestedge, and slipped the ball through to striker Bradley Ash, who swept his left-footed shot straight at Julian from 22-yards.

Bromley were to be denied by the crossbar in the 26th minute.

Ali Fuseini's header found Prestedge who swept the ball out wide to left-back Joe Anderson, who whipped in a cross into the penalty area and Slabber planted his towering header from 12-yards over Purnell's right shoulder which hit the crossbar.

Goldberg said: "It was a fabulous cross really. You'd expect Jamie to bury that and we hit the woodwork. We weren't there for the rebound but the fact that we were almost doing it weren't we, without that final ball but we went on to score at the right time."

Anderson's right-footed angled drive was caught by the Weston-super-Mare keeper, who went close to levelling through McClennan's right-footed drive from the edge of the box, which flashed just past the foot of the left-hand post.

And what an emotional feeling it was when Prestedge gave Bromley the lead after 28 minutes to score his fifth goal of the campaign!

Weston-super-Mare right-back Pierce Mitchell gave Anderson time and space to float over another cross from the left. Bradley Goldberg swept a poor shot from inside the box and Prestedge slipped over before maintaining his composure to steer his right-footed shot into the bottom far corner from 12-yards.

"I think it was a half shot from Brad on the rebound and then Reece managed to tuck it in when he was on the ground," said the boss.

"I think with the pressure we were putting on the opposition at that stage of the game, we deserved that!

"I was a lot more comfortable than I was at 0-0!"

Bradley Goldberg ran through beating three orange shirted defenders before drilling his right-footed angled drive towards the bottom far corner, but Purnell dived low to his left to tip the ball behind for a corner.

But Bromley were in heaven when they doubled their lead after 37 minutes – it was a dream first half!

Ugo Udoji, Anderson and Prestedge linked up in midfield before Prestedge played a sublime through ball, which cut open Mawford and giant Clayton Fortune to release Ademola.

Ademola cut into the box on the right-hand side and his right-footed cross curled into the far corner, past the stranded Purnell.

It's the kind of luck you get when you're sitting at the top of the league with two games remaining!

Goldberg admitted: "I think he went for a cross! I'm not sure whether Moses actually intended to put that in the net but you know what, he's been immense hasn't he?

"That second goal really gave us an edge on the game."

Hayes Lane erupted with chants of "we are going up" and the Ravens went close four minutes before the break when Fuseini drove his right-footed shot over the bar from 20-yards after the ball was played back to him by Cook.

And on the stroke of half-time Mawford skied his left-footed volley over the Bromley crossbar from 15-yards.

Bromley created one last chance before the break and once again Anderson played his part with another cross from the left.

Slabber tried to get the bouncing ball from underneath his feet and the ball ran loose to Ademola, who drilled his right-footed shot over the top of the near post.

Bromley were 45 minutes away from playing at Non-League football's top table and Goldberg said:"At half-time we said 'the game's not won yet! We actually had some stern words!"

Weston-super-Mare enjoyed good possession during the early stages of the second half and they pushed central defender Tom Jordan up after taking striker McClennan off after 55 minutes.

Just before that, Weston-super-Mare produced a fine move down the left when Jacob Cane fed Dayle Grubb and he cut the ball back to McClennan whose right-footed drive from 15-yards forced Julian into make a save.

Goldberg said: "There was opportunities for them to get back into the game and we needed to make sure we kept our nerve and we didn't relax on the ball when we should've.

"We cleared our lines correctly. Instead of sitting back we wanted to on on in the second half but unfortunately as we came out as we typically do we sat back and we didn't mean to sit back and they had a go at us and they had a spell and it was the third goal that really finished them off.

"They still scared us but every team is capable of scoring. They're going to have their chances and they're going to have their spells in the game and when they're 2-0 down, 1-0 down, certainly 3-0 down they're going to throw everything at it and they did.

"It's not often you see Weston throw their centre half and captain Tom Jordan up to centre forward so it shows they were desperate to get back into the game."

Rob Swaine and Jack Holland were back together at the heart of Bromley's defence and they were resilient despite Weston-super-Mare having much of the ball in front of them.

Fuseini, Cook and Goldberg linked up well but Prestedge's first time left-footed drive from 22-yards screamed well wide of the far post.

But Bromley clinched the league title as early as the 59th minute through Slabber's thirteenth goal of the season in only his 15th start of the season.

Fuseini clipped the ball forward, Ademola's right-footed drive forced a fine diving save out of Purnell to his right.

Goldberg picked up the loose ball and fooled the keeper before cutting the ball back to Slabber slam a first time right-footed shot into the net in front of a packed North Bank terrace.

"It was very clever from Brad because the keeper was on the deck and he made out that he was going to shoot and then laid it back for Jamie Slabber and it was just perfect. It was a wonderful goal and a fitting way to win the game."

Slabber was to be denied with 20 minutes left when Udoji threw the ball in from the right and the striker poked his shot towards goal, which was parried by Purnell and the visitors' cleared their lines.

Grubb wasted a couple of free-kicks form the left flank, which failed to trouble Julian in the Bromley goal as the clock ticked down.

Goldberg went on a run inside the final four miutes before trying to curl his right-footed shot into the far corner, which Purnell saved comfortably.

Bromley's last chance arrived at the end when substitute Danny Waldren stabbed his shot past the near post after Udogi's throw fell to him.

The final whistle blew and each player and management and backroom staff collected their gold medals before Swaine and Waldren held the trophy aloft and Bromley celebrated their Greatest Day.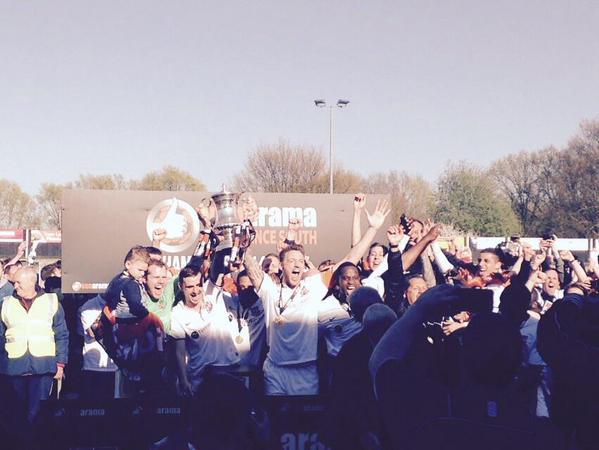 GREATEST DAY: Danny Waldren and Rob Swaine lift up the Vanarama Conference South trophy
Photo: Matt Hall

Back in 1989, fans used to sing "The Vauxhall League is upside down, we're going up to the Conference," as Bromley were relegated from what is now the Ryman Premier League in the 85th minute by champions Slough Town at Hayes Lane.

Come August, playing in the Conference will become a reality for Bromley, who will be playing in the top-flight of Non-League football for the first time in their 123-year history.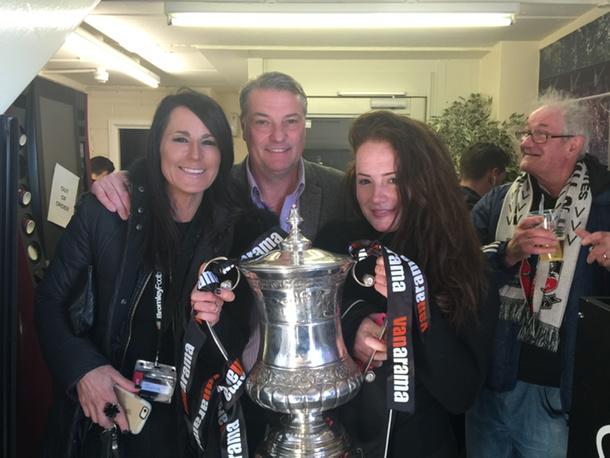 CONFERENCE CALL: Bromley chairman Jerry Dolke celebrates the club's Vanarama Conference South title with his family.
Photo: Twitter

Bromley travel to Gosport Borough – a side in sixth-place and unable to snatch a play-off place – next Saturday with the pressure off.

Goldberg added: "We're going to enjoy our trip to Gosport now! It's not going to be the same nervy game as it might have been if we had got a draw today or had we lost so I'm glad that we got the win and we've won the league and we're in the National Conference and Grimsby here we come!"

Bromley: Alan Julian, Ugo Udoji, Joe Anderson (Danny Waldren 67), Ali Fuseini, Rob Swaine, Jack Holland, Moses Ademola (Pierre Joseph-Dubois 74), Reece Prestedge, Jamie Slabber, Bradley Goldberg, Anthony Cook (Louis Dennis 68).
Subs: Callum McNaughton, Ben May

Goals: Reece Prestedge 28, Moses Ademola 37, Jamie Slabber 59

Weston-super-Mare: Luke Purnell, Pierce Mitchell, Jake Mawford, Jamie Edge (Kane Ingram 62), Tom Jordan, Clayton Fortune, Jacob Cane, Aaron Brown, Bradley Ash (Will Sneddon-Coombes 80), Dayle Grubb, Joe McClennan (Oliver Watkins 55).
Subs: Zemell Burton, Ollie Barnes

Booked: Jamie Edge 51, Pierce Mitchell 86

Attendance: 2,938
Referee: Mr M George
Assistants: Mr D Hanna & Mr N Walker