Bromley join Junior Premier League: These are exciting times for the club
Wednesday 14th June 2017
BROMLEY are pleased to announce that their Academy will be joining the Junior Premier League (JPL) next season.
The Hayes Lane outfit have recognised that there is a strategic gap between the Football League academies and the grassroots game.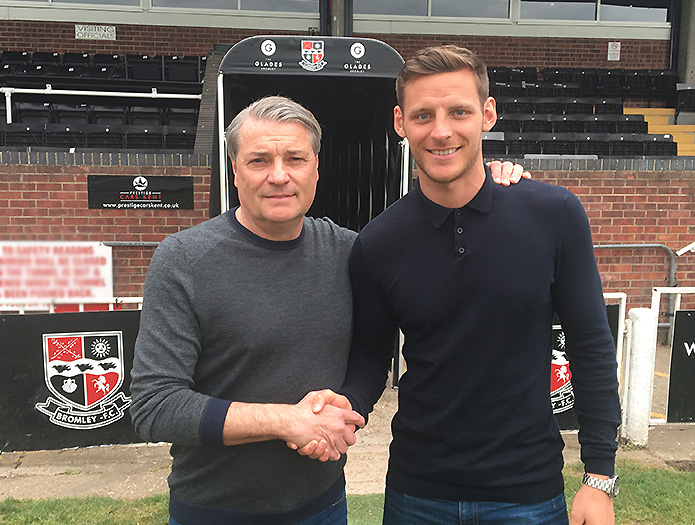 ONE OF THEIR OWN: Bromley captain Jack Holland
(right, pictured with chairman Jerry Dolke) has
progressed through the youth ranks at Hayes Lane
via a spell at Crystal Palace and is a firm fans' favourite
Photo: Bromley FC

This means that young players are often moved between the two, which in turn has seen many young players overlooked within their football development, so as a result the National League are looking to bridge the gap and establish standards for clubs, coaching staff and players who if released from the EPPP programme can find themselves in a completely different grassroots environment – the development environment.

The National League is the bridge between non-league football and League football in England and Wales.

The current chief executive of The National League was responsible for the delivery of the EPPP system in the professional game and is determined to create a platform to further develop such standards which has also been the focus of the chairman of the Junior Premier League and this League's continued work with the FA has seen a move towards the higher standards that would be required.

A number of National League and Step Three and Four clubs have been working in conjunction with the JPL in order to develop an environment that promotes a player and coach focused set of standards that will attempt to bridge the strategic gap.

The standards will be developed with an emphasis on the following objectives, in order to:
Develop the right playing environment for the development of players and staff
Provide qualified coaching staff with a set of standards that will enhance and encourage their own personal development
Develop and monitor players in a playing programme that will be competitive but will encourage the right ways to achieve success
Provide clubs with a player registration system that will offer players and their clubs the right level of support
The forming of elite squads and recruitment of players will be staggered over three periods:
2017-18: u13s, u14s, u15s, u16s
2018-19: u10s, u11s, u12s, u13s, u14s, u15s & u16s
2019-20: u6s, u7s, u8s, u9s, u10s, u11s, u12s, u13s, u14s, u15s & u16s
The top clubs from different regions are now facing each other and giving players the added challenge, development and exposure to game time they all need and deserve.
The League has a great cross section of clubs involved from Premier League to semi-professional clubs. The important thing for any club entering the League is a genuine desire to develop their players to the best of their ability.

A club statement said: "Bromley Football Club want our players to love the game and feel that it will give any young player the grounding and the potential to start on a pathway in what could lead into our Post 16 Academy.

"This way players will remain involved in football past the age of 16, progressing onto the Bromley Football Club Academy Education and Scholarship pathway and then exit the two year scheme via a host of unique pathways such as becoming a first team player, semi-pro player, coach or entry into a University or US scholarship plus potential Bromley FC work placement.
"In creating this additional layer of development Bromley Football Club will now offer Football for All, Development and Academy programmes across the Youth Development Phase which is in line with the FA's Technical Guide to young player development."
Academy and first team goalkeeping coach Glyn Shimell will head up the newly formed Bromley FC Youth Phase Academy and he told www.bromleyfc.tv: "These are exciting times for the club. We are building on the excellent work already being done by our youth and junior sections.

"Bromley FC can now offer a clear pathway for local talent to compete against clubs with a similar stature to us in a professional environment."
Academy Director Mark Hammond added: "With the infrastructure that is being built by the club we can now align and bridge the Youth, Academy and first team offering clear pathways.

"We are launching a groundbreaking education and football framework that will be unrivalled with first class facilities and staff. The young players of Bromley Football Club will gain an enriching experience throughout their time with us."

The Bromley Football Club Academy are looking for year 8-11 students to trial for their new Junior Premier League teams.

Playing and training will take place at the new FIFA Quality Pro 3G stadium pitch and training pitches at Bromley's Hayes Lane stadium home.
Players will be coached by UEFA qualified staff and play in the JPL, Kent Cup and JPL League Cup.
The trial will be held at Bromley Football Club on:
U13 5th July 2017 6:30pm registration for a 7pm start
U14 6th July 2017 5:30pm registration for a 6pm start
U15 12th July 2017 6:30pm registration for a 7pm start
U16 13th July 2017 5:30pm registration for a 6pm start
Please remember to bring the correct footwear, shin pads and plenty of water.

To register, please visit Bromley's website by clicking on this link.
http://www.bromleyfc.tv/site/bromley-fc-join-junior-premier-league-young-players-apply-now/

Please mention that you read this article on www.kentishfootball.co.uk.