Rob Swaine quits Bromley: I leave Hayes Lane with some lifelong memories that'll stay with me forever. Captaining the club to the Conference South title is one of my proudest moments to date
Tuesday 10th January 2017
ROB SWAINE has dropped a Bromley a bombshell by submitting a transfer request and has quit Hayes Lane after three and a half seasons of commitment and leading the side.
The Vanarama National League club confirmed that it has accepted a transfer request from the 28-year-old central defender and following discussions both parties have agreed to the early termination of his contract, which was due to expire at the end of next season.

Swaine was Bromley's captain when the club won their first league title in 54 years when the Conference South title was won on 18 April 2015 under Mark Goldberg.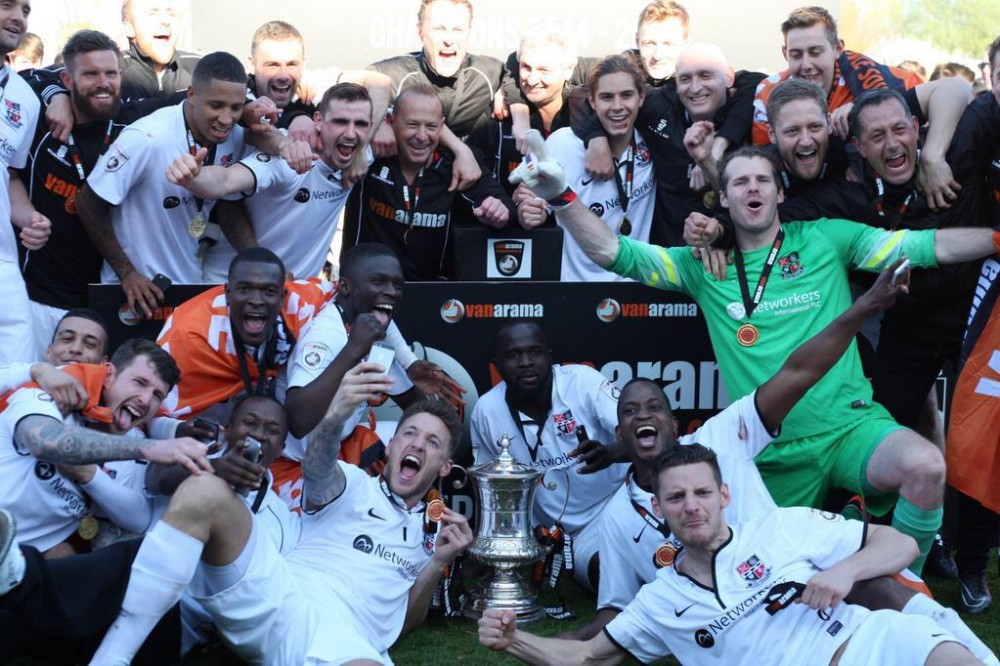 CHAMPIONS: Bromley celebrate winning the Conference South title after beating Weston-super-Mare 3-0 at Hayes Lane on 18 April 2015. It was to be the club's first league title in 54 years. Rob Swaine, who quit Hayes Lane today, is taking a sefle at the front beside the trophy.
Photo: Bromley FC

Manager Neil Smith, who was assistant manager at the time of the club's long-awaited title triumph, told www.bromleyfc.tv/site that he begins the search for a suitable replacement for the former Billericay Town player.

"Rob has been brilliant since he came to the club but we had a chat last week and he wanted to terminate his contract," revealed Smith.

"We had a good long conversation but he was finding it hard and wasn't happy.

"I want players who want to be here and he didn't, so we have to move on and progress as a club together both on and off the field.
"It has all happened rather quickly, it wasn't necessarily a position we were looking at up until very recently. We have a couple of replacements in mind and are in negotiations with but we have to make sure it's right for the club, not just for the rest of this season but moving forward.

"The board have said they will back me in getting the right players for the club and that is what we'll do."

Swaine scored and was sent-off on his last Bromley appearance at the weekend, as Bromley suffered a 5-1 home defeat to Forest Green Rovers.

The Ravens remain in 13th place in the table and need four more wins from their last 18 league games to reach the magical points total of 50 which should keep them in the top flight of non-league football for a third season.

Swaine took to his own Twitter account to issue a leaving statement and has revealed that he is going to sign for a club closer to his Brentwood, Essex home.

"I'd like to thank everyone associated with Bromley FC for having me," said Swaine.

"The owners, chairman, management and team mates, past and present, but most importantly the fans. You guys have been unbelievable throughout my time at the club and made me feel welcome from the word go. You're a special bunch and the club are lucky to have such a great fan base.

"I leave Hayes Lane with some lifelong memories that'll stay with me forever. Captaining the club to the Conference South title is one of my proudest moments to date.

"I wish everyone the best of luck for the future and I look forward to a new chapter in my life, away from the M25!"

A Bromley XI travel to Ryman League Division One South side Whyteleafe tonight for a friendly match that will see Mark Hammond in charge at Church Road.

Bromley are next in action on Saturday when Welling United visit Hayes Lane in The Buildbase FA Trophy Second Round (15:00).

Visit Bromley's website: www.bromleyfc.tv/site