Play it at Hayes Lane - we know it's going to be definitely on, says Bromley boss Neil Smith
Tuesday 06th March 2018
BROMLEY manager Neil Smith urges The Football Association to use common sense and switch their FA Trophy Quarter-Final Replay to their artificial pitch at Hayes Lane after tonight's game at Spennymoor Town was called off within 75 minutes before the start.
A local Level 3 Referee inspected the pitch at The Brewery Field in County Durham at 08:00 this morning and the home club told Bromley that the game was going ahead.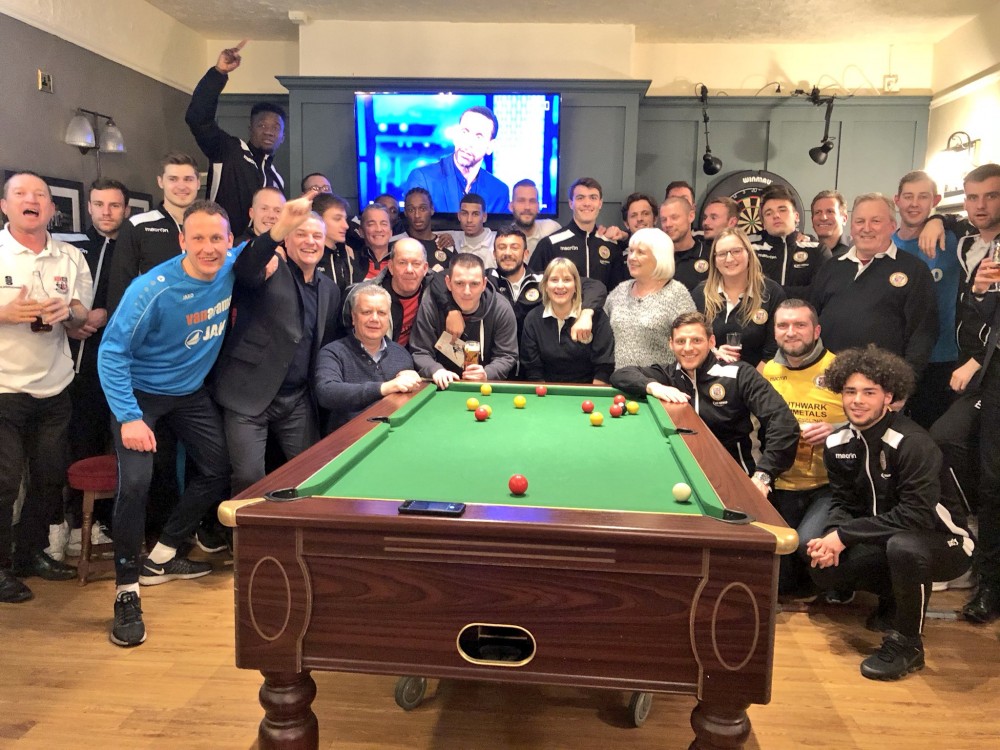 Bromley's players' and fans' travelled nearly 600-miles to
Spennymoor only to have their FA Trophy Quarter-Final Replay
postponed, despite the pitch passing two earlier inspections.
Photo: Bromley FC


Bromley's party met up at London Euston station to catch the 10:30 train to Penrith before boarding a coach to take them to a hotel in Shildon, County Durham, before arriving at the ground, only to be told that the match was called off.

News filtered through that there was a second pitch inspection at 14:00 and the pitch was deemed playable, only for match referee Karl Evans to deem the pitch unplayable following his own pitch inspection upon his arrival at the ground.
Bromley were held to a disappointing goal-less draw at Hayes Lane on 24 February and the first scheduled replay last Tuesday was called off following an early pitch inspection due to the wintry blast that brought the country to a stand-still.

Spennymoor Town borrowed pitch covers from Darlington and Hartlepool United last week and the question must be raised as to why these were removed last night – despite rain arriving in the area overnight?
And why was a pitch deemed playable on two occasions when the truth was that it wasn't and was a bog?
Spennymoor do not have a clubhouse within their stadium so both sets of fans went to a public house, less than five minutes walk away down Durham Road.
News filtered through that the game was called off and this farce has left Bromley fans out-of-pocket in the region of at least £200 per head.
Train travel to Durham from Bromley costs well over £100 and there are hotel costs to be taken into account, not just for tonight but seven days ago too.
Thankfully, Smith had his supporters' plight in his mind during his interview.
"We've prepared for a game. We we're told there was a pitch inspection at eight o'clock. We were told there was surface water but we were told it was going to be playable and it will be on and then we've arrived here tonight at a quarter-past-six that the game was off and was never going to be on," said Smith.
"We've then also found out that there was a pitch inspection at two o'clock that we didn't know about!
"I'm disappointed, not just for the players' because we've travelled up and prepared for a game that's been called off, that happens, but the supporters have had to travel all that way and have had to take time off work to come and follow their team and to be told an hour and a half before kick-off that the game's off and they've already spent their money to come up here, so I'm disappointed more for them than I am for myself."
Smith added: "It also take two days out for my players with a game on Saturday now. We didn't train today and we can't train tomorrow because we're travelling back and then we've got to prepare ourselves for Thursday and a tough game at home against a Guiseley side that wants to stay up and we've had no preparation!"
Now that Spennymoor have failed to get this game on at the second attempt, Smith wants home advantage when it's re-arranged for a third time.
"We're just saying if they re-arrange it and play it at Hayes Lane, we know it's going to be definitely on," said Smith.
"If we still come back here we have to wait to see what the weather is going to be like the following week, which then puts doubt in people's minds again.
"Whoever said that pitch was playable at nine o'clock and two o'clock this afternoon, I'd like to know who their names are because that was never going to be on!
"No disrespect, a lower level referee had a look at a pitch and assume something's going to dry out, it's got time and this, that and the other, I think we should either have the ref or a referee at a very good standard come up and have a good look and give a honest opinion.
"If it was worse than that earlier he would have called it off. If that's meant to got better in the few hours since they last had it looked at, at two o'clock, I'd like to have seen it when it was worse!"
With around 30 fans making the 564-mile round trip up to the North East, Smith had this message to them tonight.
"I can only apologise on behalf of Spennymoor, it was not our decision and as they did turn up I can only thank them and that's why we're in the bar with them now. I've just brought them all a drink for appreciation from the club itself to say thank you for travelling - and wasting their time and also their money. It's hard earnt money nowadays that people are spending to come and follow us, so we do appreciate it.
"We want to show our appreciation and they're always in our minds when we go out on to pitch and we want to do them proud and I think so far this season we have, so it's only right that we repay them."
The pitch was so bad that Bromley wouldn't be able to stay up here and play the game on Wednesday night.
"I think the rules are we have to come back here but a bit of bad weather that pitch will need two-four days to dry out, so if there's any more rain that's going to put it back again and the last thing I would have thought The FA Trophy needs is the game gets called off again and you're playing it on a Thursday night, a couple of days before the next round.
"I don't think it's fair on either club, whoever gets through, to then play the next round on the Saturday (20 March), so we know our pitch is going to be playable, it's going to be on. Everyone can prepare for it, they can prepare to travel and I think it's a no-brainer myself but that's down to The FA."
Bromley know they will face Gateshead in a two-legged Semi-Final if they get past Spennymoor Town at the fourth time of asking.
Gateshead beat their Vanarama National League rivals Leyton Orient 3-2 tonight in their home replay, after battling back from being 3-0 down at Brisbane Road in the first match.
Brackley Town also beat their Vanarama National League North rivals Stockport County 2-1 and will face Vanarama National League South side Wealdstone for a place at Wembley Stadium.
Tonight's farcical events in the North East have given Smith's men extra incentive to finish off the job when the game gets the go-ahead.
"I don't think we need any added incentive, there's a trip to Wembley at the end of this and we drove past it today and we'll be driving past it tomorrow," said Smith.
"We know Spennymoor want to get there, we want to get there and Gateshead will be a tough game. Our full focus was on Spennymoor, now that's off our next focus will now be Guiseley at home on Saturday."
Bromley captain Jack Holland was interviewed at 19:43 when he should have been leading out his home-town club for their biggest ever game in recent history.
"For me personally, it's just about the fans have travelled up to make it all the way here and to go in and see the state of the pitch and think maybe something could have been done earlier," said the central defender.
"Now we're all up here it's important with all the fans that have come up here, coming here and having a drink with them and seeing them and it does mean a lot to us players to see the fans."
It would have been so easy for Bromley's full-time players to just grab their bags, board their coach and spend the night at their hotel. Not many full-time football clubs would spend time with supporters whom have travelled the entire country in a pub and that shows real class.
"Do you know what, especially this year, the fans have always been brilliant, there's more togetherness between the players and the fans, not even the travelling fans that come away because they are fantastic, but even after the home games everyone's in the bar and all together," added Holland, who paused the interview as he thanked fans personally for making the trip.
"It doesn't seem out of place. We've gone in there tonight, obviously everyone's disappointed but everyone's in high spirits because everyone's together. It just shows how far we have come."
Bromley secretary Jeff Hutton said on Twitter: "Spennymoor away in The FA Trophy was postponed at 6:30pm. We'll fight. Gutted for everyone. Words can't convey our sincerest apologies to all who made the trip, spent money and wasted time. One thing you can't question is love and passion of the fans and players at Bromley FC."
A Bromley statement added: "We can't apologise enough to the supporters who've made the trip. We continue to liaise with The FA and Spennymoor and will communicate and update as soon as we have one."
A Spennymoor Town statement said: "Tonight's FA Trophy Quarter-Final replay against Bromley FC has been postponed following a late pitch inspection.
"Upon arrival, the match referee felt parts of the pitch were unplayable, meaning the fixture will now be rescheduled for a third time. More details to follow in due course."
Meanwhile, according to the rules of The FA Trophy, Bromley must pay £250 to The National Game Board to protest that Spennymoor Town's ground is unsuitable to stage the match, in this case, the unfit state of the playing surface.
Rule 9 under "Venue for Matches", section (v) states:
"In any event, the National Game Board shall have the power to order that any match be played on an alternative ground or date, including a Sunday, if it is considered appropriate and necessary. For ties switched from the ground of the first Club drawn, the National Game Board shall determine the financial conditions in which the tie shall be played.
(b) Protests Regarding the Suitability of Ground
(i) A Club may protest to the National Game Board that the ground of the Home Club is unsuitable for the match. Such protest must be made to the National Game Board and must be accompanied by a fee of £250, which may be forfeited if the protest is not sustained.
(ii) The National Game Board shall have the power to consider the protest in such manner and following such procedures as it considers appropriate. The National Game Board may amongst other things order the match to be played on the ground of the protesting Club, or on a neutral ground. The payment of the costs incurred by either Club or The Association incidental to the protest shall be at the discretion of the National Game Board."

Visit Bromley's website: www.bromleyfc.tv