Bromley 3-2 Gateshead - I want to take Bromley to Wembley, says Neil Smith
Saturday 17th March 2018
Bromley

3 – 2

Gateshead

Location
Hayes Lane, Bromley, Kent BR2 9EF
Kickoff
17/03/2018 15:00
BROMLEY 3-2 GATESHEAD
The Buildbase FA Trophy Semi-Final First Leg
Saturday 17 March 2018
Stephen McCartney reports from Hayes Lane

BROMLEY manager Neil Smith says he wants to lead his players out at Wembley Stadium in The FA Trophy Final on 20 May.
The Ravens are on the brink of emulating the great class of 1949 that beat Romford 1-0 to win The FA Amateur Cup (for the third time) at Wembley Stadium.

Bromley came away from Hampshire with a 2-0 win over Southern League side Hartley Wintney, before grinding out wins against Northern sides on tour.

Blyth Spartans were beaten 4-1, before Jack Holland's late header sealed a 1-1 draw up at Northern Premier League side Workington, who were thrashed 7-1 in the replay at Hayes Lane.

Bromley were then held to a goal-less home draw by Vanarama National League North side Spennymoor Town on 24 February and the replay was played at the fourth attempt on Wednesday night, with Bromley coming away from Darlington's Blackwell Meadows with a 2-1 win.

Bromley went into this Semi-Final First Leg sitting in tenth-place in the Vanarama National League table with 55 points from 35 games, two places above Steve Watson's Gateshead, who arrived on a five match unbeaten run, with 48 points in the bag from 46 league outings.

Gateshead got off to a dream start by taking the lead after only 43 seconds from Danny Johnson's deflected drive and they should have been three-nil up inside the opening six minutes but they struck the post twice.

Bromley rode their luck and more came when Brandon Hanlan won and dinked in a resulting penalty to bring Smith's men back from the dead.

Gateshead deserved their half-time lead when striker Danny Johnson rolled in his 15th goal of the season.

Bromley dominated the second half and Louis Dennis curled in a sublime shot in to the far corner to bring the home side back on level terms early in the second half.

And the 25-year-old talent – who on his day should be playing at a higher level than the fifth-tier of English football – drilled in the winner after a good move with nine minutes left.

Bromley now travel back up to the North East knowing what they have to do at the International Stadium and Brackley Town travel to London next weekend with a 1-0 lead over Wealdstone in the other tie.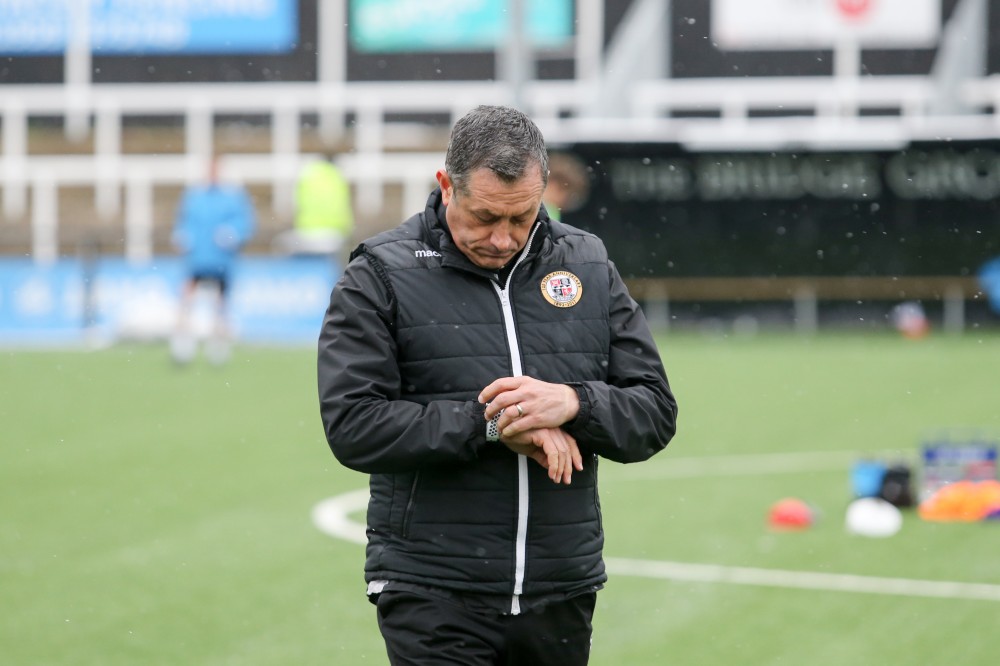 Bromley manager Neil Smith and his men are now only
90 minutes away from a Wembley Final after beating
Gateshead 3-2 on a bitterly cold day at Hayes Lane.
Photo: Edmund Boyden

"I'm really pleased with the result obviously because of winning but first half or first 15 minutes wasn't happy with," admitted Smith.

"We could have done better with both of their goals but to come back just shows the resilience, the character and the desire I've got from these bunch of players."

Smith paid tribute to groundsman Ian Jordan, who with his team worked miracles to clear the artificial playing surface of snow.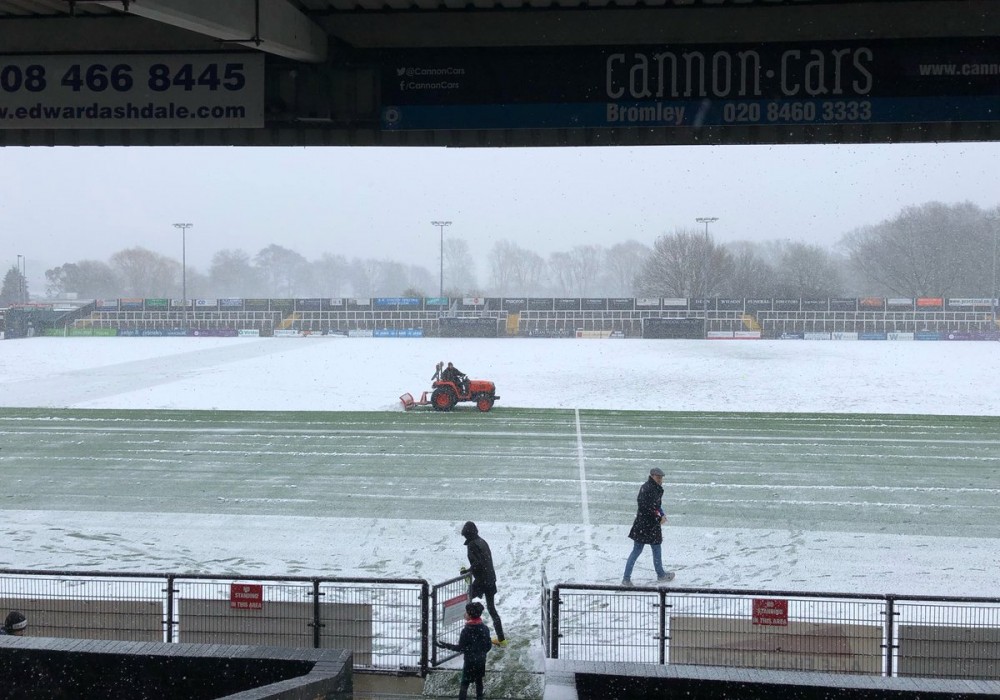 GRAFTING FOR THE CAUSE: Bromley groundsman
Ian Jordan (driving tractor) and his team worked
tirelessly to clear snow off the 3G pitch at Hayes Lane
in bitterly cold temperatures to ensure the game went
ahead.
Photo: Jeff Hutton

He said: "Ian Jordan has been brilliant when we had the grass pitch. This morning he was working his socks off. We got here at 11 and seriously with the snow coming down and everything else we didn't think we get this game on so for him personally I can't thank him enough. He came in and he's literally been working on it all morning. To get that game playable is a phenomenal thing and I thank him gratefully for it."

Gateshead got off to a dream start when striker Danny Johnson unleashed a drive from 20-yards, which deflected off Roger Johnson and deceived goalkeeper David Gregory, who had the initial shot covered, the ball bouncing into the back of the net.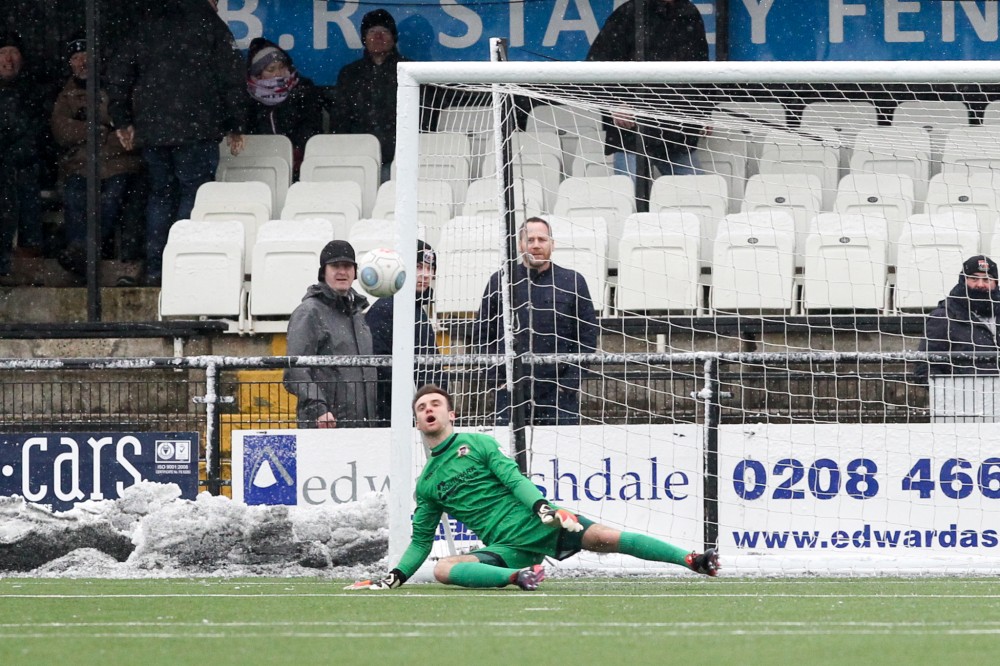 AGONY: Bromley keeper David Gregory is beaten by
Danny Johnson's deflected drive after only 43 seconds.
Photo: Edmund Boyden

"It actually came from the middle of the pitch," said Smith.

"We had a game plan, somebody else wanted to clear it, somebody else didn't, they got caught in possession, he goes through, he's had a shot and it just takes a wicked deflection and obviously Gregaz had no chance.

"It's not the start you want and to be fair they then hit the post (twice) and you're thinking 'boys just relax, just calm down, but it looked like it took us a good 20 minutes to find our bearings."

Bromley froze on the pitch as well as off it and an initial poor clearance from left-back Tyrone Sterling was almost punished. Jordan Preston put the ball into the box and Wes York's free cushioned header across Gregory bounced against the far post – as Bromley should have been two goal down with 171 seconds on the clock.

Bromley played another get out of jail free card with only five minutes and 44 seconds on the clock, following a slick Gateshead move.

Left-winger Preston played the ball in behind Holland and Gateshead striker Danny Johnson stroked his left-footed shot across the keeper and against the foot of the far post and winger York couldn't tap the rebound in.

"You just stand here and looking at someone to be the leader and that's what we just said," said Smith.

"They're all looking around looking for someone to take the lead. I just needed the players to relax. We had a game plan, just stick to the game plan! We know what we were going to do. I think the goal did it! It spooked them a little bit but I think they didn't know what they had to do.

"You've seen in the rest of the game, once the game started going on, we stuck to what we've been doing.

"We got back (from Darlington by coach) at five o'clock in the morning on Thursday. We couldn't really train (on Friday) because the boys were absolutely stiff and shattered so you could only do a basic training session with them so we knew it was going to be tough but that's when you need your leaders just to organise and first half we didn't have any!"

Bromley's hard-working striker Hanlan got his side a lifeline when he rode a challenge on the halfway line, raced into the box and won a soft penalty following a challenge from Neil Byrne.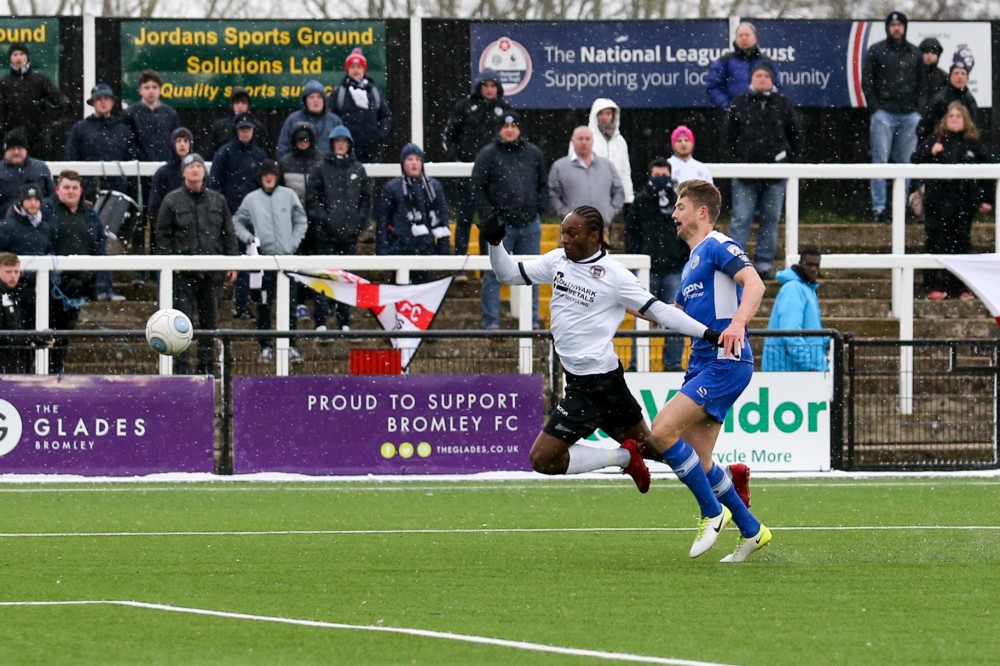 CONTROVERSIAL: Referee Dean Whitestone points
to the spot after Brandon Hanlan goes down and scores
the penalty to bring Bromley back from the dead.
Photo: Edmund Boyden

Referee Dean Whitestone pointed to the spot, spoke to his assistant referee, who had a number of Gateshead players in his face protesting.

Cool Hanlan stepped up and dinked his right-footed penalty just left of centre to bring Bromley back from the dead.

"It didn't look like a penalty from where I was but I'm never going to not take on and that's probably livened us a little bit," admitted Smith.

"It was a great finish! Brandon deserves scoring. The work-rate and the work-ethic has been phenomenal. For him to step up then in these circumstances and to take the penalty and finish it the way he did was full credit to him."

There were 10 corners in the game. Gateshead's five came in the first half, Bromley's five in the second half.

Paddy McLaughlin floated one in from the right towards the far post and Gregory struggled to catch the ball as it sailed in the wind and Fraser Kerr came up from the back to steer his header wide of the Bromley goal.

Bromley took nearly 20 minutes to click into gear. Frankie Raymond played the ball out to Adam Mekki on the left who played in a cross towards the far post for Dennis to guide his poor header bouncing into James Montgomery's hands.

Bromley keeper Gregory's clearance was charged down by Peniket and was relieved when the ball bounced past the foot of the right-hand post in the 21st minute.

"That seemed to be the first half! Every time we made a decision we made the wrong one – but we got away with it that time," admitted Smith.

Gateshead's left-wing-back Scott Barrow threw the ball down into Peniket's feet and he flashed a right-footed shot on the turn past the near post from 25-yards.

Gateshead's back three of Jamal Fyfield, Byrne and Kerr, were giants so Bromley had to keep the ball down on the deck to get past the trio of mussel.

Bromley started to click into gear after the half-hour mark.

Frankie Sutherland played the ball out to Mekki on the left, who skipped past York, leaving him on the deck, and the former Tranmere Rovers winger cut into the box and from the corner of the six-yard box, slipped the ball against the foot of the near post and keeper Montgomery grabbed hold of the ball before it trickled over the line.

Smith said: "Mekki's been out for a long time and he deserved a start from the way he came on as sub the other day. I thought he was phenomenal today. I thought the amount of time he gave me (75 minutes), he was brilliant! He was actually the one who was taking the game by the scruff of the neck and driving us forward so I was delighted for him today."

Gateshead took the sting out of Bromley and McLaughlin floated in a corner from the right which was met by Byrne's towering header, which Gregory held low to his right.

Gateshead took the lead for the second time with 39 minutes and 27 seconds on the clock.

Bromley were caught cold at the back as Peniket played the ball into Preston's feet and he played a lovely ball in behind Holland and Roger Johnson for Danny Johnson to skip past Gregory and roll the ball into the bottom near corner from eight-yards.

Smith said: "He's a good player Danny Johnson, good player. They just look for the through ball through our centre halves but that came from someone being injured and we sort of lost our concentration and straight from the free-kick it goes in there and he scores.

"I'll go in 2-1 down knowing that we've got the wind in the next half and we're going to re-organise ourselves and be stronger – and it proved right!"

Gateshead went close to killing off Bromley on the stroke of half-time when Preston floated in their final corner, which was met by Peniket's towering header at the near post, which sailed just over the crossbar.

Jordan Higgs played the ball into Dennis feet, who controlled the ball on the edge of the box and dug the ball out from under his feet to cut the ball into Frankie Raymond's range, who drove his first time left-footed drive over the crossbar from 25-yards.

When asked what he told his troops at the break, Smith replied: "I just told them to believe in themselves! What's got us to this situation? What's got us to where we are in the league? It's the belief and it looked like we didn't have that belief and to go out there and grab the game by the scruff of the neck. Right from the word go we had a chance really early on and you see that belief growing in the boys as the game went on."

Roger Johnson produced a typical defenders finish when he was left in space on the right-hand side of the Gateshead box, lashing his shot over the bar after Gateshead failed to clear Raymond's initial free-kick.

But Bromley equalised on the counter-attack through a trademark Dennis beauty, with five minutes and 26 seconds on the clock.

Fyfield looked favourite to skip past Higgs inside the Bromley half but Higgs made a great tackle before releasing Dennis on the break down the right.

Dennis broke down the wing, starting his run inside the Bromley half and decided to ignore whipping in a cross towards Hanlan inside the box.

Dennis cut the ball onto his left foot, curled a beauty around the keeper and found the back of the net in to the far corner from 25-yards.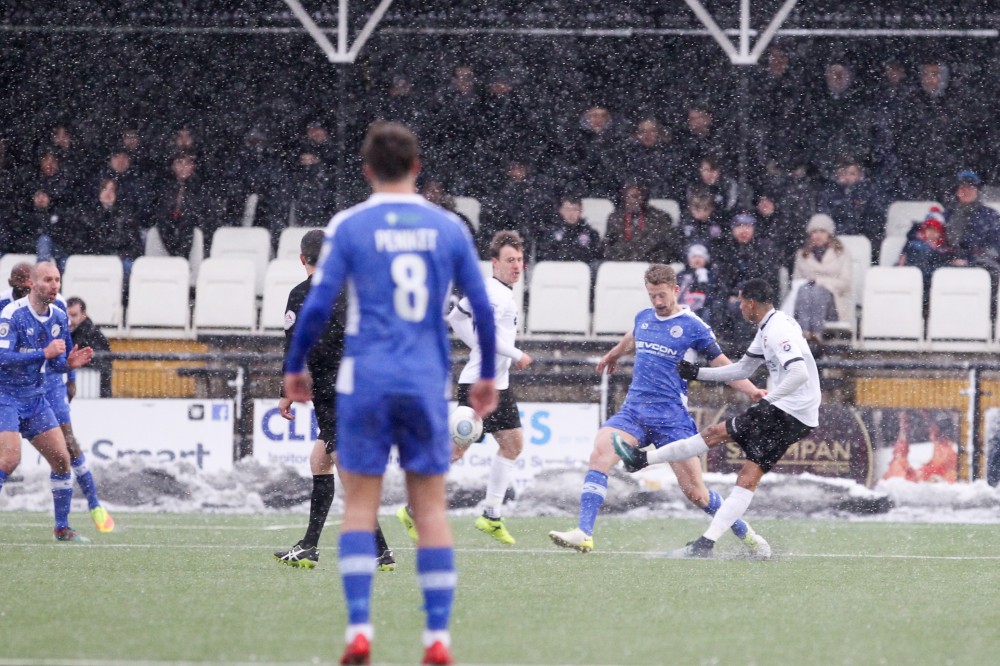 KING LOUIS: Bromley attacker Louis Dennis cuts the
ball on to his left foot and curles a beauty into the net
via the far post to equalise.
Photo: Edmund Boyden

Smith said: "The main threat that we looked at was the number three (Barrow) and we had to stop him. Higgsey had to do a job unselfishly and I can ask him to do anything and he'll come up and do it."

"Louis been brilliant! Louis knows how good he is and when he goes through you know he's going to put the ball in the back of the net.

"Louis' got something I can't coach. He's got something that a lot of people wished they had, it's just getting the best out of him.

"I know I ask him to do the stuff I know he doesn't want to do but that's because he has to do the stuff for the team as well and then he produces a little bit of magic like that.

"He does it all the time, he does it in training and honestly you're sitting there sometimes in training you just admire him what he can do. It's just trying to get that for the whole 90 minutes."

The referee then called for a yellow ball as a dusting of snow started to settle in areas on the Bromley pitch.

Luke Woolfenden released Hanlan, whose pace frightened the Gateshead back three, cut in before drilling a left-footed drive against the underside of the crossbar from the edge of the box.

Smith said: "Brandon needs to believe in himself as well. He's an absolute brilliant player. He gives us so much and you just want him to score every time he goes through because I want him to prove his work ethic works. He couldn't have hit it any better and then it bounces down and we scuff the rebound a little bit wide. I think Brandon showed an intent today."

Gateshead could have silenced Bromley in the 61st minute when Preston played the ball out to Barrow, who whipped in a deep cross over Tyrone Sterling's head for York to smack a right-footed volley screaming over the Bromley crossbar from 16-yards.

Gateshead keeper Montgomery made a smart save to frustrate Bromley in the 65th minute.

The keeper's clearance was brought down by Higgs, who produced a quality pass into Dennis, who slipped in Hanlan through on goal and the Charlton man took a touch but his left-footed shot was blocked by the keeper's outstretched right-leg.

"Once we get on top, we normally kill them off so that belief started growing. People wanted the ball, people were making the right decisions and that all came from Louis' goal originally," said Smith.

"He's got past him and we were like 'have another touch' and because then he's toed it past him but he shot early and the keeper just makes a last-gasp save.

"I think if that goes in, I think it could've been a little bit better. Full credit to them, they're a good side, at that stage we were on top."

Woolfenden drove in a low shot from 35-yards, which was comfortably gathered by Montgomery down on his knees.

The versatile Higgs played at right-back in midweek as Woolfenden was ill and slotted in on the right-wing as George Porter pulled his hamstring in Wednesday night's replay.

Smith explained why Josh Rees has been dropped to the bench but the England C international played a key role in Bromley's winning goal, timed at 35 minutes and 57 seconds.

Sterling headed forward a long clearance, Rees knocked the ball down into Dennis, who slipped the ball through to Hanlan, who put Dennis in on goal and he drilled his shot through Montgomery to find the right-hand corner from 14-yards.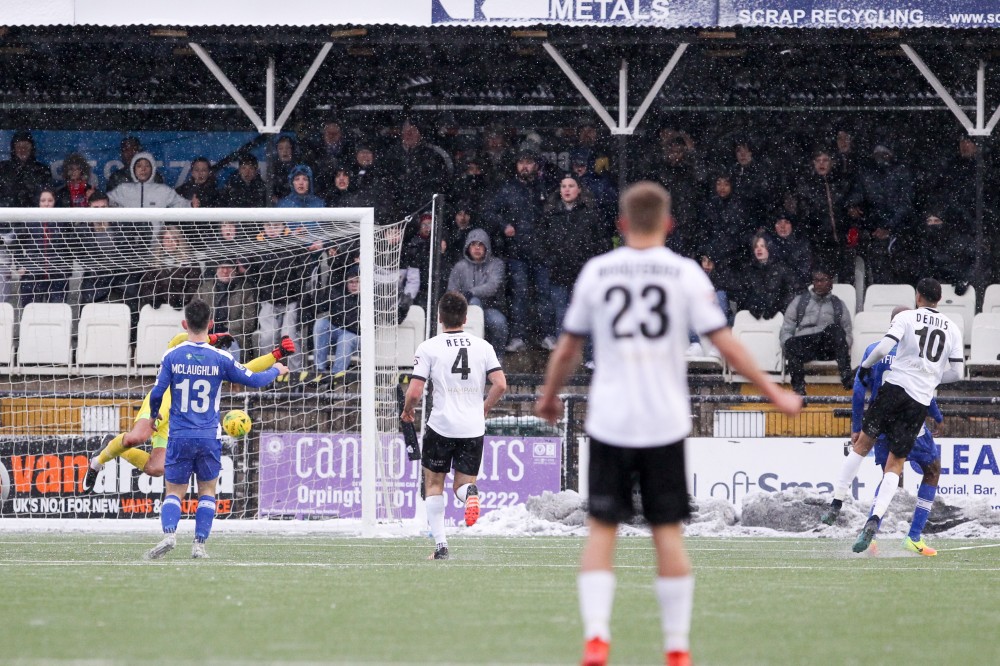 LONG LIVE THE KING: Louis Dennis (right) drills in
the winner for Bromley, who return to the North East
next Saturday with a 3-2 lead.
Photo: Edmund Boyden

"I brought on Josh Rees because I just thought Frankie Raymond put a shift in and thought we needed a bit of fresh legs in there," revealed Smith.

"Josh has been great all season. I brought him out because I thought I needed to rest him a little bit and I've got to be fair to him.

"I think the two boys we've kept in there (Raymond and Sutherland) have won three out of three when I've done it and Josh has been patient and when he comes on he just gets a little nick to help Louis.

"Again, Louis does that every week. He does that in training. It's not a freak goal, it's a great goal because he does it all the time.

"Do you know what he can do it with his right-foot as well. It looked like he slowed the play down but when he puts in that finish, it's just sublime."

Gateshead were a good side in the first half and they almost forced an equaliser when York drove his shot through a crowd of players from 20-yards, forcing Gregory to dive to his right to push towards safety.

Smith said: "He held his hands up at half-time saying he should've come out and done better for the second goal. There were a few words between everybody. Gregaz pulls off a save like that. He's been phenomenal and for him to pull that save off, it just takes it through for the tie giving us that little bit of an edge."

Barrow whipped in a cross from the left-channel, which was cleared out to Fyfield, who produced a defenders finish from the edge of the box, lashing his left-footed drive over the crossbar.

Smith takes his side to Solihull Moors on Tuesday night back in the Vanarama National League and results were kind for Bromley today as they remain in tenth-place, while Solihull are in the bottom four with 36 points from 37 games after being held to a 1-1 draw at home to fellow strugglers Torquay United.

An early goal at Gateshead next Saturday will ease the nerves and Smith wants his side to make it a day to remember.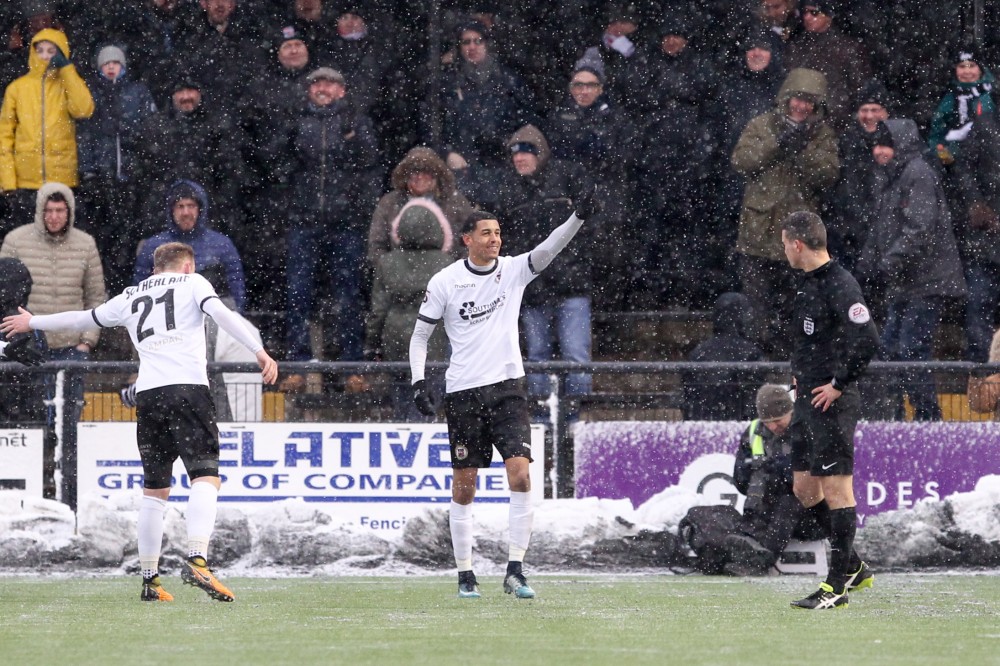 The freezing cold Hayes Lane faithful hail the
performance from King Louis Dennis - now finish off
the job next Saturday and make it a FA Amateur Cup/
FA Trophy winning double at Wembley in May.
Photo: Edmund Boyden

"I'll take that after the first half. I would've taken anything just stop the game now but to go up there with a goal lead, we know it's not going to really mean anything.

"They're going to come at us, they're at home. The support that we've had on our travels, I know they'll get behind the boys and we're going to need every one of them and fair play to the local firms who are putting up the cash to get them up there. We can't thank them enough and I want to give the supporters something back because they've been brilliant.

"It's going to take a phenomenal performance from everybody, whether it's the 11 or the subs that come on. As a group and a squad they've done it so far this season and I hope we can do it again. We'll definitely be giving it our all, like we have since August 5th.

"We want to get to Wembley! We want to do it and we also know Gateshead will be up there and want to do the same.

"It will be a dream, everybody wants to be at Wembley. I want to take Bromley to Wembley. I want to be the manager who leads the players out because I think they deserve it.

"Hopefully there's a story at the end of it."

Bromley: David Gregory, Luke Woolfenden, Tyrone Sterling, Frankie Sutherland, Roger Johnson, Jack Holland, Jordan Higgs, Frankie Raymond (Josh Rees 68), Brandon Hanlan, Louis Dennis (Omar Bugiel 88), Adam Mekki (Luke Wanadio 75).
Subs: Ben Chorley, Dan Johnson

Goals: Brandon Hanlan 15 (penalty), Louis Dennis 51, 81

Booked: Jack Holland 57

Gateshead: James Montgomery, Fraser Kerr, Scott Barrow, Paddy McLaughlin, Neil Byrne, Jamal Fyfield, Wes York, Russ Penn, Danny Johnson, Richard Peniket, Jordan Preston (Jordan Burrow 72).
Subs: Theo Vassell, Jonathan O'Donnell, Lewis McNall, Dan Hanford

Goals: Danny Johnson 1, 40

Booked: Neil Byrne 64

Attendance: 1,254 (44 away)
Referee: Mr Dean Whitestone (Northampton, Northamptonshire)
Assistants: Mr Gregory Read (Addlestone, Surrey) & Mr Matthew Lee (Chichester, West Sussex)
Fourth Official: Mr David Spain (Westfield, East Sussex)

Photographs courtesy of Edmund Boyden: www.edboydenphotos.co.uk

Coverage sponsored by: