Bromley 3-1 Dagenham & Redbridge - Who would have thought it going into the last week of April and we're in The FA Trophy Final and an outside chance of achieving a dream, says Bromley boss Neil Smith
Tuesday 17th April 2018
Bromley

3 – 1

Dagenham & Redbridge

Location
Hayes Lane, Bromley, Kent BR2 9EF
Kickoff
17/04/2018 19:45
BROMLEY 3-1 DAGENHAM & REDBRIDGE
Vanarama National League
Tuesday 17 April 2018
Stephen McCartney reports from Hayes Lane

BROMLEY boss Neil Smith says his side have an outside chance of achieving a dream of reaching the Vanarama National League play-offs but they must win their last three league games to keep their hopes alive.
The Ravens remain in tenth-place in the table with a top-flight record haul of 66 points after coming from behind to blow away a Dagenham & Redbridge side that arrived at Hayes Lane in eleventh-place in the table on 62 points.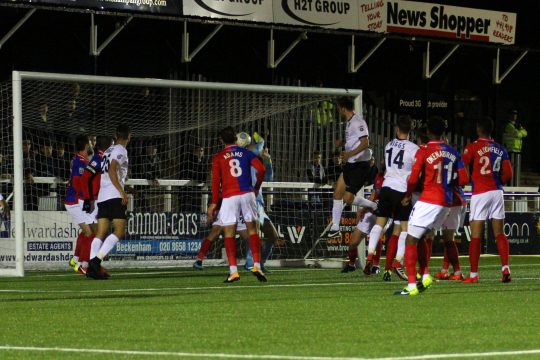 LEGEND: Bromley captain Jack Holland gets my vote for supporters' player-of-the-year tonight for moments like this, rising to meet Jordan Higgs' header to bring his side back from the dead against Dagenham & Redbridge to keep his home-town club in the play-off race with three games left.
Photo: Mark Avenell

The first half had a London derby feel to it as both sides struggled to entertain the fans but the game exploded into life during an enthralling second half.

It needed John Still's men to take a 54th minute lead through Luke Howell's fourth goal of the season to bring life to a dead encounter.

This was a must-win game for Bromley and Mr Bromley, captain Jack Holland, rescued his home-town club's play-off dream by heading home two corners to turn the game, taking his scoring tally for the season to nine goals.

Daggers keeper Mark Cousins saved Brandon Hanlan's penalty but he was beaten by a sublime strike from Frankie Raymond, who scored against his former club at the death to keep Bromley in with a shout of grabbing a top-seven spot during the last week of the league season.

"Absolutely delighted to beat someone of the experience of John Still and a Dagenham side who seem to be winning every week," said Smith, after his side ended their opponents five match unbeaten run.

"It was a great result and we needed it after we haven't been winning at home, we've been drawing. It was nice to give the supporters something to shout for going into the last week of the season."

Bromley welcome fifth-placed Boreham Wood (72 points, two games left) to Hayes Lane on Saturday, before fifth-from-bottom side Barrow visit next Tuesday before Bromley travel to Maidenhead United on the final day of the season.

The Ravens are now four points adrift of Ebbsfleet United, who jumped into the final play-off berth after coming away from Eastleigh with a 1-0 win tonight.

"Every game is going to be a must-win. We haven't got a chance to be fair. The teams that are in there have probably got there but we're not going to give it up," insisted Smith.

"We've got another tough game on Saturday with Boreham Wood but tonight was all about getting a result. We let ourselves down when we played them earlier on in the season (losing 5-1 on 26 August), and that showed what we're about today."

The early exchanges saw both sides kick the ball in the air before Dagenham & Redbridge called Bromley keeper David Gregory into making a comfortable save in the sixth minute through Fejiri Okenabirhie's 18-yard left-footed drive after the striker cut in from the right.

Smith said: "Okenabirhie at the moment is ripping the league up! Him (Mason) Bloomfield, you've got (Daniel) Sparks. Their strength is going forward so we knew we had to negate them. I thought we might've had a shot, they had a shot and I think that's pretty much the first half – but the second half, I thought we blew them away!"

Bromley winger Luke Wanadio broke down the left, skipped past his man before drilling a right-footed drive flashing past the foot of the left-hand post from 35-yards in the ninth minute.

Cousins stooped down to save a shot on target in the 12th minute.

George Porter's long throw was cleared, Tyrone Sterling picked up the loose ball and slipped the ball back to Porter, but his cross was cleared away at the near post and Raymond's well-cushioned left-footed volley from 25-yards was held by Cousins to prevent the ball nestling into the bottom left-hand corner.

"It's against his old club and he wanted to prove a point. They never played him last year so he wanted to get a win more than anyone," said Smith on Raymond, who runs the gym at Glebe FC in Chislehurst.

"The first half you can write off. It was a little bit of sussing each other out, neither of us wanted to lose but second half we definitely wanted to win!"

Dagenham & Redbridge's central midfielder Charlie Adams drove forward and his right-footed low drive from 25-yards was gathered comfortably at the second attempt by Gregory before the first half turned into a challenge to keep everybody watching awake.

The next action arrived in the 22nd minute when Dagenham left-back Jake Howells played the ball up to striker Mason Bloomfield, who spread a crossfield pass to an unmarked Howell, who cut in to drill his shot over the crossbar from 25-yards.

Dagenham & Redbridge were winning their fair share of second balls in the middle of the park during a flat and uninspiring first half.

But Bromley lived up to the reputation of being a second half team at Hayes Lane as they kicked towards their favourite end.

"Just get the energy levels up and win the second ball, keep the possession and beat people," came Smith's instructions at the break.

"We looked a bit nervous. Once we got hold of the possession I thought Frankie Raymond and Frankie Sutherland dictated that midfield in the second half.
"Roger Johnson at the back organised the back-four and everybody in front of him and up front Omar Bugiel and George Porter, they started dominating the ball."

Both sides had a glimmer of hope that the second half would improve when Roger Johnson's back-pass was intercepted by Okenabirhie but Gregory's clearance rebounded off the Daggers striker and bounced harmlessly wide after 78 seconds.

It was a copy-cat chance for Bromley at the other end when Luke Pennell's back-pass let in Omar Bugiel, but Cousins' clearance bounced of the Bromley striker and went behind for a goal-kick.

However, it took a Dagenham & Redbridge goal, timed at eight minutes and 3 seconds, to explode the game into life.

Bloomfield played the ball on the outside to Howell, who cut inside a couple of Bromley defenders to stroke his left-footed drive past Gregory into the bottom right-hand corner from 16-yards.

"It was a poor goal on our behalf," admitted Smith.

"As soon as he got it we knew he was going to come inside and we just backed off and backed off! At some stage someone has got to put a body in front of him and with his finishing prowess it's a poor goal on our behalf because we've been better than that."

The goal had the desired effect on Bromley, who came away from relegation threatened Woking with a morale-boosting 2-0 win at the weekend, as their beautiful attacking football blew away the Daggers.

Smith said: "Let's get back go and get at them! I thought there were goals there for us. We had a little bit of unlucky breaks and as soon as one came along, we took it."

Bromley equalised with 11 minutes and 45 seconds on the clock following their first of six corners.

Raymond swung in a great delivery from the right and Jordan Higgs rose to head the ball back across goal from where it came and Holland rose to nod over Cousins from a couple of yards out.

Smith said: "Look, Mark Hammond (coach) and Alan Dunne to be fair work on the set-plays thoroughly and we've just said how important they are and Jack is a vital part of that and we've also got Roger scoring from one the other day (at Woking). We said just how important they are to get us back into the game. It was brilliant!

"It seemed like the shackles were off. It was all about attacking football. If we want to be in and around the play-off scene right up to the last game we've got to win the game.

"I brought Brandon Hanlan on. I still had George (Porter) on, we had Omar (Bugiel) on. We had an attacking formation going into the last 25 minutes of the game."

A dominant Bromley cranked up their tempo and desire levels and Smith introduced striker Brandon Hanlan, and his pace terrified the Dagenham defence.

He fed George Porter down the right and his low cross was hit first time by Wanadio, who from 17-yards scuffed his shot into Cousins' hands for a comfortable save.

Smith added: "Luke had a great game today. He deserved a goal. He's had to wait for his chance again. He's come in and he's shown what he's about and he was unlucky today."

Higgs, who started the game on the right-hand side of midfield, before dropping back to right-back when Hanlan came on for Alan Dunne, before reverting to his original position when Smith brought on Luke Woolfenden late on, struck a right-footed half-volley towards goal from 35-yards, which Cousins dropped to his knees to save in the 66th minute.

Hanlan cut in from the right before laying the ball off for Frankie Sutherland, whose right-footed drive from 25-yards was tipped around the post by Cousins, diving to his right.

Smith said: "I thought that was a goal! The keeper done very well to get his fingertips to it and it just went wide. Frankie Raymond was dictating the game up until then."

An unmarked Higgs drilled a low shot from outside the box which was turned against the post by Bugiel's flicked shot and Dagenham put the ball behind for a corner as it rolled across the face of goal.

Smith said: "We thought that was a goal, he just got a touch to it and I think the keeper actually got a touch to that as well. We tried to get the rebound.

"It just needed someone to take a hold of the game. I thought Frankie Sutherland and Frankie Raymond starting winning that ball in midfield and if you can win their midfield you can normally win the game."

Bromley deservedly doubled their lead following the resulting corner, the goal being timed at 24 minutes and 54 seconds.

Raymond put the ball on a plate for Holland, who rose above his man at the near post from the corner of the six-yard box to plant his header into the top near corner, via the keeper's fingertips.

Smith said: "The timing was fantastic but you don't score that goal until the ball's in the right position and that's something that we've worked on and Frankie Raymond's delivery tonight was on the money and what a great finish from Jack Holland!"

Bromley kept going and Raymond's corner from the left was cleared out to Sutherland in space, who kept his head down to unleash a low drive flashing past the left-hand post from 25-yards.

Bromley's attacking football was very pleasing on the eye and they wasted a glorious chance to kill the game off in the final nine minutes.

Porter drew a foul from Craig Robson inside the penalty area and Cousins has certainly done his homework on Hanlan, diving low to his right to push away a right-footed penalty from the Charlton Athletic loanee.

Smith said: "Brandon then has a penalty and it's like kill the game off, he doesn't! His work ethic was brilliant but I wouldn't have a problem if he takes the next one.

"Brandon's been an absolute positive influence in our team. To miss the penalty you just hope they don't get a lift from it and we got down but we didn't. We went for another one!"

Dagenham & Redbridge offered very little at the other end of the pitch.

Adams drilled his right-footed shot harmlessly over the crossbar from 25-yards, before brilliant Bromley scored their third with 44 minute and 57 seconds on the clock.

Porter played a low pass in from the right and late substitute Josh Rees played the ball inside for Raymond to hit a sublime drive into the top right-hand corner from 16-yards.

Smith said: "Look, Frankie was desperate to score, it's his old club. He wasn't getting played much last year and he wanted to prove a point tonight and I think he did it! What a finish! Through on goal and he puts it into the top corner of the goal! It was absolutely fantastic!"

Dagenham defender Pennell came up from the back to glance his header past the far post after Daniel Sparks' delivered his sixth corner of the night.

Smith raised eyebrows when he had 50 goals worth of talent starting the game on the bench tonight, leaving star man Louis Dennis on the bench. Reading and Gillingham scouts were at Hayes Lane tonight and will be keeping tabs on Dennis and Smith's other top performers.

"I've told everybody every position is up for grabs. We've got three games to go now. I was disappointed after the Chester performance (losing 3-2 last Tuesday) so it was thrown out there who wants to grab the shirt can take it.

"We've got a massive game on May 20th (Brackley Town in The Buildbase FA Trophy Final at Wembley Stadium) but I want to win the last three games. I want to see how many points we can get. We're better than we were last season, we're still sitting tenth. I don't think we've moved. I want to get out of tenth, I want to be in the top part of that and to do that you have to win games.

"There's no pressure on us, I think the pressure is on the teams that are in the play-offs. We're outside, we're just trying to get in. If we don't do it, what a hell of a season we've had. No one could ever have a go at the players' for a lack of effort or anything like that.

"It would be nice to go into that last couple of games knowing that we've got a chance. Who would have thought it going into the last week of April and we're in The FA Trophy Final and an outside chance of achieving a dream!"

Looking ahead to Boreham Wood's visit, Smith added: "This Saturday, I've got to pick another winning team. It's a cup final, THAT'S our cup final. We've got to win again. They're in there (the play-offs), this is our bread and butter.

"That's probably where we've let ourselves down. We've probably had an eye on Wembley in some of these games where we should've gone and won, Chester being one, Solihull and Hartlepool, but we've got the trip to Wembley at the end of it so it was worth the sacrifice.

"I think full credit to the boys, there only focus is on the league and taking this as far as we can."

Smith, meanwhile, confirmed that on-loan pair Hanlan and Woolfenden will be available for Wembley.

"They're ours, here until the last game of the season, which will be May 20th. As long as they're here, they are a part of the squad."

Bromley: David Gregory, Alan Dunne (Brandon Hanlan 60), Tyrone Sterling, Frankie Raymond, Roger Johnson, Jack Holland, Luke Wanadio (Josh Rees 89), Frankie Sutherland, George Porter, Omar Bugiel (Luke Woolfenden 79), Jordan Higgs.
Subs: Louis Dennis, Dan Johnson

Goals: Jack Holland 57, 70, Frankie Raymond 90

Booked: Alan Dunne 45, Frankie Raymond 53

Dagenham & Redbridge: Mark Cousins, Ben Nunn, Jack Howells, Andre Boucaud (Michael Cheek 72), Craig Robson, Luke Pennell, Luke Howell (Matt Robinson 76), Charlie Adams, Mason Bloomfield (Elliott Bonds 89), Fejiri Okenbirhie, Daniel Sparks.
Subs: Lewis Moore, Bondz N'Gala

Goal: Luke Howell 54

Booked: Charlie Adams 41

Attendance: 1,007 (159 away)
Referee: Mr Alan Dale (Ipswich, Suffolk)
Assistants: Mr George Byrne (Bury St Edmunds, Suffolk) Ms Abigail Marriott (Mildenhall, Suffolk)
Fourth Official: Mr Jack Bonnick (Bristol, Avon)

Coverage Sponsored by: