Bromley 2-2 Aldershot Town - The pressure has been lifted, admits Bromley boss Neil Smith
Tuesday 16th August 2016
Bromley

2 – 2

Aldershot Town

Location
Hayes Lane, Bromley, Kent BR2 9EF
Kickoff
16/08/2016 19:45
BROMLEY 2-2 ALDERSHOT TOWN
Vanarama National League
Tuesday 16th August 2016
Stephen McCartney reports from Hayes Lane

BROMLEY manager Neil Smith hailed his players' character after getting their season up and running with a deserved point against Aldershot Town.

The Ravens went into their fourth Vanarama National League game of the season sitting at the foot of the table having lost to Tranmere Rovers (2-0), Torquay United (1-0) and newly-promoted side Solihull Moors (1-0).

And statistics like losing their last six National League games, seven without a win were hitting the Hayes Lane faithful full in the face when their side were 2-0 down inside the opening 21 minutes.

Scott Rendell flicked in his second goal of the season to open the scoring, before former Dagenham & Redbridge striker Matt McClure, 24, glided through three Bromley defenders to score from his tantalising solo run.

It was a disastrous start by the Ravens but their 314 minute goal drought ended when striker Tobi Sho-Silva headed in to score his first goal for the club in the 44th minute.

Super-sub Louis Dennis came off the bench and drove home the equaliser for Bromley with 16 minutes of an entertaining game remaining.

"Yes, we're off the mark! We were just saying, if we're going to start the season, let's start by going 2-0 down and coming back and showing a bit of character," said Smith afterwards.

"But like I said in the changing room, I never doubted the character, never doubted their belief, their commitment, their desire. We're just been a little bit unfortunate but fingers crossed, that's turned the corner."

Bromley handed striker Alfie Pavey, 20, his debut having signed him just hours before the game on a three-month loan from their League One neighbours Millwall. He replaced target-man Adam Cunnington, who jarred his back at Solihull at the weekend.

Smith said: "It's a three-month loan but we'll discuss it after a month. We can't thank Neil Harris and Millwall enough for such a quick turnaround to bring him in at such late notice.

"He met the boys an hour before kick-off today and I thought he was immense. I thought he came in - we've had loan signings before from clubs and they sort of come here and they think they're a little bit better than what they are. He came in and worked his absolute socks off for us. I can't ask for any more from the young kid."

Pavey scored 124 goals for Maidstone United's Academy before earning a move to Millwall and scored a couple of goals in 12 loan appearances for Aldershot Town last season.

Bromley began the game with a 4-3-1-2 formation, which clearly didn't work, as Aldershot Town passed the ball around on the deck.

The Ravens' best player on the pitch, Dave Martin, was excellent, pinging an inch-perfect diagonal pass up to Jack Holland, playing at right-back and trapped the ball inside the Aldershot half, but neither Pavey or Sho-Silva could get the touch to score.

Aldershot Town, did, however, taking the lead inside the opening 15 minutes.

Left-winger Bernard Mensah played the ball up to former Welling United midfielder Jake Gallagher (who picked up his customary booking later on in the game for a foul on Martin), and his angled shot was flicked in by Rendell, the ball rolling across the keeper to nestle inside the bottom far corner.

"It's come off his knees but that should have been prevented," admitted Smith.

"Just inside our half we had a good chance to have a tackle and we didn't win it, they then got down the outside, obviously put the ball in the net.

"Whereas we had a chance where another ball was in the box and we had no-one on the end of it and we've been working on crossing and finishing believe it or not but to go 1-0 down was a massive blow – but the boys stood firm!"

Bromley were facing a mountain to climb when clinical Aldershot Town doubled their lead with a brilliant solo run.

McClure collected the ball inside the Bromley half, danced past Max Porter, then Rob Swaine and then Ben Chorley to place his left-footed shot into the bottom right-hand corner from 10-yards.

"They got the second goal, which again, a guy's run through the middle of our team and slips it past Julian, which we haven't been doing," said Smith.

When asked how he was feeling as things were unravelling in front of him at Hayes Lane, Smith replied: "What's going through my mind is, why are we letting poor goals in where we're having the better chances (by which he meant crosses) and not getting on the end of them?!?!

Aldershot Town were controlling the game and their sublime passing on the pristine playing surface was causing Bromley concern. The Ravens were struggling to cope with their diamond formation and struggling to cause a treat in the final third.

With choruses of "Come on Bromley," coming from the North Terrace, as Bromley kicked down the slope during the first half, Bromley took 35 minutes to create their first opening.

Bradley Goldberg swung in their second corner of the game from the left, the ball came out to Joe Anderson, who hooked his left-footed volley sailing over the crossbar from 25-yards.

The excellent Martin swung in a free-kick from the right towards the far post where Pavey cushioned his header down and across the face of goal but Aldershot were able to clear their lines. It just wasn't falling for Bromley in front of goal.

Anderson released Martin down the left, who cut past Liam Bellamy inside the box but Will Evans came across from centre half to clear the danger.

But Smith admitted the pressure was lifted off everybody's shoulders when Bromley scored their first goal of the season, timed at 43:46 on the clock.

Talented left-back Anderson swung in a quality delivery with his left foot and Sho-Silva cut across his marker to find space inside the box to rise and glance his header across the keeper, the ball sailing into the top far corner from 10-yards.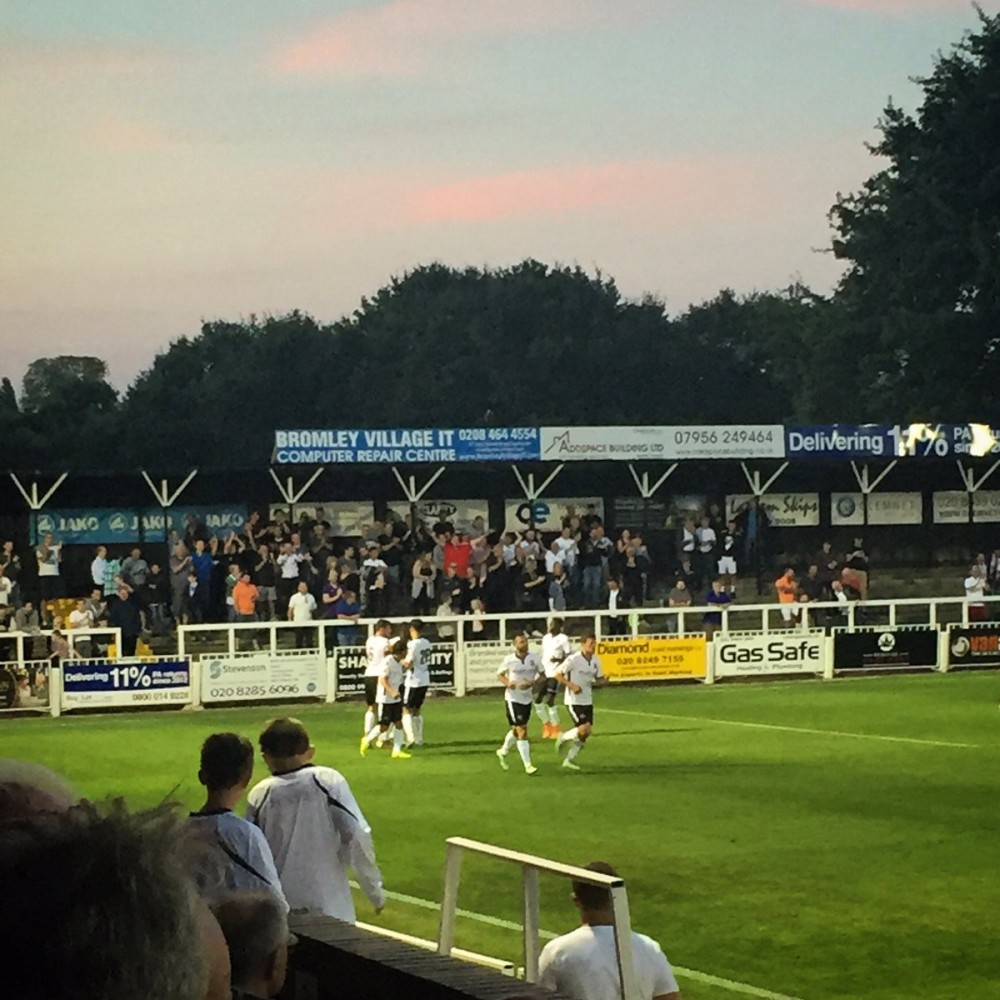 GOAL: Bromley celebrate their first goal of the Vanarama National League season as striker Tobi Sho-Silva heads home to lift the start the Ravens fightback - ending their 314 minute drought - and clawing themselves off the bottom of the table after four games.
Photo: Harry Hainstock

"To get a goal from Tobi, was a fantastic header. Her wasn't having the best of times but he kept on going and that's what we needed," added Smith.

"It took that goal tonight, a great ball in by Joe Anderson, again, he puts a delivery in every time and that was the first time a forward got across someone and it was a fantastic goal and you could just see the weight of pressure come off everybody's shoulders, because the pressure has been lifted.

"We were waiting for that goal to happen. We came out for the second half and I think they were timewasting literally from their kick-off all the way through the rest of that half whereas we were on the front foot. We showed an energy, we showed a desire, I think we deserved that goal."

Evans floated a free-kick into the Bromley box and Rendell pulled away from his marker and Julian made a comfortable save as the ball went across goal.

The Ravens finished the half on the front foot and Martin's corner came out to Anderson, who clipped the ball back into the box. Rob Swaine glanced the ball on for Sho-Silva, to hit a deflected first time drive whistling over the crossbar.

Smith ditched the diamond formation and deployed a 4-4-2 formation with Martin playing inside and next to Max Porter in the middle of the park and Goldberg partnered Pavey up front. Blair Turgott failed to replicate his impressive pre-season performances out wide on the right.

"I said to just keep going. I believe in them. I've never ever doubted them, I don't doubt them, never will, until they show me there's something to doubt, I will never doubt them," added Smith.

"They showed everything that Bromley Football Club is all about and that's never giving up and just to go out and do exactly the same thing that we've bene doing in the last few games – but just get a goal!"

Martin, did replicate his pre-season form, picking the ball up from a slight touch from Sho-Silva in midfield, cut inside and then drilled a stunning left-footed drive just over the crossbar from 35-yards in the 51st minute.

Smith said: "We put David in the middle. He didn't play on Saturday because he had a bruised thigh. He's come in today and he's done what David's been doing all pre-season, he was absolutely immense today. But I thought Max Porter alongside him was as well. Max is getting fitter and stronger as the season goes, as we've started the season but Dave Martin was just superb."

But Aldershot Town took the sting out of Bromley's momentum and maybe this next slice of luck will turn around Bromley's fortunes from now on.

Turgott was penalised by referee David Rock for a foul on Mensah as he stuck out his left leg and the Ravens almost paid the price.

Kellerman floated a right-footed free-kick towards the near post with his left-foot and Anderson's back-header sailed over Julian's head and hit the crossbar.

Smith said: "That was the moment when you go 'oh no!', but yes, you know when something has to happen, moments in games and that was a moment that has worked for us for once."

Had Aldershot Town killed Bromley off when they had the chance to then it would have been a sorry night for the Kent side and heaped the pressure on Smith, who hasn't celebrated a victory since taking permanent charge of his home-town club.

Gallagher drove forward through the heart of the pitch with the ball and laid the ball off to Kellerman in space on the left hand side of the penalty area but his shot was poor, scuffed across the face of goal and the relieved Bromley keeper gathered the ball.

More excellent wing play from Martin in the 62nd minute forced Mark Smith into making his first save of the night.

Goldberg cut the ball onto his right foot and drove a low drive towards the bottom near corner, which the Aldershot keeper dived low to his left to push away towards safety.

Smith said: "Brad's worked his socks off again but again we're just not having that run of luck. The keeper pulled a fantastic save to be fair but again Dave Martin put in a fantastic ball in the box."

Julian held Kellerman's curling free-kick from the left, before Bromley deservedly equalised with 74 minutes on the clock, much to the delight of the home fans.

Dennis replaced Goldberg only four minutes earlier and marked his return from a long-term injury lay-off in style.

Anderson fed the ball down the line to release Sho-Silva down the left towards the by-line, cutting the ball back for Dennis to drill his left-footed shot across the diving Smith to nestle into the bottom far corner of the net. Aldershot Town had 10 players on the pitch at the time and Bromley made it count.

Smith said: "It was a ball to nothing, Alfie would've been offside if he had run for it but Tobi's run on after it, cut it back to Louis and Louis does what Louis does – he come inside and Louis has worked not just physically but mentally through his injury period. To see him score a goal coming on as a centre forward today with no pressure on him, a weight off his shoulders, was fantastic and it was great to see him out there."

When you're down at the bottom, things go against you and Julian had to be at his best to deny Aldershot Town snatching an 80th minute winner.

McClure and Rendell's threat was snuffed out during the second half, but McClure came to life, cut inside and drilled a left-footed shot from 30-yards, which was pushed over by Julian's out-stretched right hand.

"Jules' has bene brilliant, I don't think he's been at fault for any of the goals," said Smith.

"I feel sorry for him, he's working hard with the defenders on a Thursday, all working hard and we're just hoping tonight is a time it changes."

Aldershot lost winger Mensah to injury and his replacement, Nick Arnold almost broke Bromley's hearts, whipping a lovely cross from the right towards the near post where Rendell sent his diving header just past the foot of the near post.

Bromley could have won it too. Anderson's deep free-kick was met by Swaine's towering header, the central defender steering his header past the right-hand post. Bromley just don't score enough goals from their central defenders from set-pieces, although they let in many at the other end.

Aldershot Town created the final chance of the game, Arnold's dipping right-footed free-kick from 28-yards was comfortably held in Julian's midriff as Bromley deserved their warm reception at the end as they look to start to climb the National League table.

Gateshead are the visitors to Hayes Lane on Saturday, a side that are second in the table on nine points (three wins from four games) and arrive in Kent on the back of tonight's 6-1 home win over relegated York City.

"I've just seen Gateshead's result, so they're going to come here, they're playing Bromley but they're coming to our place and they are coming our place and it will be a good game," said Smith, who knows his side should be higher in the table.

"It's four games gone. We've only got one point so the table is never, ever going to lie, but I think we've deserved more points than what we've got at the moment for the performance on Saturday against Solihull - how can you come away with nothing, when you create 18 chances?

"But I think it's taken something like tonight for the supporters as well who have been absolutely brilliant and are willing the players' on and willing the management on, the board have been so fantastic as well.

"Yes, where we are (second-from-bottom a point above Guiseley, who have lost all four games), I think we should be having more points but the table doesn't lie. We just have to keep working hard, keep playing through it."

Bromley must start making Hayes Lane a fortress and fans must start getting behind their side vocally and in numbers to claw the club towards midtable safety, where they should be, after finishing in 14th place in their debut season at this level.

"We've got to turn that around, home form, we've got to turn it on here," acknowledged Smith.

"But Gateshead are coming here after a 6-1 win and that's a fantastic result against a team like York, who are tipped to be up there this year, only just coming down last season, so hats off to them.

"I'm not worried about them. All my concerns are my team and if we can play at our minimum like we did in patches today and Saturday we'll give it our best shot and we'll see where we are."

Smith revealed the latest about injured players, but didn't mention long-term absentee, striker Ben May, who warmed up before the game alongside Lee Minshull, who is close to returning from his thigh strain.

"Lee Minshull has been training and hopefully he'll be another few days ahead so he won't be too far away. Adam Cunnington has jarred his back so he'll be out for a little while. George Porter has got to have a tooth taken out, an abscess or something like that."

Smith finished the interview, by saying, "Thank you for your support!"

Bromley: Alan Julian, Jack Holland, Joe Anderson, Max Porter, Rob Swaine, Ben Chorley, David Martin, Bradley Goldberg (Louis Dennis 70), Tobi Sho-Silva (Connor Dymond 85), Alfie Pavey, Blair Turgott.
Subs: Joe Howe, Daniel Johnson, Reece Prestedge

Goals: Tobi Sho-Silva 44, Louis Dennis 74

Booked: Rob Swaine 45, David Martin 69, Blair Turgott 89

Aldershot Town: Mark Smith, Cheye Alexander, Anthony Straker, Liam Bellamy, Will Evans, Callum Reynolds, Jim Kellerman (Nick Arnold 77), Jake Gallagher, Scott Rendell, Matt McClure, Bernard Mensah (Iffy Allan 75).
Subs: Jack Saville, Josh Wakefield

Goals: Scott Rendell 15, Matt McClure 21

Booked: Jake Gallagher 61, Matt McClure 82

Attendance: 906 (307 away)
Referee: Mr David Rock (Hertford, Hertfordshire)
Assistants: Mr Paul Yates (Maidstone) & Mr Nick Dunn (Deal)
Fourth Official: Mr Paul Forrester (Luton, Bedfordshire)

Coverage Sponsored by:





Bromley's Hayes Lane pitch maintained by: