Beckenham Town 3-0 Camberley Town - This is definitely Beckenham Town's greatest ever achievement, says championship-winning assistant manager Billy Walton
Saturday 23rd April 2022
Beckenham Town

3 – 0

Camberley Town

Location
Eden Park Avenue, Beckenham, Kent BR3 3JL
Kickoff
23/04/2022 15:00
BECKENHAM TOWN 3-0 CAMBERLEY TOWN
Cherry Red Records Combined Counties League Premier Division South
Saturday 23 April 2022
Stephen McCartney reports from Eden Park Avenue

BILLY WALTON says being crowned as final day Combined Counties League Premier Division South champions will definitely go down as Beckenham Town's greatest ever achievement.


Manager Jason Huntley, assistant manager Walton and coaches Jason Clews, Peter Sweeney and Phil Wilson have delivered the club's first league title success since the 1927-28 London League Division One (second tier) title.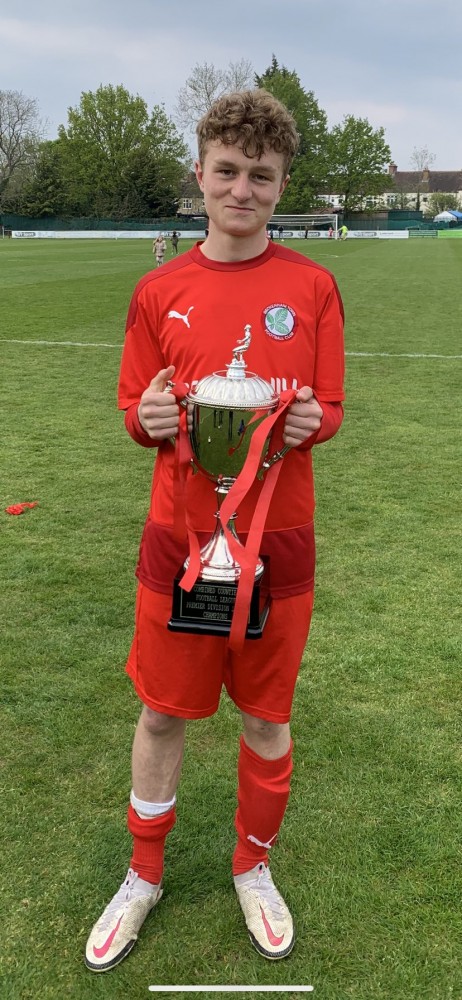 Winger Freddie Nyhus, 17, celebrates playing a key role in Beckenham Town's first league title since 1928.
Photo: Rhett Nyhus - Twitter

A crowd of 820 flocked through the Eden Park Avenue turnstiles to witness Beckenham Town's greatest ever day with a comfortable three-goal win over Camberley Town today, who complete their campaign in 12th place on 44 points from their 38 games.

Beckenham Town comfortably beat Guildford City here 3-0 last Saturday but the celebrations were put on hold following their
2-0 defeat at third-placed Raynes Park Vale on Easter Monday but Beckenham Town completed their league campaign unbeaten on their Eden Park Avenue carpet.

Walton & Hersham reclaimed top spot with a 4-1 home win over Fleet Town last Monday to put the pressure on Huntley's men and they had to win today to finish their campaign on 92 points, finishing a point clear of fellow promoted side Walton & Hersham.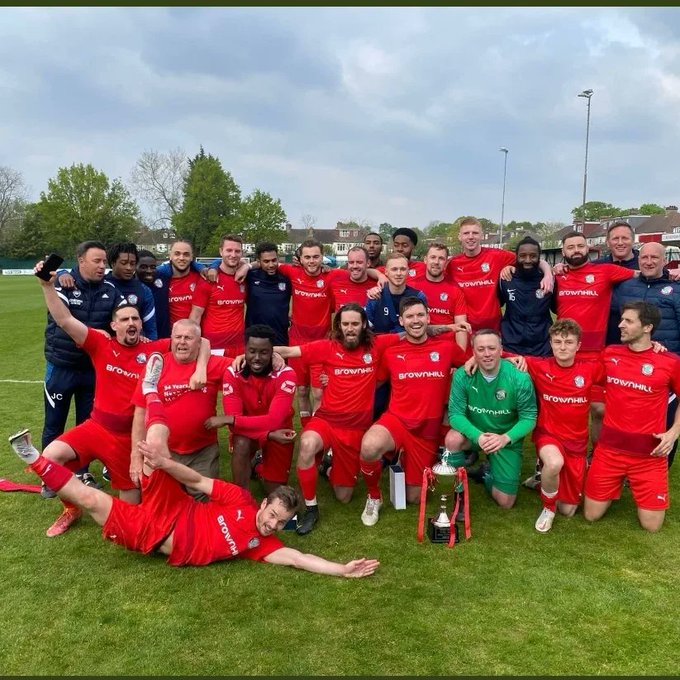 CHAMPIONS: Beckenham Town were crowned Combined Counties League Premier Division South champions at the first attempt on the clubs greatest ever day.
Photo: Twitter

Tunde Aderonmu, 34, settled any nerves by scoring his 23rd goal of the season on the stroke of half-time to put dominant Beckenham Town in the driving seat.

Winger, Freddie Nyhus, 17, produced sheer quality to score his eighth goal of the season to put the champagne on ice before centre-half Rob Carter finished off the job – as Beckenham Town scored twice in the last 21 minutes to seal the deal and win the Combined Counties League at the first attempt and will make their Isthmian League debut at the start of next season.

"Oh what a day, my emotions have taken over. I've got a lot of thoughts going through my head at the moment but it's just so, so pleasing for all the hard work that's gone in over the years," said Walton.

"The disappointment of two years' ago for not getting promoted and Covid, to bounce back, a new challenge this year and going into this division and come up against some really difficult teams and to go undefeated at home all season and scoring 107 goals, it's a credit to every single player that's played for us this season and I can't really describe how I feel. I'll let it sink in for a minute.

"Steve Firkins asked me to come back into football 12 years ago at Greenwich Borough and I'm glad he did and I owe Steve a lot.

"It's been great to come to Beckenham Town and have success this year. It's fully deserved. No matter what anyone says, you finish top of the league for a reason because you're the best team!"

Walton had tears in his eyes when he realised it ended 94 years' of hurt for this club.

"It's magical, it really is. I said at the start of the season when we beat Jersey that something special was going to happen. Those lads have created history now. For the rest of their lives they can say that they were involved in a team that achieved that feat and fair play to them. It's a great achievement, an absolutely fantastic achievement!

"We were top of the Southern Counties East Football League Premier Division two years' ago with eight games to go and we had it taken away from us."

That injustice drove Beckenham Town on and gave them the motivation to earn a deserved promotion.

"We were pretty confident coming here today, we haven't been beaten here all season so we were quite confident that we would get a job done today," added Walton.

"You're still going to have nerves, it's a big game, a big crowd for them to play in front of but we've got a load of senior players in the side that have been there and done it and I don't think you really saw anyone panic."

Beckenham Town started the game on the front foot and set out to settle the nerves with early pressure.

Right-back Harvey Brand played the ball in from the right and Nick Curran's shot was blocked and the ball came out to skipper Danny Waldren, who drilled a first-time shot sailing just over the crossbar from 20-yards after only 133 seconds.

That set the tone and Nyhus fed Aderonmu on the right-hand side of the penalty area and cut the ball back and 18-goal striker Louie Theophanous's driven shot was saved by the legs of goalkeeper Adam Melville and the ball came out to Waldren, who cracked a stinging drive which was plucked out of the air by the keeper with two outstretched arms.

"To me (starting on the front foot) tells me we were going to play well," said Walton.

"All of the games this season when we've started well, we've maintained it and we play well throughout the 90 minutes. We have little spells when we don't play particularly well but I would say 75% of the games we are on the front foot."

Beckenham Town kept knocking on the door and Aderonmu missed a sitter in the tenth minute.

Holding midfielder Joe Healy split open Camberley Town's centre-back Steven Lee with a long through ball along the deck to release Theophanous who put it on a plate for Aderonmu, who slipped over inside the six-yard box and centre-half Lynden McGugan had composure to clear their lines.

Walton said: "You just think 'please don't let it be one of those days', where we bombarded them and the goalkeeper pulls of save after save and we miss them and we miss them and we miss."

Camberley Town weathered the early storm and the home faithful were left in despair when another chance went begging at the half-way point.

Goalkeeper Nick Blue's long clearance was flicked on by Theophanous before Aderonmu played the ball out to left-back Archie Johnson, who easily turned Mohssine Sabek and whipped in a cross. The ball came out to Theophanous, who took a couple of touches before curling a left-footed shot around the top of the third post from 17-yards with his third touch.

Beckenham Town produced a fine move but the woodwork saved Camberley Town for the first time just before the half-hour.

Healy and Johnson linked up down the left and Johnson whipped in a cross towards the edge of the six-yard box for Aderonmu to power his header against the crossbar. The ball came out to Carter, who played the ball back into the box and Theophanous couldn't steer the ball past Melville, who grabbed hold of the ball.

"I must admit, I'm not going to lie, for the first time this season I was a bundle of nerves on the side, I really was, and my heart was pounding," revealed Walton.

"Your whole season comes down to 90 minutes and all those hard games, all that travelling, all the pre-season and all the hard work and it comes down to one football match and you think are we really going to throw that all away?

"But listen, my wife is up there and she's looking down on us and I knew she'd look after us."

Camberley Town created an opening four minutes before the break.

McGugan played the ball up to Sabek, who skipped past Callum Henry before releasing wide striker Macauley Martin, who lacked composure and drilled his right-footed shot past the diving Blue and past the near post from 15-yards.

"I thought the only way they was going to score was if we totally messed up and we gifted them a goal, which has been the case for most of the games here this season," said Walton, whose side have conceded only 33 league goals this season.

"If we were nice and solid at the back and we don't make silly mistakes, it's very hard for teams to score against us so I couldn't really see them scoring."

You could feel the relief when Beckenham Town deservedly broke the deadlock with 44 minutes and 40 seconds on the clock.

Holding midfielder Waldren was given space to hit a long ball upfield, Aderonmu hooked the ball and put Theophanous through and his driven shot was kept out by Melville but Aderonmu showed desire to pounce on the loose ball and stooped to head the ball bouncing into the bottom right-hand corner from inside the six-yard box.

"Scrappy goal but the ball went in the back of the net, that's all I was pleased to see, like. I didn't care how it went in, just as long as it went into the back of the net," said Walton.

"At this stage it calmed us down a bit. I think it was a great time to score, just before half-time. We didn't want to go in at half-time 0-0 and then 20 minutes into the second half you're still 0-0. I can tell you how pleased I was.

"Tunde has had a few injuries and he's a great lad, absolutely fantastic lad and I celebrated with him at the end of the game because he's a really, really top footballer."

When asked about his thoughts at the break, Walton said: "We said we were going too direct. We should've got the ball down and played. I thought if we passed the ball and moved it around against them and move them around, we'll open them up.

"I just said 'play at a high tempo and don't let them settle and just keep on passing and moving the ball around and quickly as possible' and I think we did. We upped it a lot in the second half. We did get on the ball a lot more in their own half and we did pass it so fair play to the lads, they took on board what we asked them to do."

Curran, who was playing in the number 10 role behind Theophanous, has scored six goals this season and he was denied by Melville's fingertips inside the opening four minutes of the second half.

Healy put the ball into the Camberley box, Nyhus' shot was blocked inside the box and the ball came out to Curran, who hooked a right-footed volley towards the top right-hand corner, only for the ball to be tipped onto the bar by Melville, only for referee Adam Parry to award a goal-kick.

"I thought the keeper tipped it over. I asked their manager and he said the same thing. I think Nick would've scored if he didn't have such long hair because the hair got into his eyes," joked Walton.

Camberley Town sensed Beckenham Town's nerves and as the home side sat back to protect their slender lead, Luke Turkington's men had a short spell of pressure.

Frise quickly threw the ball down and into the box for Martin to cut into the box and place his shot across Blue and harmlessly past the far post on the angle from 15-yards out.

Camberley Town then produced a well-worked move in the 13th minute when Martin cut the ball back to right-back Luke Benton, who fed Aaron Burchett, whose left-footed drive from 35-yards sailed just over the crossbar.

However, the referee Adam Parry brought the play back and awarded Camberley a free-kick as Curran made a strong challenge on Burchett but the resulting free-kick came to nothing.

Blue – with excellent distribution – hit a long ball which was superbly brought down by Aderonmu outside the box and he cut into the box and Melville jumped up and raised both of his arms to tip the ball over the crossbar while positioned at the centre of his goal.

Camberley Town's best chance of the entire game came in the 66th minute and Walton admitted he was concerned that his defenders were sitting too deep.

Substitute Micah Hylton played the ball into Frise, who unleashed a left-footed drive from the centre of the pitch from 25-yards out but Blue made a comfortable save down on his knees and into his midriff as he went on to maintain his 18th clean sheet of the season.

Walton said: "That (dropping too deep) was one thing that they didn't take any notice of us at half-time. You see it in every level of football, doesn't matter if it's International football or whatever, when you're 1-0 up, you tend to sit deeper, deeper and deeper and I can never work it out why you do that because I think you're just encouraging them to come onto you.

"We said at half-time one of the major points was if it stays 1-0 and the clocks ticking away, don't sit on your edge of your area, don't invite pressure on because the next thing you know you'll have eight players on the edge of your area and all it needs is one little mistake and the ball drops down like at Raynes Park Vale and it was a goalmouth scramble and it fell to them and they smashed it in."

There won't be too many better goals that have been scored at Eden Park Avenue than the one scored by Nyhus with 23 minutes and 13 seconds on the clock.

Curran's right-footed pass played the ball over to Nyhus, who sublimely controlled the ball, cut inside Camberley's left-back Callum Wiltshire and hit a stunning left-footed drive screaming into the top right-hand corner from 25-yards.

It was a goal that took everybody's breath away, a real "WOW!" moment.

"Mate, what a goal! What a goal! We've been talking about the lad (since he broke into the team this season)," said Walton.

"For a 17-year-old to play in front of 820 people and to perform like that is remarkable. I said to him you'll remember that goal when you're my age, when you're talking to your kids and telling them you cut inside and smashed it in to the top corner.

"He does that in training though every Thursday night with his left and his right foot. He's phenomenal the kid and I can't be any more happier for him."

Camberley Town offered very little in attack but Burchett played the ball out to Martin on the left but Carter pressed him and charged the ball down and the ball looped up into the sky and Blue watched the ball come down and plucked it out of the air.

Good hold-up play from Waldren down the left channel saw him wait for support from Healy, who whipped in a first-time left-footed cross towards the far post where Nyhus' header flew straight into Melville's hands as Beckenham Town upped it.

Beckenham Town dominated the corner count by 8-0 and Healy swung in their sixth corner from the right, Theophanous flicked the ball on, Carter knocked the ball down and Waldren's overhead kick whistled over the top of the far post.

Beckenham Town sealed the title with their third goal, timed at 36 minutes and 21 seconds on the clock.

The excellent Curran clipped the ball into the box, Theophanous was causing mayhem and his shot was blocked and Carter, of all people, was there to smash the ball into the back of the net from inside the six-yard box.

Walton revealed it was not a tactical masterstroke to order the centre-half up field.

He said: "No ones going to take credit for that except for Rob because I can't believe what he was doing up there in the first place and he's in the six-yard box alongside our striker! I had to ask the bench was it Rob who has just scored?

"He's another top lad, he's a proper battler and he never lets you down. He gives his heart and soul every week so I'm chuffed to bits for him."

Another exquisite pass from Curran put Theophanous through on goal but Melville came rushing out of his goal and made a vital block in a one-v-one situation.

"I thought Louie would score. I thought the goalkeeper was really good, I thought he was one of the better goalkeepers I've seen down here," added Walton.

Beckenham Town made four late substitutions within the final knockings of their greatest ever season.

Beckenham Town stalwart Jamie Humphris had a couple of late chances to put the icing on the cake but he lacked composure inside the box and failed to test goalkeeper Melville – after being set up by De Niro Pinto and Theophanous.

"He had a couple of chances, the one right at the end, I thought he was going to just clip it into the far corner," said Walton, as Humphries tried to curl his first-time shot into the top far corner to cap it all off.

"I was really pleased to get him on to the pitch."

However, Waldren and Humphris – who both went to school together – shared a special moment as they both shared lifting up the silverware.

Waldren, 33, has now won the Isthmian League Division One South title as an 18-year-old at Croydon Athletic back in 2010, the Conference South title with Bromley in 2015 and three years' later he won the Isthmian League Premier Division title with treble-winning side Billericay Town and now a Step Five title with Beckenham Town is in the bag of a glittering non-league career.

"For me this is definitely Beckenham Town's greatest ever achievement ever and I'm so pleased I'm apart of it," said Walton, who helped to keep the club in the SCEFL Premier Division by the skin of their teeth, finishing a point clear of relegated Fisher at the end of the 2016-17 season.

"It's the best thing, I've never won anything in my managerial or coaching career, hence I've only been offered jobs like Beckenham asking me to come here when they were bottom of the league. I've only been offered jobs or I only help clubs that are struggling so to be at this club now being a champion is…"

Walton (pictured below, left) heaped praise on the Beckenham Town management team for delivering success (photo, Twitter)




"It's not me, it's all of us. It's every single one of us. I don't know how it works to be honest with you. There's no formula but what's unique about it is Jason Huntley, the manager, he's very, very relaxed and he listens to what you have to say. He's not like 'I'm doing it my way.' If he thinks you're saying the right things and you come up with the right ideas he's quite happy to go with it. We all have our little input all of us and ultimately Jason makes the final decision.

"When Peter Sweeney and Phil Wilson came here there were a few comments going around 'you won't win nothing with them," they said and I hope people can eat their humble pie now because they've been great for this club and they've made us a lot more professional and the contribution they've made is second to none. Their dedication is fantastic.

"Jason Clews, who has been here forever and a day and the manager, Jason Huntley, has put his heart and soul into this club.

"There's five or six of us and you've got a lot of experience in that group and it's worked – and now the hard work starts."

Looking ahead to the club's maiden Isthmian League campaign next season, Walton replied: "It's something that we've always wanted to do and it's the next step up the pyramid and you're going to come up across better teams every single week so there won't be no so-called easy games. Hopefully we can go and surprise a few people."

Beckenham Town: Nick Blue, Harvey Brand, Archie Johnson (De Niro Pinto 84), Danny Waldren, Rob Carter, Callum Henry, Tunde Aderonmu (Jamie Humphris 83), Joe Healy (Harvey Hanifan 87), Louie Theophanous, Nick Curran, Freddie Nyhus (Alfie Bloomfield 85).
Sub: Mudiaga Wanogho

Goals: Tunde Aderonmu 45, Freddie Nyhus 69, Rob Carter 82

Booked: Danny Waldren 61

Camberley Town: Adam Melville, Luke Benton, Callum Wiltshire, Aaron Burchett, Lynden McGugan, Steven Lee, Axel Kodjo (Stanley Jones 55), Mohssine Sabek (Micah Hylton 64), William Boye, George Frise, Macauley Martin (Jacob Wheeler 75).
Sub: Charlie Ludlow, Alex Penny

Booked: William Boye 43

Attendance: 820
Referee: Mr Adam Parry
Assistants: Mr Phillip Crichlow & Mr Martin Etheridge