It's been a long time coming for Bearsted but we can hold our own and compete in the SCEFL Premier next season, says Bearsted boss Kevin Stevens
Sunday 24th April 2016
BEARSTED manager Kevin Stevens was feeling delighted after his side claimed the Pain & Glory Sports Kent Invicta League title yesterday.
The Bears celebrated winning the league title with a 2-0 win over FC Elmstead at Oakley Road in Bromley, courtesy of goals from Ashley Russell and skipper Rob Lyall.

News then filtered through that second-placed Sheppey United could only draw 0-0 at fourth-placed Sutton Athletic, so the league title went to Honey Lane.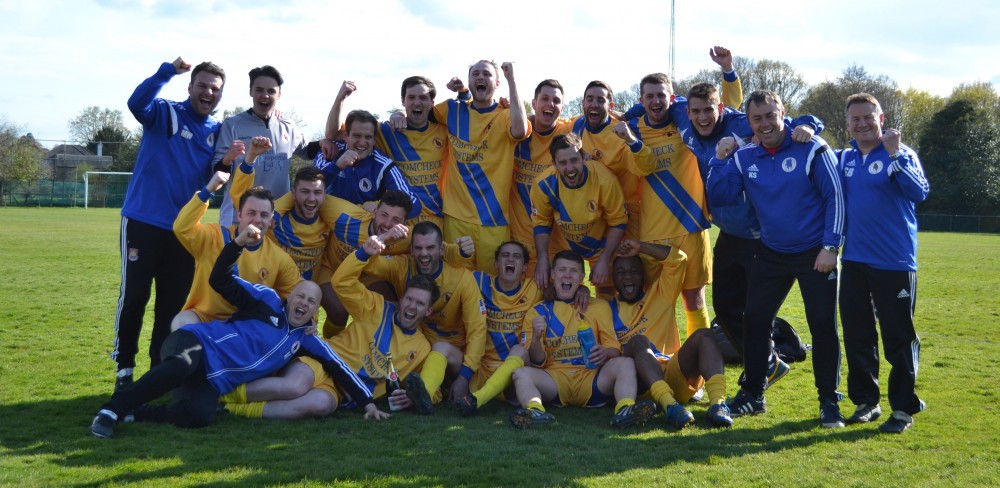 CHAMPIONS: Bearsted are the fifth and final Kent Invicta League champions after beating FC Elmstead 2-0 at Oakley Road yesterday.
Photo: Alan Coomes

"It's been a long time coming for Bearsted, the chairman and the rest of the board," said Stevens, whose club finished runners-up last season.

"The ground's nice, it's coming along. I think we've got a squad good enough.

"Obviously being in a position we're in there's people who want to come over and have trials next season. We're in a good position.

"I think we can go in that league and we can hold our own for definite, without a doubt, but we'll be looking to just strengthen the squad here and there."

Bearsted will be looking at the achievement of Gillingham-based outfit Hollands & Blair, who finished as runners-up to big-spending Greenwich Borough on their Southern Counties East Football League debut after winning back-to-back Kent Invicta League titles.

Stevens said: "We played them in the Charity Shield at the beginning of the season and pushed them close but they're testament what you can do with hard work.

"As far as I know they haven't got a big budget or any budget and we're the same. We don't pay players but hard work, graft and we can go up in that league and compete in that league, without a shadow of a doubt."

Bearsted complete their title winning campaign with a home game against Sutton Athletic next Saturday, where they will receive their championship winning trophy, which has previously been won by Bly Spartans (now Rochester United), Phoenix Sports and Hollands & Blair (twice).

The Bears have won 28, drawn four and lost five of their 37 league games, scored 87 and conceded 30 goals, which is the best defensive record in the division.

Sheppey United can confirm their runners-up finish with at least a point against Bridon Ropes, who arrive at Holm Park in fifth-place.

Ben Young's Sutton Athletic are in fourth-place on 76 points and have three league games left to play, including a Challenge Trophy Final against third-placed finishers Glebe at Sheppey United's Holm Park ground on Saturday 7 May.

There will be no Kent Invicta League next season as the league will form the Southern Counties East Football League Division One.

It is expected that Crockenhill, Eltham Palace and Orpington will be demoted out of the division after failing to meet ground grading criteria.

Visit Bearsted's website: www.bearstedfc.co.uk