Ashford United 1-1 Dunston UTS - It's going to be a battle, isn't it, next week. It's going to be a feisty one that's for sure, warns Ashford United player-boss Danny Lye
Saturday 30th January 2016
Ashford United

1 – 1

Dunston UTS

Location
Homelands Stadium, Ashford Road, Kingsnorth, Ashford, Kent TN26 1NJ
Kickoff
30/01/2016 15:00
ASHFORD UNITED 1-1 DUNSTON UTS
(after extra time)
The FA Vase Fifth Round
Saturday 30th January 2016
Stephen McCartney reports from Homelands Stadium

ASHFORD UNITED player-manager Danny Lye says he expects another battle up in the North East next Saturday after being held to a draw by Dunston UTS in the last sixteen of The FA Vase.

Ashford United went into this Fifth Round tie sitting in third-place in the Southern Counties East Football League table, having collected 11 wins, five draws and four defeats.

The Nuts & Bolts stated their FA Vase campaign in the Second Round beating Steyning Town 2-1, before winning at league rivals Lordswood (5-1) and Newport IOW 2-1 in the last round, scooping £4,300 in prize money.

Dunston UTS – who won The FA Vase in 2012 – arrived in Kent sitting in fourth-place in the powerful Northern League, collecting 11 wins, five draws and six defeats.

Billy Irwin's side also stated at the same stage as their hosts and defeated former winners Whitley Bay (2-1), Seaham Red Star (1-0) and Coleshill Town (3-1), to play in front of 636 fans at Homelands Stadium today.

Ashford United got off to a flying start with Northumberland-born target-man Shaun Welford heading in his seventeenth goal of the season for the club.

But Dunston UTS were the better side during the second half and left-winger Aristotte Guerin came off the bench to equalise, scoring his first goal of the season.

Ashford United created the better chances during extra-time but had to settle for a replay in Gateshead next weekend.

"Yes, it was good, wasn't it? It was an end-to-end game of football. I think both teams done enough to win it, just a good game," said Lye, who came off the bench to play in central midfield after 79 minutes.

"I think we didn't play as well as we could, we were far too deep and we invited pressure after we scored. We let too much pressure build and they got themselves back in the game.

"They had spells, we had spells and we sort of swapped it around a little bit when Welford got a little knock.

"It's going to be a battle, isn't it, next week. It's going to be a feisty one that's for sure.

"We know pretty much what they were going to be like and to be fair they were spot on to what we thought they were.

"We gave them too much time on the ball at times and that's not going to happen next week.

"I think a draw (was a fair result) because we was on top first half but we didn't create many more chances after the goal and then second half they had a big spell and in extra-time it was end-to-end and at times anyone could've won it."

The Kent side created the first opening of the game after five minutes, underneath blue skies.

Winger Ryan Palmer cut the ball back to left-back Josh Wooley, who floated in a deep cross into the Dunston penalty area where Welford rose above central defender Luke Gilhespy to plant his header over the bar.

But Welford scored a trademark header to give Ashford United the lead with 09:07 on the clock.

Impressive central midfielder Mikey Dalton sprayed the ball out to right-winger Taser Hassan, who was given time and space by some slack defending by visiting left-back Daniel Halliday.

Hassan whipped in a cross into the penalty area for Welford to rise and plant his header across the keeper into the bottom far corner from 12-yards.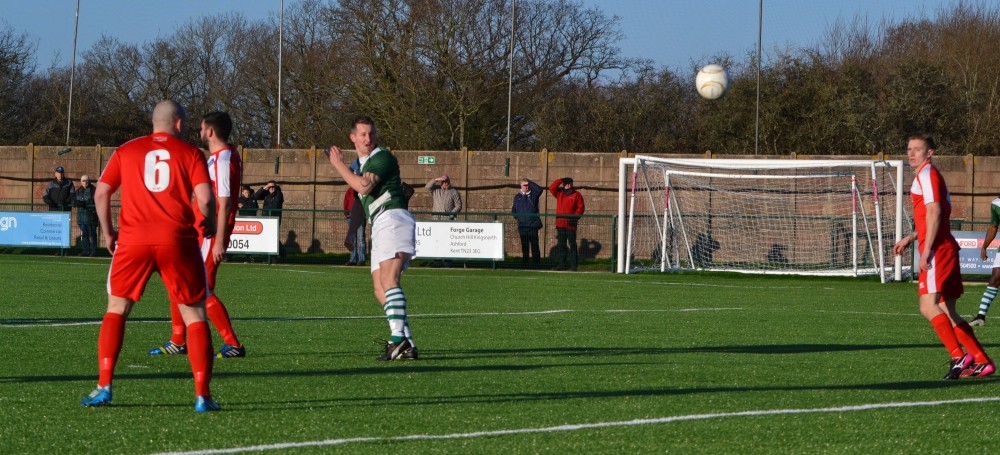 GOAL: Shaun Welford (green shirt) heads home Ashford United's goal against 2012 FA Vase winners Dunston UTS in front of 636 fans at Homelands Stadium.
Photo: Alan Coombes

"We've been taking the mick out of Shaun for the last few weeks because he scores most his goals with his head normally and this year he ain't scored one with his head," said Lye.

"So on Tuesday he said whatever we do in training we're doing crossing and shooting and it's obviously paid off for him.

"I said before the game if we start fast and start lively you've got a good chance to get in front.

"We got in front and then we sat off a little bit, which I was sort of disappointed with at half-time. I said to the boys we've got to stay on them, get the second goal but it weren't forthcoming."

Ashford United enjoyed a good first half but they failed to create a clear cut chance following the goal. Had they scored the second goal during the first half then it could be argued that they would have won the game in normal time.

Dunston UTS created their first opening after 28 minutes when right-back Michael Pearson floated in a cross towards the near post for left-winger Daniel Smith to rise to plant his header over from six-yards.

Dunston UTS then created a good chance following their second corner of the game on the half-hour mark.

Alex Francis cut the ball back from the right to combative winger Stephen Harrison, who hit a first time drive dipping just over the bar from 25-yards.

Ashford United were keen to put their bodies on the line as Dunston UTS finished the first half on the front foot.

Smith cut the ball back to Halliday, who whipped in a first time cross towards the far post. Harrison brought the ball down and cut onto his left foot and was destined to score but Luke Cuthbert made a timely block at the near post.

Ashford United keeper George Kamurasi, who was vocal throughout, kept his side's lead in tact with two fine saves just before the break.

The keeper made a low save to his right to prevent central midfielder Francis stoking his right-footed angled drive into the net from 20-yards, before the keeper made a low save to his right to prevent striker Steven Richardson scoring from a one-on-one after being played in behind the Ashford defence and the keeper pounced on the loose ball.

"George, he's ever-present, whenever he's called upon he pulls off a good save and he has today again," said Lye.

"You've seen it in the first half, we got caught sleeping and he kept us in front."

When asked his thoughts at the break, Lye said: "I said we're too deep! We've got to squeeze up, got and get a second goal and go and kill the game off!

"They got on top. We looked a bit leggy. We were getting done in central midfield, so we changed our shape a little bit to try to combat it."

Dunston UTS created the first chance of the second half when strikers Malcolm Morien and Richardson linked up inside the Ashford half to find central midfielder Dale Burrell, who hit a first time drive over the bar from 25-yards after 102 seconds.

Combative Ashford United midfielder Michael Phillips then played in Welford, but his shot was caught by visiting keeper Liam Connell shortly afterwards.

Francis then cracked a 25-yard drive straight into Kamurasi's midriff, before the visitors stamped their authority on the game, penning Ashford United back.

The injury to left-back Halliday forced Irwin to slot Harrison back into left-back, but he played a part in Dunston's 51st minute chance.

Harrison found Francis at the near post, who turned his man and crossed towards the far post, which was knocked down by Smith but striker Richardson hit his left-footed shot on the turn over the bar.

Dunston UTS deserved their equaliser when it arrived with 17:44 on the second half clock.

Ashford United central defender Pat Kingwell had kept 27-goal striker Morien in his pocket up until this point.

Francis released Morien down the right and he burst into the penalty area before skipping around advancing Kamurasi.

The prolific goalscorer, who was otherwise kept quiet, opted to lay the ball inside to Guerin, who cut inside before curling his shot into the top far corner of the net.

"We gave the ball away in their half and they done us on the break," said Lye.

"The boys thought it was offside, the initial run, but I can't comment. I weren't watching, I weren't up to play. You hope the referee's make the right decision."

Dunston UTS looked the more likely team to go on and win the game in normal time, but Kamurasi made a finger-tip save to deny the visitors in the 71st minute.

Francis played the ball into Morien, who laid the ball inside to Richardson, whose left-footed drive was tipped over the crossbar by the busier keeper in the game.

Good play by Ashford United striker Paul Booth gave left-back Josh Wooley a chance to whip in a decent cross, but not for the first time he whipped his cross too high and the chance went begging.

Lye said: "Our final ball today weren't quite right. Josh Wooley had four opportunities to get the ball in and he put it over the crossbar, which is frustrating.

"He's a young lad and you've got to learn from that. If you put good balls in the box the forwards we've got will score."

Dunston UTS were within inches of scoring a deserved winner with 13 minutes left.

Right-back Pearson fed the ball into Smith down the right, he cut inside along the penalty area line and played the ball inside to Richardson, whose shot on the turn sailed past the diving keeper and skimmed the outside of the right-hand post.

Lye, who was on the pitch at this point, replied: "Did it? I missed that one!

"You need a bit of luck don't you? If you want to win something you have to have a bit of luck."

Francis was involved in another move when he passed to Burrell, who fed Harrison, whose right-footed drive from 30-yards was pushed over by Kamurasi's outstretched strong right-hand.

Dunston UTS created the last chance of normal time but Morien stroked his speculative right-footed free-kick past the near post from 35-yards.

Ashford United were the better side during extra-time and created chances to win the game.

Palmer raced forward and bent his right-footed drive just past the foot of the near post after 96 minutes.

Francis then lashed his right-footed drive over the Ashford crossbar from 25-yards at the other end.

Palmer played a sublime diagonal ball from right-to-left which picked out winger Ellis Green, the substitute cutting inside and curling his shot around the far post.

Green then whipped in a cross from the left which was agonisingly poked just past the right-hand post by the stretching Phillips as he ghosted in at the far post.

Dunston UTS created the last chance of the first period, but Francis dragged his angled drive across the keeper and past the far post.

Wooley rode a strong sliding challenge from Smith, took a touch and sent his shot sailing over the Dunston penalty area after 53 seconds into the second period.

Morien felt he was going to grab the winner for Dunston when he shrugged off Kingwell but poked his shot past Kamurasi and Wooley was able to clear the ball towards safety from inside the six-yard box.

Ashford United striker Booth had the best chance of extra time halfway through the second period.

Green played the ball into Booth's feet, who danced past three Dunston players and hit his right-footed shot at a comfortable height for Connell, who palmed the ball up before catching the ball as it dropped down from the black sky.

"Thirty-nine year's old, he's twinkle toes with five minutes to go," said Lye.

"Normally nine times out of ten he sticks that bottom right and he's hit it straight at the keeper.

"He's got the hump with himself in there, but he's got high standards."

Dunston UTS too could have snatched victory when Burrell whipped in a cross from the left and Morien's first time side-footed shot screamed past the left-hand post.

The home fans were left in despair when Palmer raced down the right and played a great low ball across the face of the goal, but substitute Seb Schoburgh slid his shot across the keeper to flash just past the foot of the far post.

Lye added: "No-one could get on the end of it, could they? Yes, it's one of them, he put it across and people weren't close enough to get it."

After years in the doldrums seeing 636 fans at Homelands Stadium was pleasing for the Ashford United boss.

"That's what it should be here every other week here. We should get big crowds. I'm not saying 600, we should be in the 200-300's, like it used to be. That's what we want to build on."

Dunston UTS will be favourites to progress through to the Quarter-Finals at Wellington Road next Saturday.

"We had first half, they had second half and then extra-time was even," said Lye.

"We done enough in extra-time to try to nick a goal.

"It's going to be a battle but it's one of them. It's a bit of luck, that's it really, go at them again.

"It will be a good weekend away. We'll go up on the Friday lunchtime and no beer on Friday night but on the Saturday, win or lose, we'll have a good time."

But when asked about Ashford United's chances of reaching the Wembley Stadium Final, Lye is keeping it low key.

"Am I thinking of what? Not really thought about anything yet and it's a long way away, it's still four games away. You've got a lot of mistakes or a lot of luck you need before you get there."

Ashford United: George Kamurasi, Adam Cuthbert, Josh Wooley, Mikey Dalton (Ellis Green 93), Luke Cuthbert, Pat Kingwell, Ryan Palmer, Michael Phillips, Shaun Welford (Seb Schoburgh 68), Paul Booth, Taser Hassan (Danny Lye 79).
Subs: George Savage, Nick Luen

Goal: Shaun Welford 10

Booked: Michael Phillips 60, George Kamurasi 109, Danny Lye 120

Dunston UTS: Liam Connell, Michael Pearson, Daniel Halliday (Aristotte Guerin 56), Dale Burrell, Adam Wilkinson, Luke Gilhespy, Stephen Harrison, Alex Francis, Steven Richardson, Malcolm Morien, Daniel Smith.
Subs: Andrew Clark, Joshua Clark, Michael Steinmetz, Liam Thear

Goal: Aristotte Guerin 63

Booked: Stephen Harrison 90, Dale Burrell 90, Alex Francis 91, Malcolm Morien 109

Attendance: 636
Referee: Mr Carl Brook (Hastings, East Sussex)
Assistants: Mr Leigh Crowhurst (Uckfield, East Sussex) & Mr Matthew Goldsmith (Hastings, East Sussex)
Fourth Official: Mr Richard Joss (Margate)