Thamesmead Town 2-3 Faversham Town - We're not the finished article by any means, admits Faversham Town boss Ray Turner
Wednesday 06th December 2017
Thamesmead Town

2 – 3

Faversham Town

Location
Princes Park Stadium, Grassbanks, Darenth Road, Dartford, Kent DA1 1RT
Kickoff
06/12/2017 19:45
THAMESMEAD TOWN 2-3 FAVERSHAM TOWN
Bostik South Division
Wednesday 6th December 2017
Stephen McCartney reports from Princes Park Stadium

FAVERSHAM TOWN boss Ray Turner hailed their win at Thamesmead Town as a really big result.
The Lilywhites climbed above four teams into sixteenth-place in the Bostik South with 27 points from 22 games, closing the gap on thirteenth-placed Thamesmead by two points, although the Mead have a game in hand.

Although five goals were scored at an empty Princes Park, it papered over the cracks of the truth that this was a poor game of football.

The first 30 minutes were very poor but Thamesmead grabbed the lead on a counter-attack, which was tucked home by midfielder Tom O'Connor.

With both sides packing midfield, they both struggled with any width in the first half. Thankfully, the second half vastly improved.

Faversham Town grabbed an equaliser through a gift, Mark Lovell smashing home a penalty to score his fifth goal of the season.

Three goals were scored in the final sixteen minutes. O'Connor poked in his fifth goal of the season to give Thamesmead the lead for the second time.

However, the introduction of striker Luke Griffiths, 19, sparked Faversham into life. He scored after only 30 seconds of his introduction and scored a similar goal to win it at the death, scoring his 11th goal since his elevation into the first team.

"It's a really big result for us and with no other teams playing tonight it starts lifting us up in the league," said Turner.

"I'm not going to pretend we're the finished article by any means but when you've been through what we have and the transition that we've had to do, effectively build another side mid-season, I'm proud of the boys.

"We're not ideal and we're conceding some poor goals at times and our football can be better, I know all of those things but when you boil it down to sheer guts and determination and attitudes at the moment then the boys are doing alright."

Thamesmead Town boss Tommy Warrilow added: "Obviously disappointed again. No disrespect to Faversham, I think we've given them all three goals!

"The first half was a bit flat. I thought we were the better team in the first half. We broke well but our final ball could've been a bit better picking people out.

"We got a great goal from Tom. The thing is we have to work for our goals and yet all of their goals we've given them. They're not really well-worked so I'm disappointed from that point of view.

"I know they're on a nice run, I've got a lot of time for Ray and Clive (Walker) and a few of the lads there but I said to my boys we really should've beaten them tonight and we've lost and I've got to do something about it!"

Thamesmead Town missed a glorious chance to smash the stalemate in the 15th minute.

Midfield general Scott Kinch swept the ball out wide for right-back Ellis Green to sprint down the wing to cut into the penalty area before drilling his right-footed shot high over the top of the near post from 15-yards.

Warrrilow said: "I thought it was flat. We sort of got going a bit, we started using the full-backs a little bit more. There wasn't much to write home about in the first half, very quiet. That's where my lads have got to step up and make an atmosphere themselves."

Faversham Town created their first opening halfway through the first half.

Striker Carl Rook played the ball into Harry Stannard's feet and he cut inside to curl his shot around the far post from 30-yards.

A sliced clearance from Mead defender Richard Avery gave Lovell a chance to float in a cross from the right and Daniel Carrington's hooked volley flashed across goal and Jake McIntyre nodded the ball back to his goalkeeper.

Thamesmead Town went route one when goalkeeper Lewis Carey thrashed the ball up the pitch, the ball was flicked on by Paul Vines and his strike partner Richard Pacquette flashed his shot wide on the turn from 18-yards.

"He didn't have his best game tonight by his own admission but he's come in and done really well for us," Warrilow said of journeyman striker Pacquette, 34.

The best chance of the first half, however, finally arrived in the 32nd minute, when Faversham Town almost grabbed the lead.

Danny Walder whipped in a quality free-kick from the right towards the near post where Lovell guided his free-header against the crossbar from six-yards.

"Two teams cancelled each other out, not the greatest spectacle, a battle, which I expected up here midweek," admitted Turner.

"Mark just hit the crossbar and we started to look dangerous from Danny's set-pieces. The disappointing thing was we've given all the momentum away in a key period just before half-time."

Warrilow added: "We gave away too many silly free-kicks! Rookie's a very experienced lad up there and he's all over your and Lovell is as well and our lads are a little bit inexperienced regularly diving in and getting involved in stuff. We gave away three stupid free-kicks in dangerous areas. Luckily enough we got away with them, but the higher up you go you're not going to get away with things like that!"

Set-piece specialist Walder then stroked his right-footed dipping drive over the crossbar from 28-yards, which resulted in referee Craig Kissi to award them a corner.

Walder swung in their first corner from the right, Thamesmead cleared their lines and broke up the other end to score the opening goal, timed at 34 minutes and 33 seconds of a sterile first half.

The Mead released Bode Anidugbe who charged down the right wing and Warrilow asked the midfielder "to relax" before he whipped in a great cross for O'Connor to cut across George Monger to flick his shot across keeper Simon Overland into the far corner from five-yards.

Warrilow said: "Great finish! Bodes drove well tonight in the first half. That was a good ball in and a good finish but once he had too many touches but Bodes and Tom have been two good lads with good futures in the game but it was little bits like that that they've got to tidy up on."

Turner said: "Great from their perspective but from ours we're on the attack, we spend a lot of time making sure that we're set-up right, so it was really disappointing.

"Dan Carrington slipped a little bit but it's no excuse not being tight enough to the fella on the halfway line and once he's got a run on us they've executed the break really well."

Faversham Town should have equalised on the stroke of half-time.

Matthew Bourne smashed a long ball out from the back and Avery and Carey were involved in a mix-up as Avery's back header bounced past his keeper and let Rook in.

Rook should have tucked the ball home but he dwelled on the ball and from a tight angle he allowed an alert Carey to get back on his line to dive to his left to block the shot at his near post.

Turner said: "He's been out for a couple of weeks Carl, perhaps he did all he could but the keeper got back really quickly actually so I think credit to the keeper in that instance. There's not too much to blame in terms of Carl, he's got in there and an equaliser then would've been a big boost but in the end we got back into the game."

Warrilow added: "It's just what we do, we do not communicate!

"I thought perhaps Lewis would come for it earlier but he didn't and he shouted and Avo hesitated and he's headed it and in between the pair of them Lewis done well to recover to get in there but we do that and normally we get punished but we got away with that one."

Both managers were asked their thoughts at the break.

Warrilow said: "We've got to create an atmosphere, we've got to play with a quicker tempo regularly and (improve) our quality as well. We weren't using the width as much and when we did with Ellis and Bode we got some results.

"I just told them to believe in themselves and go play a bit more and express yourselves but we've gone out for the second half and it was alright but we're better than alright and I think we've missed an opportunity tonight."

Turner said: "Not very happy really because I thought it was one of those games. You get a lot of games this time of the year that kind of drift along but I just felt as though we were slowly coming into the game.

"I know the run we have been on, how difficult it has been getting results and I know how difficult it is getting results coming from behind in these leagues so we had our work cut out.

"I wasn't too happy but we had a few things to sort out. We had to sort out the substitution with George (Monger) as well, who was struggling with his hamstring.

"That's Renford's first appearance for a number of months now. We were a bit concerned that we put him on earlier than I would've hoped but in the end he's given us a bit of width and a bit of a threat that I think we probably needed."

Faversham Town, who had earlier lost right winger Chris Barnard, lost Monger at the break due to a hamstring pull, so on came Renford Tenyue.

Only Tenyue will know how he missed a header sitter with his first touch of the ball just 105 seconds into the second half.

Ryan Cheek, who was playing on the right of a three-man defence, launched a long throw into the box, Lovell flicked it on at the near post and Tenyue planted his free header over from close range at the far stick.

"I don't know how he's missed it, it's harder to miss, I think," admitted Turner.

"I think he's gone in the dressing room and been quite open with the boys, too open with the boys and said he's closed his eyes and it looked like he did as well!"

Thamesmead's front two of Vines and Pacquette were very quiet and McIntyre crossed from the left and Vines hooked his shot into Overland's hands from the edge of the box.

"He's not connected properly, not just tonight but we get in areas where we've got better options and we don't get our head up and we panic and slash at things," added Warrilow.

Faversham Town were gifted an equaliser when it arrived with 13 minutes and 38 seconds on the clock.

Rook had his back to goal and was heading towards the edge of the box when he was sent tumbling to the ground by Kinch's nudge from behind.

Lovell stepped up to smash his right-footed penalty straight down the middle, sending Carey diving to his left.

"You can't condone it! Rookie's going nowhere, he's got his back to our goal going away and yet Kinchy decided to try to nick the ball. Rookie ain't going to miss that opportunity, maybe my boys should start learning a few things like that! Again, it's an easy way back into the game," fumed Warrilow.

"Tom's probably disappointed in terms of conceding a penalty with someone's back to goal but that's not my business," added Turner.

"The most important thing is he's converted in the most emphatic way. We've gone a long time without penalties and I think we've had one in the last three games so it's funny how it turns round.

"Mark missed a game on Saturday through other reasons but that's three in four now and it's always good for a striker to get a goal."

Faversham Town upped their game after playing their get-out-of-jail-card and they wasted a glorious headed chance in the 71st minute.

Walder whipped in another high-quality free-kick from the right into the corridor of uncertainly where Lovell made space at the near post to plant his header past the near post from inside the six-yard box, holding his head in his hands in despair.

"I thought we looked the stronger at one each and the game went into a different period," said Turner.

"That relationship (with Danny Walder) is a good one, it leads to goals for us, not on this occasion."

Thamesmead Town lifted spirits by taking the lead with 28 minutes and six seconds on the clock.

Vines dropped deep to collect a pass before swinging in a cross from the right into the Faversham box where O'Connor nipped in unmarked to stretch to flick his right-footed shot past the stranded Overland, the ball trickling into the bottom far corner despite Cheek's efforts to get back on his line to clear.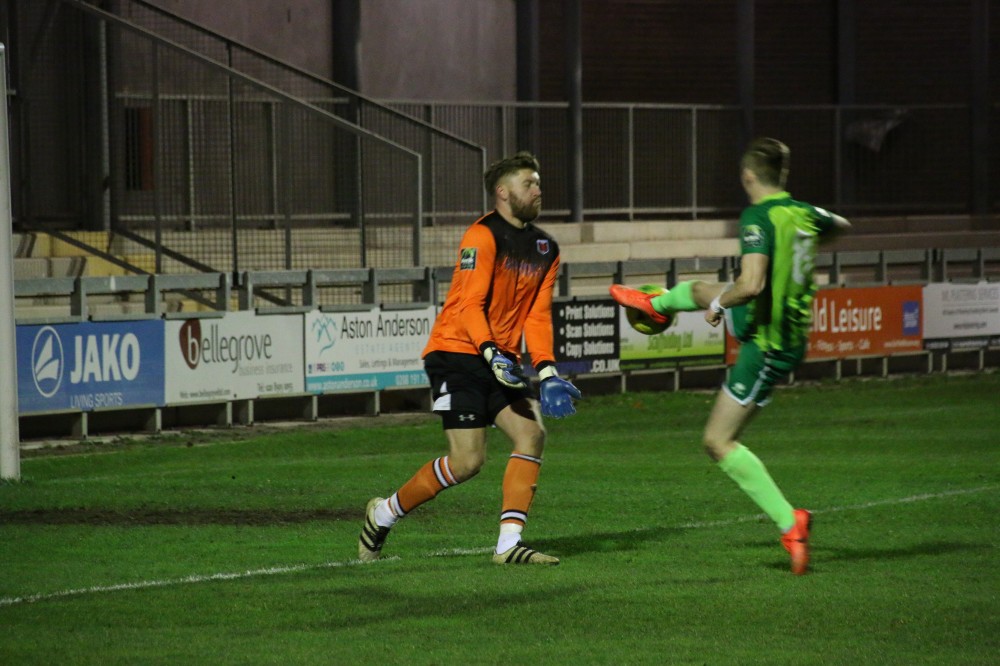 Thamesmead Town's Tom O'Connor flicks in his side's
second goal against Faversham Town.
Photo: Allen Hollands

Warrilow said: "I thought it's held up in the wind at first. We thought it was curling away from Tom but then all off a sudden he's got a little toe poke on it.

"The game was a bit flat at the time, the game went a bit quiet and we got that to liven it up."

Turner said: "Again, it just doesn't look great from our perspective. It looks too easy for them to get in between the centre halves and then tap it in.

"I think I'll give myself a bit of time before I reflect on that. I said to the boys I was quite upset with the goals we conceded tonight. In general we've been quite tight, although we've struggled to score, it's been the other way tonight and we've ended up with a five-goal game but we'll have some private words about that because I think we need to do better."

Warrilow introduced ex Concord Rangers striker Danny Parrish and his poked shot at the near post was blocked by Overland, preventing the ball to nestle inside the bottom near corner.

"I brought Danny on to change it with a bit of legs to try to get on to Vinsey's flicks and I thought hopefully we can be solid and push on from that," added the Mead boss.

"Dan's done well for us. I was giving him a rest tonight and went with two big lads up front. I didn't think that was much of a problem. Dan's come on and caused a few problems. He's got in some areas where we could've done better but he's getting regular football now. He's a young lad, learning his trade and he's done well for us. He wasn't getting a game at Concord Rangers (National League South) and he's come to us and getting a run of games. It won't do him any harm to come out and go back in."

Turner pulled off a tactical masterstroke when he recalled on the services of dropped striker Griffiths, who scored just 30 seconds after coming on.

Stannard sprung into life and his low drive brought a low diving save out of Carey and Griffiths drilled his first time shot into the bottom far corner with his first touch.

Turner said of his find, "Luke's a young player that's come through and we're very proud of what he's done. He's played a lot of games and he was carrying a bit of an injury so I probably wouldn't have played him on Saturday if I didn't have to but we ended up being down to bare bones so he played.

"I wanted to give him a bit of a breather and in the end it worked out perfectly. You can't always just those situations but it's nice when it comes off. He sniffs out goal opportunities. He's in double figures now and considering his started quite late and he's established himself in the first team it's a great achievement but he's got that thing that you can't teach people and that's following things up and his ability to score."

Warrilow added: "That was one ball, one direct ball so if we can't defend that then you've got no chance in football so that's a very poor goal. Fair play to the lad for finishing it, both goals, it's not the first shot, it's the second phase they've scored from and we're not reacting to the second part.

"I don't want to sound disrespectful but their just poor goals for us to concede. I'd like someone to open us up and score a real good goal and it's becoming a pattern for us."

Warrilow was angry with Kinch, who steered his free header past the near post from close range after meeting O'Connor's left-wing corner.

"It's a joke! How you've not score from that! I don't know if he's lost it in the lights, I just don't know! It's a free-header in the six-yard box! But that's what I mean about chances. There wasn't a great deal of chances tonight if I'm honest but if you get them you've got to take them and that's one thing you can say fair play to them."

Griffiths then turned provider for Stannnard, who was played in behind but Carey dived low to his left to parry the ball towards safety.

"I thought it was quite a good move," said Turner.

"At that point we were playing as good as we played at any point in the match, so we started to play the ball a little bit better and we opened them up.

"I fancied Harry in that position and he's probably made it a bit too easy in terms of the keeper read it quite early on and went down quite early but the fact we were creating those chances at that time was putting them on the back foot a little bit."

Warrilow added: "That's a little warning for us. We do get caught on breaks going forward when we're trying to win the game as we are very vulnerable and that's what we've been trying to address."

Faversham Town claimed their eighth league win of the season, the goal being timed at two minutes and 6 seconds into time added on.

Lovell fed the ball into Stannard, who did extremely well to dig the ball out from underneath his feet and when he did his curler from outside the box from the left-hand side crashed back down off the crossbar and Griffiths showed desire to pounce on the loose ball to drill his shot into the back of the net to spark wild celebrations.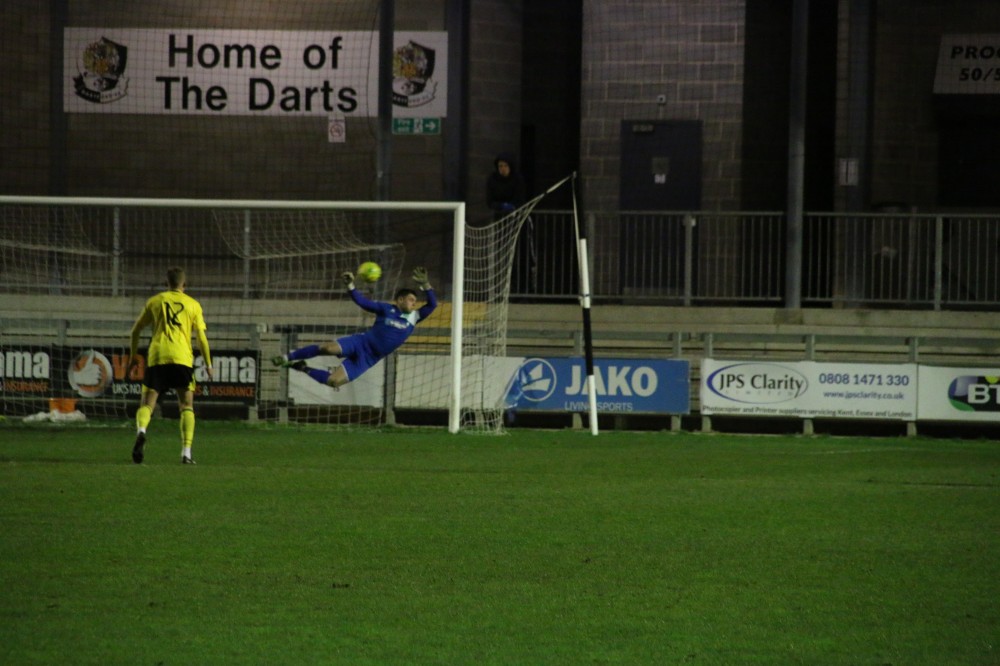 Faversham Town super-sub striker Luke Griffiths watches
Harry Stannard's shot crash back off the crossbar before
pouncing to score a late winner against Thamesmead Town.
Photo: Allen Hollands

"Great feeling! I think we showed as well that we've been through a really difficult season and I think in those moments you need to enjoy (the winning goal) together and there's no problem with what we did," said Turner.

"It looked like the ball got stuck underneath his feet and I don't know how he dug it out quite well as he's done but he's not only dug it out he's bent the ball as well and was unlucky not to score himself and it's one of those things. You can't teach that instinct to follow things up and Griffs has done that and got us the winner."

Warrilow added: "It's not so much the first shot, it's the second one! We're nowhere near it either! Fair play to them, they've got the desire to go and win the game and get on the end of it and we've not got the desire to go and stop them from winning it.

"It shouldn't matter how many chances we've missed up top, you still want to keep everything out as a defender. I was a defender and I will be having a go at my forwards for missing them but I would make sure we'd keep a clean sheet or only let one in. We should be scoring more goals, we should be winning games but we're not!"

Thamesmead Town host second-placed Corinthian-Casuals on Saturday and with his side eight points adrift of the play-off zone, Warrilow isn't giving up.

He said: "It's a tight league, we've just got to make sure we stay in and amongst them and going into the New Year if we do that who knows? Someone always has a late burst, there's no reason why it can't be us but we're making it very, very hard for ourselves at the moment by losing."

Stannard drove forward and was to be denied by a diving Carey, who dived to his left to push the ball around the post.

Faversham Town are now 24 points clear of Shoreham, who occupy the sole relegation berth and Turner is pleased that his side have turned the corner ahead of Saturday's home game against fifth-placed Greenwich Borough.

"It's a nice feeling. We've been on a decent run of form. We're not playing at our best by any means but I think with confidence we can get better. There's some good young players here. I think sometimes moving up the table at that amount in one go is a big boost for everybody and we're certainly closed the points gap with a lot of teams above us as well."

Thamesmead Town: Lewis Carey, Ellis Green (Laurent Mendy 51), Jake McIntyre, Scott Kinch, Richard Avery, Leon Smith (Raphael Duyile 84), Tom O'Connor, Solomon Taiwo, Paul Vines, Richard Pacquette (Danny Parish 75), Bode Anidugbe.
Subs: Lenny Laker, Max Ovenden

Goals: Tom O'Connor 35, 74

Booked: Scott Kinch 59, Laurent Mendy 71

Faversham Town: Simon Overland, Ryan Cheek, George Monger (Renford Tenyue 46), Daniel Carrington, Matthew Bourne, Oliver Lee, Chris Barnard (George Batney 32), Danny Walder, Carl Rook (Luke Griffiths 77), Mark Lovell, Harry Stannard.
Subs: Toby Greenfield, Jake Lovell

Goals: Mark Lovell 59 (penalty), Luke Griffiths 77, 90

Booked: Ryan Cheek 50, Danny Walder 55, George Batney 64

Attendance: 93
Referee: Mr Craig Kissi (Clapham Common, London SW4)
Assistants: Mr Zach Jacquart (Sutton, Surrey) & Mr Scott Orchard (Sutton, Surrey)

Coverage Sponsored by: