Whitstable Town chairman Joe Brownett steps down: It was due a change, I think. I'm getting a bit older now. I'm not running away from it but modern football needs a lot of people to do different jobs
Saturday 06th April 2019
WHITSTABLE TOWN has announced chairman Joe Brownett is standing down to take up the honorary position of club president and is being replaced by Steve Clayton.
Mr Clayton has been the chairman of Whitstable Town Junior Football Club for the last three years and will become chairman of the overall club at the end of this season.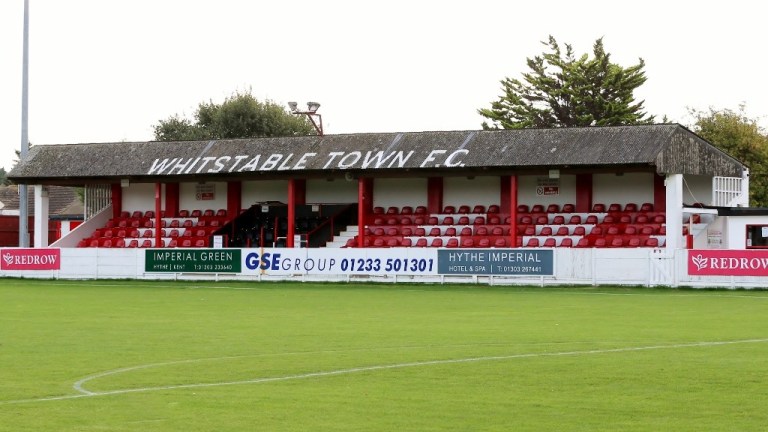 All change at the top at Bostik South East Division club Whitstable Town.

"This will bring the senior club and the junior club together in an exciting development that will hopefully lead to many more home-grown players rising through the youth section and into the first team," said a club statement, which was published on www.whitstabletownfc.co.uk.

"Steve has taken the junior section from four teams to 15 over the last three years, building a fantastic team of supportive individuals along the way, ensuring the town's oldest youth football club is thriving and is the success it is today.
"Both Steve and his committee are highly committed to the success of the junior section and are determined to ensure that they can provide young talented players in the future for the senior team on a regular basis.
"Steve and his team will build on the great work Joe and his team have done over the years in running this club, for the good of those employed by the club and for the benefit of those that support and sponsor the club.
"The combination of the junior and senior clubs will provide increased stability and resources, which should better enable Whitstable Town Football Club to meet some key objectives:
to increase interaction with the local community
continue to maintain and improve facilities, both on and off the pitch
provide the necessary support to ensure the first team can compete successfully in the Bostik League
provide a clear pathway for young footballers to progress to senior football
Mr Brownett said: "I have a lot of confidence that the club will push forward with lots of new ideas and people and a strong junior section.

"It was due a change, I think. I'm getting a bit older now. I'm not running away from it, but modern football needs a lot of people to do different jobs. My committee are getting a bit older as well, but a lot of them will stay on and we intend to support what the junior club wants to do.

"It won't be two separate clubs, but will all be one. I'm proud that we are managing to achieve a handover to people that we know well and who have similar aims for the club and youth development. We've got great tradition and were one of the first supporters of the Kent Youth League."
Mr Clayton added: "I have a fantastic team to support me in bringing our vision of making Whitstable Town Football Club the best it can be, laying the foundation today to create the pathways for the juniors of today to progress and play for their home-town club.

"We look forward with great excitement to the season ahead, where we will be ambitious in our quest to build upon our ongoing success and with everyone's support will continue to set the bar high."

Whitstable Town have climbed up to tenth-place in the Bostik South East Division table after hitting good form in recent weeks and have banked 39 points from 31 games and Scott Porter takes his side to fifth-placed Haywards Heath Town this afternoon (15:00).

Visit Whitstable Town's website: www.whitstabletownfc.co.uk