Tunbridge Wells 0-1 Whitstable Town - With it being a final, it's the best goal I've scored, says Whitstable Town striker Ricky Freeman
Saturday 05th May 2018
Tunbridge Wells

0 – 1

Whitstable Town

Location
Longmead Stadium, Darenth Avenue, Tonbridge, Kent TN10 3JF
Kickoff
05/05/2018 13:00
TUNBRIDGE WELLS 0-1 WHITSTABLE TOWN
Southern Counties East Football League Challenge Cup Final
Saturday 5 May 2018
Stephen McCartney reports from Longmead Stadium

STRIKER Ricky Freeman says he scored his best goal of his career after his brilliant world-class strike sealed a cup double for Whitstable Town.
The 32-year-old, a carpenter by trade, lit up an otherwise poor Southern Counties East Football League Challenge Cup Final at Longmead Stadium in Tonbridge, watched by a crowd of 749.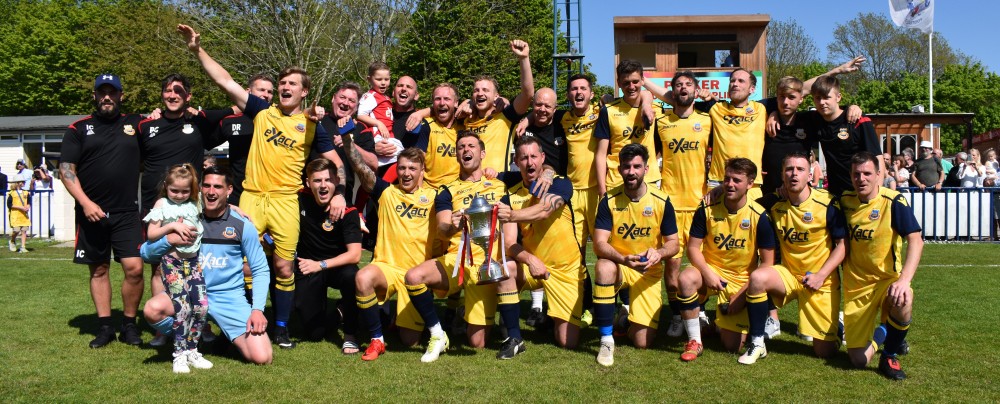 Whitstable Town celebrate winning the Southern Counties East Football League Challenge Cup.
Photo: Alan Coomes

The Oystermen have now won this competition twice, the last title coming back in 1980, while four-times winners, Tunbridge Wells, were runners-up in 2015.

Whitstable Town deserved the win to go with the Kent Reliance Senior Trophy they collected by beating Sheppey United 2-1 after extra time on 8 April. Whitstable Town finished runners-up to Sevenoaks Town in the title race and can now prepare for Bostik South football when the new season kicks off in August.

Whitstable Town boss Scott Porter said: "Fantastic achievement! The main aim was promotion this season because of the two going up but to do what we've done, when it was against us with the games and the schedule we had and we had a lot of doubters out there with us because of the squad I've had.

"But I trusted my players and it's got the club to where it should be and the club deserves it.

"It's a massive achievement. We wasn't great today, we wasn't good but the goal deserves to win a game all day long.

"Ricky's got that in his locker. He's scored a number of goals like that this season but to do it in a cup final, it deserves to win a game.

"We wasn't good today, we couldn't put the ball in the channels properly, the weather plays its part, it's a big pitch. We played to our strengths but we hit the post twice as well and limited them to chances."

Jason Bourne was Tunbridge Wells' captain when they won the Kent Senior Trophy here against Lordswood in 2013 and when they lost to Spennymoor Town in the FA Vase Final at Wembley Stadium on 4 May 2013.

The Wells manager said: "It's a cup final, obviously disappointed. I don't think either manager will be fully satisfied with how their team played and it went down to a moment of magic to be honest with you.

"It was always going to peter out. We didn't have many chances. They hit the foot of the post out of nothing really and Ricky goes and does that!

"You just have to accept it and move on and use the boys disappointment as a platform to not have this feeling again and go on to greater things."

Whitstable Town set the tone by starting on the front foot and 28-goal striker Danny Williams struck a right-footed dipping drive just over the crossbar from 25-yards with only 44 seconds on the clock.

Porter said: "We had a couple of little half chances but to be fair in a cup final when the game's so emotional and you're involved, you forget those chances. We wanted an early goal but it didn't happen."

Bourne added: "They definitely stared better. We looked like we choked a little bit. Everyone that's played football knows you've played in games where it just doesn't quite happen and suffocated on the occasion and we very much looked like that.

"It took us a good 30 minutes, I think, to get settled and start to develop a pattern of play.

"To be fair to Whitstable, they do what they do well. Are they the best team in the league? I don't know. They're certainly the most consistent in the league and probably the hardest working team in the league so all credit t to them, they done the business."

The opening 10 minutes was an open end-to-end affair and Tunbridge Wells created an opening inside the opening five minutes.

Josh Stanford swept in a free-kick and Jarred Trespaderne flicked his near post header looping over the crossbar.

Whitstable Town then clipped the outside of the foot of the far post.

Williams played the ball along the deck into James Morrish's feet and he laid the ball off for Freeman, who swept his shot across the diving keeper from 25-yards, the ball kissing off the base of the post and behind for a goal-kick.

Tunbridge Wells strikers Trespaderne and Jack Harris were living off scraps as Whitstable's back three of Stuart West, Teddy Nelson and Tom Bryant slammed the door shut in their faces.

Harris dropped deep to play the ball out to right-back Alexx Kendall, who played the ball inside to Pilbeam and Jonathan Shea took a touch before sweeping a cross into the box, which was cleared out to Trespaderne, who turned to roll a shot comfortably into Dan Eason's hands from 15-yards.

The game then turned into an uninspiring stalemate as Whitstable Town kept hitting long balls up field into channels and Tunbridge Wells offered nothing in the final third at the other end of the pitch.

Tunbridge Wells' best chance of the game came in the 26th minute when right-winger Pilbeam picked up a loose ball, drove forward and from 30-yards hit a right-footed dipping drive which was tipped over the bar by Eason's outstretched right-hand.

Bourne said: "I think that was the best sight of goal we had all day. It was something out of nothing from Jon. Dan Eason makes a great save. It was probably as good as it got but I think we did pick up when the game went on but we found it hard to develop a bit of football pattern in the first half."

Porter added: "I think it was a comfortable save to be honest with you. We limited them to chances, that's what we're good at. We've got the best defensive record in the league (conceding 29 goals in 37 games) and it's got us where we are now."

Both sides summed up the poor quality in the game when they were both awarded free-kicks in central positions, but Freeman (from 30-yards) and Harris (25-yards) drove their efforts into the wall.

Bourne said: "They played really well. They've got that spirit. It comes down to that hard-working mentality that they've got. They want to win everything all over the park. It's not only the back three and two wing backs working hard, it's in front of them and all the way up to the forwards, who work hard.

"Porter has done it with Hythe and he's done it with Whitstable now and he's got them promoted. It's a brand of football he plays and it's very effective at this level."

When asked about his thoughts inside the home dressing room, Bourne said: "I thought we choked but equally they haven't created a lot. We were still having opportunities. If we got it down and played we'd make the game a lot easier for ourselves, especially in this scorching heat, which both sets of players found it hard to keep the work-rate as it maybe should be.

"I just tried to settle them, there was no point in going in there today and doing anything else. We worked on the few positives that we had and tried to use that as a spark to get us going."

Porter said: "I was disappointed. I went mad in there to be honest with you because it's not the way we play. Our energy levels wasn't good, we didn't hit the ball in the channels. We were just putting it on the centre halves head and if you put it on Perry Spackman's head he's going to win it all day long so I went mad!

"I done the same against Sheppey in the cup final and I got a reaction and the boys know that it wasn't a rant as much, it was a constructive rant because we all spoke about it. We still wasn't good second half, we still didn't come out of the traps but maybe it's the pressure of the cup and the heat and the weather."

Tunbridge Wells called Eason into making a comfortable catch following a set-piece after 82 seconds into the second half.

Tommy Lawrence floated over a deep free-kick from the right and the outstanding Perry Spackman made space at the far post to send his header into Eason's hands from a tight angle from eight-yards.

Bourne said: "Again, it's a good ball in. Perry's always dangerous, he's six foot six, he's a big strong boy to stop. We thought it might've come down to set-pieces today one way or another and we worked on them a bit at training but another day it goes in but it sort of went straight through to the keeper."

Porter added: "I back us. The only way they were going to score was from set-pieces. We gave away too many free-kicks but we got our rewards. We didn't play that great, they came very defensively with the 4-5-1 that they played and they were probably going to nick one from a set-piece."

Whitstable left-wing back Josh Burchell clipped the ball into the box and Freeman nipped in front of his marker to poke the ball harmlessly wide of the near post, before Bryant came up from the back to meet Macauley Murray's left-wing corner with a hanging header at the far post which went across goal rather than near it.

Freeman brought under control a long ball out of Whitstable's defence to poke the ball through to Williams, who latched onto the ball but all he could do was hook the ball into Cameron Hall's hands from inside the D.

Whitstable struck the post for the second time in the 58th minute when right wing-back John Walker cut the ball back for West to sweep a first time cross into the box and Williams planted his free header against the right-hand post from eight-yards.

Porter said: "That's what happens when you get balls into the box! We didn't do that enough today but Danny's good in the air. We've hit two posts today, it's frustrating because we wanted to get that goal because once we go 1-0 up, I can't see a team beating us."

Bourne added: "From where I was it looked liked it was going in to be fair. It was a bit of a free header, a bit disappointed with the marking there but it was a good ball in to start with and asking people to get on the end of it. The signs were there at that point."

Walker threw the ball into the Tunbridge Wells box, the ball was flicked on by Williams at the near post and Saunders hooked the ball towards the far post which Burchell ghosted in to head straight at Hall from eight-yards.

"It's a difficult chance because he couldn't see it but after that we just had to manage the game properly and we did that," added Porter.

Whitstable Town won it through Freeman's moment of magic with 20 minutes and 47 seconds on the clock.

Nelson was given time and space to punt a left-footed ball into the box, which was headed away by Spackman and Freeman hooked a stunning right-footed volley from 30-yards, screaming and looping into the top far corner of the net, leaving keeper Hall rooted to the spot.

Porter said: "He's brought it down and he's hit a volley and he's got that in his locker. We needed that because it was just going to fizzle out in the end but what a great goal, what a great goal from the kid! He's been great all season. He gets a lot of criticism from fans because of the player he is but I've been with him all season and we rub off on each other and he's been great all season and what a way to win a cup final!"

Bourne added: "He won't strike another ball as good as that! It was one of them. I said it was a moment of magic that settled a pretty poor affair but they were effective. They play long balls, they work on getting on the end of second balls and that's what Ricky did and the keeper didn't have a chance!"

Murray played a shot pass inside and along the deck to Morrish, who drove his low shot flashing past the foot of the left-hand post from 30-yards.

Tunbridge Wells were poor in the final third, with set-pieces their most likely method of scoring.

Lawrence's free-kick was punched away by Eason, Stanford lofted the ball back into the box and substitute striker Josh Biddlecombe hooked his shot over the far post from a tight angle.

Bourne said: "We seem to score later winners very, very regularly. We've got a great spirt throughout the boys and we carried on trying to play, maybe give us a little spark but we didn't get our big players on the ball enough today. It was all a little bit slow and lethargic so we never looked like carving them open but I always felt we had a chance with the group of players that we've got together.

"It didn't come. We huffed and puffed a little bit. They looked a bit dangerous on the break because we committed men forward."

When Tunbridge Wells did get in behind Walker in a pocket of space, Eason dropped down to his knees a couple of times to gobble up a couple of low crosses from Pilbeam.

But this game will only be remembered by Freeman's magical strike, the rest of was forgettable!

Porter doesn't care that his side play an ugly brand of direct football though, adding: "It's a cup final. I don't care how we win it, we won it, simple as that!

"It's massive, it's massive, you've got to see our following. They've got a good following, we all say it, our following is the best in the league. They travel everywhere.

"I wanted promotion this year, I've got it but that extra spice keeps the season going. Winning these competitions, everyone talks about the winners. I'm a proud man, I'm proud of my players and they all deserve everything that they get because they just keep going for me.

"To win two cups and get promotion is a fantastic achievement and the club deserves it. I'll enjoy tonight, we're all going out tonight to celebrate what we've achieved."

Sevenoaks Town won the title with 88 points from 38 games and Whitstable Town (79 points) travel to eighth-placed Lordswood in a dead rubber game on Monday lunchtime (12:00).

"Just go there, turn up and go, simple as that," said Porter, whose side got across the line with a 4-0 win at basement side Rochester United on 25 April.

"It's a nothing game. We just have to fulfil it and we'll do it. It will be walking pace for these players because of what they've done today but we've got to fulfil it."

Tunbridge Wells finished their league campaign in fifteenth-place on 46 points, reached the Quarter-Finals of the Kent Reliance Senior Trophy and lost 4-0 at Vanarama National League South side Concord Rangers in The FA Cup Second Qualifying Round.

"They deserved the win, you can take a lot of heart from it. We competed with Whitstable and the game could've swung either way so I'm going to be disappointed," added Bourne.

"I'm not going to get over it for a little while but we've got a nice break and we can build for next season.

"We're not here for a day out, We want to win games, we want to win big games. This club is big in stature, it's got a great population, got a great fan base. The club has won one trophy in 30 years and that was 2013. We need a little reality check and we need to make sure we build the club properly before we can start winning leagues and stuff like that."

Match hero Freeman reflected on the game and his match winning strike.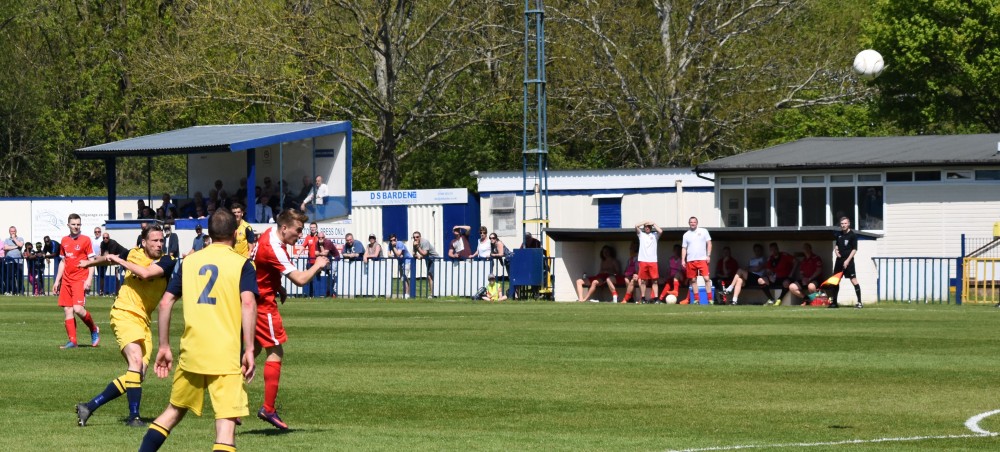 SUBLIME: Whitstable Town striker Ricky Freeman (left,yellow), smacks a sublime volley into the top far corner of the net from 30-yards to win the game, scoring his 20th goal of the season.
Photo: Alan Coomes

"Just tops of a great season that we've had to be fair. Everyone sort of doubted us. We've got a small squad but to win two cups and get promoted, in my eyes, that's the treble and it's just fantastic!

"I didn't think I was fantastic but to be fair I'm not going to blow my own trumpet but it was a great goal!

"I was watching some great goals yesterday and it remembered me a bit about Zidane in the Champions League Final. It just came down and I got a bit lucky, struck through it and luckily for me it nestled in the top corner!

"After scoring it was a lot of mixed emptions. I wanted to go crazy but it was still early in the second half so I knew we had to see it out, ride it out."

When asked how his goal rate among his other goals that he's scored, Freeman admitted: "It's up there, it's definitely up there. With it being a final it's the best goal I've scored, so I'm very, very happy with that!"

Tunbridge Wells: Cameron Hall, Alexx Kendall, Greg Skinner, Tommy Lawrence (Gianfranco Mici 82), Perry Spackman, Drew Crush, Jon Pilbeam, Jonathan Shea, Jarred Tresparderne (Josh Biddlecombe 63), Jack Harris, Josh Stanford.
Subs: Jake Hampson, Ollie Cooke, Alfie Hall

Booked: Jarred Trespaderne 28, Drew Crush 90

Whitstable Town: Dan Eason, John Walker, Josh Burchell, Tom Bryant, Teddy Nelson, Stuart West, Chris Saunders (Louis Sprosen 72), Macauley Murray, Ricky Freeman, Danny Williams (Shaun Welford 80), James Morrish (Charlie Smith 76).
Subs: Craig Cloke, Dean Ruddy

Goal: Ricky Freeman 66

Booked: Stuart West 45, Tom Bryant 77, Louis Sprosen 81, Ricky Freeman 90

Attendance: 749
Referee: Mr Valentine Anekwe (Bromley)
Assistants: Mr Jerry Annandale (Tonbridge) & Mr Steve Roots (Tunbridge Wells)
Fourth Official: Mr Matthew Pollington (Paddock Wood)

Coverage Sponsored by: