Tonbridge Angels is a family, community-based club and I sincerely hope that they go on and enjoy a successful season in Junior's name
Sunday 12th July 2015
The club staff, footballers and supporters of Tonbridge Angels and Gillingham must be praised in the manner that they handled yesterday's Tribute Match for Junior Dian.
May I once more send our condolences to the family and the people who knew the 24-year-old from Ilford, Essex (pictured below, taken from the GoFundMe fundraising website), whose life was tragically cut short playing a game of football, for Tonbridge Angels at Whyteleafe last Tuesday night.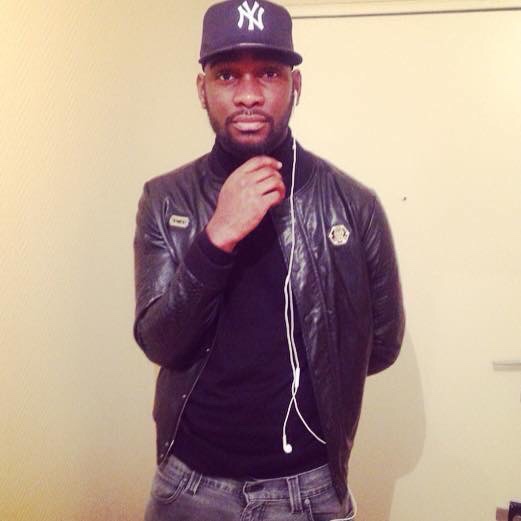 After a tough four days, I have decided to start a campaign of action today, to improve medical facilities at every non-league football club – to ensure that we don't lose another Paul Sykes (who died on the pitch playing for Folkestone Invicta against Margate in a Kent Senior Cup Semi-Final ten years' ago) or Junior Dian.

Those that travelled to Church Road last Tuesday did so to watch Tonbridge Angels – we didn't expect a young man to lose his life playing the game that we all love with a passion.

Watching the two club's phsyios (Melvin Slight of Tonbridge and Bob Hempstead of Whyeleafe) battle to save a young footballer's life on a pitch will haunt everybody that was there that night and the pair should be awarded for showing such bravery.

But why was a piece of equipment (a defibrillator) that could save the young man's life locked away in a cupboard and someone was sent to go and find the key?

Seconds – not minutes – count in these situations and I would like to see the following action:

Paramedics – paid for by The Premier League/The FA/County FA's and not the clubs – to be at every non-league football match.

Defibrillators and stretchers to be positioned as close to the pitch and ready for use at an instant. These items to be paid for by The Premier League/The FA/County FA's – not by the clubs.

Regular First Aid Training to be given to club staff, coaches and managers at every level of the game.

I've covered Kent Invicta/Kent County League games when a man hobbles on to the pitch and threats the injured player by spraying water from a water bottle – this has to stop!

Every single player expected to take part in a pre-season fixture must have their full name listed on a team-sheet handed to the referee before the game and distributed to those that require it, just like a league or cup game. Players should no longer be listed as "Trialist," or just "Josh, I don't know his name." Players should also wear the shirt number that they are allocated on that team-sheet.

The Premier League – soon to be boosted with a £5.1bn prize from television – should fund medicals for all semi-professional footballers at their nearest Premier League or Football League club. If they find a problem with a player, then they can't play!

Tracey Crouch, the MP for Chatham and Aylesford and sports minister told MP's in Westminster, "I know in Italy, for example, they screen all athletes, amateur and professionals, for heart conditions and this has resulted in a drop in the death rate of 89% since it was introduced.

"It's an important area and once I'll be looking at in some detail in the forthcoming sports strategy."

The nearest ambulance station to Whyteleafe's ground is at Caterham, which is 1.9 miles away.

A question that has been on everybody's minds is, why did it take at least 20 minutes for paramedics to arrive on the scene?

The South East Coast Ambulance Service (SECAMB) dealt with the incident on Tuesday night.

On SECAMB's website it says: "During 2013/14, we received 862,466 emergency calls from members of the public or other healthcare professionals – 5863 of the calls were categorised as immediately life-threatening (Category A emergency calls).

"We reached 76.8% of these patients within EIGHT MINUTES."

A spokesman said: "We were very busy when we received this call and diverted vehicles from lower priority calls to attend.

"CPR instructions were also provided to those at the scene and a defibrillator was collected and used prior to our arrival. Our crews continued the CPR and this also continued en route to St George's Hospital - (in Tooting, 12.7 miles away and according to The AA webiste it takes 32 minutes).

"Our first vehicles arrived on scene shortly before 9.40Pm, 20 minutes after we received the call.

"We are sorry for this delay.

"We were called at 9.20pm to Whyteleafe F.C. grounds in Church Road to reports a man in his 20s had collapsed while playing football. We sent two ambulances, an ambulance car and one air ambulance road vehicle. The cause of death has yet to be determined.

"The patient was taken in by road. Resuscitation attempts were made at the scene and en route to St George's Hospital and he was taken into hospital in a life-threatening condition.

"We prioritise very serious calls and would have been on the scene as quickly as possible."

Those that were at Church Road have shed many a tear since Tuesday night – I described it as my worst moment in football.

It took a lot of soul-searching to attend yesterday's game and the post-match interview with manager Steve McKimm was the hardest one yet. I had to hold back the tears as we spoke about the pre-match ceremony and when I asked Steve whether he would like to talk about the match, he replied: Yes, by all means mate."

The Angels boss must be praised with the way that he has handled the devastating situation – as well as his bravehearted players. It must have been hard to play a game of football after what they witnessed with one of their team-mates.

For the first time in our lives a football match just seemed irrelevant, but Tonbridge Angels played well against Gillingham and lost 2-1.

Tonbridge Angels is a family, community-based club and I sincerely hope that they go on and enjoy a successful season in Junior's name.

Club chaplain, Neil Durling, read out a poem before the match during the pre-match ceremony, which also included Gillingham captain Cody McDonald and friends of the player, Tonbridge captain Jerrome Sobers and right-back James Folkes lay wreaths and their team-mates also paying their own respects.

Mr Durling is offering counselling and he can be contacted by emailing neil.durling@bgbc.co.uk or calling him on 07891 859 309.
The tear-jerking poem was written by a Tonbridge Angels fan, who goes by the name of "Frixo."

"I never met Junior Dian, never saw him play
I was not down at Whyteleafe on that fateful, sorry day
There on social media is a bright, athletic man
Sharp and cool, and full of fun, the whole world in his hands
Loving playing football, winning with his mates
Looking for the opening to make his first big break
A bright start with much promise, so those who saw him say
By some tiny unseen hand cruelly snatched away
I mourn a young man's passing and can barely guess the pain
Of family and friends never seeing him again
But as the seasons pass and time softens the hurt
I'll never forget that Junior died in a Tonbridge Angels shirt
God Bless You
Rest in Peace"

Rest in Peace young man.