Soccer Shorts: We've said all along that we'd give the lads that won the league for us a chance to see what they can achieve in the Premier Division and by and large we're going to do that, says Folkestone Invicta boss Neil Cugley
Thursday 11th August 2016
Here are tonight's Soccer Shorts articles.
CHATHAM TOWN boss Tony Beckingham says he has high hopes for his first game in charge of the club on Saturday, a trip to Three Bridges on the opening day of the Ryman League Division One South season.

"Well, that's another pre-season done and dusted and I along with everyone else will be happy to see the back of it," Beckingham told www.chathamtownfc.info.

"Not that it hasn't been an enjoyable experience but you can't beat competitive games for giving you a buzz!

"The whole player merry go round is probably the worst aspect for me but finally we are there in terms of personnel, although, if one or two players became available who could add quality at the right price then we would have to consider adding them to the squad.

"We have managed to keep hold of a good number of last season's squad and I'm particularly delighted that Liam Hickey has decided to stay at the club after numerous suitors came calling. He will be the bedrock that the rest of the side will be built around.

"We have an exciting set of forwards who we believe will cause problems for opposition defences but they can only do that if we can keep clean sheets at the other end."

"I have high hopes for the young players and they will play a big part in our season. People like Austin Edwards, Josh Bray and Josh Gibson, who featured last year in the first team, will be joined by some exciting new additions from our under 21 squad, which is currently being assembled by Luke Medley and Adam Groom.

"I would like to take this opportunity to thank all of the sponsors and volunteers who work so hard behind the scenes and without whom we would not be able to operate as a club. Let's hope for an exciting and successful season for all Chatham Town team's and supporters."
DARTFORD have confirmed that Elliot Bradbrook's injury against Wealdstone last Saturday is not as bad as first feared.

A statement from the Vanarama National League South club said: "It has now been diagnosed as ankle ligament damage and he will be out for a minimum of two weeks and will be regularly assessed by the medical team throughout this period."

DEAL TOWN boss Derek Hares takes his side to Cray Valley to open their Southern Counties East Football League campaign after finishing in ninth-place on 50 points last time out.

"Our squad is not too different from last season, just a couple of additions," said Hares.

"Our aim is to improve on last season, which was a good one for us with a good run in The FA Cup and our highest finish in the league for some time with over 50 points.

"We travel to Cray Valley in our first league game and let's see how we go. There are no easy games in this league so we know what to expect."

DOVER ATHLETIC have completed the signing of striker Ross Lafayette, 30, following his departure from their Vanarama National League rivals Eastleigh.

FOLKESTONE INVICTA have signed former Queens Park Rangers striker Ben Pattie, 20, initially on a short-term basis.

"Ben came down and trained with us. He's not really done too much pre-season training because of a broken hand but I'm sure that he will play some part against Harrow," Cugley told www.folkestoneinvictafc.co.uk.

Looking ahead to their Ryman Premier League return, when Harrow Borough visit Cheriton Road on Saturday, Cugley added: "Harrow have done well to stay in the Premier Division all the while that we've been out of it. We know a fair bit about most of their players.

"And Staines (who Folkestone visit next Tuesday) will, I believe, do better than they did last season. They've got a good set-up and a really nice ground up there.

"I'm really excited about getting started now," added Cugley.

"We've said all along that we'd give the lads that won the league for us a chance to see what they can achieve in the Premier Division and by and large we're going to do that.

"But we are still talking to a couple more players and may bring someone else in within the next week or two. You've always got to have a Plan B, but as long as we do okay in these first few weeks, let's hope that we don't have to come up with Plan C as well!"
GREENWICH BOROUGH play their first ever Ryman League Division One South game when they travel to last season's runners-up Dorking Wanderers on the opening day.

Gary Alexander guided the club to the Southern Counties East Football League title last season and hopes are high that they will be challenging for promotion in their new surroundings.

Dorking Wanderers finished runners-up to Folkestone Invicta last season but they suffered a 2-1 home defeat to Faversham Town in the Play-Off Semi-Final, thanks to Charley Robertson's dramatic 89th minute winner.

"Looking forward to getting started now at Dorking Wanderers," said Alexander.

"Dorking Wanderers are many people's favourites to win the league, so it will be a great test for us to start and see where we are at as a team.

"The season ahead is one every one of us is looking forward to, being the first time we have ever played as a club in the Ryman League, so it's new to us and if we can cause a few upsets in terms of results then great, who knows where it could lead us.

"My squad have worked hard all pre-season. I've got a good mixture of youth and experience so I'm very happy.

"Now it's time for them to cross the white line and perform."

PHOENIX SPORTS boss Steve O'Boyle has signed former Hastings United striker Billy Medlock (below).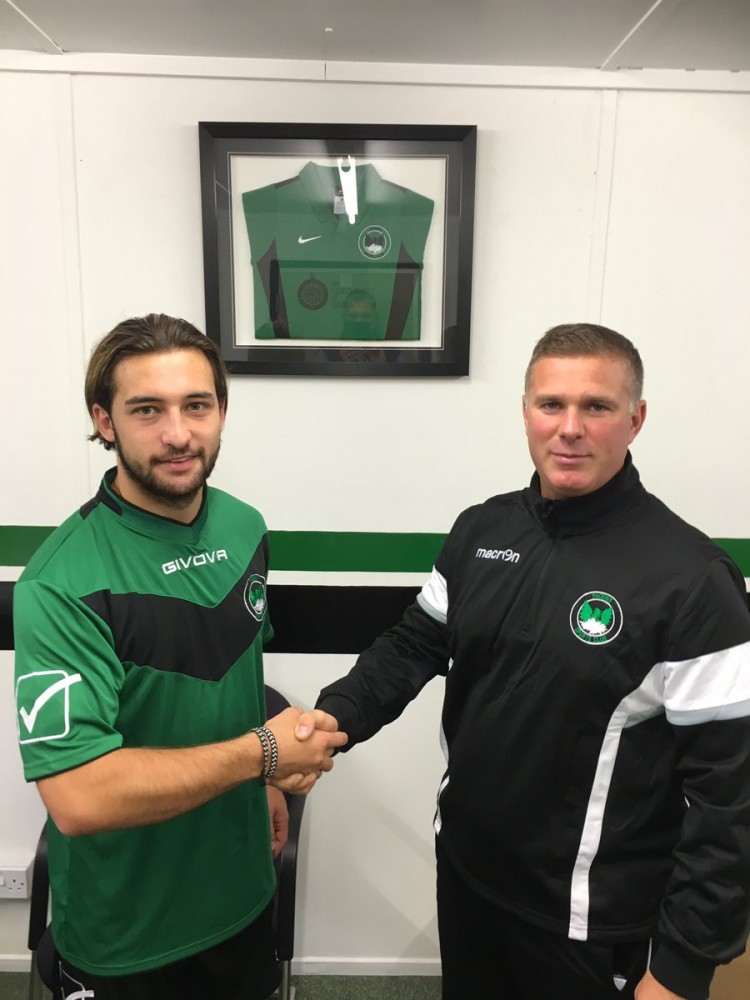 THAMESMEAD TOWN boss Tommy Warrilow has signed commanding centre half Lewis Knight ahead of Saturday's Ryman League Division One North opener against Heybridge Swifts at Bayliss Avenue.

"Lewis has spent pre-season with a side higher up, but for whatever reason it didn't work out," Warrilow told www.thamesmeadtownfc.com.

"When I found out, given our problems in the position with Joe Vines missing most of August through suspension, I jumped at the chance and delighted to welcome him to the club."

TONBRIDGE ANGELS welcome Wingate & Finchley to Longmead Stadium on the opening day of the Ryman Premier League season on Saturday.

McKimm finished fifth-from-bottom in his first season in charge of the club, but finished fourth last season and suffered a 2-0 defeat at East Thurrock United in the play-off semi-finals. The Essex side were promoted to Vanarama National League South for the first time after stunning Dulwich Hamlet 3-1 in the Final.

Angels boss Steve McKimm said: "Looking forward to a difficult campaign. Our four additions have added strength and competition to the squad. You always look to better yourselves so we look to do better than last season."

FISHER have announced that the club's opening Southern Counties East Football League game of the season against Rochester United on Saturday will feature reduced prices for any season ticket holders of the 92 League clubs.

The Fish are keen to draw a good crowd for the first competitive league fixture at St Paul's and are offering a £2 admission on all matchday prices on production of a season ticket from any Premier League, Championship, League One or League Two club.

"What better way to celebrate the start of the new season if your team are away from home, or indeed if you are visiting London for the weekend and in need of your football fix whilst in the capital," said a club spokesman.

With this reduction, prices will be just £5 (adults) and £2 (concessions), with any accompanied under 16s free.

"The game against Rochester United not only marks the first competitive fixture at St Paul's after our 12 year swim home, it is also Gary Abbott's first competitive match since re-joining Fisher last week.

"Fans will also be able to join as Members on the day for just £10, becoming a part owner of the club and supporting a truly community focused club.

"Fisher FC is a democratic, entirely not-for-profit organisation, all income raised will be returned to making the Fish the heart of the local community."

The club was founded in 2009 following the winding-up of Conference South club Fisher Athletic.

In 2013 the club unveiled proposals for a new community football facility at St Paul's playing fields site, just over the road from Fisher Athletic's old Surrey Docks Stadium on Salter Road.

Working with new Surrey Docks Stadium freehold owners Fairview Homes on a scheme to redevelop both sites together and bring Fisher home. In the summer of 2014 Southwark's Council's Planning Committee unanimously approved plans for the new developments at the two sites at Salter Road, bringing a return to Rotherhithe within reach a decade with Fisher Athletic's former owners uprooted the club to East Dulwich.
CASEBUILDER SYSTEMS are a Kent based specialist investigators who operate throughout the UK and deal in civil and criminal investigations, fraud detection, forensics, surveillance and application and CV background verification.

Trevor Kennett, who is the Director of Investigations, would like to hear from Kent non-league clubs who are looking for a new sponsor.

He said: "We believe that as a successful organisation we should take our social responsibility very seriously....so we do. Our business approach is to contribute to sustainable development in Kent by delivering economic, social and environmental benefits for all stakeholders through local sport."

Mr Kennett added: "We are delighted to be able to sponsor Kentish Football for the brilliant work Stephen does throughout Kent reporting and promoting local non-league football.

"We are looking for a local Kent non-league football team to also support and sponsor, so if you are interested follow us on twitter and visit our website to get in touch."

Mr Kennett can be contacted by calling him on 07749 755 396, email trevor.kennett@casebuildersys.com or by visiting www.casebuildersys.com.

Meanwhile, if your company would like to sponsor www.kentishfootball.co.uk please contact Stephen McCartney, who runs the website on his own, by email stephen@mccartney2000.fsnet.co.uk with the subject header Kentish Football Sponsorship.

Article updated: 20:20 – 11 August 2016