I cannot wait to start my incredible American journey, says Sidney Warden
Wednesday 13th June 2018
A CRAYFORD based footballer says he cannot wait to start his incredible journey in America.


Sidney Warden, 18, was dual-registered with Margate of the Bostik Premier Division and Southern Counties East Football League Premier Division side Erith Town last season.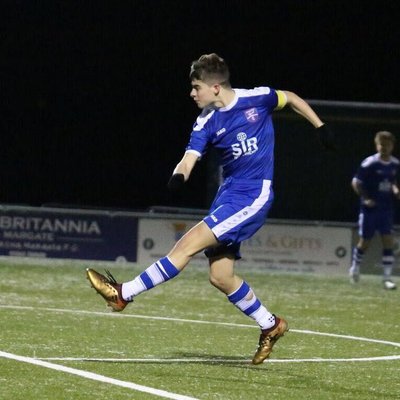 Sidney Warden has secured a scholarship in America
Photo: Margate FC

His father, Timmy, was with Margate as under 23 coach last season and was Adam Woodward's number two at Erith Town last season.

Warden senior left Erith Town during the summer to take up a fitness coach role at Margate, who now have Mike Sandmann and Steve Brown in joint-charge at Hartsdown Park after Steven Watt took up an assistant managers role at Maidstone United.

"Playing for Erith Town enabled me to step-up into men's football and I cannot thank Adam Woodward enough for the chances he gave me, not only at Erith but also the previous season where we won the Southern Counties East Football League First Division title at Glebe," said attacker Warden.

"It was an easy decision for me to join them because I was comfortable with the staff going in and some of the players that had signed before me. Players like James Day really helped me out and gave me some great advice making the step-up.
"At Margate I went in at the under 23's with Jay Stubberfield initially and it allowed me to continue developing as a player with other players my age.

"It gave me a good opportunity especially training with the first team later in the season.

"Winning the champion of champions cup with the under 23's, finishing top goalscorer and then capping it all off by making my first team debut in front of over 1,000 fans at Dulwich Hamlet really signed off a great season at Margate. The fan base and general atmosphere at the club is very exciting for a young player and the experience was brilliant.

"My dad has been an instrumental part in my football development from the age of six or seven doing pre-pre-season over the park where I live, with other players, to even now with him helping me prepare for America, I can't describe how helpful and brilliant he has been."

Warden, who was released by Southend United as a youngster, has re-built his career in non-league football and is now ready to make the giant step to play and study across the pond.

"When I was about 15 I signed with the Pass4Soccer agency who help young players gain scholarships to American Universities and when I was released by Southend United I knew that was the route I wanted to go," explained Warden.

"It's a great life experience and opportunity. I also need to thank Tom Nutter who was at Pass4Soccer when I first signed and then left to start his own scholarship agency as he played a major part in me signing for Francis Marion.

"I have signed for Francis Marion University, where I'm going to be completing a major in finance, whilst playing football in the NCAA Division Two and the Peach Belt Conference. As an 18-year-old being offered the opportunity is amazing and I cannot wait to start this incredible journey.

"I don't know what the future holds after America. I just want to concentrate on the next few years and see what that brings.

"I would also like to mention Adam Daniel, who has been my personal trainer during the last couple of years. He has helped me develop as a player just as much as Margate and Erith Town. He really knows his stuff and offers great advice not only for my time in England but also in terms of preparation to go to America."

Article published: 21:00 – Wednesday 13 June 2018