Sheppey United 1-2 Whitstable Town - Hopefully this gives us more momentum to keep going to what we're trying to achieve, says proud Whitstable Town boss Scott Porter
Sunday 08th April 2018
Sheppey United

1 – 2

Whitstable Town

Location
Gallagher Stadium, James Whatman Way, Maidstone, Kent ME14 1LQ
Kickoff
08/04/2018 14:00
SHEPPEY UNITED 1-2 WHITSTABLE TOWN
(after extra time)
Kent Reliance Senior Trophy Final
Sunday 8 April 2018
Stephen McCartney reports from James Whatman Way

WHITSTABLE TOWN boss Scott Porter says his side won the Kent Reliance Senior Trophy the hard way.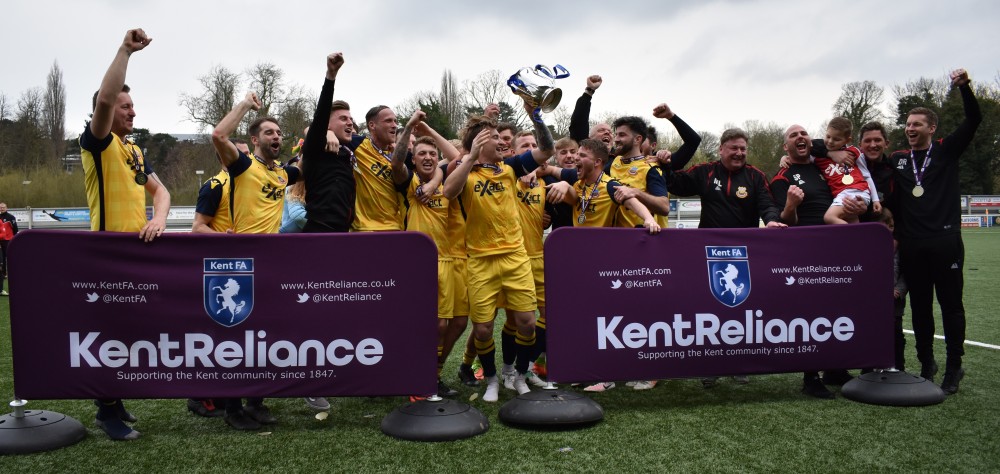 Whitstable Town celebrate winning the Kent Reliance
Senior Trophy for the third time.
Photo: Alan Coomes

The Oystermen claimed the silverware for the third time in their history after beating Sheppey United 2-1 after extra time in front of 917 fans in Maidstone.

Sheppey United defeated West Wickham (3-1); Lordswood (3-0); Tunbridge Wells (3-0) and Canterbury City (3-1) to reach their third Cup Final in three seasons, having beaten Ashford United on penalties (after a goal-less draw) in the Kent Reliance Senior Trophy Final two seasons ago and were beaten 2-0 by Sevenoaks Town in the Challenge Cup Final last season.

The Ites went into the game sitting in a disappointing fourteenth-place in the Southern Counties East Football League Premier Division table with 39 points with six games left.

Whitstable Town, meanwhile, defeated Corinthian (5-0); FC Elmstead (3-2); Stansfeld (2-0); Erith Town (2-0) and Cray Valley (1-0) to reach the Final and slipped down to third-place in the table with 59 points from 28 games.

Sheppey United were the better footballing side against a Whitstable Town outfit that ensured the ball stayed in the air for the 120 minutes through their uninspiring direct style.

The Ites deserved their lead when targetman Omari Delgardo-Hibbert – who played 24 minutes for Greenwich Borough yesterday – kept composed to score from the penalty spot a couple of minutes before half-time.

Whitstable Town grabbed an equaliser in the 66th minute when left-wing-back Josh Burchell leathered a stunning volley into the roof of the net and Tom Bryant came up from the back to head in the winner early in the first period of extra-time to win it for Porter's side.

Porter has now gone down in history as a manager who has won the Kent Senior Cup (for Hythe Town in 2012) and Kent Senior Trophy.

"Proud, especially with the players," said Porter, who extended his side's unbeaten run to an impressive 19 games.

"The first half was not good enough but the quality of energy, passion, desire gets us through games and you saw it there today. It's a proud moment for myself. It's just not about me, it's about everyone involved at Whitstable Town Football Club for the people upstairs, all the way through, because they put everything into this club and hopefully we're getting it back to where it should be.

"It's a very proud moment for myself and I'm proud of my players, proud of my staff and proud of the football club."

Sheppey United manager Ernie Batten said: "It was a game of two halves. I thought first half, the last 25-30 minutes of that, I thought we played extremely well. We started getting the ball down and passing it and created two or three very good chances and one golden opportunity where Remell Davis' hit the post.

"I thought we were very good value for our half-time lead. It could've been two. Cup Finals sometimes are a little bit like that. If you don't take your chances they can come back and bite you a little bit!"

Whitstable Town, who played with three solid defenders at the back, two wing-backs, three men in the middle and two up top, created the first real opening inside the opening 12 minutes.

Chris Saunders danced down the left, cut inside and played the ball inside to recalled striker Ricky Freeman, who drilled his left-footed angled drive from 30-yards, which screamed towards the top far corner, forcing goalkeeper Joshua Glover to fly to his left to hold on to the shot.

Porter said: "We was awful first half, it's not how we play, not how we do things and to be fair they got a rollicking at half-time and we got back in the game. We done it the hard way!

"To be fair, it's that far back mate, the emotions and everything, picking up things like that I can't really remember it to be honest with you, I really can't!"

Batten, meanwhile, did remember the save and said: "Josh has been very good. He's been improving all the time and he's a very good goalkeeper at this level and I think he's going to get better."

Sheppey United then enjoyed a good spell of possession and winger Hicham Akhazzan rolled the ball out to striker Remell Davis, who cut the ball back to Luke Girt and left-back Darren Cooper then floated in a deep cross where winger Timmy Babbington's ambitious overhead kick from 10-yards flashed past the post.

Porter felt his side should have opened the scoring halfway through the first half when Macauley Murray swung in their first corner and Bryant rose above team-mate Shaun Welford to plant his header into the top right-hand corner from six-yards, only for referee Matt Pollington to rule the goal out for a foul.

Porter said: "The goal shouldn't be disallowed and we should've had a penalty and they got up the other end and get a penalty. We got what we deserved first half, we were poor, very poor!"

Sheppey United twice went agonisingly close to taking the lead in the 35th minute.

Physically strong unit Delgardo-Hibbert ran the right channel and drilled an angled left-footed drive from 30-yards, which bounced off the chest of goalkeeper Dan Eason.

Sheppey United had a second bite of the cherry but Davis lacked composure and smashed his right-footed shot from 16-yards across the keeper, and looked on in disappointment as the ball bounced off the inside of the far post and rolled along the goal-line before being cleared.

Batten said: "They're big moments in cup finals, and I think if Remell put that in, I think if you give him that chance another eight times he just rolls that in and it goes in but he's saying it hit the V. There's a little V on those 3G goals and he thinks it's gone in but at the end of the day he will say that. It didn't. It came out!"

Sheppey United produced a slick move when Girt played the ball into Delgardo-Hibbert's feet and Davis played an intelligent inside pass from the centre to Akhazzan, who took a touch before curling his right-footed shot towards the top far corner from 20-yards, only for Eason to fly high to his left to tip behind for a corner.

"Trying to cast my mind back to these chances, now you remind me of them which doesn't make me feel too good," admitted Batten.

"But chances come and go and if that one goes in, it's a little cushion there and we're in a good half-time lead."

Sheppey United deservedly scored following the resulting corner, the goal timed at 42 minutes and 48 seconds on the clock.

Akhazzan swung in their first corner, from the right and referee Pollington pointed to the spot after seeing Bryant push Jono Richardson in the box.

Delgardo-Hibbert had an unusual penalty routine. He stood with his hands on his hips with his back to goal before turning and touching the ball before stepping back and stepping up to drill his left-footed penalty sweetly into the bottom left-hand corner, sending Eason the wrong way.

Batten said: "He took the penalty really well, struck it home and gave us that advantage at half-time. I was pleased with that passage of play there, we deserved a goal."

Porter added: "He (Bryant) had his eye on the ball, I don't think it was a foul but the ref didn't give us 50-50s today, we didn't get the rub of the green but that's what it is. They put it away. I wanted to get them in at half-time, 1-0 down, so I could get my point across."

Sheppey United went close following their second corner. Akhazzan's corner was knocked back towards goal by Richardson and Delgardo-Hibbert tried to score with an overhead kick at the far post and Eason bravely pounced on the ball within a goal-line scramble.

Sheppey United deserved their half-time lead and Porter revealed he gave his players the hairdryer treatment inside the away dressing room.

He said: "Very loud, very vocal and they got a rollicking basically! It wasn't how we play first half, the biggest showpiece of the season and we didn't give a good account of ourselves. We made it easy for them and we didn't play to our strengths so yes they got it – but we reacted!"

Batten admitted half-time came at the wrong time for his side.

"It was a shame we couldn't carry on and not have the break. You go in at half-time and you think we've done ever so well. It's only 1-0, they're a stronger outfit. We've got to go and do exactly the same in the second half. We can't sit back, we've got to go and get another goal. We've got to get the next goal and just focused on that and keep doing what we're doing."

Whitstable Town set the tone as another long ball was played into the box, Welford knocked the ball down and Walker drilled his right-footed shot into the side netting after only 33 seconds.

Ernie Batten felt his side should have doubled their lead in the 55th minute when Delgardo-Hibbert charged through Whitstable's back-line to reach the penalty area only to place his shot across Eason and past the far post from 15-yards.

He said: "I think that was a massive moment. Omari's done ever so well there to get himself in the box. He's teed it up on his left-foot and from my angle I thought Dan came near post a little bit so I think he gave him a lot of the goal to aim at and he's just skewed it wide and another massive moment. I think if we go 2-0 up there we really are on our way."

Babbington went on a 60-yard run, bursting past Burchell, skipping past Rob Gilman's outstretched left leg in midfield before charging down the right wing only to run out of steam and seeing his cross being headed behind for a corner by Bryant.

It was clear that Sheppey United ran out of steam after the hour-mark as Whitstable's long-ball game took its toll on them.

Murray swung in a free-kick from the right and substitute Danny Williams (who came on for Welford) looped his header over the crossbar from 14-yards.

Murray then swung in a second free-kick almost immediately but Stuart West ghosted in to shoulder his attempt past the far post from eight-yards.

Whitstable Town grabbed a stunning equaliser, timed at 20 minutes and 26 seconds on the clock, against the run of play.

Right wing-back Walker advanced down the line to deliver a deep cross, which wasn't cleared at the far post by Rob Saunders nor Tom Brunt and the ball sat up nicely for Burchell to thrash a beauty, left-footed high into the roof of the net from 12-yards.

Porter said: "It was a great strike!. It got us back in the game to be fair because we wasn't in the game still but it was a great goal, good enough for a Cup Final and it got us going again.

"We had a couple more chances after that. It was a good move and that's what we're good at."

Batten added: "They're capable of that. They put the ball in the box, they started to put a number of balls into our box and it's a fantastic strike! It came down and sat up for him and it's a great finish!"

When asked how he was feeling at the time, Batten urged his tiring players to keep playing.

"Just carry on, try to get over the disappointment of conceding and you've got to keep to your beliefs and try to keep playing and hope you can get the next goal."

Delgardo-Hibbert, who was tiring, drove through the heart of the pitch but dragged his low left-footed shot around six-yards wide from 30-yards.

A long ball was chased down the channel by Chris Saunders, who cut inside and his intended square pass to Williams was cut out by Joshua Glover at the near post at the other end.

Sheppey United's left-back Cooper reached the by-line and wrapped his foot around the ball but Richardson's far post flicked shot was gathered by Eason as he stepped to his left. The Whitstable keeper's handling was of a high standard.

Finally, it took Whitstable a good 79 minutes to create a chance with nice football on the deck.

Walker played a long pass along the deck to release Freeman down the right and he cut the ball back to an unmarked Chris Saunders, who swept his right-footed shot across the keeper and past the far post from 12-yards.

"We get it down the flanks and get balls into the box so it was disappointing because Saunders had a couple of chances today because he gets into little pockets," said Porter.

"You think it's going to run away with you but we just plugging and kept going."

Batten added: "The game in the last period started to stretch a little bit and I think there were opportunities for both sides to break on the counter and that was one of them."

The Oystermen finished normal time on the front foot and they could have won it in the 85th minute.

Murray, who was only noticed when taking set-pieces as midfield was often by-passed, swung in a corner from the right and Bryant rose too early to plant his header over from four-yards.

Both managers were asked their thoughts going into extra-time.

"Just keep going, passion, heart and desire will get us through the game and keep doing the jobs," said Porter.

Batten added: "You've got to be able to stay in the game. You've got to be able to be patient and it's extra-time and we've tried to keep playing. I thought fatigue played a little part, I know it's the same for both sides."

Whitstable Town claimed the silverware just 94 seconds into extra-time, inevitably from a set-piece.

Murray swung in a corner from the left and Bryant powered his far post header towards the right-hand corner. Cooper was standing on the line couldn't prevent it creeping over the line and despite the efforts of Glover, Cooper and the post, assistant referee Jerry Annandale signalled that the ball had crossed the line.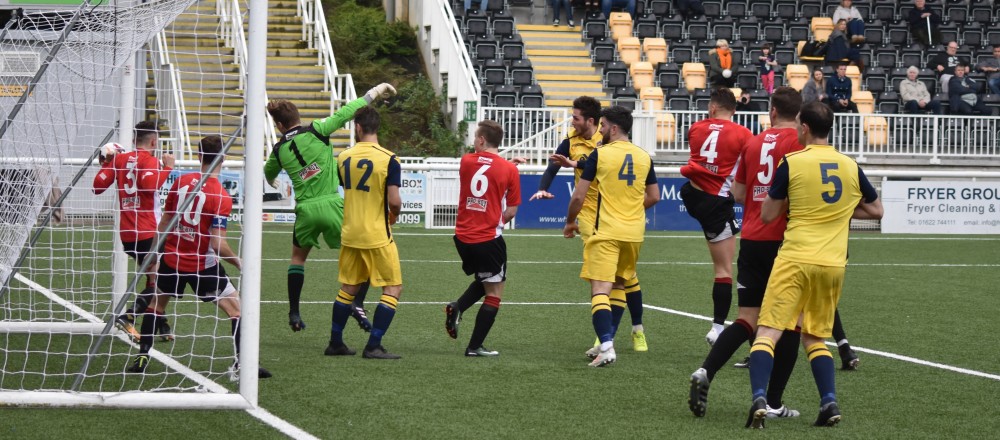 WINNER: Sheppey United's left-back Darren Cooper fails to stop Tom Bryant's header creaping over the line.
Photo: Alan Coomes

"We're good at set-pieces, we looked dangerous today but so did they to be fair but Tom Bryant has popped up with a goal and it was a good time to score the goal so it was pleasing," said Porter.

"Fair play to the linesman, he was brave because some people wouldn't do it. It was a great delivery, Macca's got that in his locker. He's got a great set-piece and Tom's got there in the end so it was a good header."

Going back to what caused the corner in the first place, Batten recalled: "The ball was knocked back and we had a free chance to clear it and it was sliced and it went out for a corner and we said about not making mistakes and giving them opportunities to get balls in the box and we started giving away free-kicks in dangerous areas and the corner was an error. We've had a chance to clear the ball, the balls sit up and we slice it and it goes behind. Whitstable don't do that, that's what they're great at, they don't make those areas. They're focused and concentrated at the back. I'm not criticising any of our lads because they all put a shift in today."

Richardson had a glorious chance to swiftly bring Sheppey back in the game but he glanced Akhazzan's corner from the right across goal and past the far post at the other end.

Ernie Batten explained why his 28-goal striker Dan Bradshaw was left on the bench until the 89th minute and he called Eason into making a save in the 100th minute.

Ian Batten swung in a free-kick some 30-yards from goal and with his back to goal Bradshaw looped his back-header towards the roof of the net only for Eason to tip the ball over, as Sheppey United upped their desire levels during the first period.

"I think he got too much contact on it, if he just glanced it a bit more, it could've gone in," said Batten, who then explained why his star striker started as a sub.

"Remel (Davis) was starting to feel his injury. We signed Omari earlier in the season and he was available for us and we needed him because Dan sort of tugged his hamstring in training on Thursday night and he was the last recognised forward who was fit so it's been one of those seasons."

Porter added: "Dan Eason's handling is top drawer and the one he spilt in the first half wasn't like Dan. He takes the pressure of everyone. He's been immense. Look at the amount of goals we've conceded (22 in 28 league games). I can't fault anyone really but first half I could because they were poor but second half and extra-time it was fantastic!"

Whitstable Town were to be denied a third goal inside the opening four minutes of the second period.

Substitute Charlie Smith played the ball into Freeman who hit a right-footed volley from 16-yards, which forced Glover to dive to his right to push behind for a corner.

Porter said: "Ricky's got that in his locker. I think we had quite a lot of chances in the end, especially at the end. We just wanted to get that extra one to take a bit more pressure off but it didn't happen."

Brunt whipped in a cross into the Whitstable box but Bradshaw's far post header was steered into Eason's hands as the keeper moved to his left.

Sheppey substitute winger Stefan Cox floated in a deep cross from the right but Babbington steered his header past the near post from 10-yards.

Delgardo-Hibbert's 22-yard curler was caught by Eason, who launched a big kick forward and Williams broke down the right to cut into the box and rolled the ball inside to substitute Louis Sprosen, who was denied by brave goalkeeping from Glover at the death.

Whitstable Town have 10 games left to play, starting with a home game against Glebe, Thursday's trip to promotion rivals Crowborough Athletic before a trip to relegation threatened Rusthall on Saturday.

And once the league season is finished, they travel to Tonbridge to play Tunbridge Wells in the Challenge Cup Final.

"It's just a proud moment for every single person relevant to this football club. We just stuck together, everyone worked hard and you don't win finals if you don't work hard but it's a proud moment for me, for the players, the football club and everyone involved, my family and it's one of three we want so we have to dust ourselves down and go again on Tuesday.

"We've got games, we knew they were coming so we'll enjoy tonight and I'll concentrate on Glebe in the morning. Hopefully this gives us more momentum to keep going to what we're trying to achieve."

On Sheppey's trip to Bearsted, Batten said: "I've got to pick all of the lads up for Tuesday. The lads who didn't start or get on today will be starting. The last six games we'll try to get as many points as we can and finish on a bit of a high."

Sheppey United: Joshua Glover, Tom Brunt, Darren Cooper, Ian Batten (George Batten 109), Jono Richardson, Rob Saunders (Stefan Cox 96), Timmy Babbington, Luke Girt, Omari Delgardo-Hibbert, Remell Davis (Dan Bradshaw 89), Hicham Akhazzan.
Subs: Kwasi Amoah, Lewis Clark

Goal: Omari Delgardo-Hibbert 43 (penalty)

Booked: Luke Girt 24, Hicham Akhazzan 120

Whitstable Town: Dan Eason, John Walker, Josh Burchell (Louis Sprosen 72), Tom Bryant, Rob Gilman, Stuart West, Chris Saunders, Macauley Murray, Ricky Freeman, Shaun Welford (Danny Williams 54), James Morrish (Charlie Smith 108).
Subs: Owen Fitt, Dean Ruddy

Goals: Josh Burchell 66, Tom Bryant 92

Booked: John Walker 32, Stuart West 52

Attendance: 917
Referee: Mr Matt Pollington (Paddock Wood)
Assistants: Mr Graham Scott (Gillingham) & Mr Jerry Annandale (Tonbridge)
Fourth Official: Mr Dan Proctor (Dartford)

Coverage Sponsored by: