Sheppey United boss Ernie Batten: I think it's set-up for a cracking final as the two sides have contrasting styles, which in previous meetings has resulted in exciting matches
Saturday 07th April 2018
SHEPPEY UNITED boss Ernie Batten says he wants his side to perform on the day and beat Whitstable Town to win the Kent Reliance Senior Trophy for the second time in three seasons.
The Ites have underperformed in the Southern Counties East Football League Premier Division this season and go into Sunday's showpiece final sitting in fourteenth-place in the table with 39 points on the board from their 32 league outings.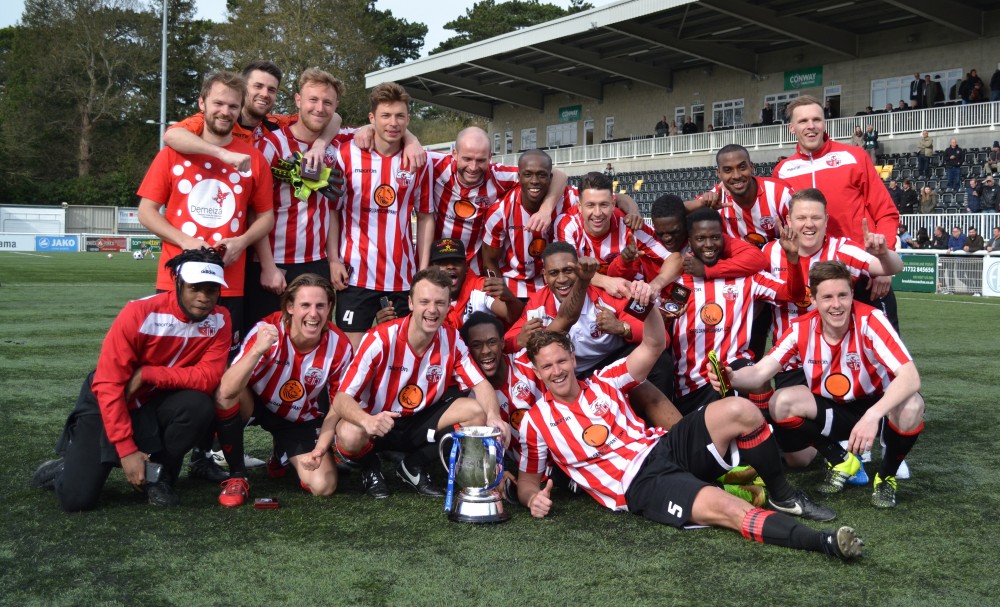 Sheppey United, then a Kent Invicta League club, celebrate
winning the Kent Reliance Senior Trophy for the first time
after beating Ashford United on penalties in April 2016.
Photo: Alan Coomes

Scott Porter's Whitstable, meanwhile, slipped down to third-place in the table on 59 points from 28 games after Crowborough Athletic moved three points clear of them after their 2-1 home win over Erith Town this afternoon. Sevenoaks Town beat Beckenham Town 4-2 to remain 10 points clear at the summit.

Batten was in Croydon's stand on Wednesday night to watch Whitstable Town claim a professional 2-0 win to extend their impressive unbeaten run to 18, going into tomorrow's Maidstone showdown.

"We're really looking forward to the Cup Final. It's going to be a very tough game as results this season prove Scott has turned Whitstable into a top SCEFL side," said Batten.

"We watched them midweek at Croydon and thought they gave a very solid organised display.

"I think it's set-up for a cracking final as the two sides have contrasting styles, which in previous meetings has resulted in exciting matches.

"Cup Finals are one-off games and we have the experience of appearing in one in each of the last three seasons so hopefully that will help us settle quickly."

Sheppey United claimed the Kent Reliance Senior Trophy for the first time after beating Ashford United 7-6 on penalties after a goal-less draw on 10 April 2016 but lost 2-0 to Sevenoaks Town in last season's Challenge Cup Final.

"Our plan is simple. We play our football and perform on the day. In addition we will have huge support from our fans, who will again turn up in their numbers. In my view these fans are some of the best in non-league football and become a 12th man at times," said Batten.

"It's another big day for the club and adds to the progress the club has made since reforming just over three seasons ago. The future plan is to take the club to the Bostik League but this has to be done within the clubs own financial ability to pay for and to sustain that status.

"The chairman (Matthew Smith) will not be swayed on this principle and along with the commercial manager (Paul Rogers) works extremely hard on the commercial side of things.

"The club own the freehold of the ground and doesn't owe anybody a bean. Next season will see the first under 18 Sheppey team and hopefully the conveyor belt of homegrown talent starts to come through. The future is very bright for Sheppey United and I am very proud to be the manager."

With such great resources, a sublime playing surface and a large fan-base, it would be fair to say Sheppey United should be doing much better in the League.

Batten explained: "Our league campaign this season has been incredibly frustrating as our main problem is that we have been dogged by constant injury problems. This has had a dramatic effect on our league form and resulted in us under achieving the targets that we set.

"However, we have six league games left and we aim to finish as high as possible."

Admission prices have been confirmed: £8 (adults), £5 (concessions) while under 5s can watch the game, which kicks off at 14:00, for free.
Visit Sheppey United's website: www.sheppeyunitedfc.co.uk

Sheppey United v Whitstable Town
Kent Reliance Senior Trophy Final
Sunday 8 April 2018
Kick Off 2:00pm
at James Whatman Way, Maidstone, Kent ME14 1LQ