Sevenoaks Town 2-0 Sheppey United - It's taken three years for us to prove to everyone that Sevenoaks is not an also-ran any more, says boss Micky Collins
Saturday 06th May 2017
Sevenoaks Town

2 – 0

Sheppey United

Location
Longmead Stadium, Darenth Avenue, Tonbridge, Kent TN10 3JF
Kickoff
06/05/2017 14:00
SEVENOAKS TOWN 2-0 SHEPPEY UNITED
Macron Southern Counties East Football League Challenge Cup Final
Saturday 6th May 2017
Stephen McCartney reports from Longmead Stadium

SEVENOAKS TOWN boss Micky Collins says it's taken him three years to prove to people that the club are no longer the also-rans in the league.

The Oaks enjoyed their best run in The FA Cup earlier on in the season by reaching the Second Qualifying Round, taking Southern Premier Leaguers Chesham United to a replay after Barry Hayles scored a last-gasp equaliser in the first game at Greatness Park, after Collins' men knocked out Ryman League Division One South sides Horsham and Lewes.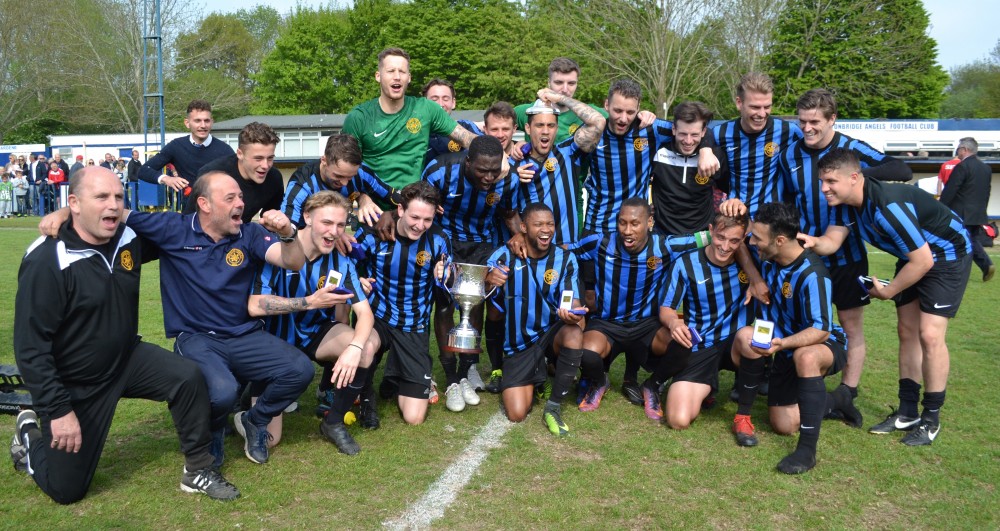 CUP WINNERS: Sevenoaks Town celebrate winning the Macron Southern Counties East Football League Challenge Cup
Photo: Alan Coomes

Sevenoaks Town completed their best ever league season in third-place in the
Southern Counties East Football League Premier Division table with 84 points from their 38 games, finishing eight points behind champions Ashford United and six behind Crowborough Athletic.

And today they capped it all off with a comfortable 2-0 win over sixth-placed finishers Sheppey United to win the Macron Southern Counties East Football League Challenge Cup for the first time.

A crowd of 744 flocked through the turnstiles at Longmead Stadium, the home of Ryman Premier Leaguers Tonbridge Angels to watch a dull game that Sevenoaks won through goals from Harrison Carnegie and Billy Bennett.

Sevenoaks Town won the Kent County League Premier Division title in 1992-93, 1995-96 and 2002-03, winning the Inter-Regional Challenge Cup in 1998 and 1999, while Sheppey United, who won promotion from the Kent Invicta League as runners-up to Bearsted last season, won the Kent Reliance Senior Trophy last April after beating Ashford United on penalties after a goal-less draw.

"Chuffed with that, really pleased with that. It makes all the hard work worth it. It's good. I thought we deserved it on the day. I thought we were the best team over the 90 minutes, took our chances and got what we deserved," said Collins.

"It's massive. It's massive for the club. It's massive for the kids. When you're at a club that's never won anything, it's amazing what it does and how it changes the whole dynamic of the football club. If you have a successful first team at any level all off a sudden everyone believes in it and you get more people watching and you get more people want to join.

"It's a massive achievement for us. You don't always get what you deserve in football but we've had such a great season. I would've hated it to come away with nothing this year. I'm chuffed for the boys, they've given me everything today, so great result."

Sheppey United manager Ernie Batten, who flies to Thailand for a month's long holiday on Monday, was bitterly disappointed with the outcome.

"Obviously when you lose a Cup you're always disappointed. We were really happy, we worked hard to get to the Cup Final and on the day we didn't perform to the levels that we have done in Cup games.

"I don't think we deserved to win today. Sevenoaks, I thought, we the stronger side defensively. We couldn't break them down but we had some good spells where we played some good football but unfortunately today it wasn't to be our day.

"Congratulations to Sevenoaks. They've built this side over a few seasons. I congratulate them and I wish Micky Collins all the best. It's hard to win a trophy. There's a lot of managers out there who have been doing it a long time, a lot of good managers and they've not picked up anything. You need a little bit of luck, you need things to go for you, you need to work hard at it so congratulations to them, I wish them all the best."

Sheppey United enjoyed a pre-match meal in a nearby hotel and only arrived at the stadium 60 minutes before kick-off.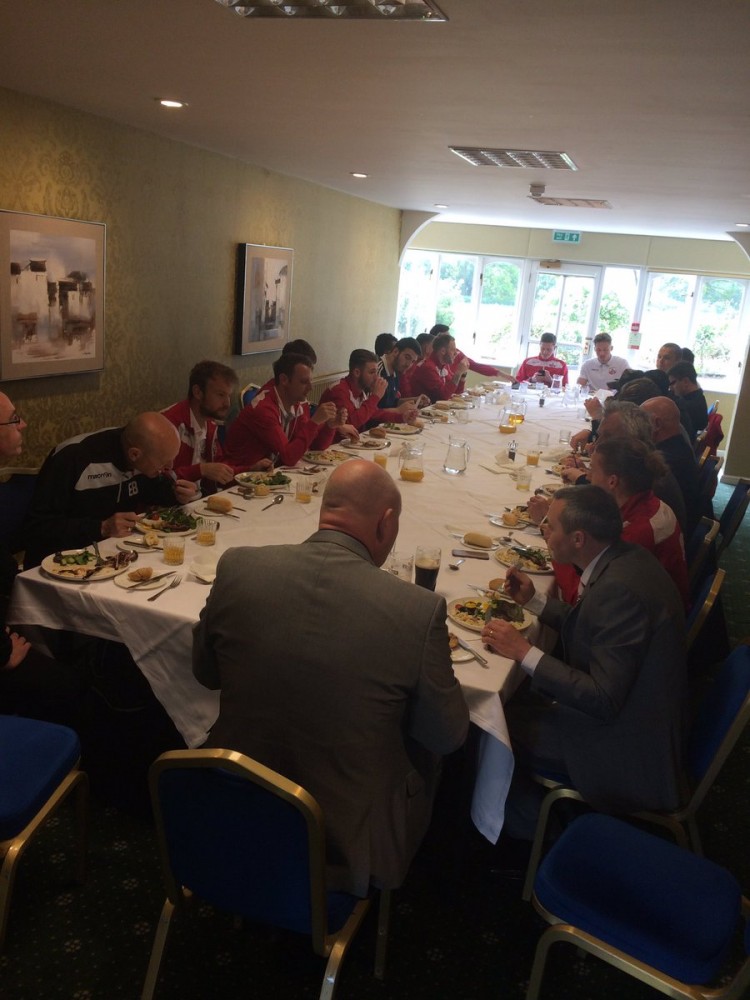 PRE-MATCH: Sheppey United players and management
enjoyed a pre-match meal at a neaby hotel before
losing 2-0 to Sevenoaks Town.
Photo: Sheppey United FC

Batten said: "It was fantastic. We've got this super-duper VIP bus that the chairman's (Matthew Smith) sorted out and we checked in at the Hadlow Manor Hotel for a pre-match meal. It's just the way this club wants to operate. The club wants to be as professional as we can. We're going to be a force in the future and this is still very early days for us but to achieve what we've done in a couple of years is incredible. A trophy last year, a Final this year and a sixth-placed finish. I don't think doing it the way we're trying to do it, not much could've been achieved. I think we've done very well."

Collins revealed his side treated the game like any other.

"We didn't change nothing. The only thing we changed was the way that we dressed, we came in a shirt and tie today to respect the Cup and the League. I've never changed stuff, there's no point. You're used to playing a certain way, you're used to turning up at games a certain way and I didn't change it because it's a Final.

"I've won it before and the team we beat they had a night out and before the game they changed their format and you don't do that. You just stick to what you know. These guys are semi-professional, they're at Step Five. They understand one way. Most of them go to work in the morning then come to a Cup Final, we didn't change anything."

Sheppey United forced three corners inside the opening minute, which left-back Karn Miller-Neave failed to beat the first man, before Sevenoaks Town went up the other end to open the scoring with their first attempt, with only 163 seconds on the clock.

Left-winger Kieron McCann played a low pass inside to Bennett, who swept the ball on the outside to Carnegie, who cut inside and hit his shot into the ground from 15-yards, bouncing underneath keeper Dean Warford, nestling into the bottom far corner of the net to score his 15th goal of the season.

"I felt a bit for the keeper, the pitch never helped him and he was a bit slow and we got the goal," said Collins.

"It was good football and that's what we've been doing all season. Great for Harrison because he's been out injured for ages and trying to get his fitness back and he always delivers when it comes to big games and he's done it again today.

"A great start, it took the pressure off us straight away. It's not 0-0, it's not cagey, we're one up and then we're in the ascendancy. I think 10-15 in then we dropped off it, started over-playing on a bad pitch."

Batten added: "Dean's obviously extremely disappointed with that. The thing is we didn't defend that from the throw-on. We weren't picking up properly. We allowed them to get the ball in to the box in the first place and Dean's very disappointed that he's allowed that one to go in."

Sevenoaks Town started the game on the front foot as Sheppey United struggled to shake off their pre-match meal.

Greg Benbow swung in his side's first corner from the right and Tom Ripley came up from the back to nod over from inside the six-yard box after a couple of headers from McCann and Bennett.

Joe Bingham then split open Sheppey United's right-back James Huggins to give McCann a chance to run and cut into the box only to curl his shot around the top of the far post.

Sheppey United keeper Warford, however, made amends by denying Sevenoaks Town a second goal inside the opening 16 minutes.

Benbow swung in a corner from the right and man-of-the-match Ripley made space at the near post by darting forward to loop his header towards the top far corner, which Warford moved high to his right to tip the ball onto the bar.

Collins said: "Great save, good save that was in, that was going in, looping in and Rips does that. He gets his head on things, he was unlucky."

Batten added: "Dean's a top goalkeeper, obviously disappointed with the first one but then Dean could pull off virtually world-class saves at times."

Both sides won six corners apiece with 28 minutes on the clock, but both defences were solid and Oaks keeper Rob French's handling was immaculate when Sheppey did deliver balls into the box. For the record, Sevenoaks won the corner count 8-7.

Batten said: "I think we had a few opportunities first half. I think we were in positions where we got the ball in a few times and they cleared it. We had a few corners and Rob French came and collected but we couldn't seem to create anything clear cut.

"They're very strong at the back. I think they've got the best defensive record in the league (conceding 35 goals) and we're not at our flowing best although I thought we did well in little spells. It was a struggle to break them down on the day."

McCann cut inside and played the ball inside to central midfielder Yacine Gnahore and he fed Bennett, who cut into the box to play in Bingham, but all he could do was sweep his shot past the near post from a tight angle on the half-hour-mark.

Sheppey United failed to deliver in front of goal. George Batten swung in quality free-kick from the left and striker Richard Atkins made space in the box to flick his shot past the near post – only for the offside flag to go up.

"I said to the guys before the game, the last two games you've had clean sheets and I wanted to go into the Final with momentum and organised and how we were and we've done that," said Collins.

"I think that's what seen us through it because we won't change that. We'll go out and play our normal game and you've got to play the conditions as well and it suited us."

Both Collins and Batten were asked their thoughts at the break.

Collins said: "I wasn't happy, I wasn't happy really. I had a proper moan. There were too many touches on the ball and too much showboating in the middle of the park and on that pitch you can't do that!

"I said to them, teams win things, not individuals, go out there and start playing as a team and see what we can bring home and they delivered for me."
Batten added: "I thought we were in the game. I thought we came on stronger for the last 20-25 minutes of that first half and I thought that if we came out in the second half and picked that performance up, that we could start to put them under pressure."

McCann released Byron Walker down the left who cut into the Sheppey box and from the by-line his cross flashed past Bennett at the near post and was put behind at the far post by Sheppey's left-back Miller-Neave.

But Sevenoaks Town were to be denied in the 62nd minute, courtesy of another brilliant save from Sheppey United's goalkeeper Warford.

Sheppey central defender Rob Saunders was booked after pushing Walker over on the right wing and Edwards floated in the resulting free-kick towards the near post where Ripley planted his header towards the roof of the net from 12-yards, Warford tipping the ball onto the bar, high to his left.

Collins said: "It's a great save, that's a great save because that's in, that's a fantastic header. He's got fingertips to that, that's an amazing save and that could've been game over then."

Batten added: "You can tell at the back they're very strong, head everything away, kick everything away and they're going to be a threat with their physical presence at set-pieces but I thought we coped quite well from it. I remember that chance but at a lot of times we managed to clear the ball as well."

Sheppey United created a chance just 140 seconds later.

Atkins hooked his diagonally hit half-volley out to winger Timmy Babbington, who did well to keep the ball in play, cut into the penalty area before hitting his right-footed curler around the top of the far post from 16-yards.

Batten said: "You're hoping it's going to curl into the far corner, aren't you as a manager and I've seen Tommy do that on a number of occasions this season where he cuts in and he curls it in and again on the day, not to be."

A satisfied Collins added: "We kept them to those sort of chances, which is what we wanted. We didn't want them in our box. They've got some good finishers. We've played them twice this year (winning both league games) so we knew what they were all about and they've got some good players and we kept them to minimal chances and I always knew we'd get one."

Sevenoaks Town wrapped up this uninspiring encounter with Bennett scoring his 23rd goal of a very impressive season.

Gnahore played the ball into Bennett's feet, who rolled the ball out to McCann on the left. He then played the ball inside back to Bingham, who slipped the ball through for Bennett, who cut into the box. He lost his footing on the bumpy surface but showed the desire to get back up to smash his right-footed shot past Warford into the bottom near corner from eight-yards.

Collins hailed the prolific number 10.

He said: "Determination that was desire. His dad (Ricky, who was in the crowd) had that in abundance and that's why he's scored so many goals and I said to him his old man would've been proud of that one because that was dead. It was gone and then he just literally got to his feet and smashed it in. He deserves all his credit for that goal. That was it for me, that was the winning goal that was the Cup winners."

Batten added: "We changed formation. We kind of went for it for the last 20 minutes when we took a defender (Joseph Denny) off so there was going to be a few gaps opening up, so of course they're going to have opportunities. We just took a chance with the extra man up front. We brought Lee Friend on and maybe we'd get on the end of something."

Sevenoaks Town missed a glorious chance to snatch a flattering third when substitute Stephen Camacho's hooked pass split open Saunders and Huggins to put Walker through on goal but his right-footed chip dropped over the crossbar when he only had the keeper to beat.

Collins said: "You're waiting for the ball to sit down and the pitch ain't allowing that. It's bouncing and bouncing and I think if he's gone with his left foot he slots it and scores but it's on his right-foot.

"He's another one that's played through the pain barrier again today. He's been out injured with a fractured ankle and he's played through the pain barrier because he wanted to win a Cup and that's the kind of desire you want at our club."

Edwards' free-kick was knocked down by McCann and Walker slipped over on the edge of the box and Gnahore smacked his first time drive high over the crossbar and the stand from 25-yards.

Sheppey United's first shot on target arrived with 44:52 on the clock.
Huggins played the ball up to substitute striker Lee Friend, who shrugged off his marker, turned to drill his right-footed shot from 25-yards, which was comfortably caught in French's midriff.

"I don't watch too much on what the other team does, I concentrate on what we do and what we deliver," said Collins.

"The boys said to me at the end I think they only had one shot on goal and we've done our job. Everyone as an individual out there today done their job. In our preparation and we've done our job as a club today and delivered and I'm very proud of them."

Batten admitted: "Lee's dangerous. It's one of them today. He was close to starting the game. I think with his kind of pace it could've been possible, especially first half, he might've got in behind them but it's all on the day today."

Batten, meanwhile, was disappointed that he couldn't deliver the silverware for their large following of vocal supporters.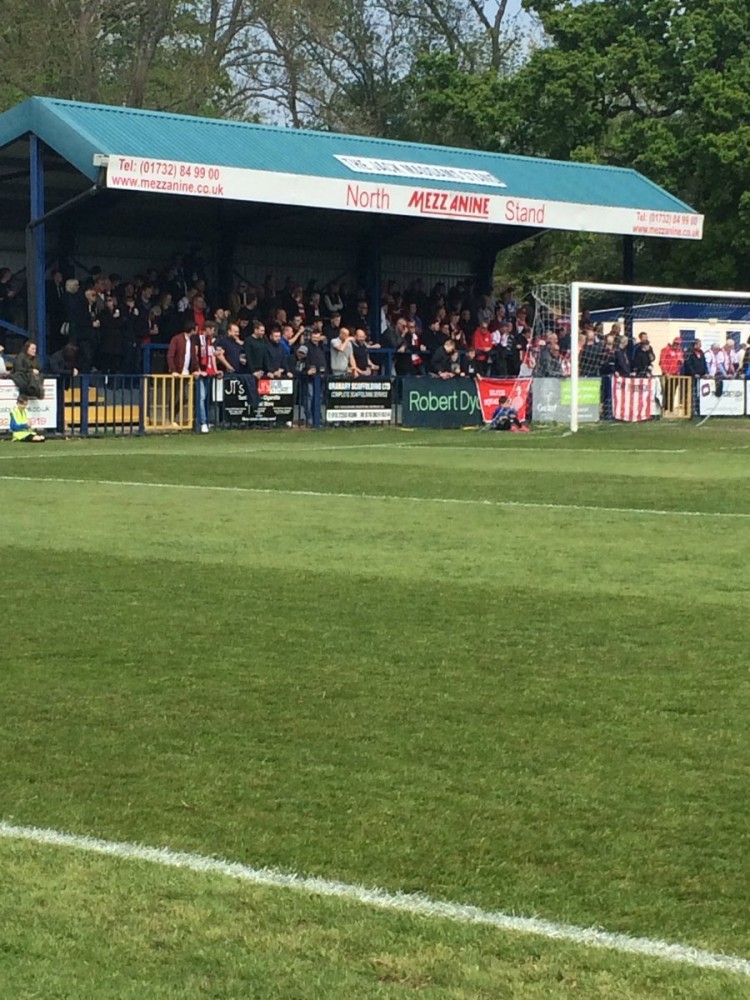 GREAT TUNROUT: Sheppey United's fans
at Longmead Stadium
Photo: Sheppey United FC


"The fans are unbelievable. I know there were coaches coming from the island. Everybody I spoke to was coming from the island and that. I don't know what these games generally attract in terms of attendances, our fans are fantastic. I can't speak of them highly enough."

Collins has delivered the club's first major trophy at this level of football and praised his players for giving Sevenoaks Town their greatest ever season.

He said: "It's great. It's the second time I've won it. I say this to every player that plays football, I'm old and finished now but it's very rare people coming away and winning lots of senior trophies. The club's proved it, they haven't won one since 1883 and I keep harping on about it but if proves just how tough it is to do it. People who do it, i.e. your Ashford's this year, they're massive, fantastic achievements that people take for granted a little bit.

"You see a club like ours today lift up trophies, wow! I've never dreamt that three years ago but we've delivered it.

"Now we can use that as a platform to build and go and try to get out of the league if we can."

Sevenoaks Town will be challenging for the league title if Collins can keep this squad together and strengthen it during the summer.

"We've started already. I talked to a player last night. It always helps when you go and win something. People know you're successful and they look at your record as a manager and they want to come and play for you. It's not all about a pound note then. It's all about winning something because players' want to win things.

"They don't want to be also-rans every year. It's taken three years for us to prove to everyone that Sevenoaks is not an also-ran anymore. It's not a bottom-of-the-league club. We're serious contenders in the competitions that we go in.

"We've proved it in the FA Cup at the start of the season, now we've proved it in the Cup there and we've also proved it in the league but we just weren't good enough because the two teams above us were better than us."

Match-winner Bennett, meanwhile, was delighted that he delivered for Collins today.

"I think it's well-deserved," said Bennett, 24.

"We've had a tough run-in throughout the whole Cup but I thought we're deserved winners overall.

"It was tough, they're a good outfit but we always knew if we brought the ball down and played, I think we'd beat them, so pleasing result.

"You can always count on Kieron (McCann) and H (Carnegie) to deliver and that's what they've done in the big games. It was quite a good finish. I thought the keeper could've done a little bit better but H will claim it, no doubt.

"If we got the second shortly after the first then it would've been a lot easier for us but you can say that about anything but they gave us a good run in and we got the second goal. A good ball in and we held on for the last 10 minutes."

On his goal, Bennett added: "I'd say that I took him on but I got a lucky break to finish.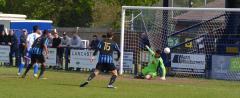 GOAL: Sevenoaks Town's Billy Bennett (out of picture) scores the clinching goal against Sheppey United.
Photo: Alan Coomes

"Micky Collins said that we've got to a position where we needed to win something. We could've gone the whole season without winning anything and we've done what we asked.

"He almost had a lot of pressure on him with the people that he's got in and people expect him to win stuff and he's delivered, fair play to him and fair play to the boys.

"We're disappointed that we didn't get to the league (title) but the league don't lie and Ashford and Crowborough were better than us throughout the season, but it's always good to get a medal."

On his future, Bennett said he is keen to stay on at Greatness Park.

"It's a long summer. I'd like to be here but the club's going forward with the 3G pitch and all that. We'll see what happens, I'd like to be here."





WINNERS: Sevenoaks Town chairman Paul Lansdale
and manager Micky Collins celebrate the club's first
major honour as goals from Harrison Carnegie and
Billy Bennett helped Sevenoaks Town beat Sheppey
United 2-0 at Longmead Stadium
Photo: Sevenoaks Town FC

Sevenoaks Town: Rob French, Chris Edwards, Greg Benbow, Yacine Gnahore, Tom Ripley, Corey Holder, Harrison Carnegie (Stephen Camacho 70), Joe Bingham (Jimmy Rogers 81), Byron Walker, Billy Bennett, Kieron McCann.
Subs: John Brown, Jack Miles, Ryan Nicholls

Goals: Harrison Carnegie 3, Billy Bennett 78

Booked: Chris Edwards 15

Sheppey United: Dean Warford, James Huggins, Karn Miller-Neave, George Batten, Rob Saunders, Joseph Denny (Lee Friend 72), Timmy Babbington (Ross Pagett 79), Ian Batten, Richard Atkins, Dan Bradshaw, Joseph Fornah (Lewis Gransden 90).

Booked: Timmy Babbington 42, Rob Saunders 61, George Batten 90

Attendance: 744
Referee: Mr Kane Dempster (Hythe)
Assistants: Mr Jamie Eacott (Walderslade) & Mr Mark Cheeseman (Teynham)
Fourth Official: Mr Ben Bowles (Rochester)

Coverage Sponsored by:





Longmead Stadium pitch maintained by: