We want to take them an awful long way, says Sevenoaks Town boss Micky Collins, who extends his contract until 2019
Saturday 31st December 2016
SEVENOAKS TOWN boss Micky Collins says he wants to guide the club to their best ever season after signing an extension to his current contract that will keep him at Greatness Park until the end of the 2018-19 season.
The club's greatest ever manager has put pen to paper on a new contract this morning, with the club in the top six in the Southern Counties East Football League Premier Division table with 40 points from 18 games.

They are only six points adrift of big-spending leaders Crowborough Athletic but with a couple of games in hand. Crowborough extended their impressive unbeaten run to 28 in all competitions following their 3-0 win at Cray Valley today.

"The reasons that we've done it now rather than at the end of the season when my other contact expired, we've got a lot of the project going on and we wanted to stabilise everything so we know at the end of the season with the 3G pitch coming and everything that's going to happen at the club it puts us in a better position," said Collins.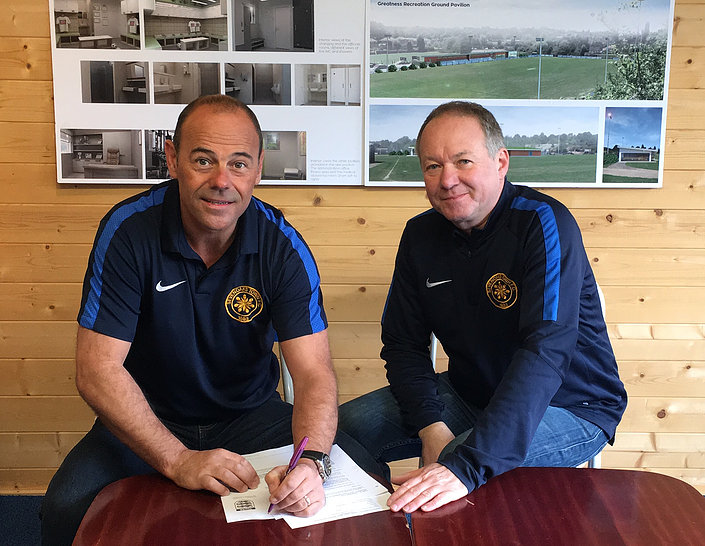 DEAL: Micky Collins (left) signs his new contract, which will keep him at Sevenoaks Town until the end of the 2018-19 season. Collins, along with chairman Paul Lansdale (right) has turned the club into strugglers to title contenders.
Photo: Sevenoaks Town FC

"The club is a work in progress. I've had a great time so far, two and a half years working with Paul (Lansdale) is fantastic for me.

"The footballing side for the first team at the club it's the best year that the club have had in a calendar year. We had a great run after Christmas last year and we carried on this season with a good solid start.

"We're 18 games in, we've got 20 to play in the league. We're still in the League Cup and Kent Senior Trophy so lots to play for.

"That's half the reason I've signed the deal now. It's done and the lads know I'm here long-term and we have to push on, finish where we finish and try to give the club the best season they've ever hard.

"I think with Paul and the committee and what we're trying to achieve, we want to take them an awful long way.

"I believe we can compete in the league above and if we can get the ground up to where we need it to be with the 3G pitch and new clubhouse and the facilities, who knows how far we can take it.

"It's just time and energy and financial obviously. I know for a fact that I've got people behind me supporting me and they're driving the club forward behind the scenes and as a manager that's what you want to see, progress and you want to see it move forward.

"If you look at the two-and-a-half years that I've been in charge, look at what we've achieved with Paul's backing. We've had our best FA Cup run, it's been a great season so far, it's been very good."

Crowborough Athletic are favourites to land the league title to return to the Ryman League Division One South for the first time since their only season in that league when they finished bottom in season 2008-09.

But Ashford United (46 points from 20 games); Sheppey United (45 points from 22); Hollands & Blair (42 points from 20); AFC Croydon Athletic (41 points from 21) and Sevenoaks Town all have a say in the title race.

"That's wide open at the moment, that can go any way at the moment," said Collins.

"It just needs someone to put a great run together. It could be us or six or seven clubs maybe that really get their head down and have an unbeaten run and wins the title.

"There's some good sides in the league this year. It's quite wide open and a lot of teams will take points off each other, I'm sure that will happen."

Sevenoaks Town finished last season higher than Tunbridge Wells for the first time and Collins takes his side to Culverden Stadium on Bank Holiday Monday looking to claim the local bragging rights to keep their title dream alive.

Jason Bourne's side are struggling in the bottom four with 15 points from 17 games and are only three points clear of the relegation zone, which is occupied by Beckenham Town and Fisher.

"It will be a good game. There will be a good crowd, they've got a great fan base and I'm looking forward to it," said Collins.

"These are games you want to be involved in, especially over Christmas. We've had a bit of a lay-off since the Crowborough game (a 1-1 home draw on 17 December). Tunbridge Wells have managed to get a game in between, hopefully we're not too rusty and we come out and give a good account of ourselves.

"I have a good rapport with Tunbridge Wells fans and it's a love-hate relationship. I think it's nice, I enjoy it. They're not having the best of seasons but I think they're probably in transition and I think Jason will get it right there and they'll turn it around and I'm sure they'll come strong on Monday. That might kick start their season for them, who knows.

"We need to turn up and put in a good performance, if we really think we're serious contenders, we have to go there on Monday and get three points."

Sevenoaks Town chairman Paul Lansdale should also take credit for turning the club around from regular strugglers to one that reached the Second Qualifying Round of The FA Cup, where they lost to Southern Premier League side Chesham United and are involved in the title race going into the New Year.

"I am incredibly pleased to have secured Micky's services for a further two years - these are very exciting times for the club," said Mr Lansdale.

"We have a successful first team under Micky's leadership which is generating a buzz across the whole club from U7's to Veterans.

"The scenes at Greatness Park throughout the FA Cup run where members of the community, from youngsters to pensioners, came together demonstrate the important role that the club plays within the Sevenoaks community. Micky's experience and input into how we shape the club going forward will be key to our success."

Visit Sevenoaks Town's website: www.sevenoakstownfc.co.uk

Tunbridge Wells v Sevenoaks Town
Southern Counties East Football League Premier Division
Bank Holiday Monday 2nd January 2017
Kick off 3:00pm9SG
at Culverden Stadium, Culverden Down, Tunbridge Wells, Kent TN4 9SG