Sevenoaks Town play 3G pitch pioneers Maidstone United: It's going to bring the whole club together, says boss Micky Collins
Monday 24th July 2017
SEVENOAKS TOWN manager Micky Collins says he is looking forward to another big night at Greatness Park on Tuesday night.
The Oaks have laid an artificial pitch at Greatness Park and host the first club in the area to lay one five years ago, Maidstone United.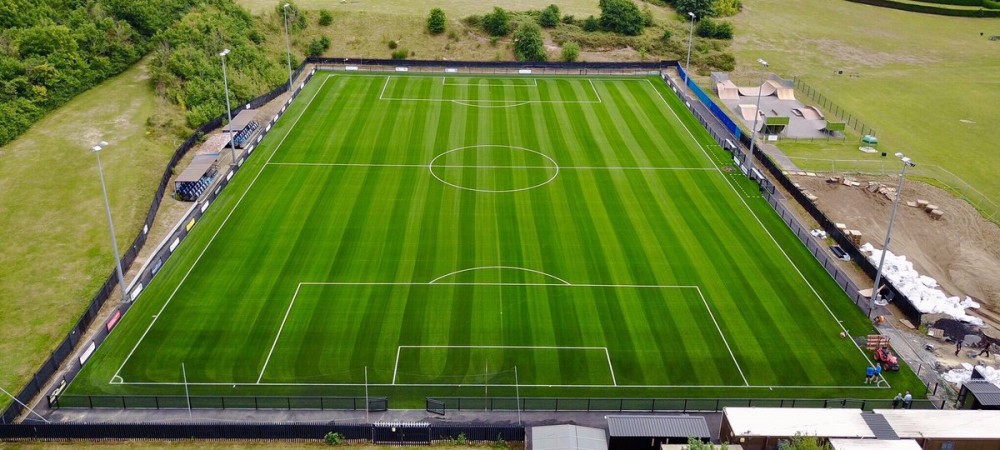 Sevenoaks Town's newly-laid 3G artificial pitch took
49 working days to complete and came in on budget.
Photo: Sevenoaks Town FC

Sevenoaks Town chairman Paul Lansdale has transformed the club since his arrival and the club have been going from strength-to-strength both on and off-the-pitch ever since.

"It's an amazing achievement and Paul and the directors have pulled it off, but secondly after some of the other mishaps that have gone on with people and they're trying to get artificial pitches, it shows if you get the people in and you're organised and you plan it for a long time, it can be perfect and it has been and it's been stress free, which has been a good thing for Paul. The last thing we needed was for it to go wrong," said Collins.

"It's incredible! It's fantastic what they've done. Everything's on time and neat and tidy and we can host the game tomorrow and know everything's ok and safe and everyone that will see it tomorrow will be blown away by it because it's that impressive."

Sevenoaks Town have seen the model at Maidstone United and has seen the benefits both on and off the pitch of having an artificial pitch at their main stadium.

The evidence is clear for all to see. Maidstone United were playing in the Isthmian League Division One South at the time of its installation and now they're playing in the top-flight of non-league football, the Vanarama National League.

"I'm good friends with Jay (Saunders, the manager) and everyone at Maidstone, that's why I put on Twitter they're pioneers. They're the ones that were brave enough to do it. I think they've reaped the benefits because they've gone through the league's but they've set up a community hub.

"I've been down there for a little while with Jay and I've watched it, seeing that amount of children, kids, youth and family use that facility is incredible and it's something that we had to do.

"We've delivered it and hopefully in years to come we'll reap the benefits."

Mention artificial pitches to anybody, people remember the awful one at Luton Town.

"The playing surface side of it is totally different. I played at Kenilworth Road (Luton Town) and played on the one at Loftus Road (Queens Park Rangers). It was sand base," explained Collins.

"This is a completely different system and when you walk on the one we've got now, we trained on it and it feels like grass!

"The only difference is, it's a different bounce but softness, a lot of people say they're worried about injuries but that's yet to be proven.

"For me, looking at it and looking at my players, some of them were a bit sceptical about it and we've got the green light from everyone, they're so happy about it and it's one hell of a system they've laid, we're very impressed.

"It's even better in person, when you see it in person and at pitch side, you go wow! It's when you watch the ball bounce you see a little bit of rubber splashing at the moment because it's not settling in and not been used. We've done two hours on it, I think give it three or four weeks and it beds in, it will be amazing!"

National League clubs Bromley and Margate will be playing their home games on a 3G pitch this season and Sevenoaks Town's league rivals Crowborough Athletic will be hiring Maidstone United's stadium while their own artificial pitch is laid at the Crowborough Community Stadium.

Other club's that play on 3G pitches locally are Ashford United, Fisher, K Sports and further afield, Carshalton Athletic, Hendon, Harlow Town, Sutton United, Whyteleafe and Worthing.

In a few years' time it will be how many non-league club's will be playing on grass surfaces as many clubs will decide to tear it up and lay a carpet instead.

Collins said: "They have to, I think it has to. I've got to be honest, we all want 500 or 1,000 people through our gate every week and spending fortunes in the club shop. Those days have gone especially for a little club like Sevenoaks, so you have to look at other ways and means of raising revenues, not just your first team.

"I also think you have to set a legacy. If you can get everybody at your club not having to outsource training pitches and you're using the ones you're providing yourself, it's fantastic!

"We're going to train on a Tuesday night and we're going to have kids train before us. It's going to bring the whole club together and we have yet to see that bit yet but it's exciting for me, I'm looking forward to it.

"It's something that me and Paul and the rest of the guys have been working to get it over the line.

"It's the first phase, it's complete. We can now work on the second phase, a new clubhouse that will finally make it a hub. That will move very, very quickly, I think now and then that will generate everything that we've ever needed. We'll have an Academy classroom, we'll have a bar, six to eight changing rooms and then all off a sudden the facility comes to life even more and that's the next stage and that's what we'll be driving for."

Looking forward to the game against Maidstone United tomorrow night, Collins is relishing the chance of playing a club that finished in fourteenth-place in the Vanarama National League last season and will now be training three mornings a week.

"I'm really pleased with our pre-season so far. It's been really good. I've got a lot out of it. We're still tinkering with what squad we're going to use and so on and so forth," said Collins.

"I've been so impressed. We've kept a lot from last season. It's been a real benefit for me, it's really helped me. It's been great. We've made a couple of additions and they've bedded straight in and we've been so organised and it's looked good, it's just how we finished the season.

"Maidstone's a different test. Maidstone will be a big test but that doesn't mean if we're miles off it if they thump us and it doesn't mean we're really good if we have a tight game. It's pre-season. It means nothing!

"It's a great showcase for us and I'm privileged and feel really honoured that Maidstone will come down. Jay always does us proud by playing a strong side, which is what you want.

"You don't want fans to see their kids playing against us. I totally respect him for that and he always does that for me so it will be a big night.

"We've had some good nights and some good days recently at Sevenoaks Town. That's a big one tomorrow night. I think we're going to get quite a few down to watch it. Hopefully everyone will enjoy it and get to see the facility. Maybe some clubs will come down and see what we've done and go away and start planning themselves, because it can be done."

Collins guided the club to their greatest ever season last time out, finishing behind Ashford United and Crowborough Athletic in the Southern Counties East Football League Premier Division table, winning the Macron Southern Counties East Football League Challenge Cup for the first time and experiencing their best ever FA Cup run.



CHAMPIONS: Sevenoaks Town chairman Paul Lansdale
and manager Micky Collins celebrate cup success
together last season.

"I just think we need to go and try to get promotion, that's what we wanted, we wanted it last year but we fell short. We weren't good enough. The two teams above us deserved to be above us because they were better," added Collins.

"We need to hit the ground running. We've had a bit of a result because we don't come in the FA Vase until the First Round Proper, which is actually a club record, even though we haven't kicked a ball! It helps because you don't play FA Vase games until October so that takes a bit of pressure off if you do manage to get through a round or two in The FA Cup.

"We need to be positive, we need to go out and try to do our best. If it's two up this year, which I'm led to believe, we need to be in that two. There will be seven or eight, maybe 10 more club's in that league looking to do the same, so it's going to be very tough.

"But we weren't far off last year and we have to be a little stronger during certain times of the year and hopefully we'll get what we want."

Visit Sevenoaks Town's website: www.sevenoakstownfc.co.uk

Sevenoaks Town v Maidstone United
Pre-Season Friendly
Tuesday 25th July 2017
Kick Off 7:45pm
At Greatness Park, Mill Lane, Seal Road, Sevenoaks, Kent TN14 5BX