Harrison Carnegie quits Sevenoaks Town: I know it seems like a strange time to leave after just winning a league title and gaining promotion but I felt it was the right time to move on
Sunday 01st July 2018
WING WIZARD Harrison Carnegie has dropped Sevenoaks Town a bombshell by announcing his departure from Greatness Park tonight.
The 28-year-old helped Micky Collins' side win the Southern Counties East Football League Premier Division title for the first time to seal promotion into the Bostik South East Division.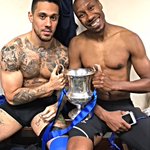 Harrison Carnegie and captain Corey Holder celebrate winning the Southern Counties East Football League Premier Division title for Sevenoaks Town last season.
Photo: Twitter
However, he has decided to sign for new league rivals Whyteleafe, who are now managed by former Croydon manager Harry Hudson.
The Trams were praised for their passing brand of attractive brand of passing football during Hudson's only season in charge of the Croydon Sports Arena outfit as Croydon finished in fifth-place last season.
"I know it seems like a strange time to leave after just winning a league title and gaining promotion but I felt it was the right time to move on," said Carnegie.
"I needed a new challenge. I have many fond memories most notably our FA Cup run (in 2016) which made people start to consider Sevenoaks Town as a serious contender for silverware.
"Since then the club have come on leaps and bounds both on and off the pitch, so I'm in no doubt they will continue to push on because everything's in place."
Whyteleafe completed their 46-match campaign in the top eight last season but Carnegie has decided to play his football on the 3G pitch at Church Road and not Greatness Park.
Carnegie said: "Next season I will play in the Bostik League for Whyteleafe. Having spoken to Harry Hudson, I've seen his brand of football, it's an opportunity I couldn't refuse. I believe he is on to something special."
Visit Sevenoaks Town's website: www.sevenoakstownfc.co.uk