Rusthall 0-0 CB Hounslow United - I think we've got more than enough to go there and win the game, says Rusthall joint-boss Steven Ashmore
Sunday 06th August 2017
Rusthall

0 – 0

CB Hounslow United

Location
Culverden Stadium, Culverden Down, Tunbridge Wells, Kent TN4 9SG
Kickoff
06/08/2017 14:00
RUSTHALL 0-0 CB HOUNSLOW UNITED
The Emirates FA Cup Extra Preliminary Round
Sunday 6th August 2017
Stephen McCartney reports from Culverden Stadium

RUSTHALL joint-manager Steven Ashmore says his side have more than enough to earn a return to Culverden Stadium to lock horns with Tunbridge Wells in The FA Cup.
The Rustics hired Culverden Stadium to play their Extra Preliminary Round tie against CB Hounslow United and a crowd of 262 witnessed an uninspiring stalemate with Tuesday night's replay at Green Lane expected to go all the way as neither side showed quality to break down two stubborn defences.

The best chance for Rusthall to celebrate their FA Cup debut with a win fell to substitute striker Stephen Harper, who fluffed his big chance.

"A little bit mixed, obviously look at it we kept a clean sheet, which is nice," said Ashmore after their first game of the season ended in a disappointing draw.

"We changed the formation from what we done for the most of pre-season for this game so it was positive to see how the boys worked and how the shape worked. We looked fairly comfortable at the back. I don't remember them troubling Callum (Christie) too much.

"A little bit disappointed that we've not put one of our chances away. I think we created enough in their half to create and score goals. We just lacked a little bit in front of goals.

"All in all, looking at the positives, it's a shame because we've now caused ourselves a replay near Heathrow on Tuesday, which from here to there is going to be tough."

CB Hounslow United arrived in Tunbridge Wells having escaped relegation from the Combined Counties League Premier Division by eight points after finishing in the bottom-four last season, while Rusthall won promotion into the Southern Counties East Football League Premier Division for the first time after finishing runners-up to Glebe.

Barry Chapman's side started the game on the front foot and their first opening inside the opening seven minutes happened to be their only shot on target.

They linked up well down the left with Siqak Beyene and left-back Stef Nor and Jack Watts played the ball inside to striker Charlie McKee, and he stroked his first time drive with his right-foot towards the bottom left-hand corner from 16-yards, which was well held by Callum Christie, diving low to his right.

"I don't remember them causing much of an issue," said Ashmore.

"Everything that Callum had to do he did superbly as always. His handling was good, his kicking was great. We asked him to sweep behind and talk a bit more, which he did today."

Ashmore believed his players handled the big occasion well.

"There's quite a few of our squad that have played in this competition before so it's not new. There's a few that haven't but I think the ones that have settled in very well and just treated it like it was another league game.

"It's nice to have a lot of people here and appreciate the support they've shown. I imagine there were a few Tunbridge Wells supporters here as well. I don't think the occasion got to them, it's just sometimes football doesn't click first of all."

Visiting keeper Terry Buss should have been picking the ball out of the back of the net in the 17th minute.

Rusthall right wing-back Michael Tubb floated in a deep cross which was met on the volley by an unmarked Callum Gallie but the left wing-back struck the ball straight at the keeper from 10-yards.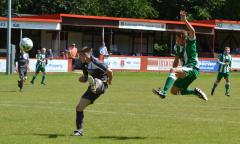 Rusthall wing-back Callum Gallie (green) hits a volley in the first half against CB Hounslow United at Culverden Stadium.
Photo: Alan Coomes

"A decent technique on the volley, unfortunately went right down the keeper's throat. A yard either side and it's a goal," said Ashmore.

"Cal did fairly well. He bust his gut to get into the box. We've got a right wing-back crossing to the left wing-back who was in the box, which is pleasing to see. He hit it well, just straight at the keeper."

John Sebbar delivered a free-kick into the CB Hounslow United box, the ball was half-cleared and Drew Crush smacked his right-footed hooked volley over the bar from 12-yards.

CB Hounslow United right-back Tommy O'Neill cut inside and stroked his shot past the near post from 20-yards after Beyene cut inside on the other side of the pitch and played an inside pass to holding midfielder Thomas Kanek, who found the winger on the right.

Rusthall were to be denied on the half-hour mark as Beyene made a vital block on the edge of the six-yard box to deny striker Joe Fuller.

Crush fed Daniel Powell, who turned Gabriel Chedozie to reach the left by-line before he cut the ball back into Fuller's feet. He turned and swept his shot towards goal, but Beyene charged the ball down and Buss easily gathered the rolling ball.

Ashmore said: "To be fair to them, they defended very well. I thought they suffocated us when we got into the box. They were dogged, they didn't really give us much. When we had an opportunity, they had boys throwing themselves in the way, a plus point for them, I guess."

Sebbar chipped a free-kick from just outside the box into the CB Hounslow United penalty area but a rising Fuller sent his header over the bar.

Gallie whipped in a deep cross from the left channel which sailed over Nor's head but John Sinclair guided his free header into Buss's hands at the near post.

"Sincs got round the back post and he's kind of stretching for a bit. The angle he was at, it would've been hard for him to score but we still created chances. We got there, we got something on target."

Rusthall skipper Sinclair then played the ball into Sebbar's feet and his shot from 25-yards was comfortably gathered by Buss as he stepped to his right.

But as referee David Joseph blew his half-time whistle it was evident at that point that this game would not produce many goals.

Ashmore said: "We started a bit all over the place, not all over the place, we started a little bit frantic for the first 15 minutes and once we really settled down we came into it and we had a bit of possession. We had a lot of the ball in good areas.

"We said (at half-time) get them on the back foot, keep the tempo our way, create some chances, get some shots off where we can and we were a bit guilty trying to look for that extra pass rather than pulling the trigger."

Rusthall were a workmanlike outfit, they put in plenty of effort but they lacked the quality they needed to break down similar opposition.

Rusthall looked the more likely team to break the deadlock and Paul Butler's out-swinging free-kick from the right was met by Daniel Mitchell's free header from 12-yards but the central defender sent it wide after 63 minutes.

"It was quite a distance out, I think. The ball was an outswinger, very tough for him to get enough on it to get it back, another promising opportunity.

"We really wanted Mitchell to come onto that five yards in front of him so he could really generate something at goal."

The longer the game went on, the more likely a replay in Hounslow would be the outcome.

Rusthall made their second and final substitution to bring on Harper, who missed the best chance of the game to earn his club £1,500 in prize money and a lucrative derby against Tunbridge Wells.

His big chance came only 39 seconds after entering the pitch. Mitchell drove forward, Sinclair's lovely flicked pass put the striker through on goal, who placed his shot past the left-hand post from 10-yards before burying his head in his hands in despair.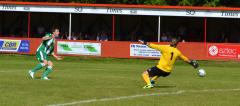 Rusthall subStephen Harper should have scored after only being on the pitch for 39 seconds.
Photo: Alan Coomes

"That was probably by far the best opportunity of the game," highlighted Ashmore.

"He's opened his body up, I thought he was going to slot it inside the near post. It didn't quite come off. When it's your first chance they either going to go wide or going to go in, unfortunately for us it just went past the post.

"That was our first bit of neat football in and around the box that created that chance, some nice one-two touches pulled it about, gave us the space and allowed Sincs to put Steph in, unfortunately he didn't hit the target."

AFC Hounslow United reacted by enjoying a good spell of pressure but they failed to get a shot on target.

They won the corner count 7-5. Kanek's corner was headed away and Nor whipped in the cross from the left and their captain, Harry Driver came up from the back to glance his header just over the bar from 12-yards.

"The middle part of that second half was definitely theirs," admitted Ashmore.

"They pushed us back, we probably didn't get out quickly enough, we probably weren't quite tight enough and we allowed them to get on the front foot. We still stood firm. We still did what we can defensively. They didn't really create a real chance for them. It's pleasing we shaped up well, we stifled it, which is a plus point."

Driver (below, photo Alan Coomes) was excellent at the heart of the visitors' defence, leading by example.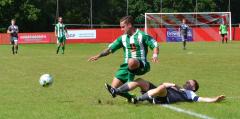 Rusthall played a strange corner routine in the final five minutes when Crush moved the ball a few yards. Hounslow didn't realise that the corner kick had been taken and Butler ran from inside the box towards the ball and cut it back for substitute Ryan Waterman to loop his shot wide.

Rusthall almost snatched the victory at the death, which on the chances they created, would have been deserved, only just though.

Gallie threw the ball to Waterman, who teed up Crush, who cut onto his right foot to drill his 30-yarder which screamed past the diving keeper and just past the left-hand post.

Ashmore added; "It was a shame, if that would've nestled in, it would've stopped the replay. Crush has seen the opportunity, his driven inside, he's naturally right-footed, he's taken a shot on, it's just a shame it didn't nestle. It would have been a nice finish."

Rusthall now make the 124-mile round trip to Green Lane (TW4 6DH) for Tuesday night's replay.

Ashmore said: "On one hand when we got the draw, one hand it's nice to play someone we don't play in league competition but on the other hand if we've got a replay with somebody in our league the travelling would've been less. We knew the risk. It's down to the boys, they should've put the chances away or we wouldn't have to do an away tie. Now we've got to get everyone to probably the worst area of the M25 from our direction. I just pray for no holdups on the M25.

"I'll have to sit down and half a look at it. A lot of the boys have put a lot into it today, whether or not Tuesday may be a bit too soon for them so we might have to have a look at them.

"We'll have to look at people's life outside of football having an impact on them and see if they can play Tuesday, which will be a shame. We knew the boat we was in and the possibility of the replay so we'll sit down and half a look at it and we'll take it from there."

The will to win in Hounslow is massive – a derby here against Tunbridge Wells in The FA Cup Preliminary Round will attract a crowd of at least 500 and give Rusthall a financial shot in the arm.

"It would be nice to get through and play them but we've also got them in the league (at Jockey Farm on Monday 28 August), so there is a carrot. The carrot is still there when we have our first home game back at ours once the new pitch is in. It's a big carrot but on the other hand we know we're going to play them shortly anyway."

Looking ahead to the Replay, Ashmore said: "Both teams will be defensively strong. It will come down to what happens in each other's box. Hopefully we can be better this time and finish our chances and maybe create one or two better chances. I think we've got more than enough to go there and win the game and I'm sure they'll say the same thing.

"Every footballer wants to be a part of The FA Cup even though if it's at the absolute lowest level or at the top, it's always nice to be involved in it. It takes the pressure off because the chances of us winning it are very low but it's just nice to be part of it and gives the boys something else to focus on and get up for. If you can't get up playing in The FA Cup, you're going to struggle to motivate yourself for the league campaign."

Rusthall: Callum Christie, Michael Tubb, Callum Gallie, Drew Crush, Stewart Gostlow, Daniel Mitchell, John Sebbar (Stephen Harper 66), Paul Butler, Daniel Powell, Joe Fuller (Ryan Waterman 74), John Sinclair.
Subs: Cameron Millham, Jacob Wright, Andy Constable, Sam Jones, Joe Cullip

Booked: Ryan Waterman 77

CB Hounslow United: Terry Buss, Tommy O'Neill, Stef Nor, Thomas Kanek, Harry Driver, Gabriel Chedozie, Vinny Hodge (Theo Campbell 57), Jack Watts, Adam Roberts, Charlie McKee (Zouka Enea 88), Siqak Beyene).
Sub: Dunnell King

Booked: Gabriel Chedozie 52

Attendance: 262
Referee: Mr David Joseph (Hastings, East Sussex)
Assistants: Mr Connor Sullivan (Uckfield, East Sussex) & Mr Javier Diaz Estrella (Bexhill-on-Sea, East Sussex)

Coverage Sponsored by: