Rusthall joint-boss Steven Ashmore: Playing in The FA Cup for the first time will be a massive achievement for the club as it's a competition we've been working hard to get into for a long time
Thursday 03rd August 2017
RUSTHALL joint-manager Steven Ashmore says he is looking forward to the clubs FA Cup debut on Sunday.
The Jockey Farm outfit celebrated their best ever campaign in their history last time out when they finished 12 points behind champions Glebe in second-place to win promotion into the Southern Counties East Football League Premier Division for the first time.

The club have successfully entered The FA Cup and make their bow against CB Hounslow United in the Extra Preliminary Round.

The tie has been switched to neighbouring Tunbridge Wells at Culverden Stadium, which hosts the Wells' tie against Beckenham Town on Sunday afternoon.

"We are very much looking forward to this Sunday's game as it's going to be our first experience of being in charge and the clubs first appearance in this famous competition and we will certainly be going out to do all we can to win it," said Ashmore, who runs the side alongside Steve Sands.

"We don't know a whole lot about them apart from their stats last year, which really at the start of a new season mean nothing.

"We certainly won't be taking them lightly as we know any team lucky enough to compete in The FA Cup will make the game tough, competitive and will want to win as much as we do.

"Playing in The FA Cup for the first time will be a massive achievement for the club as it's a competition we've been working hard to get into for a long time and I think it just shows the hard work everyone has put into Rusthall FC over the years to allow this to happen.

"It will be great for the players we have in the squad who have never got to experience playing in this competition as it will be something they'll always remember."

Ashmore revealed that Richard Cole, Adam Davies, Chris Stoate and George Rogers have left Jockey Farm this summer but four new players have come in.

Ashmore has snapped up four midfielders going into the new season.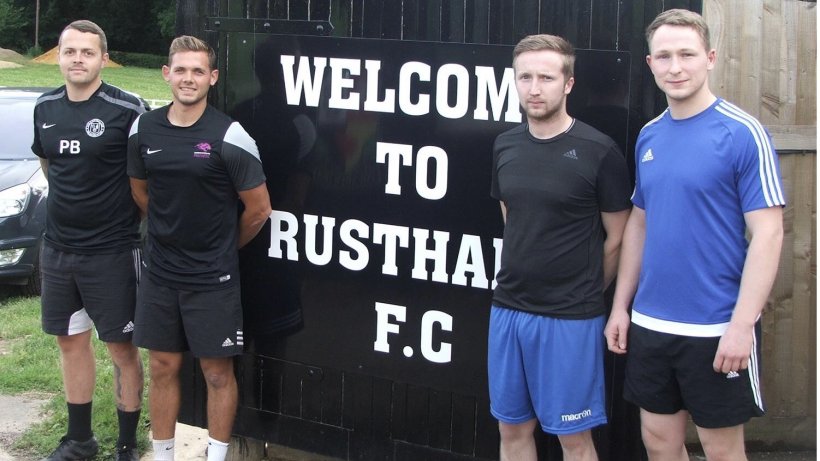 Ryan Waterman has signed for the club from Lancing, Paul Butler has come in from Tunbridge Wells, while Brett and Cameron Milham were playing for the reserve side at Bostik Premier side Tonbridge Angels.

"Ryan is player I've known since he was in the youth set-up at Tunbridge Wells and he will bring us energy in the middle of the park and will always be looking to get on the ball at every opportunity," said Ashmore.

"Paul Butler is a very organised and solid central midfield player, who has joined from Tunbridge Wells.

"Paul's experience of this level will be invaluable to us throughout our first season in the SCEFL Premier.

"Brett Milham and Cameron Milham join us from Tonbridge Angels and both are very good attacking and direct midfielders who will give us pace and energy going forward.

"All of them have settled in well with the boys that have stayed from last year and have all showed a great desire and attitude throughout pre-season.

"They all had offers elsewhere but have chosen to stay with us as they can see the direction the club is going in on and off the pitch."

Ashmore and Sands have brought in former Crowborough Athletic coach Alan Murray.

"He has been fantastic throughout pre-season with the sessions he has put on for the boys being exactly what they needed with a good mixture of technical, shape and fitness drills," added Ashmore.

"Alan has worked with most of the squad previously, which has helped them get to grips with sessions right away."

Rusthall make their Southern Counties East Football League Premier Division debut with a tough trip to Sheppey United on 12 August.

"Obviously our main aim this year is to stay up as we worked very hard to achieve promotion last season and we're not here to experience it for one season," insisted Ashmore.

"We want to continue to create stability on and off the pitch so this club can maintain this level for years to come.

"We know how tough and competitive this season will be with some very strong and organised teams in the league but believe we have assembled the right squad and personnel to achieve that and now can't wait for it all to start."

Visit Rusthall's website: www.rusthallfc.com

Rusthall v CB Hounslow United
The Emirates FA Cup Extra Preliminary Round
Sunday 6th August 2017
Kick Off 2:00pm
at Culverden Stadium, Tunbridge Wells, Kent TN4 9SG