Rochester United sign striker Andy Constable: The club has the potential to have a fantastic season
Sunday 08th July 2018
ROCHESTER UNITED manager Barry Morgan has signed striker Andy Constable, 39.
Constable has decided to leave Holmesdale to play for their Southern Counties East Football League First Division rivals. The Rede Court Road outfit suffered relegation from the Premier Division at the end of last season and are looking to bounce back at the first attempt in Morgan's first season in charge.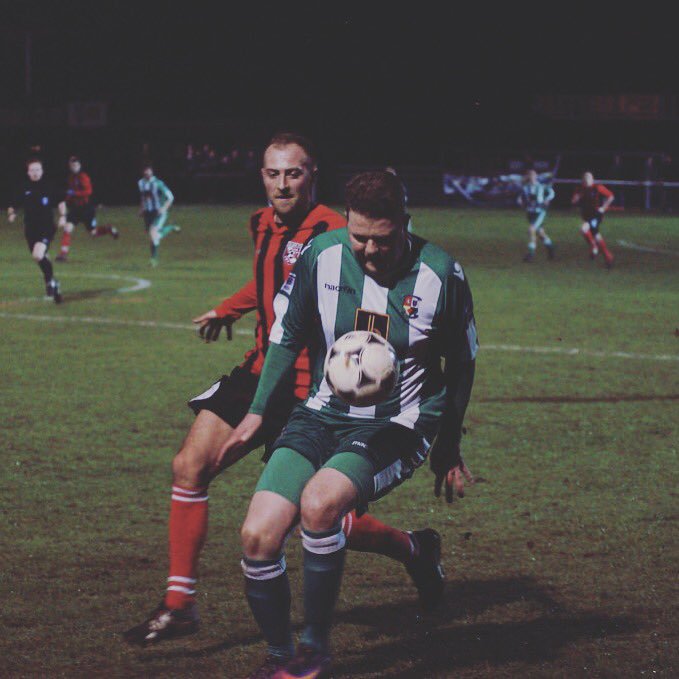 Andy Constable (green and white) has signed for Rochester United. Here he shields the ball from Glebe's Sam Long while playing for Rusthall in 2017.
Photo: Rusthall FC

"Last season personally ended up being a good one for me that it was very enjoyable," said Constable, who has scored 367 career goals.

"I started at Rusthall after helping them win promotion the year before but unfortunately I didn't get the game time I felt I deserved so decided to move on.

"Holmesdale had just appointed Lee Roots and Tony Beckingham and Tony got in touch to see if I would be interested in coming over – I was happy to sign!

"Over the last three seasons I have loved playing in the Southern Counties Football League First Division. It's definitely suited my game and age and I have scored plenty of goals to help get Sheppey United and Rusthall promotion.

"Holmesdale was slightly different as they had a poor start to the season but we got on a good run of wins and had some decent results, albeit finishing eighth. I was more than happy with my return of 24 goals."

Constable has explained his reasons to sign for Rochester United.

"I have decided to sign for Rochester for this season with the aim of trying to achieve promotion back to the Southern Counties East Football League Premier Division.

"Barry Morgan was my assistant manager at Sheppey and with Darren Marsden as player-assistant manager we certainly have the experience and quality to challenge.

"The pre-season training sessions so far have been excellent and I'm buzzing to get started.

"I have been impressed with the set-up at the ground and the club has the potential to have a fantastic season.

"I'd like to thank Holmesdale for last season and wish them all the best for the new season.

"Having moved recently to West Malling, Rochester is a lot easier for me logistically so that along with Barry selling the club to me and what I have seen pre-season convinced me to sign.

"I'm hoping we can have a great season and I can't wait to get started."

Rochester United open their pre-season campaign with a home game against Canterbury City on Saturday 14 July (15:00).